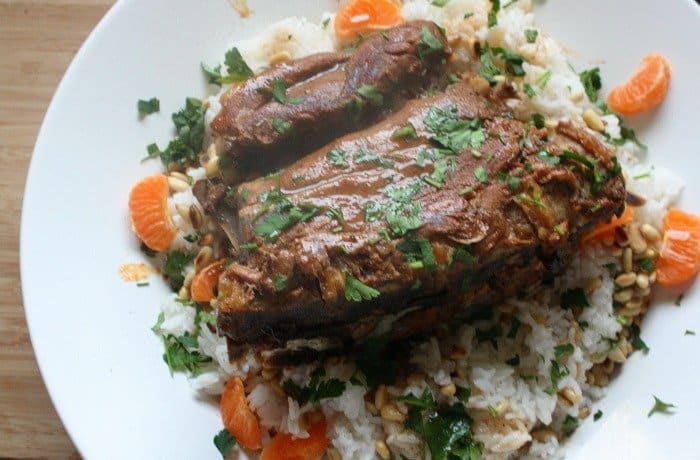 This post may contain affiliate links for suggested items you can purchase. You are not charged any additional cost for purchasing via these links, however by utilizing them you help keep this site running!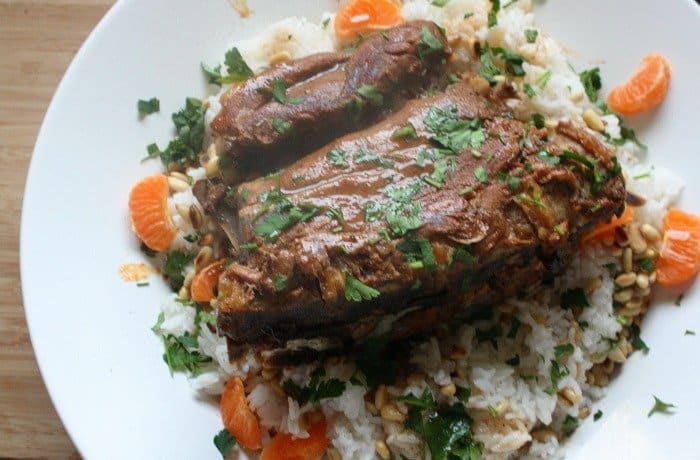 Can you believe that delicious Moroccan tagine dish came out of my slow cooker?
I've been craving a meal that is melt in your mouth delicious but I've had almost no energy since we came back from vacation. This meal really hit the spot.
If I told you this meal is easy to make would you believe me? It took me 5 minutes to start the meat, 5 hours in the slow cooker another 20 minutes before serving to make the rice. Just under 30 minutes of active work time to create a meal that would impress a dinner party of guests.
What's the secret to make this meal? Simmer sauce. I know that lamb can be pricey but by just using 1 package of Moroccan Tagine Simmer Sauce
the cost is really offset.
Here's the photo proof of my roast in action. I had a 2.5 lb lamb roast that was trimmed of excess fat. I then added 1 package of Moroccan tagine simmer sauce as well as filling the sauce package half full with water and adding that to the slow cooker as well. Then I turned it to low and let it cook for about 5 hours. If you left it longer the meat would simply become more tender but I didn't want it all fall off the bone.
While the meat is in it's final 3o minutes of cooking start to prepare the rice.
Ingredients
2 cups of white rice- rinsed very well
2 mandarin oranges segmented
1/4 cup toasted pine nuts
1 handful of Italian parsley roughly chopped
salt and pepper to taste
Directions
Rinse your rice very well. This will help create grains that are not too sticky. Cook in a rice cooker or on the stovetop – whatever your preferred method is to prepare rice. As the rice is cooking, clean and segment mandarins and toast pine nuts. To toast, place in a small pan on the stovetop. Turn heat to low and pay very close attention as pine nuts burn very quickly. Mix as they are cooking so that all sides become toasted. Remove from the heat. Roughly chop parsley and set aside.
When the rice is cooked, mix in the mandarins and pine nuts. Season with salt and pepper. Pour into your serving dish and set the lamb roast on top. Sprinkle the top of the dish with plenty of parsley.
Unlike a traditional tagine, this dish is best served on individual plates for each guest. You can top with the remaining liquid in your slow cooker if desired. Or, pour the liquid into a serving dish or gravy boat and place on the table allowing guests to take as they wish.
So many people have asked if you can use Saffron Road Simmer Sauce in a slow cooker and I hope this post echos a resounding "yes you can!" Have you tried any simmer sauces in a slow cooker? Share your favorite ideas in the comments!
Need a slow cooker? You can't go wrong with an Instapot! Compare prices on Amazon – Choose Your Instapot