This Moroccan beef and green bean tajine is usually made on the stovetop but it was a really easy Moroccan tajine recipe to convert to a slow cooker. Not all are so easily adaptable!
In Morocco, we don't use a slow cooker often, though lately, I've been adamant that we need one. With lots of work taking both of us out of the house I miss being able to put dinner in and have it warm and ready when I get home. After 8-10 hours out of the house walking the last thing I want to do at 9 pm is figure out something to make.
I've had the idea to turn this recipe into a crockpot-friendly freezer meal but being without one for a year and a half now meant I had no way to test it out. So I asked my step-sister if she would be my tester. She's a new mom who works from home and both she and her husband love international foods.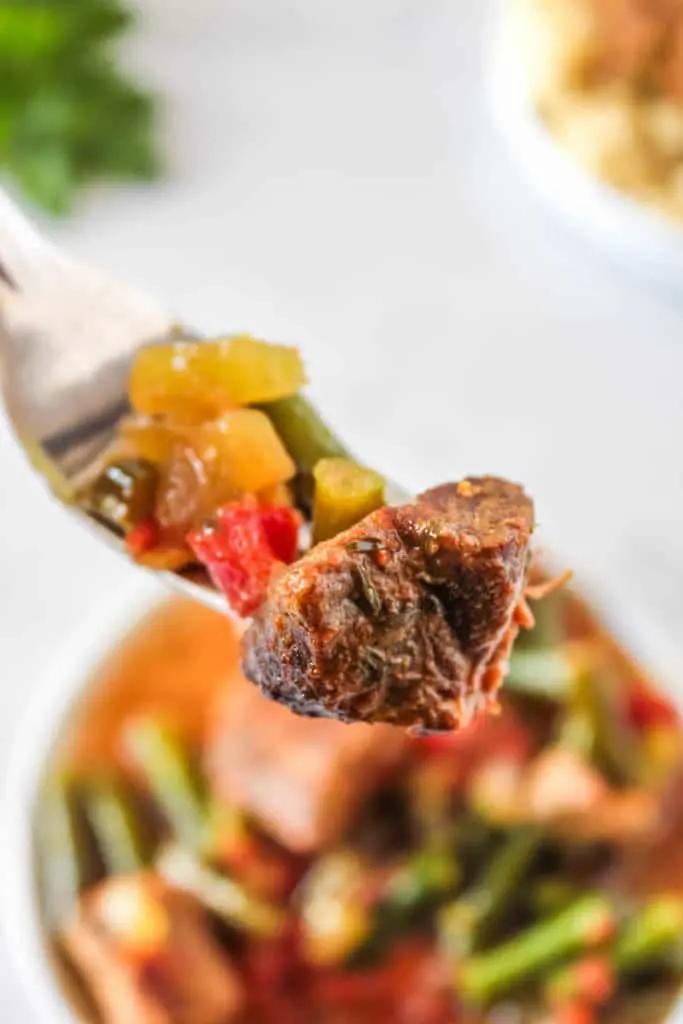 The easiest way to make this is to gather all of your ingredients ahead of time, then just dump them into the crockpot! I've also adapted this so that you can mix everything together in a Ziploc bag and freeze it.
When you want to have it for dinner all you'll need to do is thaw it overnight in the fridge and pop it into your slow cooker in the morning. Take advantage of low-cost frozen beans to shave time off of preparing and still have the same great taste.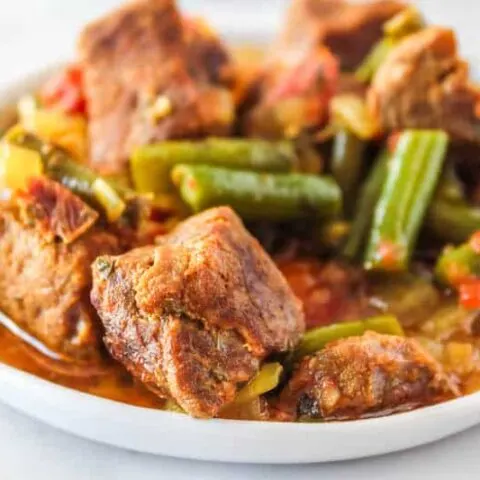 Yield:

4 servings
Slow Cooker Moroccan Beef and Green Bean Tajine
A Moroccan tajine adapted for your slow cooker. No need to keep watch while it cooks!
Ingredients
1 lb. beef shoulder cut into several pieces (with or without bones) - fat trimmed
1 onion, chopped
3 cloves crushed garlic
1 tomato peeled and finely chopped or 1/2 can (6-8oz) diced tomatoes
2 Tbsp each dried cilantro and parsley
1/4 cup olive oil
2 teaspoons salt
2 teaspoons ginger
1 teaspoon turmeric
1/2 teaspoon pepper (or more -- adjust for flavor)
1/2 teaspoon cumin
1/2 cup water
1 lb fresh or frozen green beans
Instructions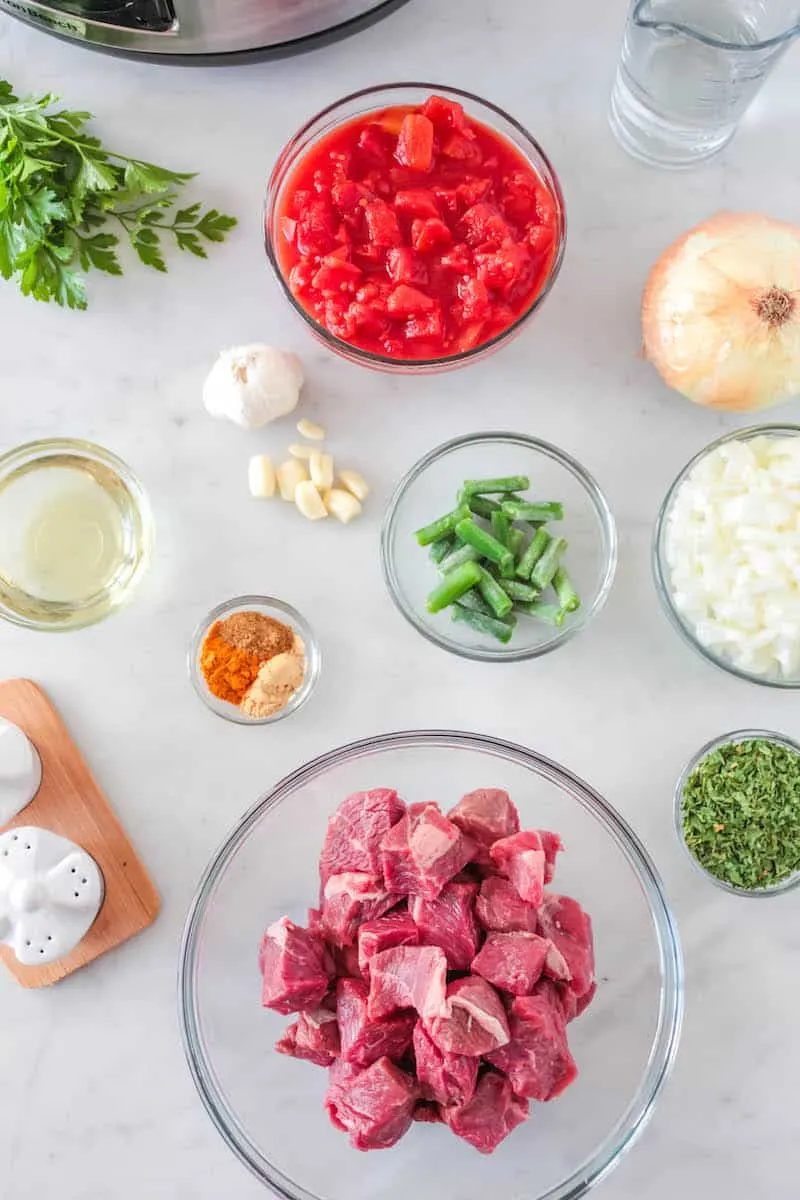 In the bottom of a slow cooker add olive oil, onions, and garlic and turn heat on, leave for 10-15 minutes.
Add meat and remaining ingredients (except for beans). Cook on low heat for 6-7 hours. 20 minutes before serving mix and add green beans to the slow cooker.
Meat should be tender and falling off the bone, beans should also be tender.
Notes
**To prepare ahead of time for the freezer, mix the meat, spices, onions, garlic, tomato and olive oil in a large bowl so that everything combines evenly. Then add to a freezer safe storage bag and freeze. Beans should be kept separate. **
Kourtney told me that they loved this recipe and when her husband took it to work one of his co-workers begged for the recipe. This time you don't even have to take my word for it – take hers!
Want more easy Moroccan recipes? Click the link!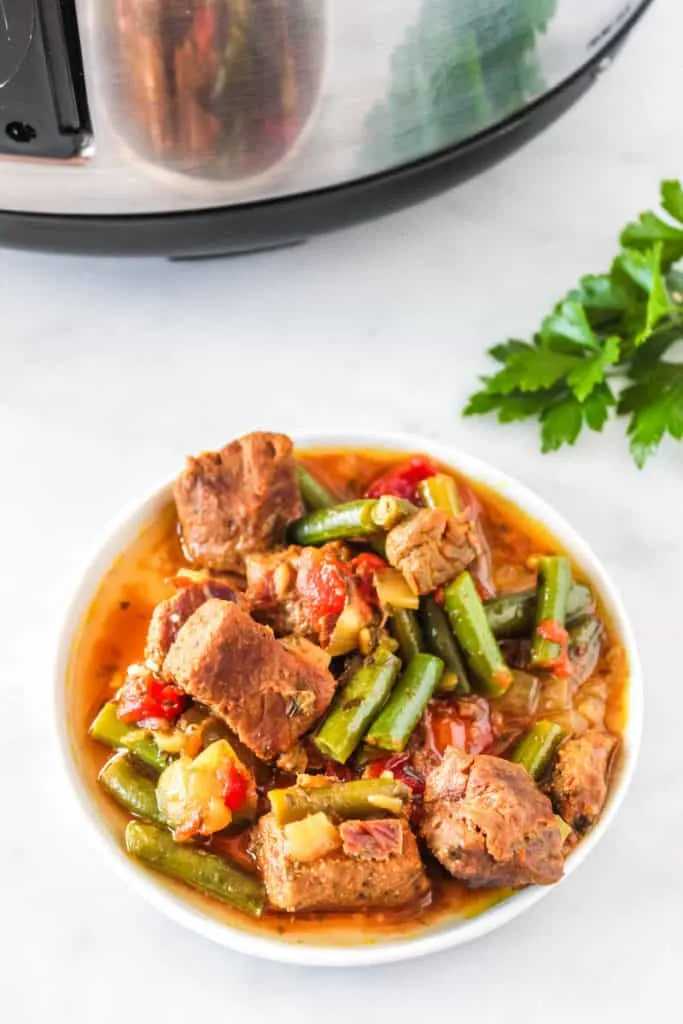 4 More Moroccan Slow-Cooker Recipes to Try
Slow Cooker Chicken and Potato Tajine
Slow Cooker Tajine with White Beans