It's been a long time since I've blogged a new tajine recipe. You see it's not intentional but you may be surprised to know I don't do a lot of our main meal cooking – especially when it comes to Moroccan food. My sister-in-law who happens to be an amazing cook handles the lunchtime meal. So unless we want something that's not Moroccan, I let her take care of things. But, you see, we had a little "issue" a few weeks ago.
Most of my days I spend working. But, I work from home so it's not always apparent that I'm "working" – because I'm always here and I might do other things when I take breaks. So, the other day my mother-in-law commented on my not cooking (not in a bad way).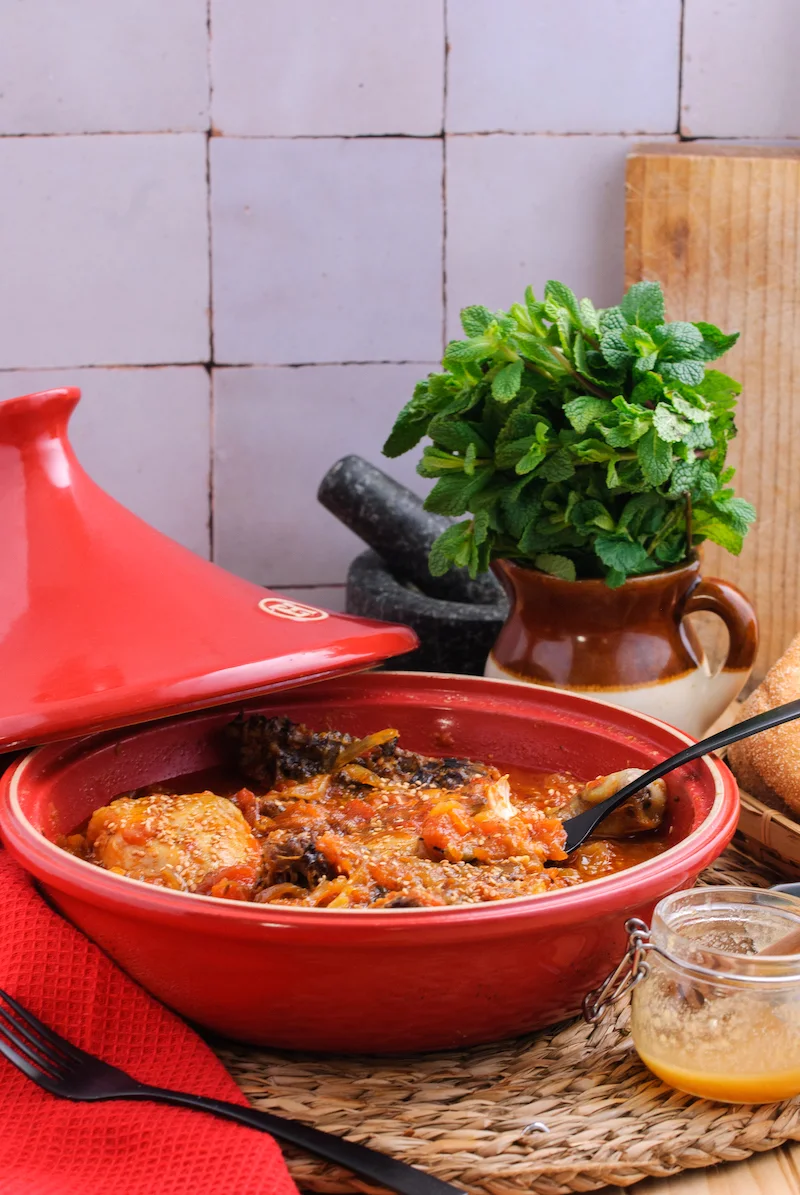 Truth be told I feel like my tajines don't hold a candle to theirs. I know that I can hold my own but it's just a personal flaw of mine.
This is a tajine I've been wanting to try for a long time. I do get tired of the same things over and over again, and while Moroccan food is amazing – eating mostly the same things day in and day out gets tiring. So it was time to give this recipe a shot. Now, the ultimate test for me is will my mother in law eat it.
I've had a few fails already. I chalk them up to different cultural values about what tastes good and what doesn't. For me, a gooey brownie is going to be amazing while a sheep brain, not so much. In the reverse, she thinks a gooey brownie isn't cooked and sheep brains are amazing – you can see where the issues come in right?
After I made this one afternoon and tried it I knew I was onto something. Even though MarocBaba was stuffed from lunch he tried it too and thought it was great. We were going out for dinner that evening so I left the tajine for the family to have at dinner. When I came back well…They'd eaten the whole thing; and my mother in law?
She gave it 2 thumbs up.
The key to making this is really to let it cook slow – that's how you'll end up with the unique jam flavor that develops.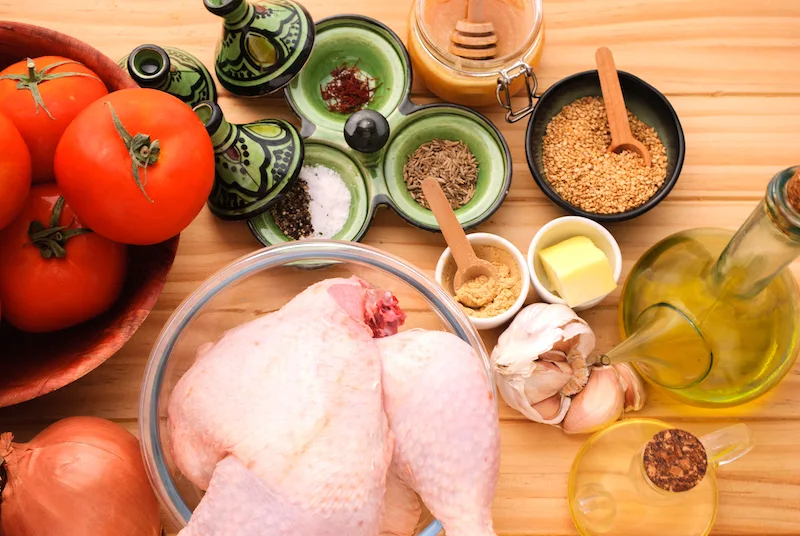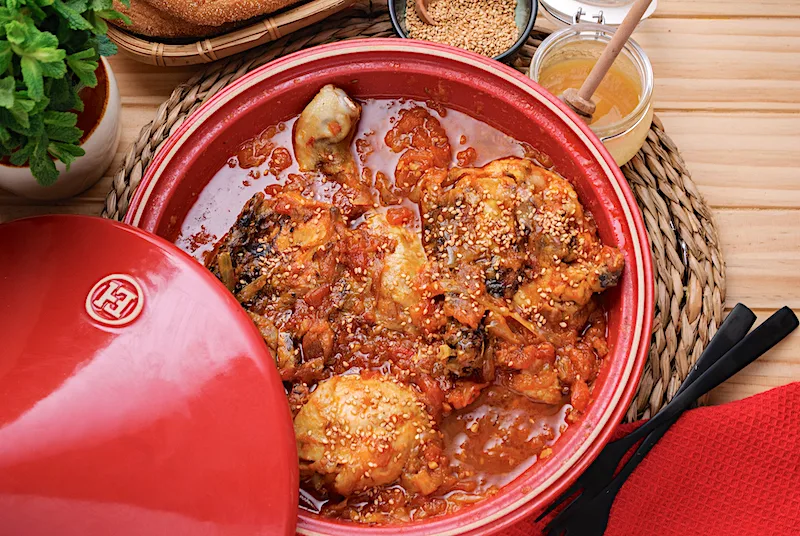 Yield:

4-6 servings
Chicken Tajine with Tomato and Onion Jam
Cook Time:
1 hour
30 minutes
Total Time:
1 hour
45 minutes
A chicken tajine that has the unique flavors of a tomato and onion jam making it even tastier!
Ingredients
1 pound of chicken skin on
1 large onion
1 Tbsp olive oil
2 tsp cumin
1 Tbsp crushed garlic
1 tsp ginger powder
1/2 tsp each salt and pepper
pinch crushed saffron
1 Tbsp butter
1 Tbsp oil (vegetable/sunflower etc)
1 pound of tomatoes
1 heaping teaspoon honey
sesame seeds (optional)
Instructions
This is best prepared in a tajine but if you don't have one, a heavy-bottomed pot will work too.
In a bowl combine olive oil, cumin, cinnamon, ginger, crushed garlic, saffron, salt, and pepper.
Wash chicken well and remove any excess fat – but leave skin on.
Coat chicken in marinade and refrigerate while preparing the rest of the meal.
Slice one onion in half, remove skin and slice into pieces as thin as possible.
In the bottom of a tajine or pan add 1 Tbsp butter and 1 Tbsp of oil.
Turn heat on to low, and add onions. Saute until onions become soft and start to brown.
Prepare tomatoes by either grating the insides into a bowl, or blanch in boiling water, and remove skins. Chop into small pieces and add to the onions.
Make space in the tomatoes to add the chicken pieces, skin side down. The chicken should be nestled into the tomatoes.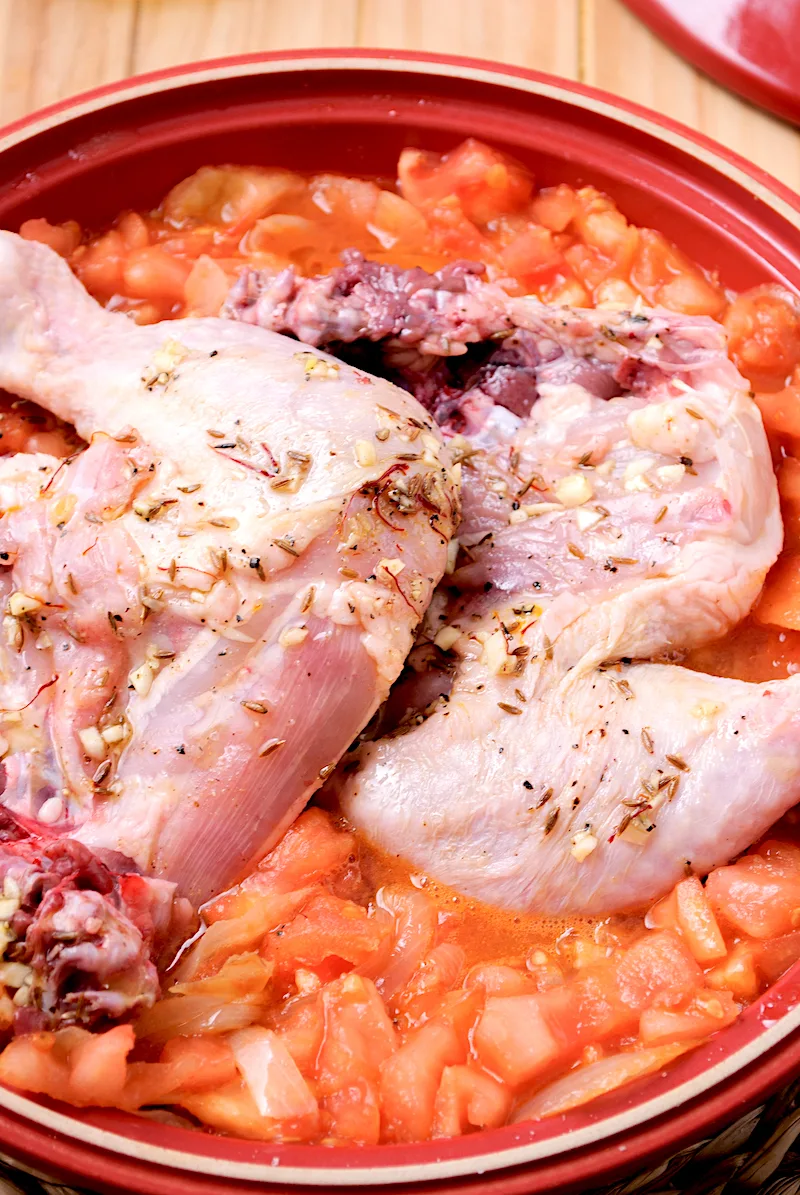 Add the cover to the tajine or pot and allow to cook for 45 minutes – 1 hour until the chicken is cooked through and falling apart and liquid has reduced in the pot.
Mix in a teaspoon of honey at the very end and allow for a few more minutes of cooking. You can also top with sesame seeds right before serving.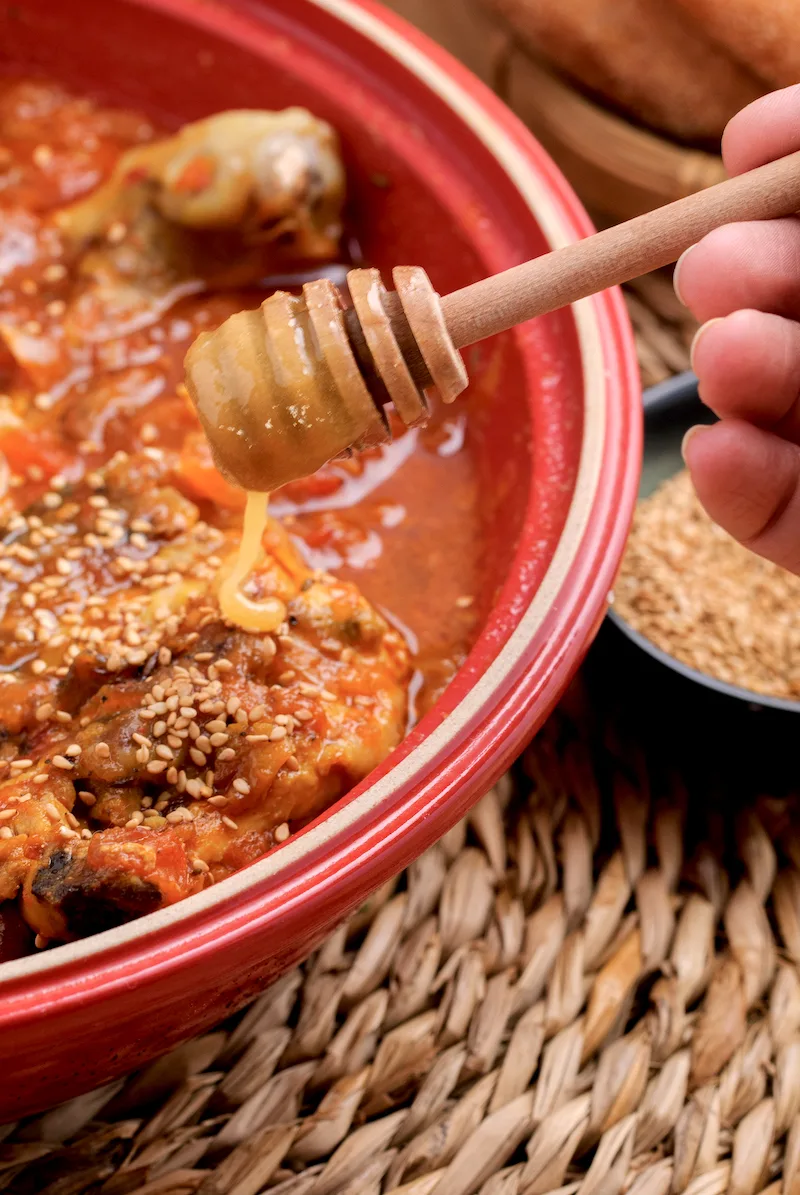 Looking for a Tajine That's Easier?
These recipes are almost all "set it and forget it" style – perfect for busy days.