Unlike Middle Eastern countries, Moroccans don't eat hummus. At least not in the pureed form that people are used to. Hommos is the Arabic word for chickpea – and Moroccans DO eat chickpeas.
One of the most common ways to see chickpeas used are cooked in couscous or used in harira soup. There's also a dish that is one of my husband's favorite called kar3yn; it's made using stewed chickpeas and cow or sheep hooves and lower leg. As you can see they're usually not the main part of the dish but as an addition.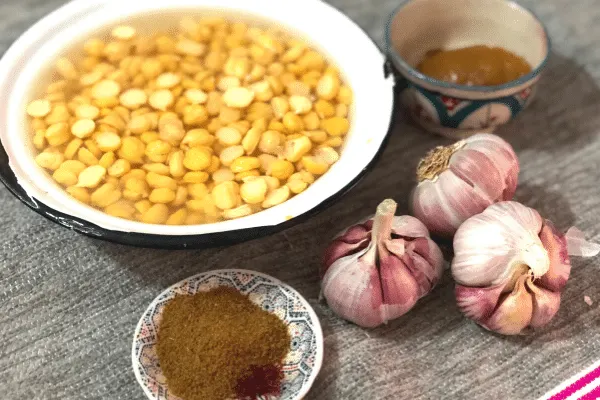 In talking with my sister in law it became clear there was no reason we couldn't do chickpeas alone. This recipe prepares them similarly to how we make chicken tangia. It's very easy but you do need to use dry chickpeas. Canned chickpeas will get too soft and won't hold up right.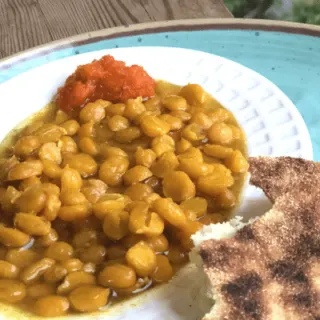 Yield:

4
Moroccan Chickpea Recipe
A simple, vegetarian chickpea recipe made using a pressure cooker to speed up the cooking time.
Ingredients
1 1/2 cups (250 grams) dry chickpeas
4 cloves garlic
1/8 piece of a preserved lemon
2 Tbsp cumin
pinch of saffron threads
2-3 Tbsp olive oil
1 Tbsp butter
2 1/2 cups water
Instructions
For this recipe you need to use dry chickpeas. These should be soaked overnight; at least 8 hours and ideally longer if possible. The longer you can soak them the faster they'll cook.
Once the chickpeas are ready to be cooked Add everything to a pressure cooker and mix together. You don't need to do anything special or add in any certain order. I use olive oil and butter to just add a bit of flavor and richness but you can leave out the butter if you want.
Put the cover on the pressure cooker and place on the stove at medium heat. Leave to cook for 1 hour. Release the steam and check the tenderness of the chickpeas. They should still have some firmness but you can cook as long as you'd like to get them to the softness you prefer.
I serve this with some harissa on the side. It can be eaten as a side dish or main dish. We always eat it scooped up with bread.