On a recent trip to the farmer's market, I was very happy to see tables bulging with beautiful green peas. While at the market I also picked up some lamb chops from a local organic farm, stalks of green garlic, and bunches of mint and flat-leaf parsley. It didn't take long to decide a lamb tagine with potatoes and peas was just the thing to make.
There are a countless number of tajine recipes and while some are very well known, there aren't exact rules about what can and can't be considered a tagine. This tagine is one that I have eaten in the mountains of Morocco generally cooked over a grill.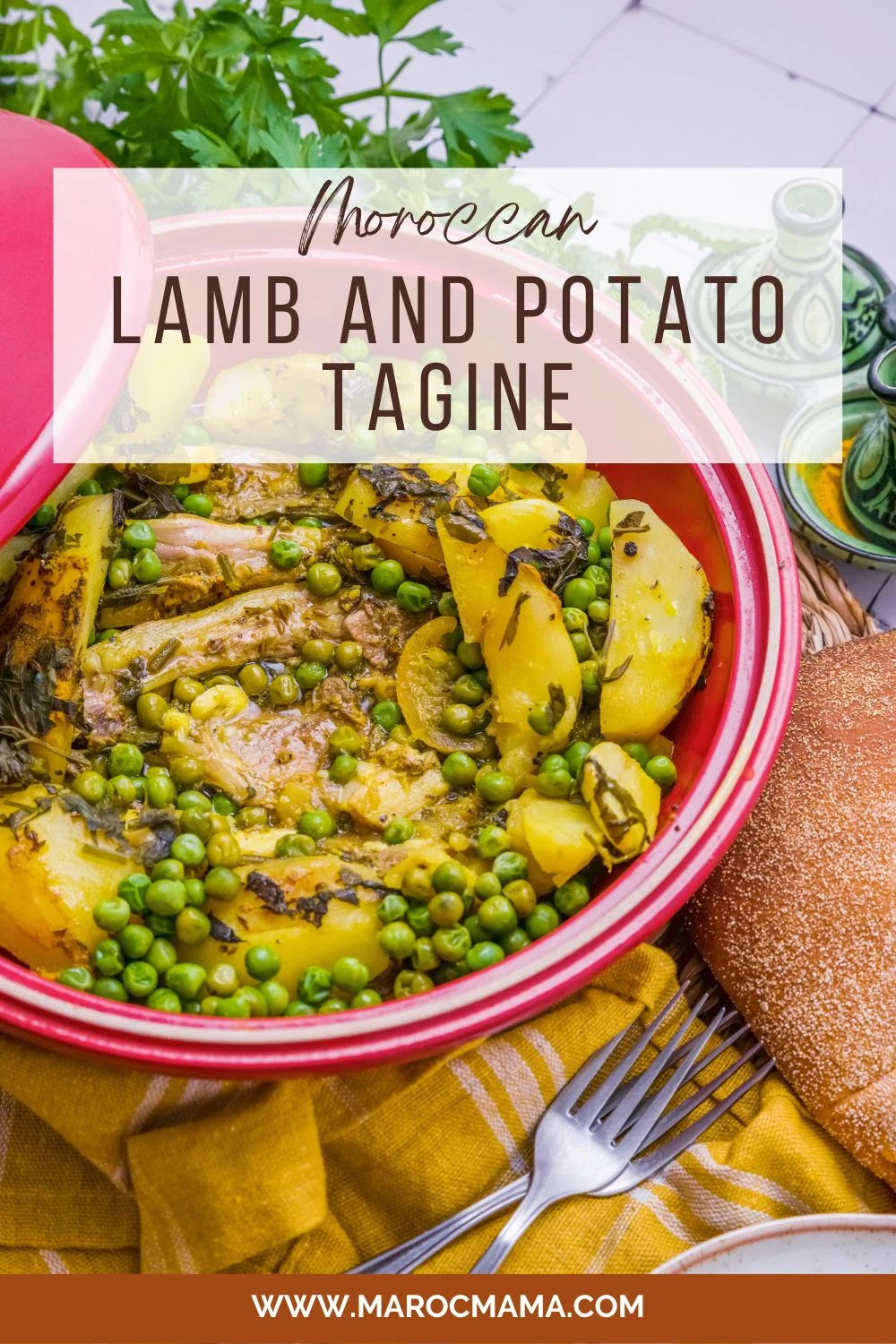 Can You Make Lamb Chop Tagine?
As I mentioned, you can make tagine with anything you'd like. That being said lamb chops aren't often used this way. They're grilled and eaten. In tajines the more typical cuts of meat are tougher meats that need a long, slow cook to bring out the flavor and make them more edible.
But, I also enjoy using cuts like a lamb chop just to add some variety and a bit of a different flavor.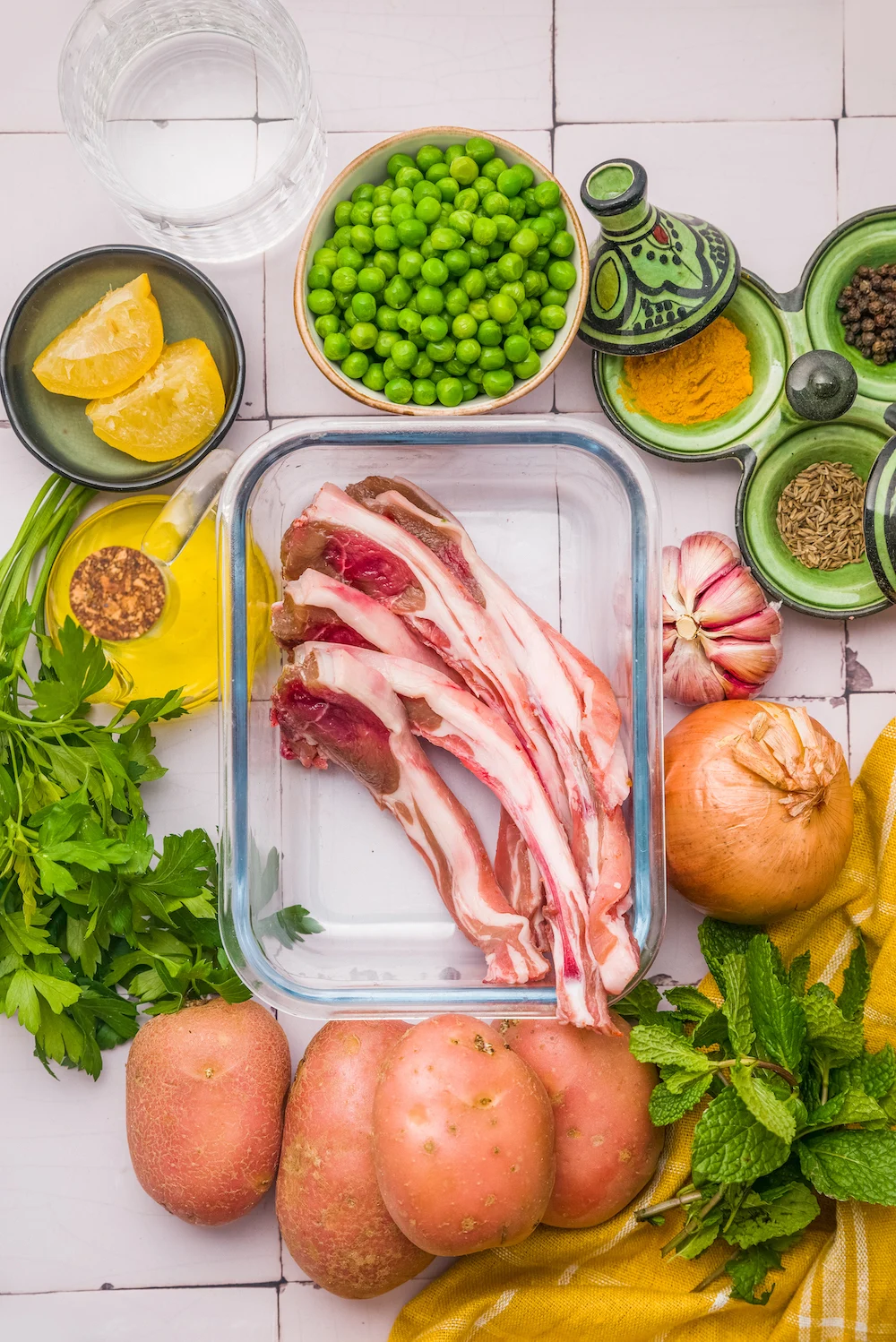 Do You Have to Cook This in a Tagine Vessel?
I've been wanting to make some tajines in my tajine pot instead of the pressure cooker which is the faster way to do it. While I love the speed a pressure cooker affords, sometimes I find dishes cooked that way lack the character and flavors that cooking in a clay tajine provides.
I always use a heat diffuser, a circular piece of metal that goes between the burner and the tajine. If you have a gas stove you don't have to do this but I try to make my clay tajines last as long as possible and this does help.
You can also cook this in a dutch oven, it will take about the same amount of time as a tajine pot but I do find the water levels need to be watched a bit more closely as it doesn't have quite the same condensation effect.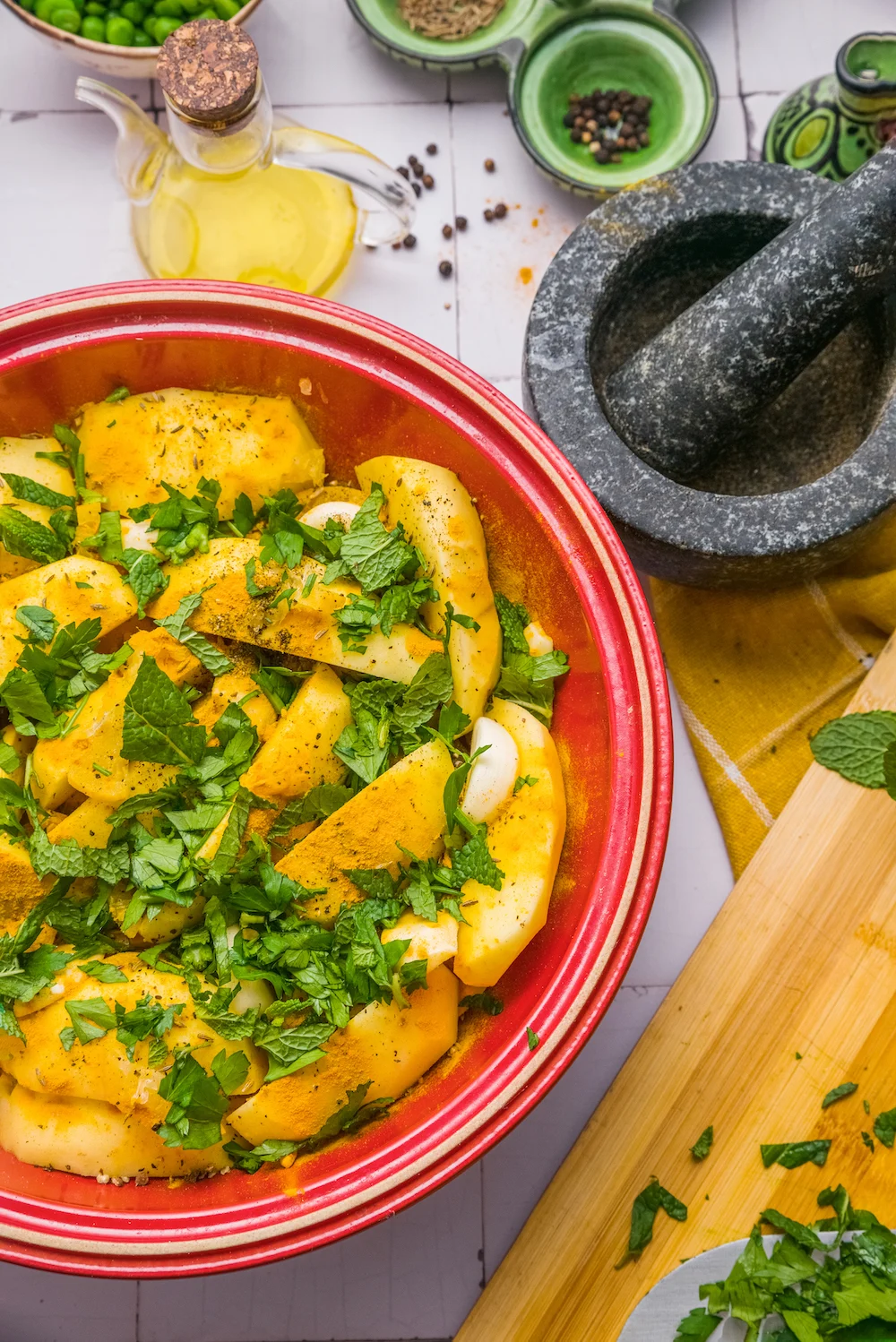 Can You Use Other Types of Meat For This Tajine?
Yes! When I have had this in Morocco it's often made using goat meat which is a different way to use this kind of meat. If you're not into goat then beef can easily be used too. I think a thinner cut of meat, bone in, will make a difference. For example beef short ribs would work well in this recipe.
What Can I Serve with Lamb Tajine?
This is a heavier dish, even though the peas do add a bit of lightness. I have several ideas of what to serve with lamb tagines in this post but with this specific tagine some of my suggestions include;
Moroccan Orange Salad with Black Olives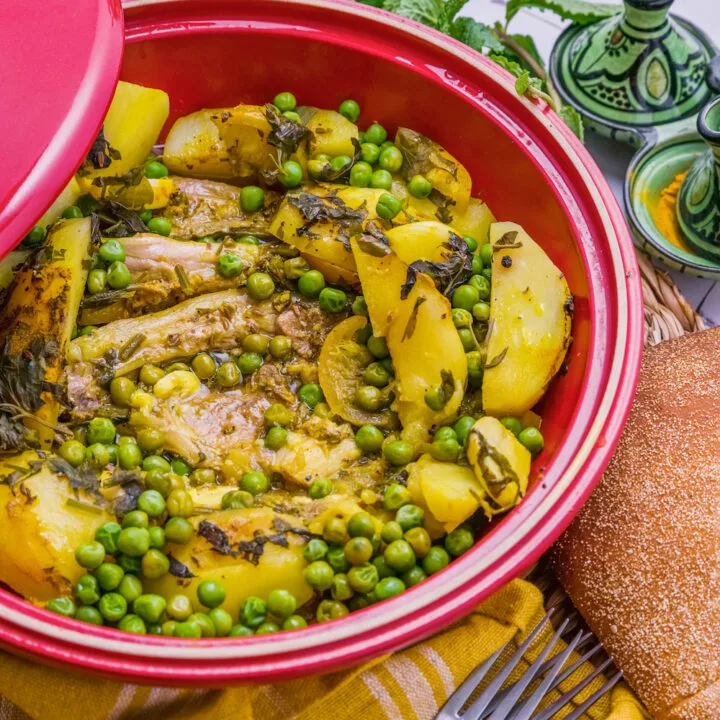 Yield:

4 servings
Lamb Tajine with Potatoes and Peas
Cook Time:
2 hours
30 minutes
Total Time:
2 hours
45 minutes
A lamb tajine recipe that includes potatoes and peas. Sure to turn even lamb haters into lovers!
Ingredients
3-4 lamb chops with extra fat trimmed
4 red potatoes peeled and cut into quarters
1/2 c shelled fresh green peas
6-8 cloves of fresh garlic
1 medium onion chopped finely
1 tbsp vegetable oil
small bunch of flat-leaf parsley
2-3 mint leaves
1/2 preserved lemon
2 tsp cumin
1 tsp turmeric
1 tsp black pepper
2 tbsp water
Instructions
In the bottom of a tajine add 1 tbsp of vegetable oil and the chopped onions to form your base. Place the lamb shanks in the middle of the tajine, as flat as possible.
Arrange potatoes around the lamb chops.
Cut the preserved lemon into several pieces and slip in and around the tajine, making sure some are sitting on the lamb. Do the same thing with the garlic cloves.
Finally, sprinkle the cumin, pepper, and turmeric all around the tajine.
Chop up the parsley and cilantro and sprinkle all over the top of the tajine.
Finally, pour the 2 tbsp of water over the top of the dish.
Cover the tajine and place on the stovetop over low heat. Leave it alone now.
This took about 2 1/2 hours to cook all the way through.
The lamb should be very tender, falling apart and the potatoes soft. During the cooking process you can check how things are coming along.
Use a spoon to scoop up sauce that is forming at the bottom of the tajine and pour on top of the vegetables and meat. This adds some extra flavor.
Just before it's done, spread the peas around the tajine. Some in the middle, around the edges – anywhere they will fit!
Let it cook for about 10 more minutes before serving.
Recommended Products
As an Amazon Associate and member of other affiliate programs, I earn from qualifying purchases.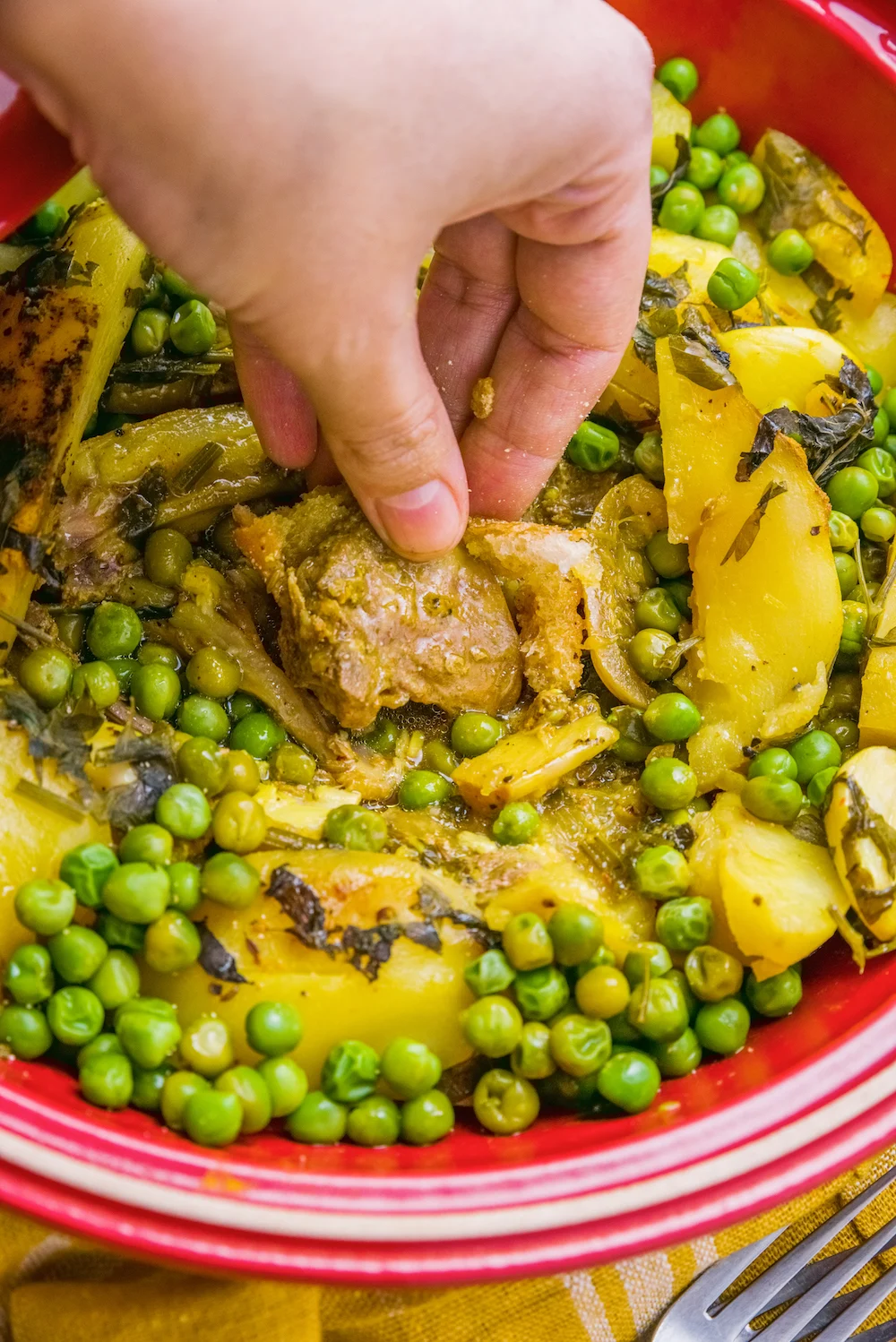 When it's all done it should look a little bit like this. Creamy potatoes, delicious sauce and super tender lamb. Even though I really like this recipe using lamb shanks you can just as easily use beef.
I did not have to encourage MarocBaba or the kids to eat this. He dug right in. This recipe really reminds us a lot of tajines that we've eaten in Ourika even though they are cooked over a charcoal grill.
More Lamb Recipe Ideas
Lamb Kebabs with Charmoula Dressing