One of the first things to note about Marrakesh is that it's not for the faint-hearted. Instead, travelers should prepare themselves for a journey that seems to take them back in time, almost as though this ancient city is traveling on its own accord – leaving the rest of the world behind.
But that's not to say Marrakech isn't a dream destination for travelers. It features rooftop restaurants dazzled with fairy lights, market bizarres, musicians traversing the streets, and intricate museums where you can spend all day exploring.
While a written guide can't prepare you for all the movement of Marrakech, it sure can be a good starting point.
It's a city that's steeped in history and a culture that moves on its own beat. Don't expect to travel to any other city that's like Marrakech; the city holds its own kind of magic. Discover all of its gems in this list of the best things to do in Marrakech.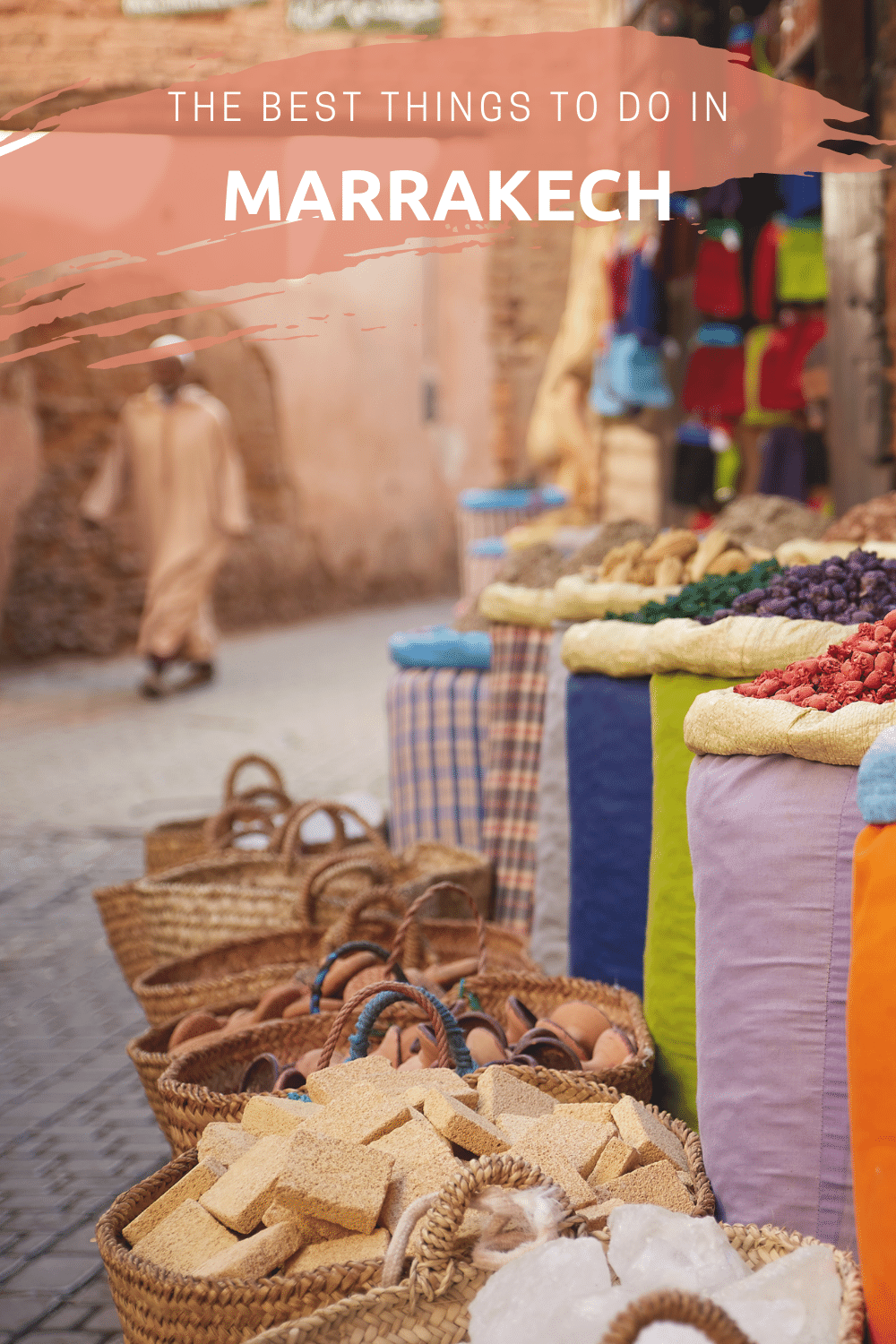 What to Expect When Visiting Marrakech, Morocco
Before getting your walking shoes on, it might be a good idea to know what you're in for. While it's hard to capture the real feeling of Marrakech in words, these are some of the little things that you can expect to experience in the lively city.
The exotic North African charm means that each of the streets boasts a kaleidoscope of color. These vibrant colors are often seen in many of the handcrafted goods that are on sale down narrow alleys and open-aired markets.
Along with the bold colors, you'll be treated to an array of smells that you've probably never experienced. You can thank the city's collection of spices and herbs, as well as various street foods being cooked in busy neighborhoods.
If you're ever wandering the streets and hear the words "Balek!", you might want to get out of the way. It means "move, coming through!" and is often followed by someone transporting goods on a donkey.
As well as feasting your eyes on the incredible beauty of Marrakech, you'll have plenty of opportunities for shopping. The city is peppered with beautiful objects, and you'll need to prepare yourself for a bit of haggling.
Merchants are always going to try to sell you something, and instead of just ignoring them, you can let them know that you need a minute to walk around. Or that you'll let them know when you find something you're interested in.
Wondering What to Do in Marrakech?
With a city this busy, there are endless possibilities for adventure – you just have to know where to find it. So if you're wondering what to do in Marrakech, Morocco, find inspiration from this guide that is catered towards all kinds of travelers.
Whether you're traveling here for the colorful artwork, the awe-inspiring monuments or simply to experience some of the world's greatest food, this is your guide. So let's dive into the top things to do in Marrakech.
Marrakech House of Photography
Of all the museums in Marrakech this is one of my favorites. I think I really appreciate it's simplicity as well as the opportunity to glimpse at how others have seen Marrakech through recent history. While the building itself is small the collection is varied and really pays homage to Morocco that was. It holds both a permanent exhibit as well as temporary exhibitions.
Wander to the rooftop area where there is a cafe offering one of the best views of the city – very apt for a museum specializing in photography!
Price: 50 DH (US$5.50)
Times: Open daily from 9:30 am to 7pm
Majorelle Gardens
While staying on a budget, you can visit one of the most colorful gardens in Marrakech. The botanical garden is an artist's landscape garden, which has been inspired by travels to various villages around the country. This means that you'll experience aspects of village life as well as traditional illustrations and portraits.
Along with all kinds of weird and wonderful cacti, the gardens are home to 15 species of birds that are endemic to North Africa.
Price: 70 DH (US$ 7.8) + 30 DH (US$ 3.5) for museum entrance
Time: Open every day – October to May: 8 am to 5 pm. June to September 8 am to 6 pm
Dar Si Said Museum of Moroccan Arts and Crafts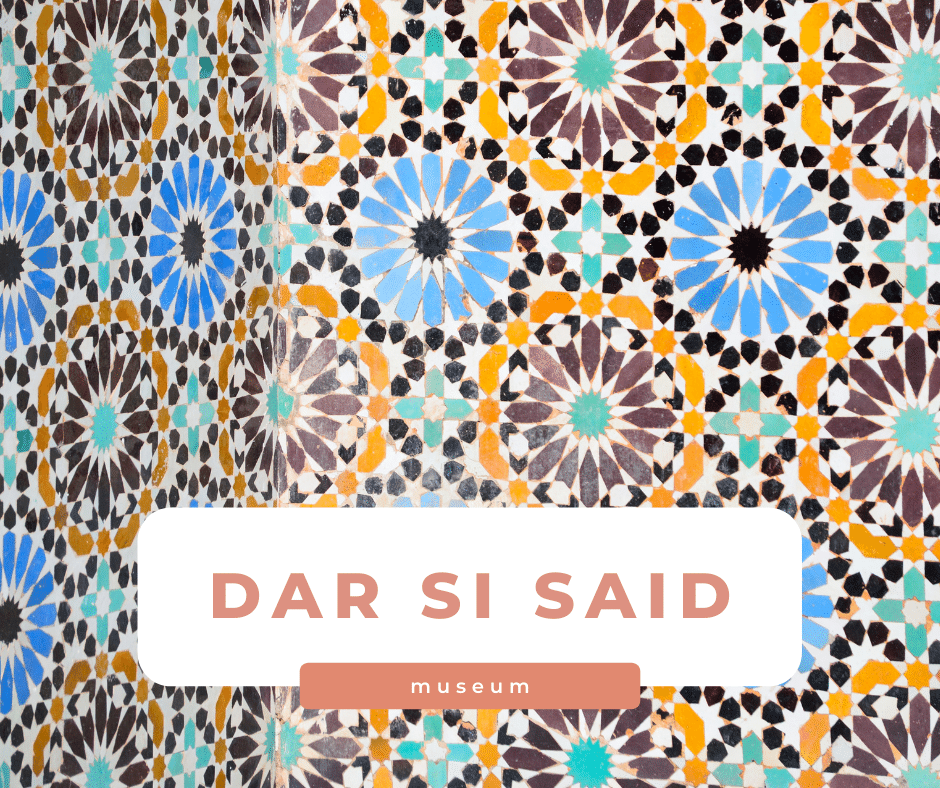 The Dar Si Said Museum of Moroccan Arts and Crafts is the oldest museum in the city, and probably the most beautiful. It's a calm and tranquil place to spend a couple of hours of your day.
Marrakech is a city founded in 1070-72, and after all these years, it's held some of its original features – you can find these in the museum.
There are several patios and two stories worth of exploration. The pottery is particularly beautiful here; there are blue pieces from Safi and emerald green pottery from Tamegroute. The collection also features the oldest objects in Morocco, such as gifts and jewelry from royalty.
Price: 70 DH (US$ 7.80)
Time: Every day from 9 am to 12 pm, and 3 pm to 6 pm
Take a Cooking Class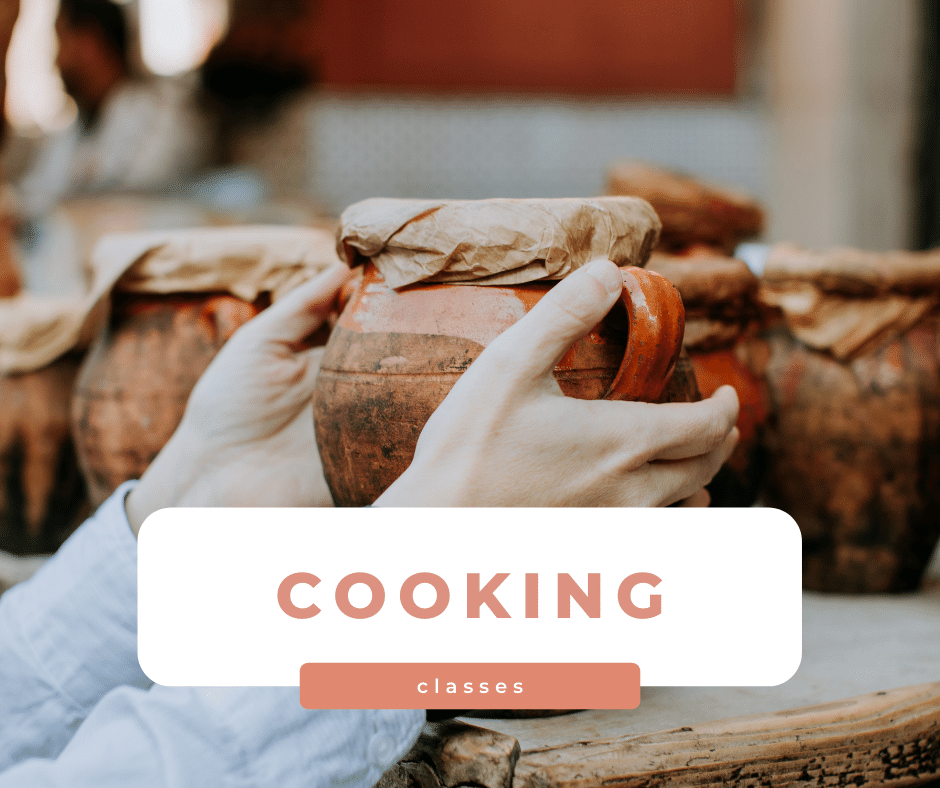 Eating mouth-watering food is a guarantee in Marrakech. The fresh produce and assortment of flavors make meals a dream for foodies. Learn the secrets and ancient methods from a local Moroccan cooking class.
Marrakech's cooking scene has permeated the tourism industry. If you're in the mood for getting your hands dirty and your tummies full, here are some of the top cooking classes:
La Maison Arabe Cooking Workshop: This hotel is home to the first cooking school in Morocco and is now a pioneer in cooking workshops.
Amal Centre, Marrakech: A non-profit kitchen that helps support the community by teaching locals and tourists the art of Moroccan cooking.
Rather have the food come to you? Join our walking food tours! You can also pick up a copy of my digital food guide to Marrakech to help plan your meals.
Plan a Rooftop Sunset Dinner
Rooftop terraces are a staple experience for any traveler looking to appreciate the beauty of the city. While it may not have sky risers as tall as many other countries, it makes up for it with rooftops that overlook many busy streets.
Expect to find romantic date spots, vibey rooftop bars, and tranquil pools that can be enjoyed by travelers hoping to escape the heat.
While they're worth visiting during the day, twilight holds a special kind of magic when it comes to rooftops. Feast on a delectable meal, get yourself a bottle of wine, and marvel at the sky as the sun starts to set.
Try out one of these rooftop gems:
Sky Lounge at the Pearl
Le Foundouk
Le Trou au Mur
Café des Épices
Café Arabe
Clock Café
Take a Day Trip
Day-tripping is a wonderful activity to include in your Marrakech itinerary. It also offers travelers the chance to escape the business of the city and discover other parts of Morocco.
There are several different places that you can choose for your day adventure, each offering something different. Ouzoud Falls are a set of several impressive waterfalls just two and half hours from the center of Marrakech. Much of the surrounding area is made up of desert landscape, but at the falls, you'll have the chance to see a green oasis nestled amongst rocky canyons.
The Ourika Valley is popular as a quick trip for lunch or a few hours. Visit Imlil for a longer day trip and a hike. Or, go all the way to Essaouira if you are craving an ocean day. Read about some great Marrakech day trip options in this post.
Visit a Hammam Hot Steam Spa
One thing that can't be missed with a visit to Marrakech is a trip to the hammam – the steam (and scrubbing!) encourages a deep and invigorating cleanse. Renew your mind and spirit with a traditional Moroccan experience.
You can visit the baths at Hammam Dar el-Bacha, Hammam de la Rose, Heritage Spa, and Hammam Mouassine. All of these spas show off the most wonderful architecture and traditional baths. You always have the choice of the community hammam or visit a private hammam. Each has its own unique appeal.
Not sure what the hammam entails? Read more!
Some of the top things to do in Marrakech, Morocco, are as simple as wandering around the souks and sampling all kinds of weird and wonderful treats. Other Marrakech attractions are as wonderful as getting lost in time and cooking up an authentic meal that's filled with love!