When it comes to buying a tagine pot, there are a few things you need to consider before making your purchase. Not all tagine pots are created equal, and finding the right one for you will depend on a number of factors. In this article, we'll take a look at some of the things you need to keep in mind when shopping for a tagine pot, so you can find the perfect one for your needs.
Tagines are not all the same and they're not foolproof. If you're looking for a tagine that's going to be perfect for everything you want to cook, it may take time to find the right one. Different ingredients and different cooking methods are going to require different types of tagines. There are clay tagines, metal tagines, and even electric tagines. Each type of tagine has its own advantages and disadvantages, so you'll need to decide which type is right for you.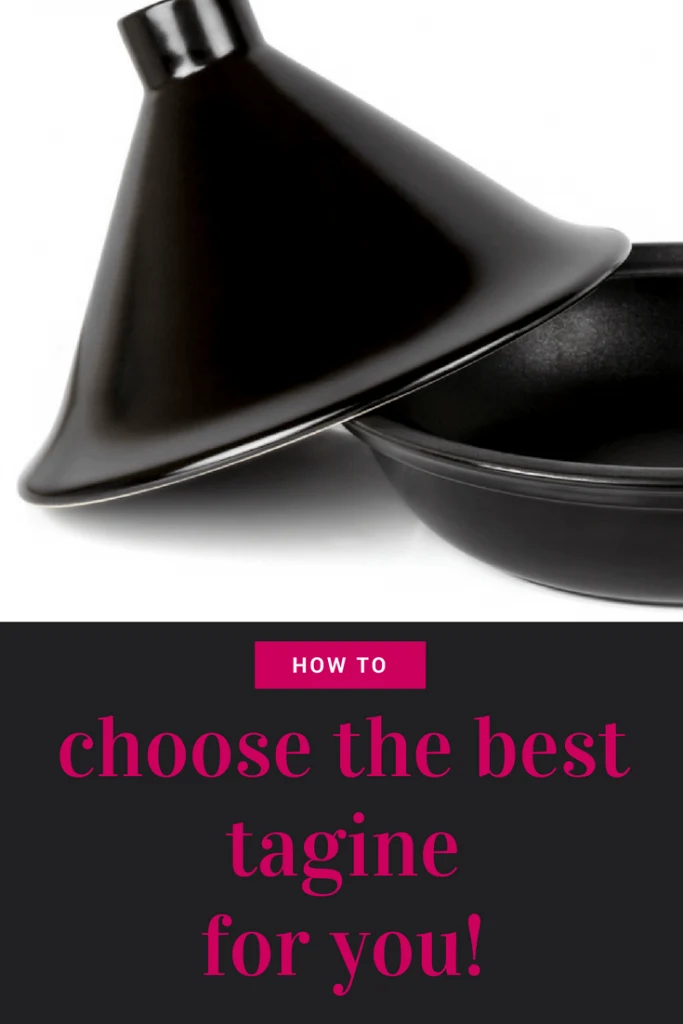 What is a Moroccan Tagine Pot?
You may notice that I am making it a point to specify tagine pot and not just refer to this as a tagine. There is a simple reason for this. The word tagine has two meanings. A tagine refers to the food cooked inside the pot as well as the pot that is used to cook. You'll also find them spelled both tagine and tajine pot. The spelling makes no difference.
Traditionally tagine pots are made out of clay. They can be glazed or unglazed, the finish just depends on what the cook likes better. In Morocco, you'll also see lightweight aluminum tagines. Outside of Morocco, there are more companies are making pots out of other materials like cast iron tagines or even steel tagines.
Moroccan cooking pots come in a variety of sizes. There are small cooking tagines that serve 1 or 2 people, medium for a small family, and a large tagine pot for 6+ people. If the size is a factor the smaller tagines are good but a medium-sized tagine pot is a good investment for long-term use.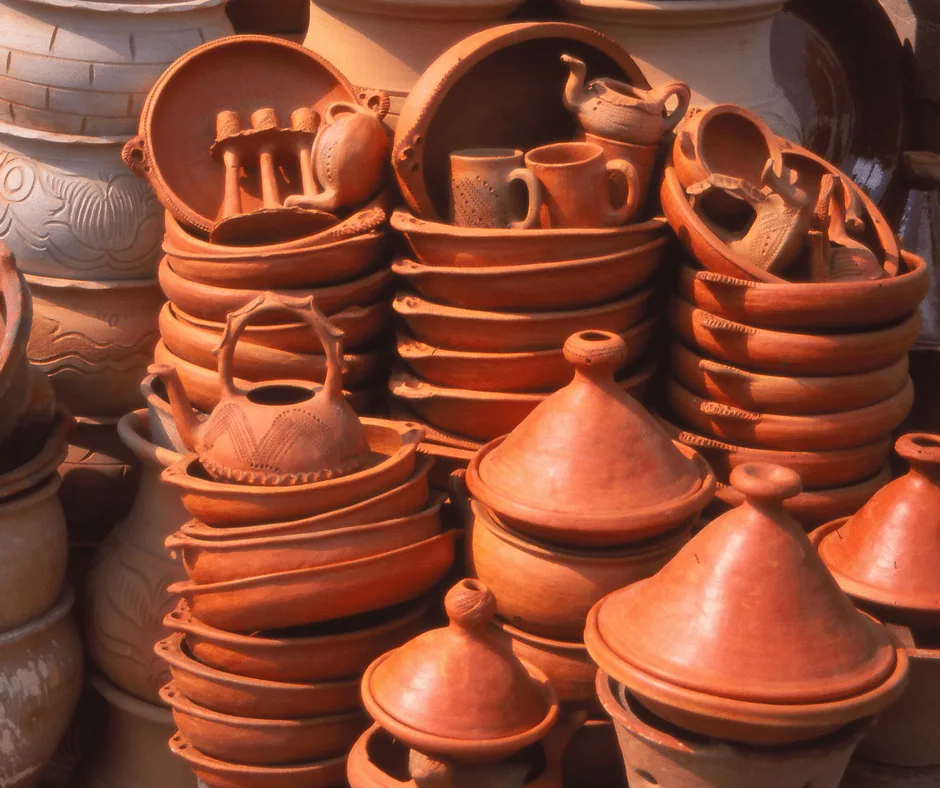 Choosing the best tagine pot for cooking has a few factors to consider;
what will you be cooking?
how much experience do you have using a tagine?
how often will you be using your tagine?
how much money do you want to spend on your tagine cookware?
Cooking in a tagine requires a little bit of experimenting until you understand how yours works. An unglazed clay tagine will cook a lot differently than a cast iron enameled tagine. For beginners who don't want to spend a lot of time fussing with traditional clay tagines, it makes sense to opt for the glazed versions. These tend to be more expensive however you can use them to cook many different things with or without the lid.
Those who want a more traditional tagine should look for an unglazed clay tagine. These are very easy to purchase in Morocco and make a great item to pick up if you're visiting and want to bring something home. They also can be purchased abroad which is a good choice if you don't want to carry the extra weight.
Where Can I Buy a Tagine Pot?
If you would have asked this question even a few years ago your options would have been very limited. But, thankfully Moroccan food is really making waves in the food scene. Today it's a lot easier to find and buy a top Moroccan tagine! Loads of places have Moroccan tagines for sale.
As mentioned above, if you're visiting Morocco this is the best place to buy a traditional tagine. You will see two different types of pots. One is painted on the exterior, and one is plain.
The painted style is a decorative tagine and shouldn't be cooked in.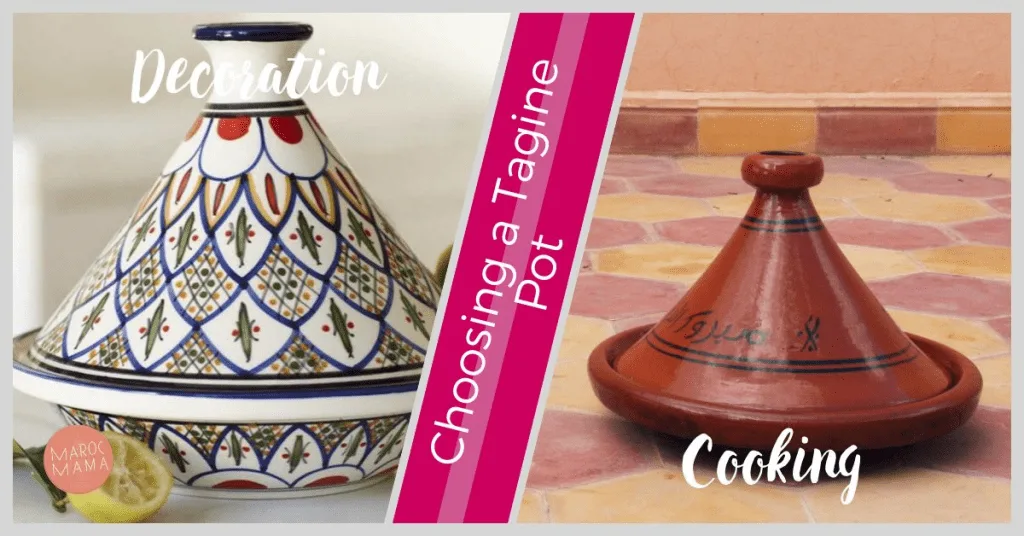 When you are shopping you should make sure to double-check if the pot is able to be put on the stovetop and/or into the oven – this is especially the case when purchasing clay tagines.
If you are buying a tagine in Morocco you'll also want to be aware that some do contain small levels of lead. The makers of the tagines are becoming aware of this and doing more and more to make sure that their tagines are safe however at the end of the day money becomes a factor. If you're unsure you can purchase an at-home lead test. You could even bring them along and check before you buy.
Best Moroccan Tagines Comparison Guide
As wonderful as it is that there are now so many tagines on the market, it can be really hard to determine which one is the right one for you. I have chosen some of the top tagines to compare in this post so that you can make the right choice. Here are some of the best places to buy a tagine online.
Large Lead-Free Cooking Unglazed Tagine
Description: This is an unglazed tagine imported from Morocco. It is lead-free and 12″ wide.
Best for Intermediate to Advanced
Safe to Use In: Oven or Stovetop at LOW temperatures
Price Range: under $75
Weight: 6 pounds
XL Traditional Moroccan Tagine Pot (glazed)
Description: This is a glazed Moroccan clay pot tagine that is lead-free and food safe to both cook and serve in. It is an extra large tagine pot so great for groups. If cooking on gas or electric stoves it is best to use with a diffuser.
Best for: Beginner to Intermediate Cooks
Safe to Use In: Stovetop at low heat and up to 350F in the oven
Price Range: under $100
Weight: 15 pounds – 13.3″ diameter
Simple Small Tagine
Description: This is a small, glazed tagine imported from Morocco. It measures 8″ wide and is good for 1-2 people.
Best for: Beginner to Intermediate Cooks
Safe to Use In: Oven or Stovetop
Price Range: under $50
Weight: 6 pounds
Kamsah Hand Made and Painted Tagine
Description: This is a hand-painted, clay tagine. It should be noted that typically tagines that are painted should not be cooked in. It has a much deeper bottom than most Moroccan tagines. The makers of this tagine do state that it can be used to cook directly in.
Best For: Intermediate to Advanced Cooks
Safe to Use In: Stovetop / Serving
Price Range: under $100
Weight: 6 lbs
Emile Henry Tagine
Description: These tagines are made in France and have a 10 year warranty from the manufacturer. They are made from terra cotta and made to be lighter than many other tagines.
Best for: Beginner to Advanced Cooks
Safe to Use In: Oven or Stovetop or BBQ Grill
Price Range: under $150 (some under $100!)
Weight: 8.2 pounds
Le Creuset Moroccan Tagine
Description: Made with an enamel interior, cast iron tagine base and stoneware lid this tagine combines the traditional cooking methods of the tagine with the properties Le Creuset cookware is known for. It also has a lifetime warranty for anyone who is cautious about purchasing a tagine in fear of it cracking.
Best for: Beginner to Advanced Cooks
Safe to Use In: Oven or Stovetop
Price Range: under $300
Weight: 7.2 pounds
This tagine has a higher price point however the lifetime warranty means you won't need to purchase another one ever!
Description: This 3.65qt tagine has an enameled cast iron base and ceramic lid and is fire red. It's a sturdy piece that won't oxide or rust giving you the best of both worlds. The bottom of this tagine is quite high giving you plenty of space for filling up with meat and vegetables. This tagine also comes with a double oven mitt so you can take your tagine from stovetop to table with ease.
Best for: any level cook but especially beginners
Safe to Use In: Can be used up to 500F on gas, electric, and ceramic stovetops or in the oven.
Price Range: under $65
Weight: 11.5 lbs
MarocMama Reader Bonus! UnoCasa is giving you 10% off their tagines! Click the current prices below and the updated price will be given at checkout.
Bruntmor Enameled Tagine
Description: This 4qt tagine is an enameled cast iron piece that is available in 5 different colors (blue, red, green, purple and yellow). Both the top and the bottom are cast iron so it is incredibly sturdy. The bottom of the pot is just cast iron while the top cone part is enameled. One point to consider is that while it claims to be 4qt tagine people have mentioned that it is actually closer to 3qts.
Best for: any level cook but especially beginners
Safe to Use In: Anywhere! This is a great all purpose tagine it can go into 500F ovens, on stovetops, on a grill – really anywhere.
Price Range: under $75
Weight: 11.2 lbs
Clay Coyote Tagine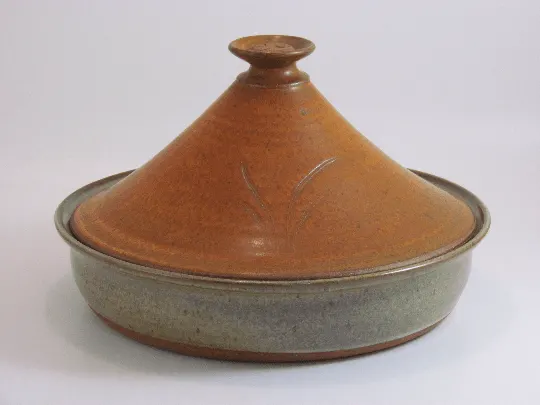 Description: An all-purpose tagine made from culinary grade ceramic. Material is safe for oven, stovetop, microwave and dishwasher. Each tagine is handmade in the USA.
Best for: Beginner to Advanced Cooks
Safe to Use In: Oven and stovetop. Can also be used in microwave.
Price Range: under $200
Weight: 11 pounds
Kook Cast Iron and Ceramic Tagine
Description: This tagine is made from two different materials; the bottom is cast iron while the top is ceramic. It can be used in the stove or on the stovetop and thanks to the durable base it won't crack like a clay tagine might. This size is a 2.5qt tagine that will serve 2 people.
Best for: Any ability cook
Safe to Use In: Oven or Stovetop
Price Range: Under $75
Weight: 9.5 pounds
Cooks Standard Steel Tagine
Description: This tagine model comes both with and without handles but the handled version is a great option for more stability. Materials are stainless steel with an aluminum core that makes cooking time faster. Includes a tempered glass lid and is dishwasher safe for easy cleanup.
Best for: Beginner to Intermediate Cooks
Safe to Use In: Induction compatible; Works on gas, electric, glass, ceramic, halogen heat as well as oven safe up to 500F.
Price Range: under $150
Weight: 10 pounds
Name

Avg $
Best For
Use
Weight
Link
Large Unglazed
$75
Intermediate
Advanced
Oven
Stove
6 lbs
Buy
Large Glazed
$100
Beginner Intermediate
Oven
Stove
15 lbs
Buy
Small Tagine
$30
Beginner
Oven
Stove
6 lbs
Buy
Emile Henry
$150
Any
Any
8.2 lbs
Buy
Le Creuset
$250
Any
Any
7.2 lbs
Buy
Clay Coyote
$200
Intermediate
Advanced
Oven
Stove
11 lbs
Buy
Cooks Standard Steel
$150
Beginner
Intermediate
Any
10 lbs
Buy
Kook Cast Iron and Ceramic
$75
Beginner
Any
9.5 lbs
Buy
Kamsah Hand Made and Painted
$100
Any
Serving
6lbs
Buy
Cast Iron Bruntmor
$75
Beginners
Any
11.2 lbs
Buy
Uno Casa Tagine
$65
Beginners
Any
11.5 lbs
Buy
One final opinion. Many people have asked me which tagine I would buy. I'm lucky to have a zillion traditional style tagines out my door (literally there's someone across the street that sells them). I've used traditional tagines for years.
But, if I were buying one new and didn't live here, I'd choose the Le Creuset tagine.
It's a sturdy, versatile tagine that you'll be able to use for years and they have amazing customer service if something ever did go wrong.
How to Season a Tagine
If this is the first tagine you will be buying then you may need a few pointers on how to make the best use of it. When getting started it will depend on the tagine you choose.
For clay tagines you should always season/prime it to begin with. This may sound like an arduous process but if you want to keep your tagine from cracking it is very important. Not only does it strengthen the clay from cracking but can help remove some of the clay taste that comes naturally.
Soak the lid and the base of the tagine in water for a minimum of 2 hours.
Drain the water and air dry the tagine. For an unglazed tagine, rub the entire vessel (interior and exterior) of the lid and base with olive oil.
Put the pieces into a cold oven and turn the heat to 150C/300F for 2 hours.
Turn off the oven, and leave the tagine to cool.
Wash the cooled tagine by hand, and coat the interior again with olive oil before storing or using it.
Why is this important?
Clay and ceramic tagines will crack when put on high heat. They also can easily crack if put on any heat with nothing in the vessel so you should always take care to never do this. You should always use the lowest burner setting on a stove top and the oven unless you have chosen a tagine that specifically states it has a higher temperature point.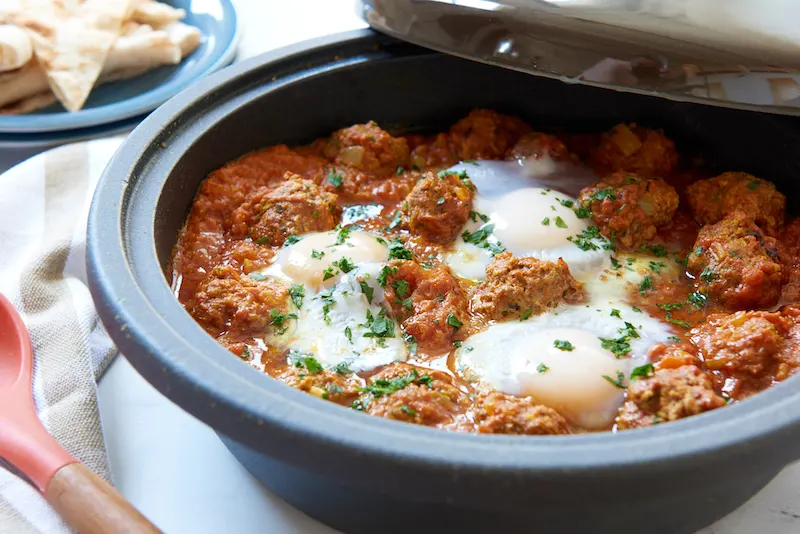 Tagine Pots for Electric Stoves
Using a clay pot on an electric stove is generally not a good idea. You need to have something between the coils and the clay so that it doesn't crack. A good way to protect your terra cotta tagine is to use a heat diffuser. This is a really inexpensive, simple instrument that you can purchase.
To use you just put the diffuser between the stovetop heat source and your tagine.
Really, that's it! I've found that for those who are afraid of cracking their tagine this is an easy way to ease into using them. You still need to keep the temperature low but it does add an extra layer of protection.
Pick up a heat diffuser for your tagines
If you'd rather not worry about cracking your tagine, then choose a tagine for electric stoves. I have a post that specifically talks about these tagines and can be very helpful in your shopping quest.
Best Tagines for Electric Stoves
Tagine Cookbooks
Once you've gotten your tagine and prepared it, it's time to start cooking! There are countless tagine recipes out there so where should you start? You can browse my site for several different recipes. There are also a few cookbooks that I really love and think you will too.
Get my list of Moroccan cookbooks I love here.
Tagines for Induction Cooktops
If you have an induction cooktop not all tagines will work. If you're wondering if you can use a clay tagine on an induction hob chances are no. Because of how these stoves work you will need to purchase a tagine that specifically works for this. I have another post that shares some of the tagines that will work for these types of stoves.
Best Tagines for Induction Stovetops (Induction Hobs)
Once you start cooking with a tagine you will discover how easy it really is. I highly recommend investing in a piece that you can have for several years. Even though it may seem like another piece of cookware it has so many uses!