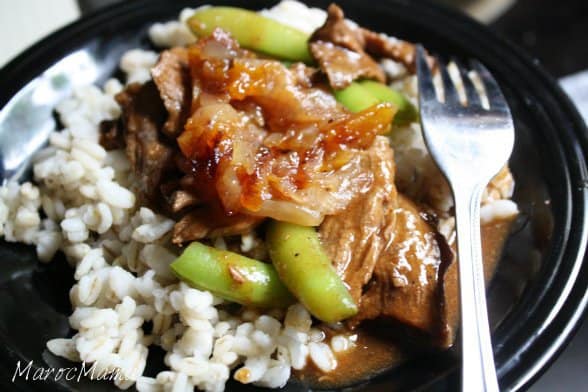 Last week I asked my Facebook fans (you are a fan right?) what they're go to meals are for summer time. If you are anything like me spending hours in the kitchen during the summer months is low on your priority list. I've been making a lot of really fast and easy dishes on the grill or that only have a short cooking time on the stove. We don't have central air conditioning so keeping the house cool is a constant battle in the summer months. Some of our favorite dishes (like tagines) take a long time to cook on the stove – but I've found a short cut!
This weekend I'm at BlogHer Food in Seattle, thanks to the support of Saffron Road Food. I have been playing with their new simmer sauces for a few weeks and I knew that when it came time to use the Moroccan Tagine sauce I had to do something traditional. Immediately I thought to create a fast and easy tagine. This recipe takes less than 30 minutes to cook and is packed with flavor. If you have 15 extra minutes adding the mrouzia moves this dish up a level!
Ingredients
1 lb beef such as an arm roast cut thinly
1 package Saffron Road Food Moroccan Tagine Simmer Sauce
1 1/2 cups fresh snap peas
2 tbsp grape seed or vegetable oil
For the Mrouzia
5-6 dried apricots chopped
Directions
In a large, heavy bottomed pan add the grape seed oil and turn heat to high. Once the oil is hot, add the beef. After 1-2 minutes begin to stir the meat to brown. Turn down the heat to medium. Add the contents of the Moroccan Tagine simmer sauce and mix the meat to coat. Fill the empty pouch of simmer sauce with water and add to the pan, mixing again. Cover and allow to cook 10 minutes until the meat is completely cooked through.
While waiting for the meat to cook, clean and trim the snap peas. I choose to remove both the top and bottom part of the stem. When the meat is completely cooked through add the peas to the sauce. Cook uncovered for 8-10 more minutes. The peas should still have a crunch to them. This can be served over any grain such as rice, barley, or quinoa. It also can be eaten as is using bread in the traditional Moroccan way.
Bonus Recipe: Sweet Onion and Apricot Mrouzia
Mrouzia is traditionally served on top of couscous but it makes a delicious addition to this dish as well. You can start cooking the onions as soon as you start the beef. (Ingredients listed above)
Slice the onion into rounds as thin as possible. Add to a medium size skillet and turn the heat to medium. You will be sweating the onions – this is a slow process.
Pour 2 tbsp of water and 1 tbsp of sugar into the pan and mix. Cover the pan and allow the onions to cook for 15 minutes.
Remove the cover and stir the onions. At this point you can add the cinnamon, salt and apricots. You may need to add a little more water if the onions appear to be sticking.
Cover again and leave for 10 minutes. Once the onions and apricots are soft the mrouzia is done. For the final 5 minutes of cooking add 1 tbsp honey and make sure the onions and apricots are completely coated with the sauce.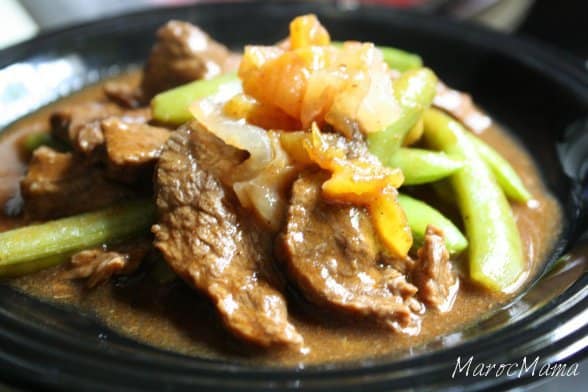 Thirty minutes to a meal that looks that good – who wants to eat bad fast food when you can have a tasty tagine? Saffron Roads' Simmer Sauce variety really help to cut down on cooking time without sacrificing flavor.
Looking for more easy Moroccan recipes? Click the link!
Be a part of the MarocMama family!
Do you want access to all things MarocMama? Join our community of readers to get updates on new posts, inside information that won't go on the blog and so much more!
Sound good? Pop your email below and you're in!