If you have been a long-time reader here you may be noticing some recipes that I posted a very long time ago are reappearing. I have been doing my best to better document ingredients, measurements, and tips and tricks of some of these favorite dishes. I have also been slowly retaking the images. I hope you'll agree with me that my pictures have improved and include more step-by-step images.
This recipe is one that I used to make very often because it is easy to do and doesn't take long to cook. It's truly a very simple Moroccan recipe. But as we've cut back on red meat, and almost cut it out completely, I hadn't made it in a long time. While there are no slow cookers or other "fast" tools used to make this, if you have a few pantry items and a bit of meat on hand, you can pull this together in 30-45 minutes!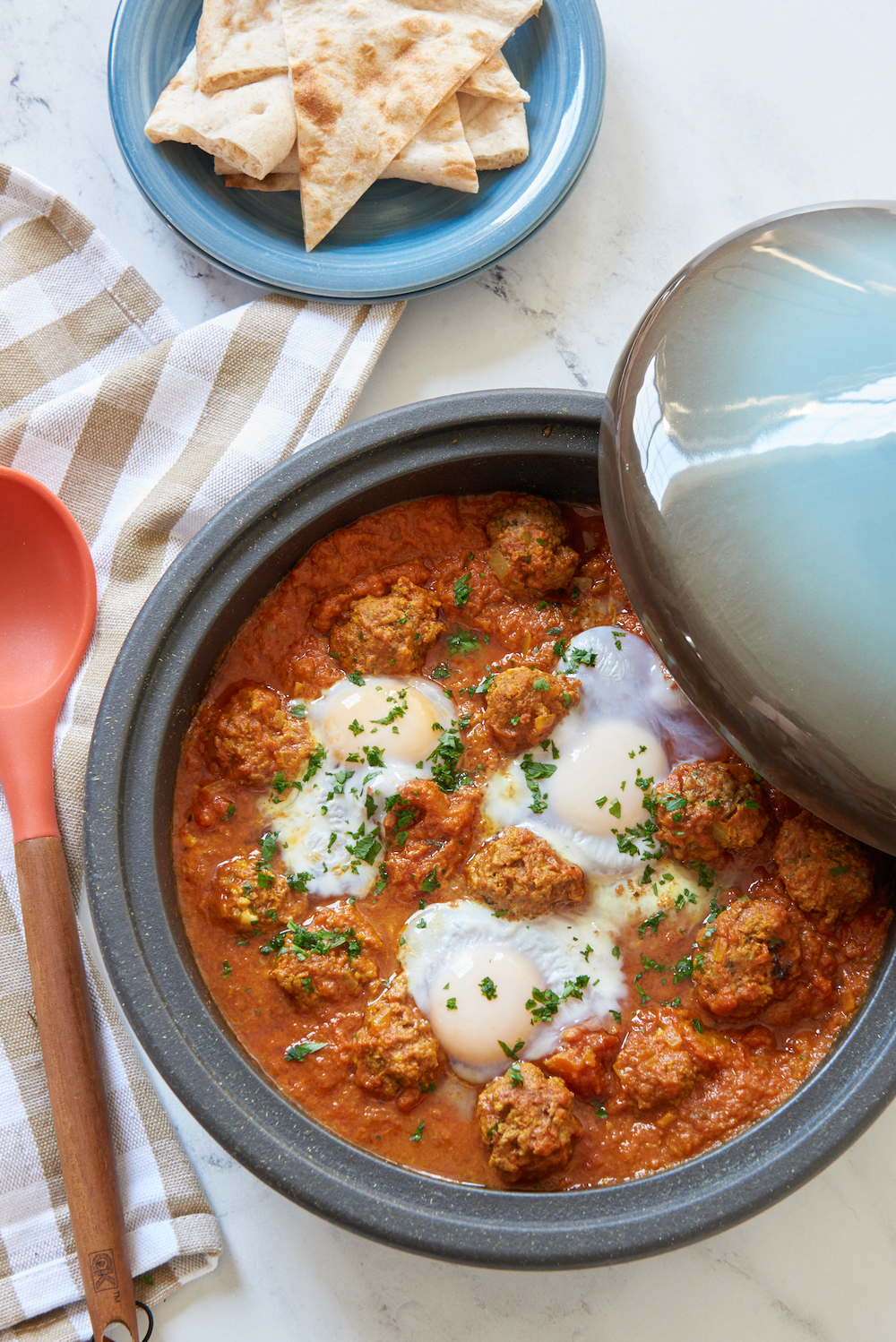 Instead of ground beef, which is traditionally used, I often substitute ground turkey or ground chicken. Any ground meat will work so feel free to experiment or use what you have on hand. The spices I've listed are a guide as well. If you prefer your food a little spicier, go ahead and add in some hot peppers or serve some harissa on the side. I've also mixed green peas into this before to add a little more vegetables to the meal and that was a hit too!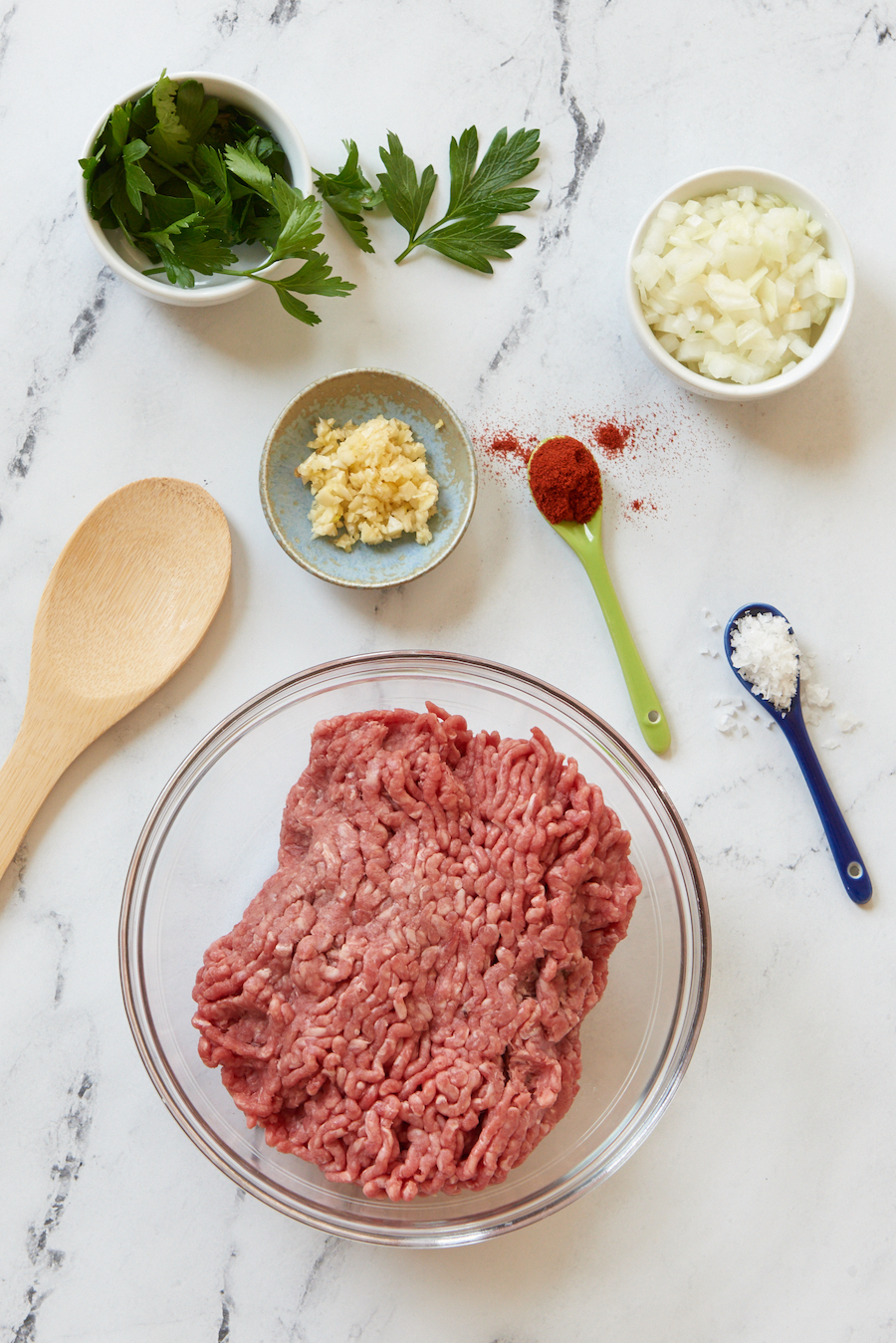 Yield:

4 servings
Kefta and Egg Tajine
A great breakfast or dinner dish using ingredients you likely have on hand.
Ingredients
Meatball Ingredients
1 lb ground lamb or beef
1 tablespoon garlic, minced
1/2 onion finely diced
1/2 teaspoon salt
1/2 teaspoon paprika
Small handful chopped Italian parsley
Tomato Sauce Ingredients
2-3 Tablespoons olive oil
1/2 onion finely diced
3 large tomatoes
1 teaspoon turmeric
2 teaspoons spicy paprika (sudaniya in Morocco)
1/2 teaspoon salt
1 1/2 tsp cumin
1 teaspoon chopped Italian parsley
1 teaspoon garlic crushed
3 eggs
Instructions
Using 1 pound of ground meat mix in 1 tbsp crushed garlic, 1/2 onion diced finely, 1/2 tsp salt, and 1/2 tsp paprika, and a small handful of chopped Italian parsley. Mix well with your hand to combine all of the ingredients.
Roll into small balls slightly larger than a grape. You can really make these any size you would like, we just prefer them smaller - they also cook faster when they're smaller.
In your tajine add 2-3 tbsp olive oil and 1/2 onion minced finely.
Place the tajine on the stovetop on medium heat, using a diffuser if you have an electric range.
While this is heating up grate the insides of 3 large hothouse tomatoes (or a similar variety) into a bowl and discarding the skins.
Mix into this 1 tsp turmeric, 2 tsp spicy paprika (sudaniya in Morocco), 1/2 tsp salt, 1 1/2 tsp cumin, 1 tsp chopped Italian parsley, and 1 tsp garlic crushed. Pour this into the pre-heated tajine.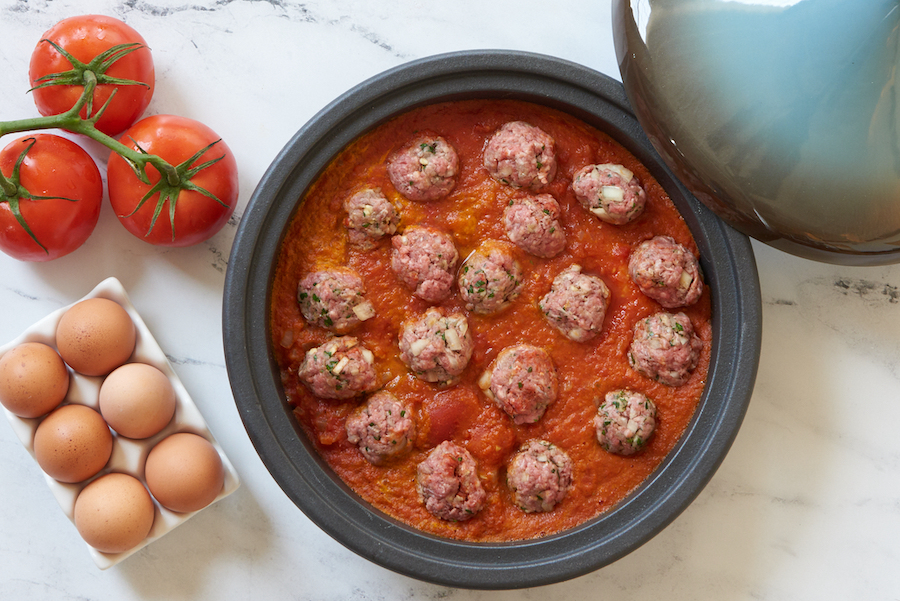 Arrange the meatballs in the tajine so that they each have a little space to soak up the sauce. If you have more meatballs than space in the tajine reserve them for another dish. You do want to make sure there is enough room for some sauce to remain.
Cover the tajine and continue to cook on low to medium heat. Check after 30 minutes.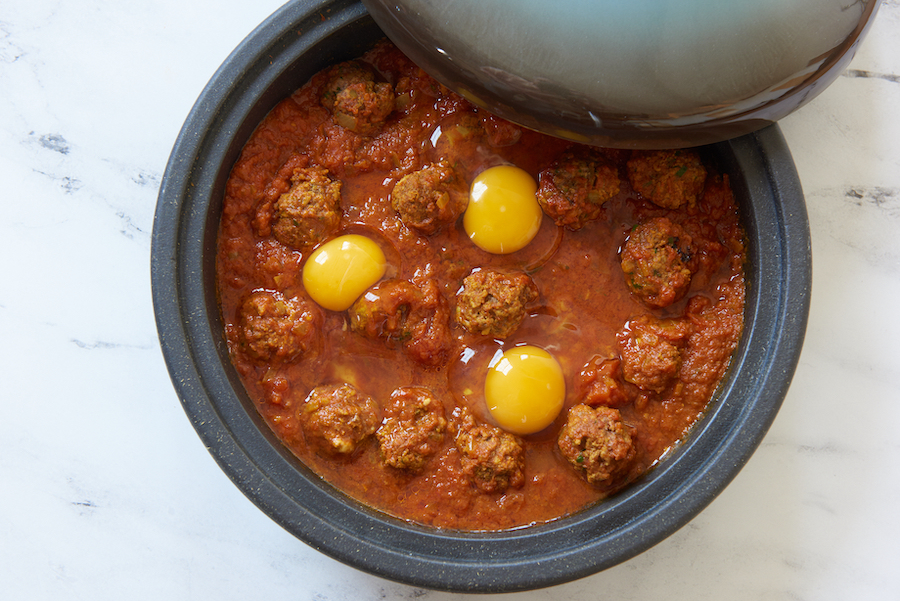 Once the meatballs are cooked through, crack 3 eggs and place them on top of the meatballs and sauce. Cover the tajine again so that the eggs can cook through.
Some people like the eggs to be steamed just until they are set but the yolk still is runny, however, I cook mine until the yolk is hard.
Eat by scooping up bites with crusty bread, like this Moroccan bread!
Notes
Like things a little spicy? You can add some cayenne pepper or harissa to this dish too!
Recommended Products
As an Amazon Associate and member of other affiliate programs, I earn from qualifying purchases.
Moroccan Brunch Ideas
This recipe is a great example of a dish perfect for a Moroccan brunch. If you're hosting a brunch try some of these recipes as well.
Sweet Cinnamon and Apricot Scones