You might only know of 5 minute couscous but let me assure you this is not a Moroccan couscous recipe! Most of the countries of North Africa claim couscous as their national dish and there's a wide variety of preparation styles and toppings.
Where did couscous come from?
No one is certain where couscous originated from. However it's believed to have been derived from the Berber (Amazigh) word seksu which means "rounded." There is evidence of it being made and eaten as early as the 7th century and it's noted in Ibn Battuta's famous book Travels. It is widely eaten across North Africa among all ethnic and religious groups. Varieties are also found in Levant countries.
What is couscous made of?
Wondering where couscous comes from? While some people think it's a grain (technically it is) it's actually a type of pasta. Couscous is made from semolina, which is purified durum wheat. There are many types of couscous made with a variety of different grains such as barley, corn, millet and even almond flour.
How do you cook couscous?
There are two main ways to make couscous, The instant version that most people are familiar with and the traditional way that takes a bit more time. The couscous used to cook both are exactly the same, the only difference is in how they are prepared.
Some people have asked can I cook couscous in a tajine? No you can not. It requires steaming and this isn't possible in a tajine. You can however use a tajine to serve couscous.
Follow this step by step tutorial on how to make couscous the traditional Moroccan way.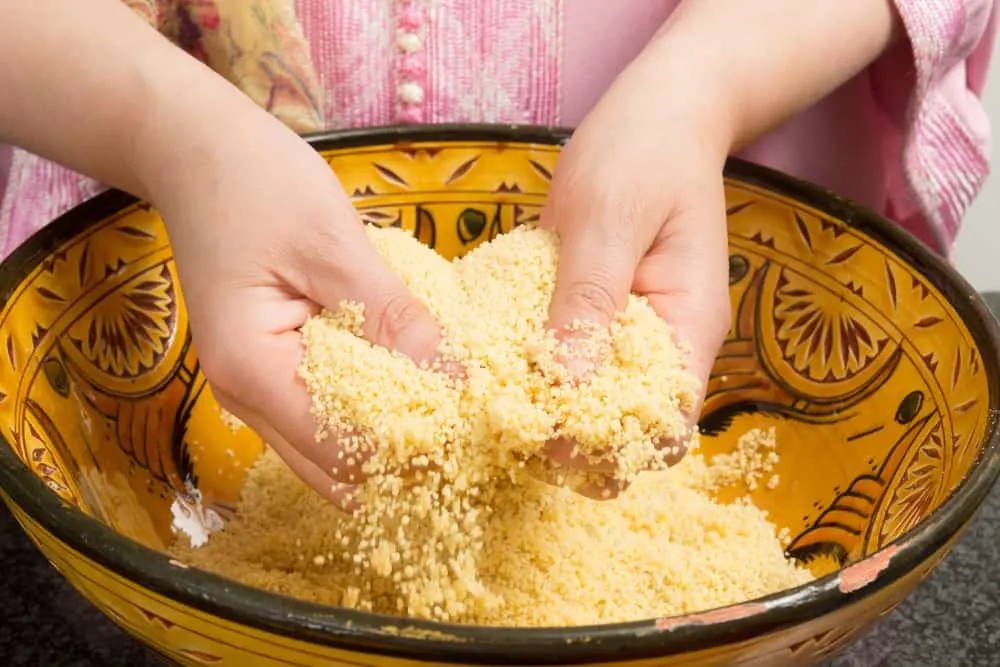 How long does couscous last?
When couscous is in its dried, package form it can last quite awhile (typically shelf length is 1-2 years). However if it has been cooked it's best not to leave it in the refrigerator for more than three days.
Wondering if you can freeze couscous? You can! You do need to make sure that the couscous is on its own. It shouldn't be frozen with any of the vegetables or meat – you'll just end up with a globby mess. Allow the couscous to cool completely. It might help to spread it out on a tray or pan to make this process go faster.
Place the plate or tray directly into the freezer until it's frozen and then transfer couscous into a freezer safe bag or container until you're ready to use it.
To reheat frozen couscous, remove it from the freezer. In a skillet or a pot, add a bit of oil or butter along with 1 -2 Tbsp of water. Add the couscous and keep stirring until it fluffs back up and is warmed through.
What goes well with couscous?
Many people have been led to believe that couscous is a side dish (I've actually written a whole post on this) that goes along side tajine and are confused when they aren't served this in Morocco. It's because tajine and couscous are two different meals.
I repeat couscous and tajine are TWO DIFFERENT MEALS!
If you want to make couscous as a side dish you can, but just keep in mind this isn't the authentic way to make couscous.
In search of some couscous recipes that aren't authentic? Try one of these couscous side dish recipes I rounded up for you.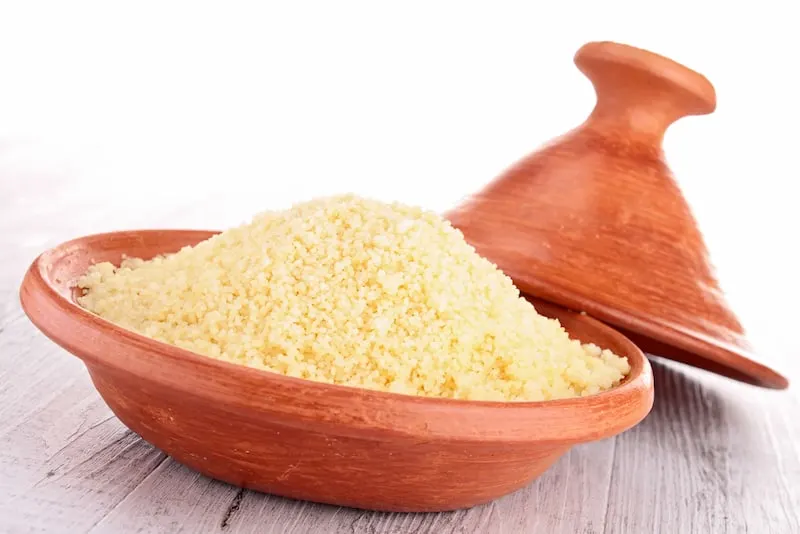 Does couscous have gluten?
Yes, couscous is made from durum wheat and it absolutely has gluten. There are some products on the market now that are gluten-free couscous. For example corn couscous can be made with cornmeal or polenta. Quinoa or millet grains can be substituted or even rice. Some companies also are making gluten-free couscous.
Are you looking for couscous meal ideas?
You can find all of my recipes using couscous in the posts below.
It isn't as hard as it may sound. For those cooks who want a little extra challenge roll up your sleeves and grab a few ingredients and tools and you'll soon be on your way to a delicious homemade couscous.
There's no five minute couscous in Morocco. Learn the traditional process to prepare and steam Moroccan couscous.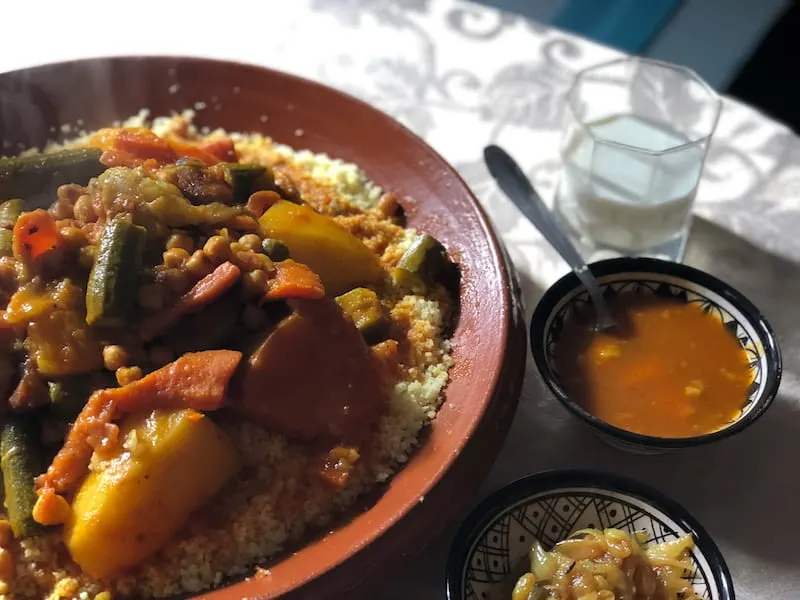 A classic preparation that is also a vegetarian couscous. This is a simple way to use up a lot of leftover vegetables while still enjoying a fabulous meal!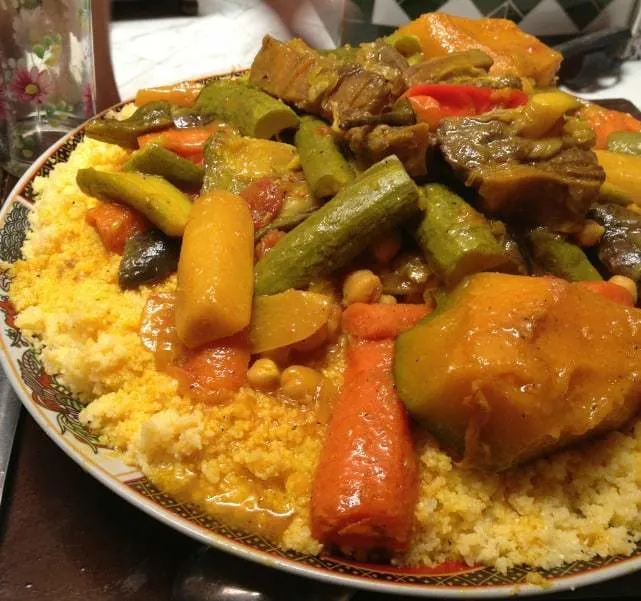 One of the most traditional couscous recipes is lamb and vegetable couscous. While there might be a tendency to make the meat the star of this dish it's really just an added element. Break out the produce and get cooking!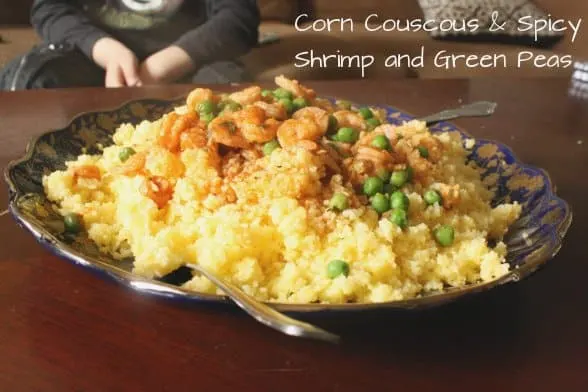 Celiac's can't eat normal couscous so I set out to make this gluten free version. Corn couscous is eaten in Morocco. It's made the same way normal couscous is but by substituting dried corn flour for wheat flour. It does taste a bit like grits but the preparation is different. In this recipe I pair it with peas and shrimp but you can make it with any topping you like.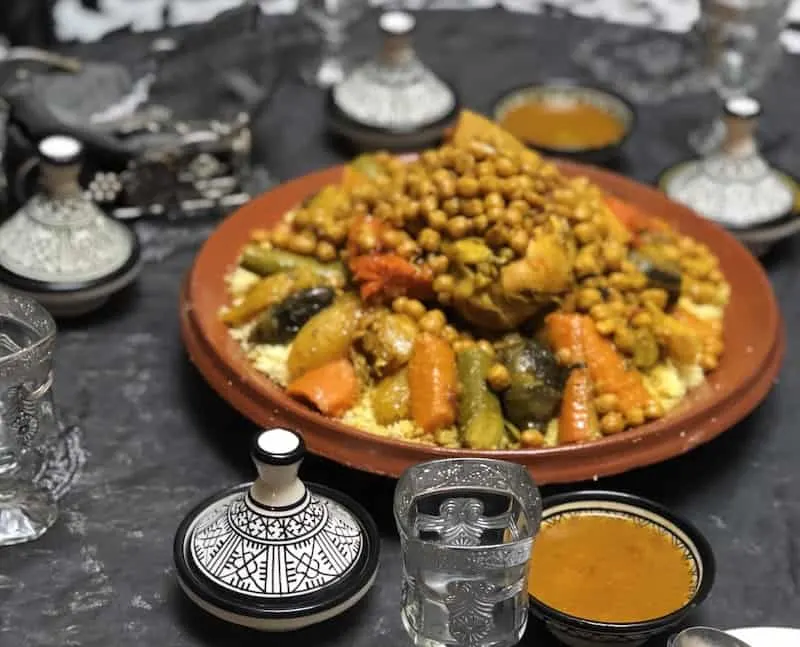 If you prefer chicken over red meat or seafood, chicken couscous might be perfect for you. The ingredients and spices aren't too different. I have found with this recipe you can really play with which vegetables you're using.
Looking to up your couscous game? Then you may want try out this recipe for an easy couscous tfaya. It's a delicious slow cooked onion and raisin topping you'll want to eat all day.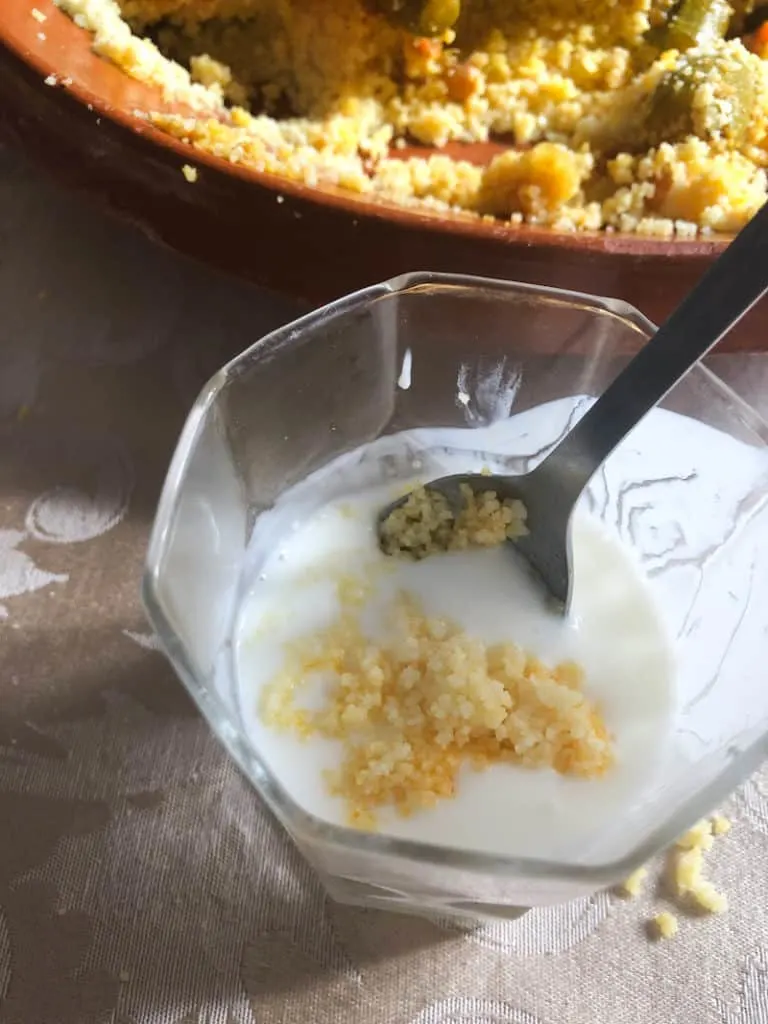 A simple dish that's usually eaten at the end of a couscous meal by mixing the leftover couscous with buttermilk. It's also commonly sold by street vendors as a treat.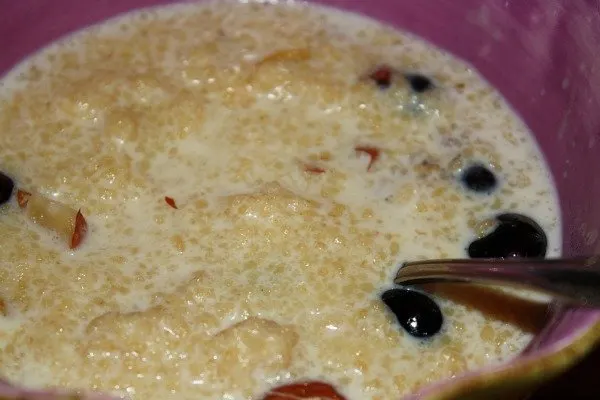 You won't find this version of couscous ever served in Morocco, it's my own creation. Sometimes people do make a snack with buttermilk and couscous called seikook and I made this recipe as a play on that tradition.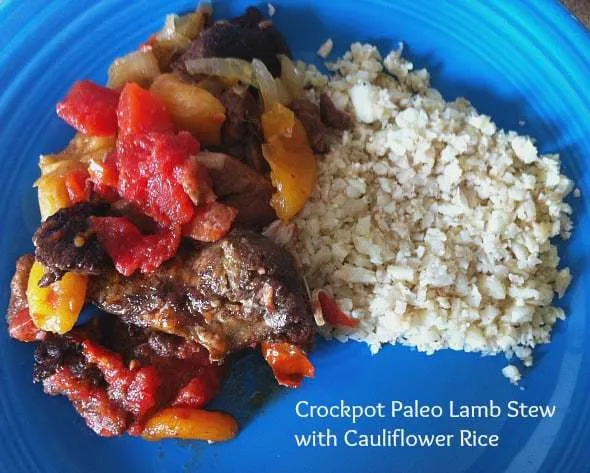 If you're on a low carb diet than this might be just the recipe you know. Technically the cauliflower portion can be considered couscous or rice – take your pick! The preparation is quite a bit differently but you can pull out your crockpot to pull this off quickly. This is a good couscous for celiacs to consider.