This post may contain affiliate links for suggested items you can purchase. You are not charged any additional cost for purchasing via these links, however by utilizing them you help keep this site running!
The sun has finally shown here for more than two consecutive days and I am wavering on the possibility that it just might be summer time….or spring at least…I'm not sure.  I've been seeing so many artichoke recipes lately that it was making me tear up just thinking about places where they were already in season when all I was getting here was some rhubarb and early lettuce.  Lucky for me I found some frozen artichoke hearts in the organic frozen foods and snagged a box. 


Here was my dilemma going into this..do I really like artichokes?  I like spinach and artichoke dip but to eat an artichoke…oh well I went for it.  Thanks to my mother in law for sharing this recipe with me (and you!)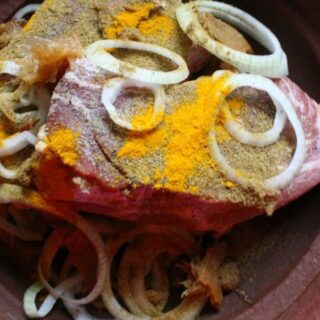 Lamb and Artichoke Tajine
Ingredients
1 1/2 - 2 lbs lamb or mutton
1 medium onion sliced into rings
2-3 artichokes cleaned
1/2 preserved lemon cut into several pieces
1 tsp olive oil
2 tsp cumin
2 tsp crushed or minced garlic
1 tsp pepper
1 tsp turmeric
1/2 c water
Instructions
In a bowl whisk together olive oil, cumin, garlic, pepper and turmeric.
In the bottom of a medium tajine add the artichokes and sliced onions to create a bed for the lamb.
Clean and trim the pieces of lamb removing some of the fat (but not all!)
Place the lamb on top of the onions and artichokes.
Drizzle the lamb with the oil and spice mixture, rubbing the mixture into the meat.
Place the pieces of preserved lemon around the tajine, slipping between the meat and vegetables.
Add the 1/2 cup of water to the tajine. Do not pour directly on top of the meat but around the edges.
Cover the tajine and place on the stovetop, making sure to use a diffuser if cooking on an electric burner.
Cook for 1 hour on low-medium heat. Check by lifting the lid and using a spoon to pour the liquid on top of the meat. Add more water if needed.
Cover and cook until the meat is tender and falling apart and the liquid in the tajine has reduced to a medium/thick sauce.
Serve with a crusty bread and eat hot.