I am convinced this is THE tajine of spring. As soon as I see the first artichokes in the market my mind immediately races to this dish. Eaten out of season it just isn't quite as good.
I love the combinations that this tajine brings together. Sometimes everything just becomes mush and the same taste but when done right this is a dream come true. The artichokes become creamy, the peas are a sweet pop of flavor, the meat adds a heavier component and the spices pop up a mixture of tastes in your mouth.
This recipe is best when made with fresh artichokes and fresh green peas however if you can only get frozen it will work too. I like to soak both in warm water before adding to the tajine, bringing them up to room temperature. I find they suck in the flavors of the dish better and don't water it down.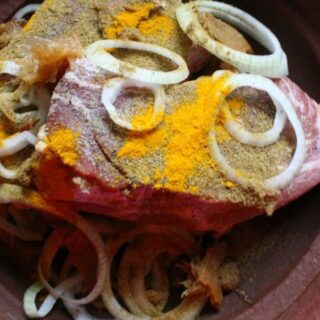 Lamb and Artichoke Tajine
Ingredients
1 1/2 - 2 lbs lamb or mutton
1 medium onion sliced into rings
2-3 artichokes cleaned
1/2 preserved lemon cut into several pieces
1 tsp olive oil
2 tsp cumin
2 tsp crushed or minced garlic
1 tsp pepper
1 tsp turmeric
1/2 c water
Instructions
In a bowl whisk together olive oil, cumin, garlic, pepper and turmeric.
In the bottom of a medium tajine add the artichokes and sliced onions to create a bed for the lamb.
Clean and trim the pieces of lamb removing some of the fat (but not all!)
Place the lamb on top of the onions and artichokes.
Drizzle the lamb with the oil and spice mixture, rubbing the mixture into the meat.
Place the pieces of preserved lemon around the tajine, slipping between the meat and vegetables.
Add the 1/2 cup of water to the tajine. Do not pour directly on top of the meat but around the edges.
Cover the tajine and place on the stovetop, making sure to use a diffuser if cooking on an electric burner.
Cook for 1 hour on low-medium heat. Check by lifting the lid and using a spoon to pour the liquid on top of the meat. Add more water if needed.
Cover and cook until the meat is tender and falling apart and the liquid in the tajine has reduced to a medium/thick sauce.
Serve with a crusty bread and eat hot.