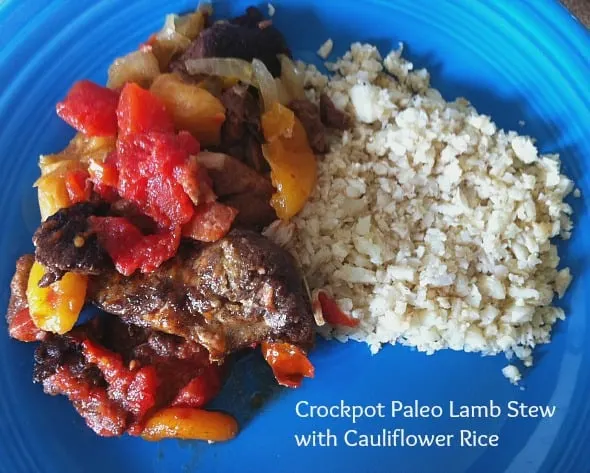 Recently my sister moved to the town we live in. I am so excited that my niece and nephews are close by! When I first visited Morocco and met MarocBaba my sister was with and it's safe to say she played some part in creating the events that led to us meeting.
She also grew to really like Moroccan food and her continued questioning me for my Moroccan recipes is what made me create a blog almost 5 years ago! With three kids under 6 and attending school full time she doesn't have enough time to write her own blog, but lucky for us she's going to share her recipes here. She makes some really good desserts and delicious paleo meals. This meal is easy to prepare, paleo and gluten-free! We hope you enjoy it.
Want more easy Moroccan recipes? Click the link!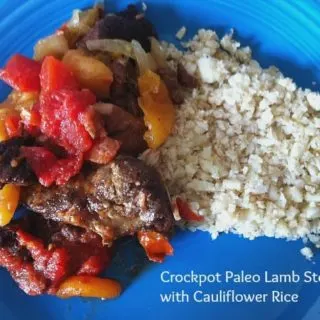 Yield:

4 servings
Crockpot Paleo Lamb Tajine with Cauliflower Rice
adapted from paleopot.com
Ingredients
1# Lean lamb (cut into 1" chunks) - If you don't like lamb you can use beef or chicken
2 tsp olive, coconut, or avocado oil
1 tsp ground cinnamon
1 tsp ground coriander
1 tsp ground cumin
1 medium red onion - sliced
1 clove of garlic
2 cups chopped tomato (I used one can of no salt added tomatoes)
1 cup dried apricots (no sugar added)
Instructions
Place lamb cubes in bowl, adding spices and oil. Mix to coat in spices.
Heat a nonstick skillet over high until hot and add the spiced lamb. Reduce heat to medium and stir until the pieces are browned.
Add all of the ingredients to your crock pot.
Cook on low for 6-8 hours
Serve on a bed of cauliflower rice (or real rice if you aren't paleo)