Moroccan rugs are a beautiful addition to any home. However, there is a lot that goes into the process; beginning with the craftsmanship of the rugs to the final placement and lifetime in your home.
Berber Moroccan Rugs
One of the common questions people have is the difference between Moroccan rugs and Berber rugs and the reality is, there is no difference. Moroccan rugs are made by the Amazigh (Berber) people. So a Moroccan rug is a Berber rug!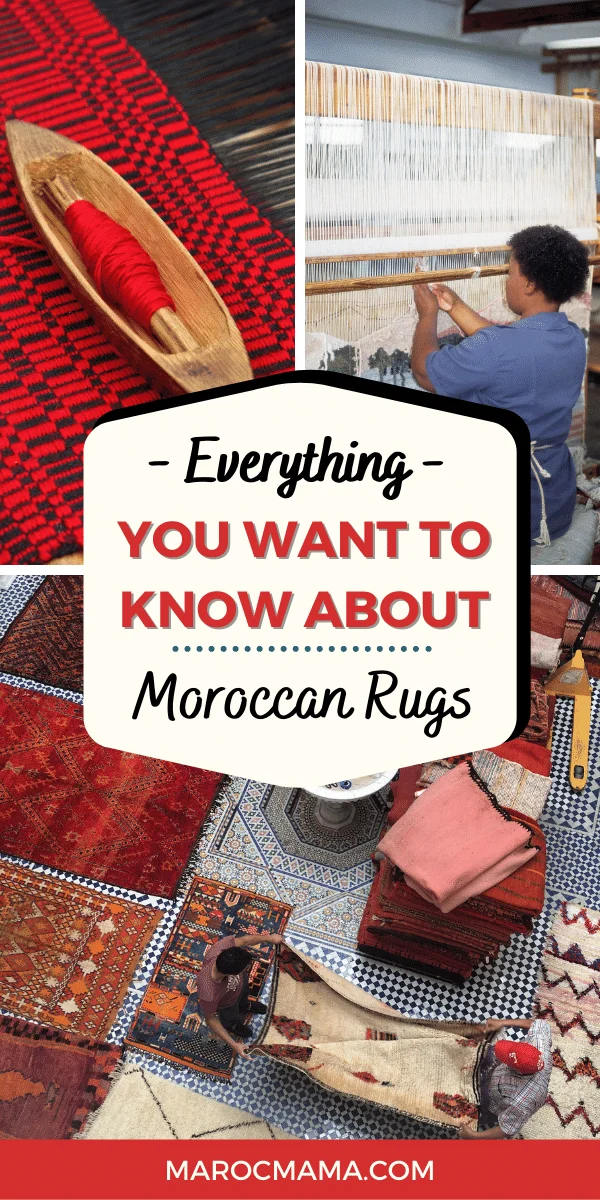 How Moroccan Rugs are Made Matters
When you are shopping or learning about Moroccan rugs there are a few different things to consider as important distinctions. I break the rugs into a few categories.
Handmade Moroccan Rugs – Technically all Moroccan rugs are handmade, if they are the real thing. There aren't factories in Morocco that create knotted rugs. Therefore the handmade title applies to all of them. That being said there are "factories" that create new rugs. These aren't factories in the sense of mechanized places turning out rugs. A factory in this sense is a place where rug orders come in and are worked on to create a specific design.
Homemade Moroccan Rugs – Homemade rugs are rugs that are woven at home. They have been or are made the traditional way. A woman has extra time, is in need of a rug for her home, or to sell and creates a rug that she envisions.
Moroccan Inspired Rugs – These aren't made in Morocco at all (typically) but are inspired by traditional Moroccan styles or patterns. It is more and more common to see these. There is nothing wrong with a Moroccan inspired rug as long as you know what you're shopping for and are ok with this.
What are Moroccan rugs made from?
Wool. The basic material used to make Moroccan carpets is sheep's wool. However, cotton is sometimes also used for different styles and parts of the rug. Synthetic yarn can also be used – typically this is true when you see very bright, unnatural colors as sometimes happens with different styles. Cactus silk or sabra is another term commonly used (though more with pillows). I highly suggest this post from the Anou before you consider purchasing this type of material.
Learning about Moroccan Rugs
The more you know, the better informed you can be as a shopper and as something that simply admires beautiful things!
Fun fact: Moroccan rugs are called zerbiya in Arabic.
What are the different types of Moroccan rugs?
5 Things to Know about Moroccan rug shopping
My Favorite Styles of Moroccan Rugs
Shopping for Moroccan Rugs
Wondering where you can buy Moroccan rugs? Obviously in Morocco is where you'll get the best selection and prices but there are lots of online options as well.
Where to Buy Moroccan Rugs Online
Ruggable Review: The Best Moroccan Style Washable Rugs
Small Moroccan Rugs for Small Spaces
9 Moroccan Inspired Rugs that Won't Break the Bank
10 Modern Black and White Moroccan Rugs
Stunning White Moroccan Rugs for Your Home
7 Tips for Buying a Moroccan Rug in Marrakech
Caring for Moroccan Rugs
You've got your dream Moroccan carpet but how do you care for it? There's several things to know in advance and in the moment!
How to Clean Moroccan Rugs at Home
The Best Vacuums for Hand Knotted Rugs
The 4 Things You Need to Know to Keep Your Moroccan Rugs Longer Lasting