Before I moved to Morocco I had never eaten a sardine. I had only encountered them from a tin when my grandpa would eat them on saltine crackers as a snack. I would never touch them. But then I had a few different sardines recipes in Morocco and in Portugal and my opinion started to change a little. I'll admit they are never my first choice but I also am open to trying them.
This sardine meatball tajine is the precursor to the infamous sardine meatball sandwiches that make a regular appearance on our food tours. This is the original version of that albeit with fewer bells and whistles. You'll find this tajine on a lot of menus in coastal cities across Morocco. In fact sardines are one of the food items you'll find pretty much everywhere in Morocco.
Trucks carrying this fish criss cross the nation daily. Even in remote regions it's not strange to see sardine trucks. In neighborhoods you'll often hear a man who rides a bicycle hawking fresh sardines from his improvised cooler. Here, you'll pay $1 or less per kilo of sardines – which also makes it one of the most inexpensive "meat" options.
Morocco is the world's top exporter of canned sardines so chances are no matter where you are in the world if you pop open a tin of sardines to make this Moroccan tajine, you're bringing a piece of Morocco to the recipe to begin with. Next time you're at the store just check the labels to see, more than likely most of the sardines will have originated from Morocco!
Sardines are also really good for you – they're packed with vitamins and minerals and the tinned version are usually inexpensive and last for a long time. Fresh sardines are easy to get in Morocco – and a lot of the Mediterranean – but I recognize that isn't the case everywhere. While this recipe uses fresh sardines as the standard I've also included instructions for tinned sardines. Go with the lowest sodium option and stick to the ones packed in oil so that there's no competing flavors.
Yield:

4 servings
Moroccan Sardine Meatball Tajine
Cleaned sardines are mixed with spices to create a meatball tajine that is a favorite in Morocco.
Ingredients
Sardine Meatballs
2 pounds fresh sardines (1 pound once cleaned)
2 cloves garlic
1 Tbsp cumin
1 tsp paprika
Palmful each of chopped parsley and cilantro
Juice of 1 small lemon
Handful of short grain rice (optional)
Tajine Sauce
2 large tomatoes grated and skin discarded
Palmful each of cilantro and parsley chopped
2 cloves of garlic crushed
1 tsp cumin
1 tsp paprika
1/2 tsp salt
2 Tbsp olive oil
Instructions
Before you start cooking it's easiest to make the meatball mix first. You will want to ensure the sardines are as clean as possible; removing all bones and skin. It's a bit easier to do this if you use larger fresh sardines. See the notes section on how to use tinned sardines instead.
After the fish has been cleaned, add the meat, garlic, cumin, paprika, parsley, cilantro and lemon juice to a food processor. Turn on low power to combine all of the ingredients until it's the consistency of a paste. If you are using the rice, mix it in at this point with a spoon.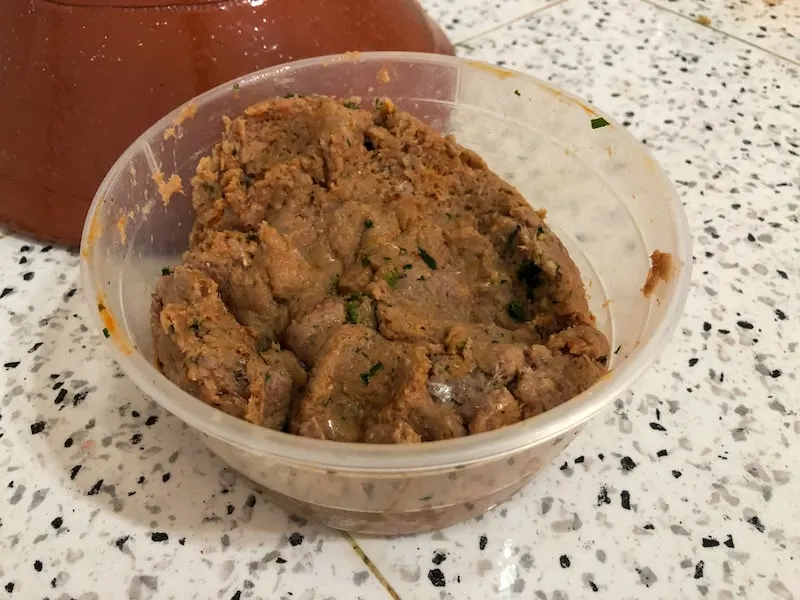 Make the sardine paste into meatballs the size you'd like; typically they are slightly smaller than a golf ball.
In the bottom of a tajine or in a skillet add the olive oil, garlic, and grated tomato flesh. Heat until it begins to bubble and add the remaining ingredients. Allow to cook on low heat.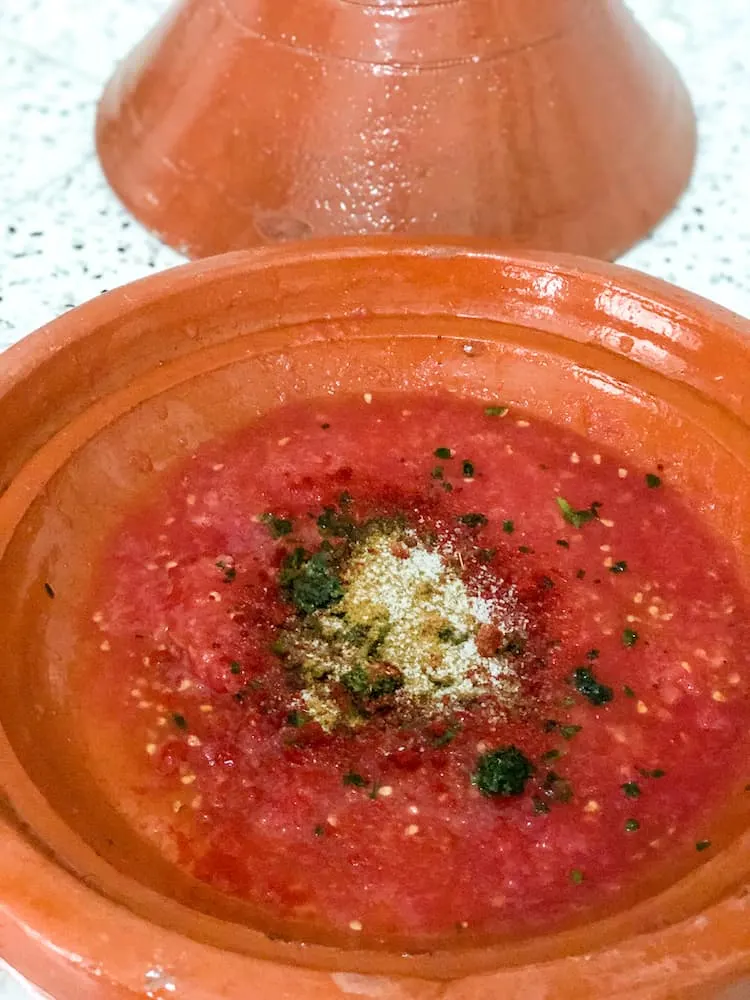 Add the meatballs to the tomato sauce and cover the tajine or skillet. Allow to cook for 30-45 minutes on low heat until the meatballs are cooked all the way through.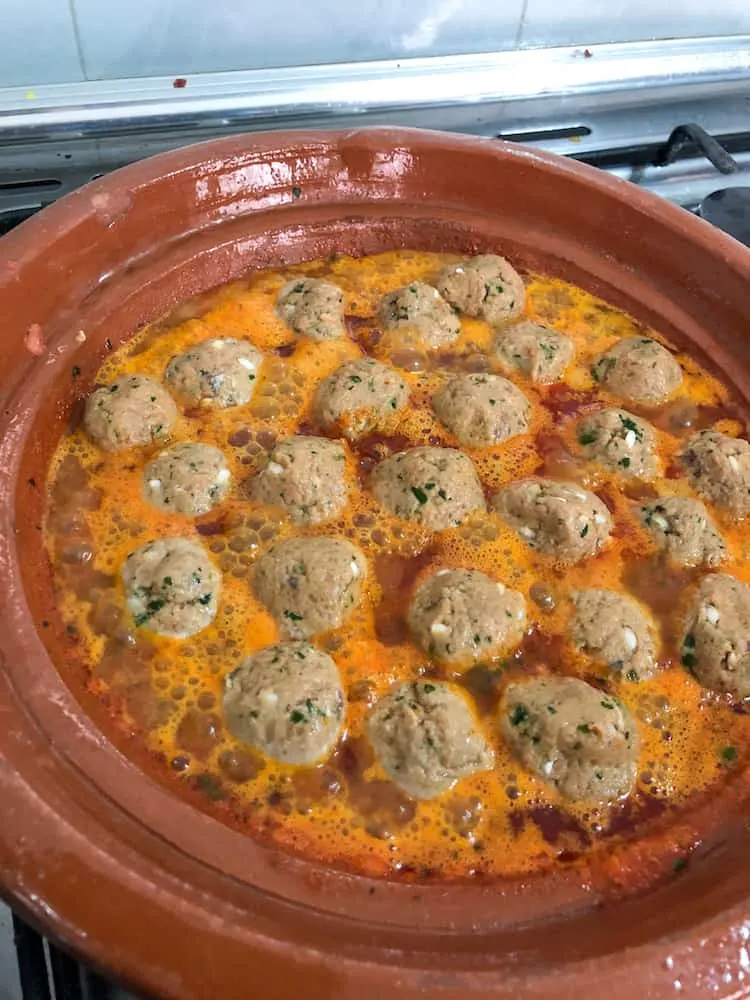 Serve hot with bread for scooping up the dish.
You can also prepare a roast green pepper (either bell pepper or hot pepper), remove the blackened part of the skin and then cut into thin ribbons to places on top of the sardines for an added flavor.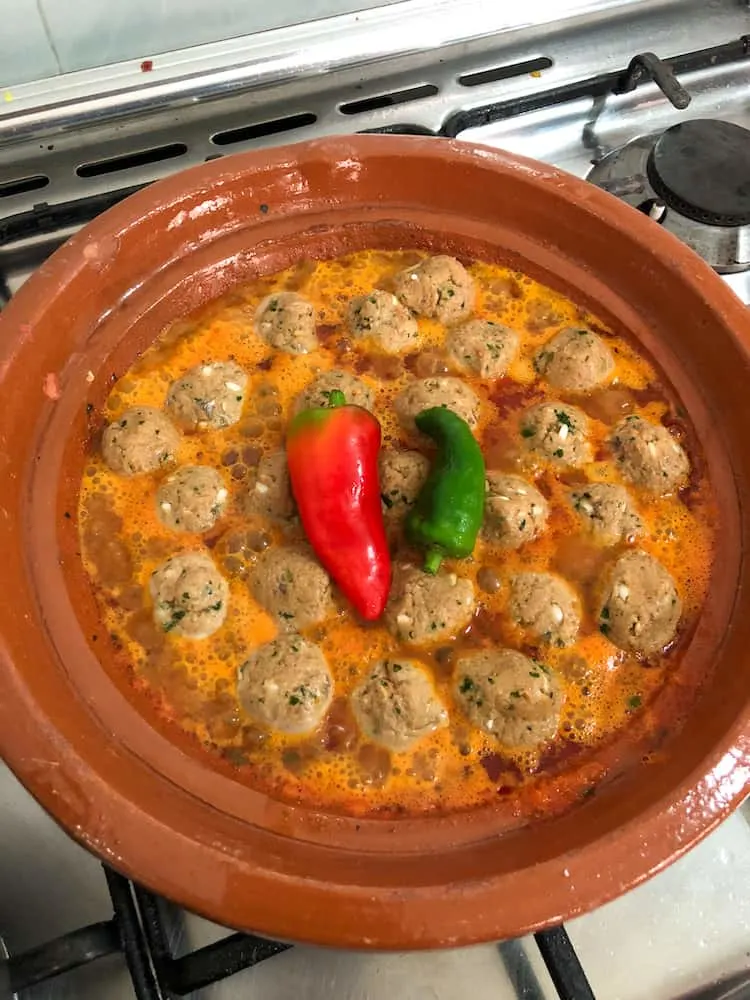 Notes
In this recipe you can use tinned sardines however you will want to take into consideration the salt content before mixing it up. I recommend draining all of the liquid and rinsing the sardine filets first.
What to serve with this tajine?
There are a few different Moroccan salads that would work well with the tajine but of course feel free to choose based on your favorites.
Taktouka (Tomato and Green Pepper)
Arabic Salad (chopped cucumber and tomato