There's no denying it: Morocco is an inspiring, magical place. While the rich history and wonderful people are no doubt a big part of the draw, I'd be remiss if I didn't mention the beautiful design and decor. Demure is not the correct word to describe Morocco or its design. In fact, the gorgeous, intricate visuals of Moroccan metal lamps are part of what draws the eye and makes it linger.
After spending time in the country, I often hear people say they want to incorporate some Moroccan design inspiration into their home. While we can't all style our spaces with heavy hand-forged brass chandeliers, I'm happy to say that Moroccan lamps, pendants, and chandeliers are readily available as people are continually drawn to the style.
Here are some of my favorite Moroccan lamps and lighting to help infuse your home with timeless style.
Moroccan Lamps
You'll be happy to know that investing in gorgeous Moroccan lamps does not mean you have to travel all the way here—although that would be fun, too. If you want to start adding a Moroccan vibe to your home, lamps are the perfect place to start. They are already a softer accent than the glaring overhead lights, and since they are easy to move, you can switch your collection around later on from room to room.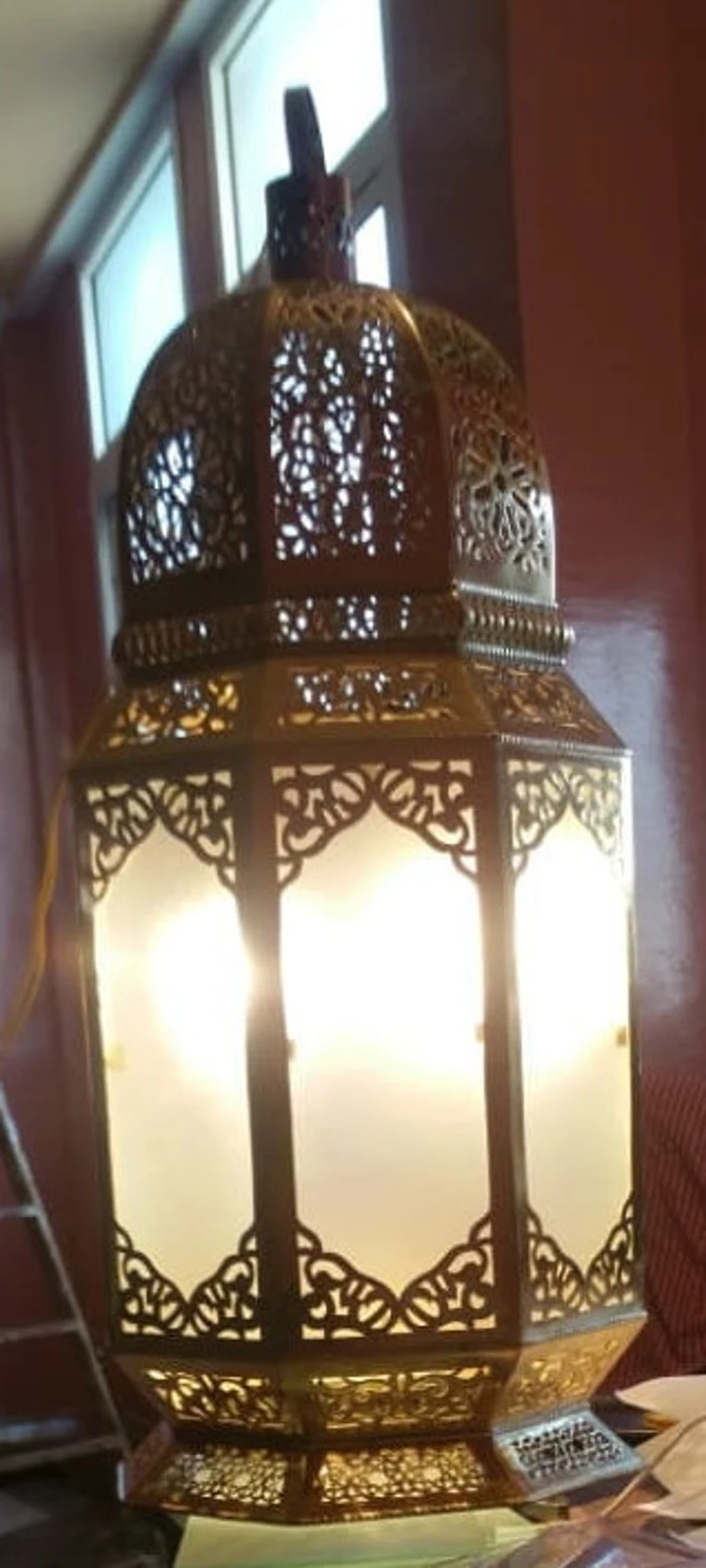 If you are looking for a conversation piece, this is the one. This stunning lamp is available in four different sizes and four different types of metal. If you have a large space that really could use a piece that pops this is one lamp to consider.
This sturdy iron floor lamp adds visual interest in a subtle, yet dramatic way. Not only does it add a unique visual touch but has two bulbs inside to make sure it gives off enough light and a 10 foot cord so you can arrange it as needed.
Moroccan Table Lamp with Swan Neck Detail.
I love the shape of this lamp. Its swan neck shape and star detailing makes this look like a floating suspended lantern. Switch it on and enjoy the patterns the lamp shines onto your walls.
This small lamp would be ideal to put on a bedside table or a sofa table. Switch it on when you need a bit of ambiance and soft light, and enjoy the blue light patterns created by the mosaic glass.
Moroccan Ceiling Fixtures
If you are looking for a way to upgrade your kitchen, dining room or any other area of your home, these Moroccan ceiling fixtures are the perfect starting point. There truly is one for every style.
Moroccan Pendant Lights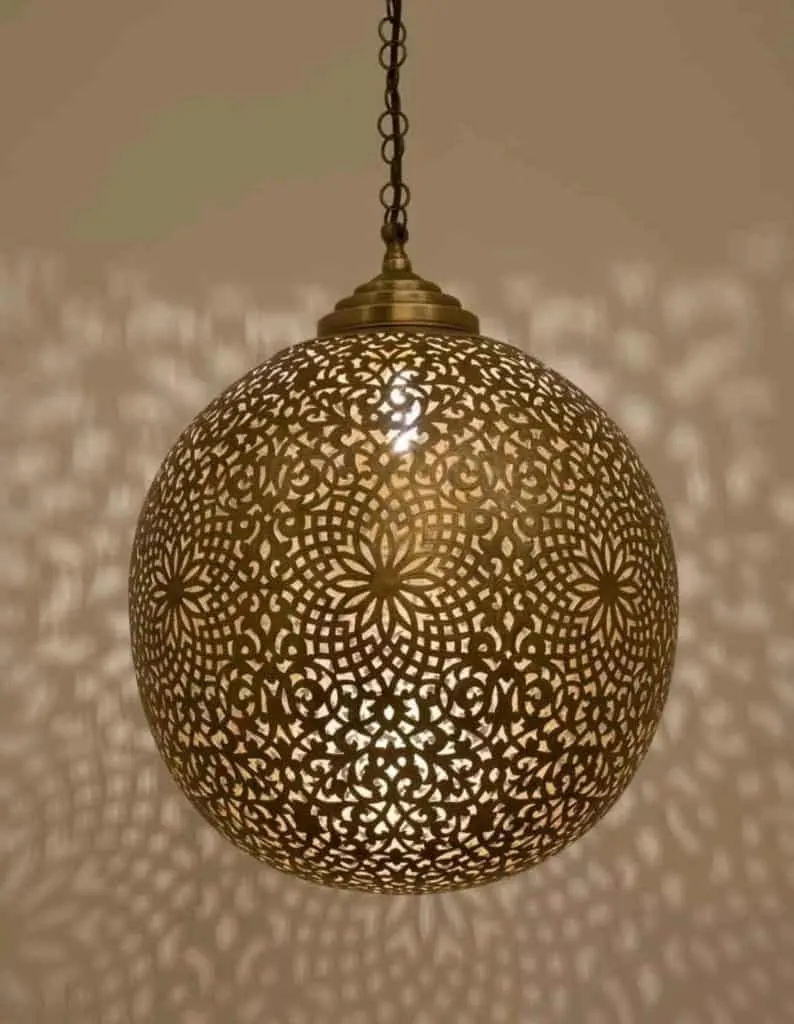 This light fixture is stunning. It has those strong Morrocan vibes thanks to the pattern in the metal, but in one solid natural bronze color, it's a sophisticated take.
Plug-in Moroccan Pendant Light.
This pendant light comes in eight different colors ranging from neutral to bright. This is a great option for those who are renting since it gives you a pendant look without doing any hardwiring.
This black metal pendant looks perfectly normal and neutral while off, but flick it on and you'll be amazed by how beautiful the patterns cast on the wall are in pretty gold light.
Moroccan Chandeliers
This chandelier is a popular style that you'll see all over the souks of Morocco. However because it is a difficult shape to transport most people choose not to bring them home. Now, you can have one delivered to you!
3 Light Pendant with Golden Bronze Finish.
A simple pendant light is a great choice to add a Moroccan feel to your kitchen or bedroom. The diameter is 18″ while the extension rod from the ceiling can extend to 42″.
Mini Globe Hanging Pendant Lighting.
If you're looking for something that is a bit more catchy than this might be the right light. You can also customize your globe by following the instructions on the purchase listing.
Moroccan blue is super popular. From the blue city of Chefchaouan to the blue gardens of Majorelle in Marrakech. Bring a bit of that home when you go for a blue lamp for your home!
How to Add Moroccan Lighting on a Budget
If you want to upgrade a current fixture, but don't have the ability or desire to install brand new Moroccan light fixtures, you can still add a splash of Moroccan flair. Here are a few simple and beautiful ways to do so.
If you already have a table lamp or floor lamp, give it a quick makeover by swapping out the shade. For the most part, lampshades are easy to change and generally more budget-friendly than an entirely new lamp. There are a wide variety of options available, but here are a few of my favorites.
Add Some Non-Electric Accessories
Even without electricity, a candle (real or faux) can exude a romantic vibe that gives Moroccan lamps a run for their money. Here are a few simple ways to get that Moroccan lighting vibe in, sans electricity.
Small Solar Lantern. You can use this lantern on outdoor tables or hang them up outside. It casts a pretty pattern when it's dark and last about eight hours until it needs more solar power.
.
Punched Metal LED Lantern. The charm of a Moroccan lantern with the convenience of LED lights so that you can hang this lantern wherever you'd like.
Hanging Solar Lantern . Ideal for decorating outdoors, this solar powered lantern means you won't need to worry about having a charge or an electric plug-in to operate.
There you have it—my favorite ways to get that authentic Moroccan lighting in any home. Trust me, a new light fixture can make an entire room look and feel different in the best way.