When you're doing any kind of Moroccan cooking you'll want to add drinks to the mix. Maybe you already have a favorite drink to add to your meal plans but if you don't, or you're looking for something different these suggestions for Moroccan and Moroccan-inspired drinks are a good place to start.
A big choice of Moroccan drinks, as well as drinks inspired by Moroccan cuisine, are represented here and I'm constantly experimenting and adding new ones.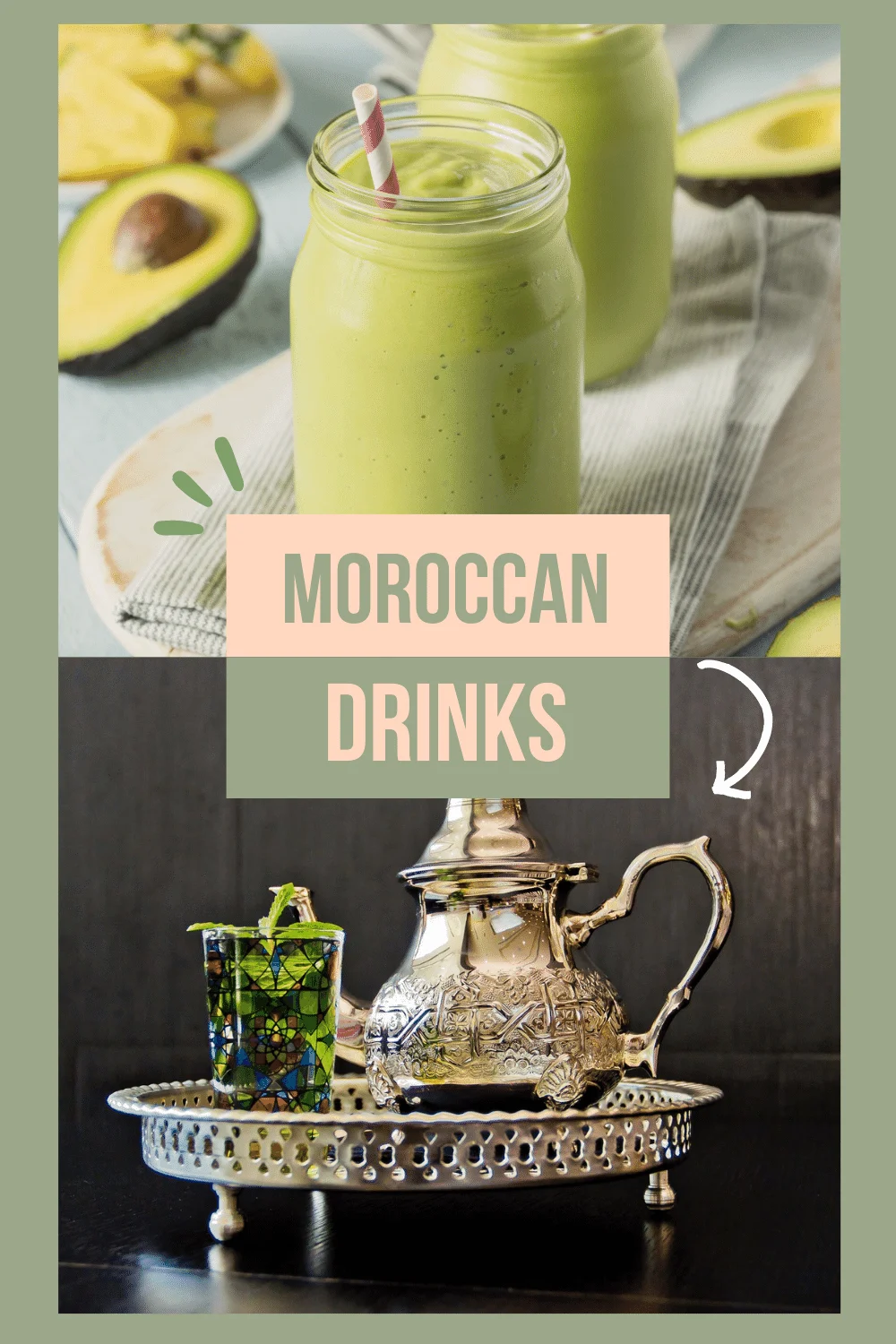 Traditional Moroccan Drinks
This is one of the most popular drinks is traditional Moroccan tea. It is a combination of Chinese gunpowder tea or green tea, fresh mint leaves, and lots of sugar. While the ingredients themselves are very easy, it's the technique that goes into preparing the perfect pot. While mint leaves are most common this is also made using a variety of herbs. Don't forget this is served in small glasses and with an ornate silver teapot and refilled as desired.
How to Make Moroccan Mint Tea with Tea Bags
You can purchase a wide variety of teas that are labeled as Moroccan mint tea bags. These are normally ok, especially if you are in a hurry. If you want to make a more authentic Moroccan tea using tea bags, this post will get you on the right path.
This tea made from herbal infusions is a very popular drink on street corners around the country, especially in the winter months. If you like the idea of trying something different and that will warm you up on a cold winter night, this is the tea for you!
Coffee is not as popular as in areas of the Middle East. Traditionally nous nous is drunk by women as part of their afternoon snack time. It's pretty easy to make especially if you have an espresso machine like a Nespresso. It's the Moroccan version of cafe au lait.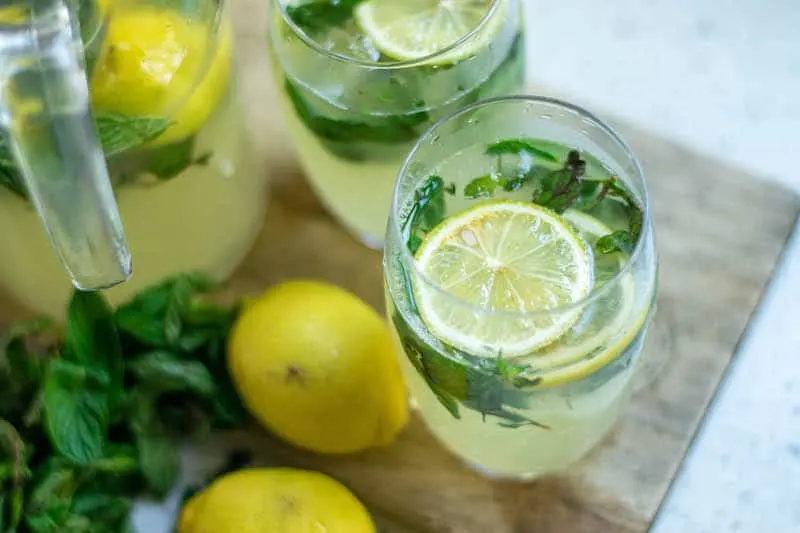 Non-Alcoholic Drinks – Moroccan Inspired Cocktails
While we choose to not drink alcohol, almost all of these drinks can be made into cocktails by including some type of alcohol. If you prefer this option, choose your favorite liquor and add it in.
However, if you don't imbibe these are some well-loved non-alcoholic beverages that anyone can enjoy.
Arnold Palmer – Cold Brew Lemon Iced Tea
This is more of a Moroccan-inspired drink thanks to the lemon and tea combination. Fresh lemon juice for your lemonade will make it really go up a notch.
A very simple iced tea recipe that includes fresh mint and lemon to bring in some flavors of the Mediterranean. Don't forget to add a mint leaf for decoration (and added flavor!
I grew up in an area known for bloody mary's and so I created this version of the drink to enjoy even without the alcohol. Of course, you can add a shot of vodka if you want to make it more traditional.
Moroccan Mint and White Chocolate
Searching for a creamy beverage that's more like a dessert drink? This is it! The flavors of mint and white chocolate definitely bring this more towards the dessert category and it has a taste that's similar to a grasshopper.
Strawberry Mint Alcohol-Free Cocktail
Is there much better than strawberry and mint together? Nope! This is a great mocktail for any time of year but ideal when you have fresh strawberries.
High Atlas Alcohol-Free Rosemary Citrus Spritzer
A very light citrus spritzer that is full of light flavors and perfect for a party or just an afternoon beverage while relaxing. Use the freshest rosemary you can find for the best flavor.
Marrakech Summer Sunset Alcohol-Free Cocktail
For lovers of fruity drinks, this is a good option. You'll love it at first sip!
Essaouira Blue Pineapple Virgin Cocktail
Fresh pineapple and pineapple juice take this drink up a notch. It's another drink that borders on dessert and can easily do double duty if you're looking for something multi-faceted.
In summer the souks of Morocco are FULL of watermelon. Making these slushies is a great idea whether you're there or anywhere with delicious, fresh melons.
Lemonade with Mixed Berry Cubes
Another lemon recipe? It's the citrus fruit that keeps giving! This lemonade is made a little extra special with homemade berry cubes.
Mint Chocolate Iced Whipped Coffee
Sweet drinks are always welcome in Morocco and when I've made this for my in-laws they've loved it! Follow the popular whipped coffee tread with a Moroccan twist.
Did you know you can make your own simple syrup very easily? You can! This recipe pairs perfectly with the whipped coffee shared above.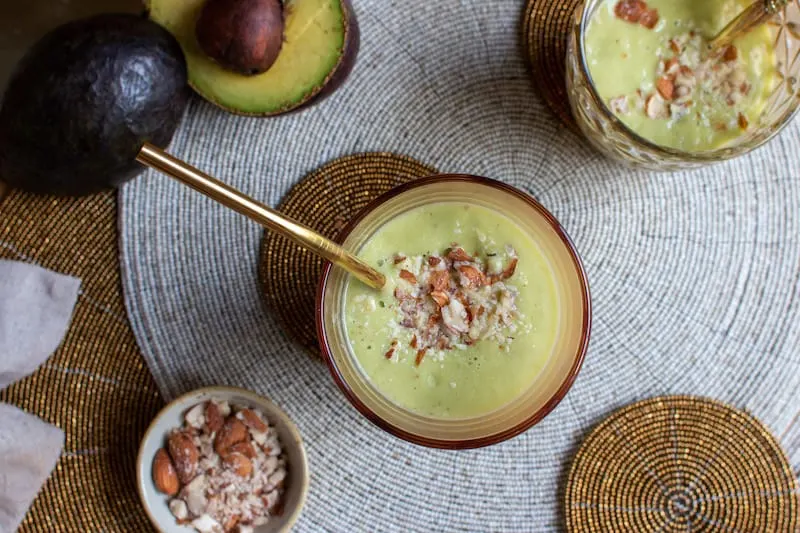 Ramadan Drinks
During Ramadan making a special drink to break the fast with is typical. Fresh juice like orange juices, or even just plenty of water is welcome at the breaking of the fast. These are some more drinks that are typical too.
A classic drink that's very popular year-round but especially during Ramadan is this creamy avocado drink. It's blended with milk and a crowd favorite.
Moroccan Almond Date Milkshake
If avocado isn't your thing, then try this almond and date milkshake. There's no ice cream, and you can swap out any type of nut milk if you'd prefer.