When you say the word salad what comes to mind? Chances are it's not the same thing you'll get when you ask for a Moroccan salad. These vegetable heavy dishes are an important part of the Moroccan diet and there are dozens of different varieties.
What is a Moroccan salad?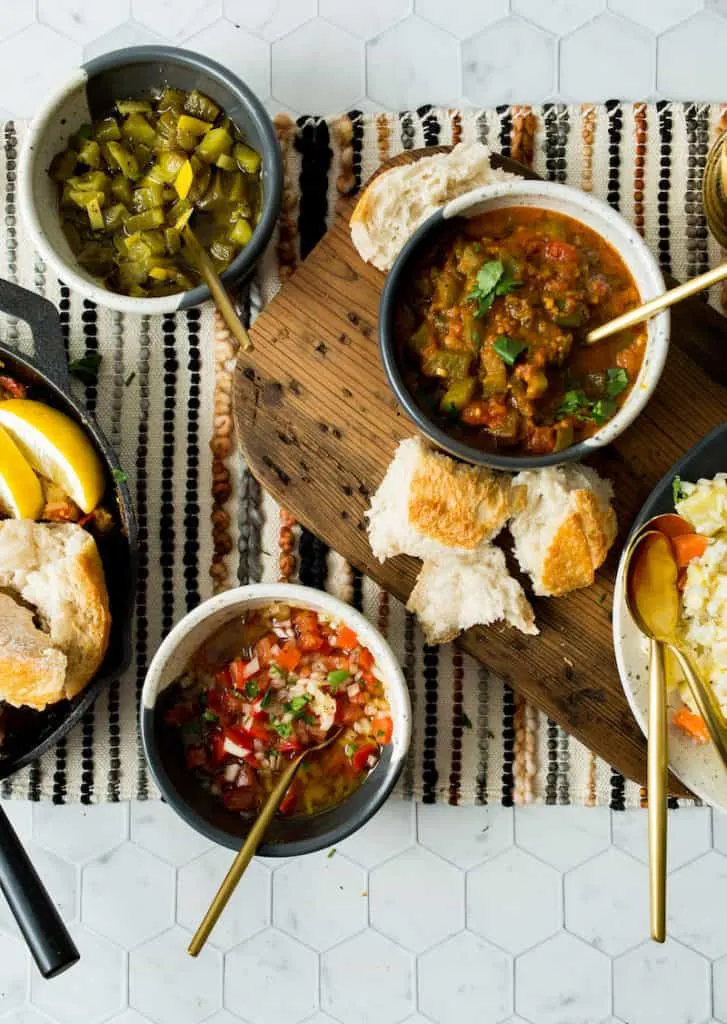 Typically a "salad" is thought to be raw vegetables however in Morocco nearly all salads are cooked. You might think when looking at them that they resemble dips or pulses. In fact they do!
But for simplicity sake when I'm referring to a Moroccan salad I'm referring to these cooked creations. Food in Morocco is seasonal and so some salads only appear at specific times of the year.
While it's not wrong to eat salads as "the meal" they are traditionally served alongside the main dish.
How are Moroccan salads served?
The number of salads served depends on a few things;
what is the main dish?
what is the occasion?
what is the financial situation of the family?
Normally there are between 1 and 3 salads served with the main dish. The salads are served on small dishes that are spread around the table or you may also see one large plate that has multiple salads arranged around it.
Most salads are eaten by scooping them up with bread, however you can eat them with a fork.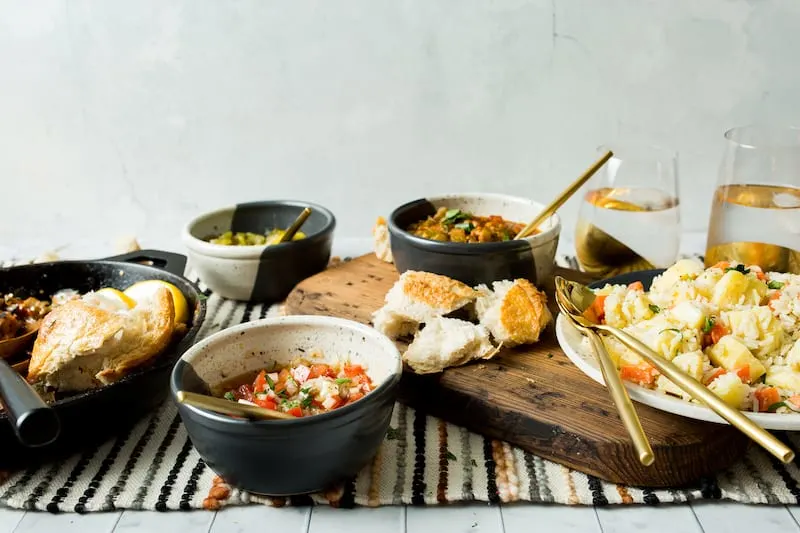 Why aren't Moroccan salads raw?
This is a great question…and I have no answer only my best guesses!
Know that I have zero proof to back up anything I'm basing this off of my observations. Moroccans rarely eat any food that isn't cooked, and cooked through extremely well. My guess is that this is in part to kill bacteria that may be lurking and prevent illness.
I also think that cooked salads may have come into existence as preservation methods like refrigeration weren't available. Food wasn't always eaten immediately but still they didn't want to waste it. Cooking vegetables allows for items that have gone a bit soft or have parts that have spoiled can still be used.
Simple Moroccan Salad Recipes
Nearly every main dish is Morocco is served along side several salads. These are more often than not cooked salads made with seasonal fruits.