Now, I have to be honest here, Moroccan food isn't a realm we've ventured into before. (This is a guest post) I owe a lot of thanks to Amanda for giving us this opportunity to try something very new and for her support as we were putting together the recipe for today. We really enjoyed leaning about Moroccan food in the process. And, now that we have had a taste, we will definitely be trying more Moroccan dishes in the future!
I will admit that I was a bit intrigued by the prospect of combining the acidity of tomatoes with the sweetness of honey and raisins, but the tomatoes mellowed out beautifully and their sweetness really came through.
Just to round things out, we made some of Amanda's Khobz to eat with the meal. The chewy flatbread and the deeply spiced flavors of the tajine really made us wonder why we hadn't discovered Moroccan food sooner!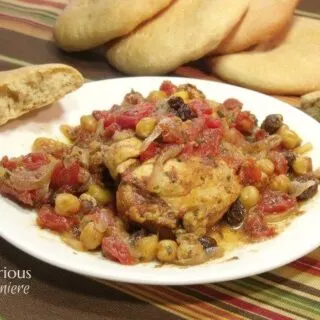 Yield:

6 servings
Sweet Chicken Tajine
A guest post for a unique flavored tajine using dark meat and a combination of sweet and savory flavors.
Ingredients
1 tsp oil
1 onion, sliced
1 lb chicken thighs, bone in, with skin removed
1 Tbsp parsley
1 tsp cinnamon
1 tsp garlic powder
1 tsp ginger
½ tsp cumin
¼ tsp black pepper
1 (14 oz) can diced tomatoes, undrained
2 Tbsp honey
1/3 c raisins
2 c cooked chickpeas
Instructions
Heat oil in a Dutch oven, over medium heat. Add onions and sauté until soft.
Push onions to the side and add meat, searing on all sides.
Add spices and remaining ingredients in the order listed.
Cover and cook over low heat for 40 min.
Remove lid and check to be sure there is enough, but not too much liquid. There should be just enough liquid to keep the ingredients moist, but not so much that you find yourself with a soup.
For too much liquid, simmer 10-20 min uncovered.
For not enough liquid, add water ¼ c at a time and simmer, covered, for an additional 10-20 min.
Remove from heat and serve hot.
Today I'm welcoming guest blogger, and fellow Wisconsinite Sarah of Curious Cuisiniere, who cooks, photographs, and writes the recipes that appear on her blog, while her husband (like mine!) gets to weigh in on taste. This was their first time trying Moroccan food and I'm so happy to find out they loved it! I hope you enjoyed their experience and recipe! You can follow Curious Cuisiniere on her website, Facebook, Pinterest and on Twitter too.