There are two Moroccan meals that I learned first.
This is one of them.
I now can make any number of Moroccan tajines and other dishes, chicken with potatoes and preserved lemons brings back really nice memories. We ate so much of this dish when I first visited Morocco and when MarocBaba first moved to the US that for a little while I didn't even want to think about eating it!
Learning how to make it took me many tries to get the spices right and many more tajines where the potatoes burned or the chicken wasn't quite done. But, sometimes getting there is half the battle. My little sister loves this tajine with carrots mixed in. I've been dying to try it with sweet potatoes. Once the base recipe is learned it's easy to improvise.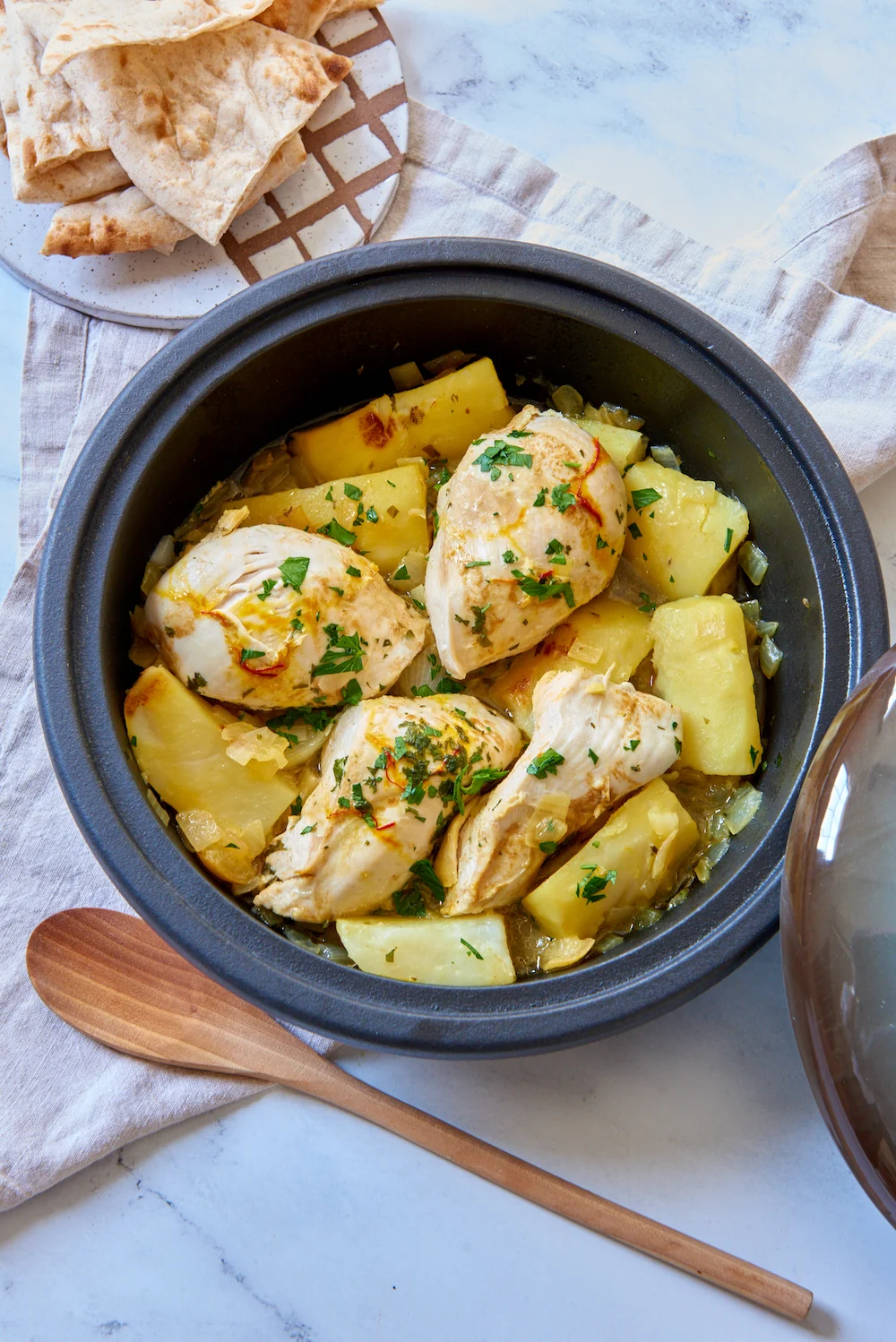 In Morocco, you'll never see someone eating tajine with a fork. Bread is always the utensil of choice. You can use a baguette in a pinch but may be surprised to discover Moroccan bread is not as difficult to make as you think.
I've got recipes for several different types you can choose from and experiment with. The other ingredient you'll need to make this dish is preserved lemons. If you have time, you can make them yourself, or you can order them online. A little goes a long way!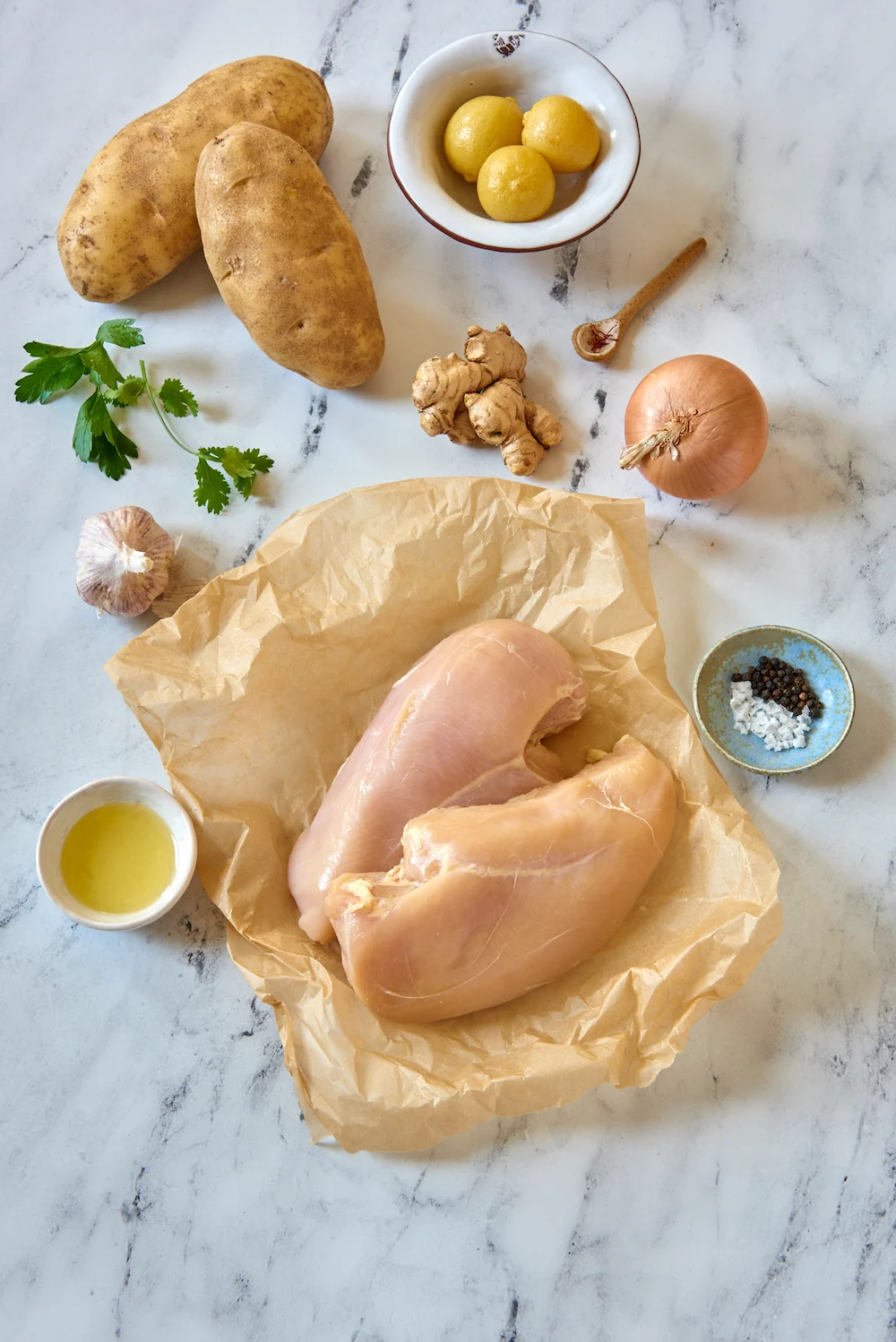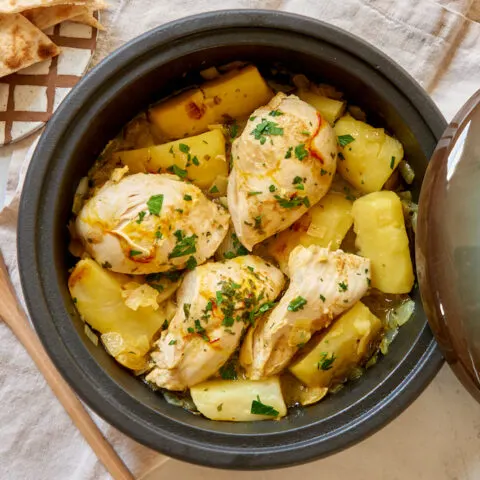 Yield:

4-6 servings
Chicken with Potato and Preserved Lemon Tajine
Total Time:
2 hours
15 minutes
This is one of the most common types of tajine served in Morocco - making it a great recipe to master.
Ingredients
1 lb chicken breasts
2-3 Russet potatoes
1/4 preserved lemon
1 tsp chopped Italian parsley
1 tsp cilantro
1 tsp pepper
1 tbsp crushed garlic
1 tbsp fresh ground ginger
8-10 threads of saffron crushed
3 tsp olive oil
1 medium onion chopped
1/4 cup water
Instructions
In a small bowl crush the saffron threads and add 2 tbsp warm water. Allow to steap 5 minutes.
Peel and quarter potatoes.
Add olive oil and chopped onions to the bottom of the tajine.
Turn the burner on medium-low heat.
In a bowl add garlic, ginger, salt, pepper, parsley and cilantro. Mix in the saffron water and add
remaining 1/4 cup of water.
Arrange the quartered potatoes to the tajine in a single layer.
Place the chicken on top.
Pour the spice and liquid mixture over the top and gently stir to coat the potatoes and chicken.
Cut the piece of preserved lemon into several pieces and insert it around the tajine.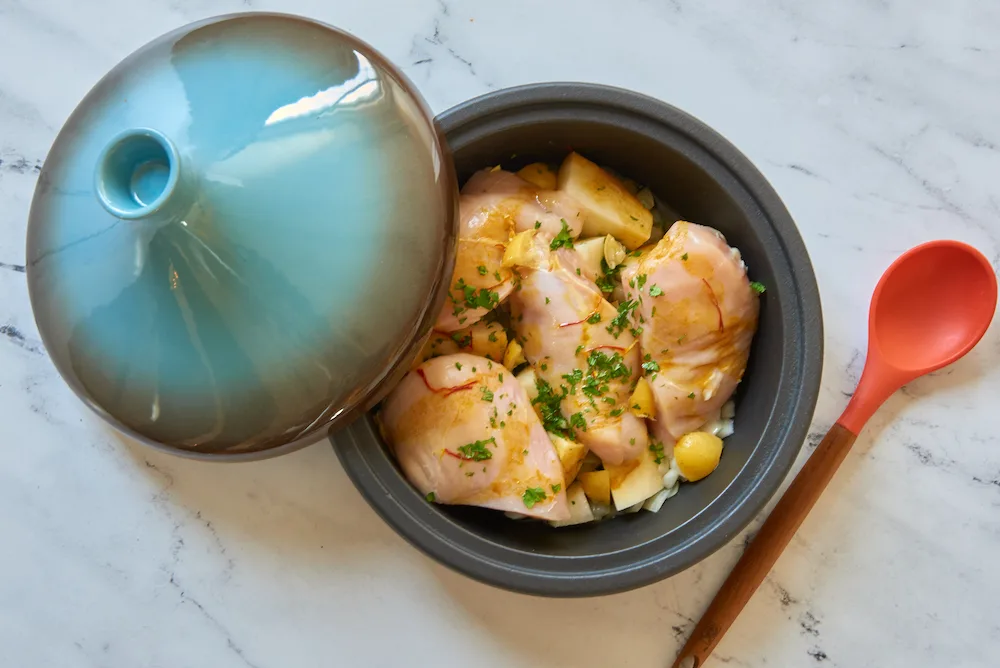 Cover tajine and cook on medium-low heat for 1 1/2 - 2 hours.
Check the meat to ensure it is soft and falling apart.
Try not to lift the lid of the tajine.
I usually check once to make sure there is enough water.
When the potatoes are fork-tender the chicken is falling apart it's done.
Notes
Alternate Cooking Instructions
You can make this in a Dutch oven if you don't have a tajine.
Cook following the same steps, just using a dutch oven in place of the tajine.
You can use other root vegetables such as parsnips and potatoes. Everything will get soft enough.
Using the Dutch oven, cooking time is about 2 hours on low-medium heat. You'll want to watch towards the end as the liquid reduces but this amount of time is nearly perfect.
Recommended Products
As an Amazon Associate and member of other affiliate programs, I earn from qualifying purchases.
What to Serve with Chicken and Lemon Tajine:
Za'alook – Eggplant Salad
Taktouka – Green Pepper and Tomato Salad
Looking for Tajine Recipes that are more hands-off?
Try some of these favorite options.