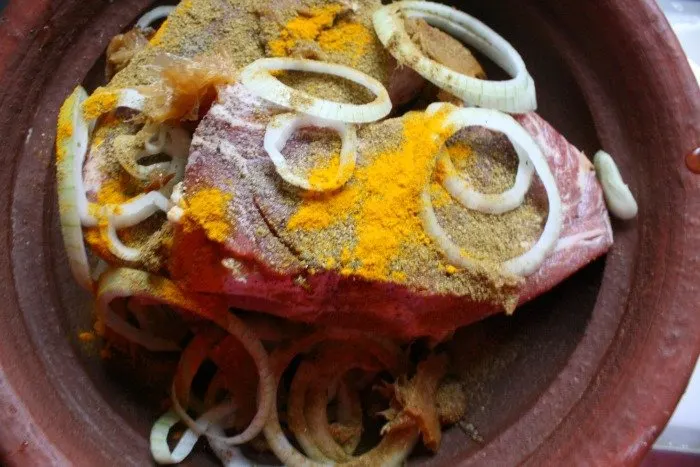 Lamb or mutton is a meat that was new to me. My first memory encountering this was at a seder meal every 5th grader at my church attended. The seder meal marks the beginning of passover in Judaism.
Don't ask me why a bunch of Scandinavian Lutherans included this practice in their congregation. They just did. I remember that we made bread for the meal, unleavened of course. There was haroset (my favorite), bitter herbs (parsley-very exotic where I grew up) and there was lamb.
Fatty, unseasoned lamb.
We had plenty of "good cooks" in the congregation but few that had mastered mutton. Salt, pepper and garlic were about as wild as things got in the seasonings department. So it wasn't until I visited Morocco and ate lamb that was well seasoned, and well cooked that I realized it was actually good.
K's favorite food is lamb and so when I made this tajine for dinner I knew I would have at least one hearty participant. He liked it so much a lamb sandwich of leftovers went with him to school for lunch the next day. Last week I showed you how to clean an artichoke. This is the perfect recipe to use with fresh artichoke. If you only have frozen on hand, don't worry you can use that as well.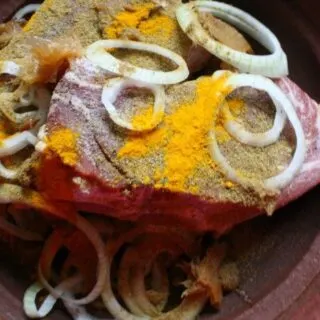 Lamb and Artichoke Tajine
Ingredients
1 1/2 - 2 lbs lamb or mutton
1 medium onion sliced into rings
2-3 artichokes cleaned
1/2 preserved lemon cut into several pieces
1 tsp olive oil
2 tsp cumin
2 tsp crushed or minced garlic
1 tsp pepper
1 tsp turmeric
1/2 c water
Instructions
In a bowl whisk together olive oil, cumin, garlic, pepper and turmeric.
In the bottom of a medium tajine add the artichokes and sliced onions to create a bed for the lamb.
Clean and trim the pieces of lamb removing some of the fat (but not all!)
Place the lamb on top of the onions and artichokes.
Drizzle the lamb with the oil and spice mixture, rubbing the mixture into the meat.
Place the pieces of preserved lemon around the tajine, slipping between the meat and vegetables.
Add the 1/2 cup of water to the tajine. Do not pour directly on top of the meat but around the edges.
Cover the tajine and place on the stovetop, making sure to use a diffuser if cooking on an electric burner.
Cook for 1 hour on low-medium heat. Check by lifting the lid and using a spoon to pour the liquid on top of the meat. Add more water if needed.
Cover and cook until the meat is tender and falling apart and the liquid in the tajine has reduced to a medium/thick sauce.
Serve with a crusty bread and eat hot.
I hope you'll love this recipe as much as my family!
Be sure to check out some of my other lamb recipes too:
Mechoui – Moroccan Style BBQ