This recipe is a twist on the slightly more well known beef and prune tajine. It's pretty much the same recipe, but switching out the prunes for apricots – you could really use any dried fruit in the recipe like dates, or even cherries (that's a combination I have to try!) Another popular combination is beef tajine with apricots and prunes. Moroccan tajine recipes are really pretty flexible so don't be shy to try things!
While I use beef for this you can easily use lamb or even goat meat instead. It's very forgiving! The flavors work well with all of these types of meats. You also don't need to fuss too much about the cut of meat. While some people have their preferred cut of meat, truly any cut will work. You'll just need to adjust the cooking time.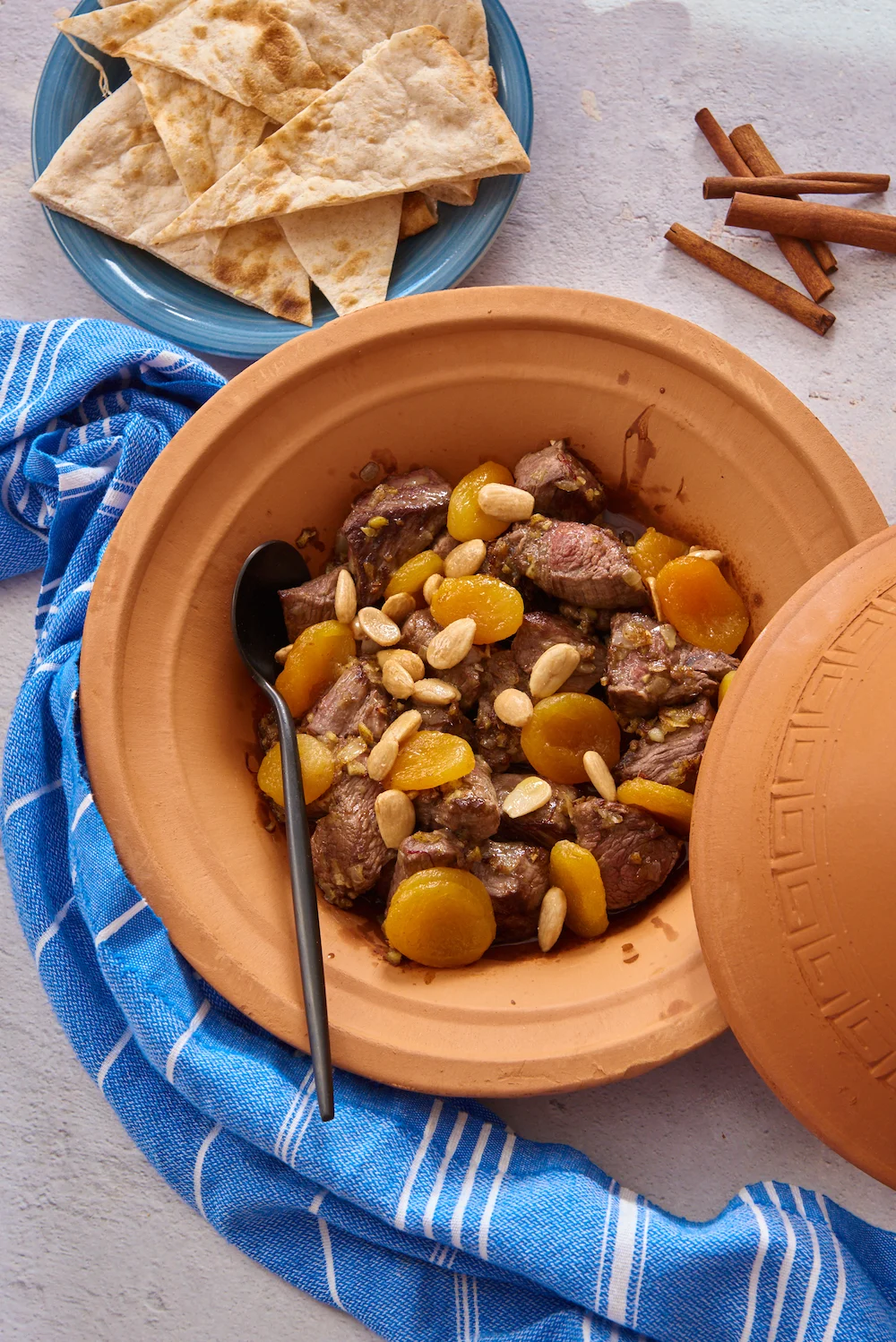 How to Cook Beef and Apricot Tajine
To make this recipe there are a few different steps. The meat is cooked separately from the fruit that it is topped with, so you need to have at least two pots for cooking. In the instructions I've provided the how-to whether you'er using a clay tajine, a heavy pot like a Dutch oven, or a standard pressure cooker. You can also make this in an Instant Pot however I haven't written the recipe just yet adjusting the measurements.
What to Serve with This Beef Tajine
There's several different things you could serve depending how traditional you'd like to go. A few of the more standard recipes you could try are;
For something also delicious but less traditional try these;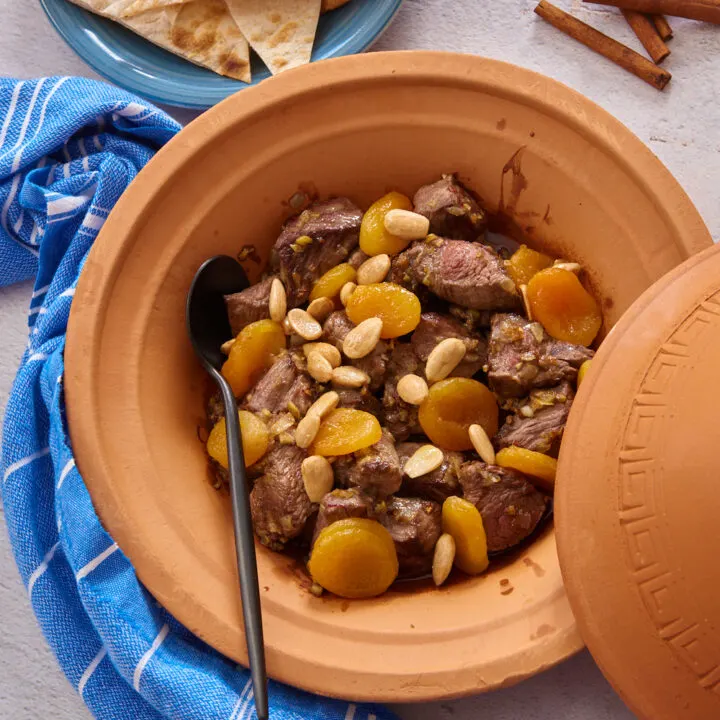 Yield:

4 servings
Beef Tagine with Apricots and Almonds
Total Time:
3 hours
20 minutes
A savory and sweet combination that makes any dinner feel a little extra special.
Ingredients
1-2lbs . beef bone in or bone out– cut into 3-4'" chunks
1/2 lb. onions finely chopped
3 cloves garlic, finely chopped
1 teaspoon salt
1 teaspoon pepper
2 teaspoon ginger
5-10 saffron threads
1 tsp cinnamon
1/4 cup vegetable or olive oil (if the meat you are using has more fat then decrease the amount of oil
1 palmful of chopped cilantro
1/2 lb. dried apricots
1-2 tablespoon honey (fresh, organic if possible)
1 1/2 teaspoons ground cinnamon
1/2 cup blanched, fried almonds
Instructions
Instructions for Pressure Cooker or Regular Pot
In a large pot or pressure cooker, add oil to the bottom of the pan and add onions and garlic, saute until translucent. Mix in the meat and brown, then add spices (salt, pepper, ginger, cinnamon, parsley, saffron)
If using a pot on the stove, add enough water to cover the meat. Cover and simmer on medium heat for 2 1/2 – 3 hours, until meat is very tender and falls away from the bone.
You may need to add more water if it cooks off too quickly.
Add the cilantro. Bring the meat and liquids to boil. When the meat is cooked remove, and allow the remaining water to reduce to a thick sauce.
If using a pressure cooker, cover the pressure cooker after adding water and cilantro. Cook on medium heat for between 45-50 minutes.
Release pressure and open cover. Remove the meat and reduce the sauce uncovered.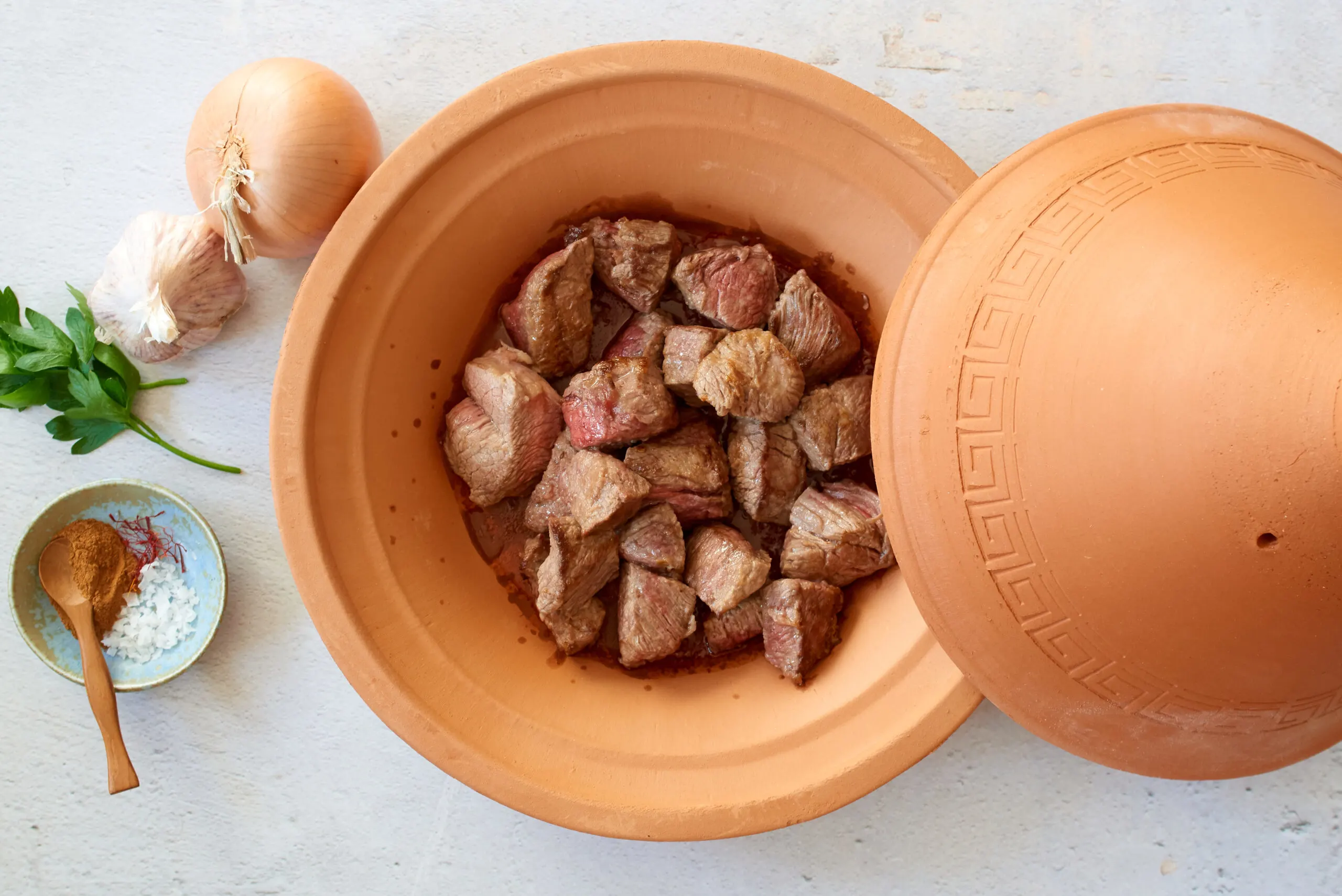 Instructions for Cooking Using a Tajine Pot
In the bottom of a tajine, add oil, onions, and garlic. Turn heat to low and begin to cook. Use a spoon or spatula to saute the onions until translucent.
Add the meat to the tajine and cook for a.few minutes to begin to brown, Then add the spices; salt, pepper, ginger, cinnamon, parsley, and cilantro (chopped), and saffron threads that have been gently crushed. Stir again to coat the meat.
To the bottom of the tajine add 1/4-1/2 cup of water. Enough to make sure the tajine isn't dry over the heat but doesn't go over the lip of the tajine.
Cover and keep on low heat. Allow to cook for about 45 minutes and check. It will take approximately 2 hours to cook but the total time will depend on the cuts of meat used.
You may need to add more water if it begins to look dry. Try not to open the tajine too often to break the steam seal. The meat should be very tender when done.
For the apricots: (this can be done while meat is cooking)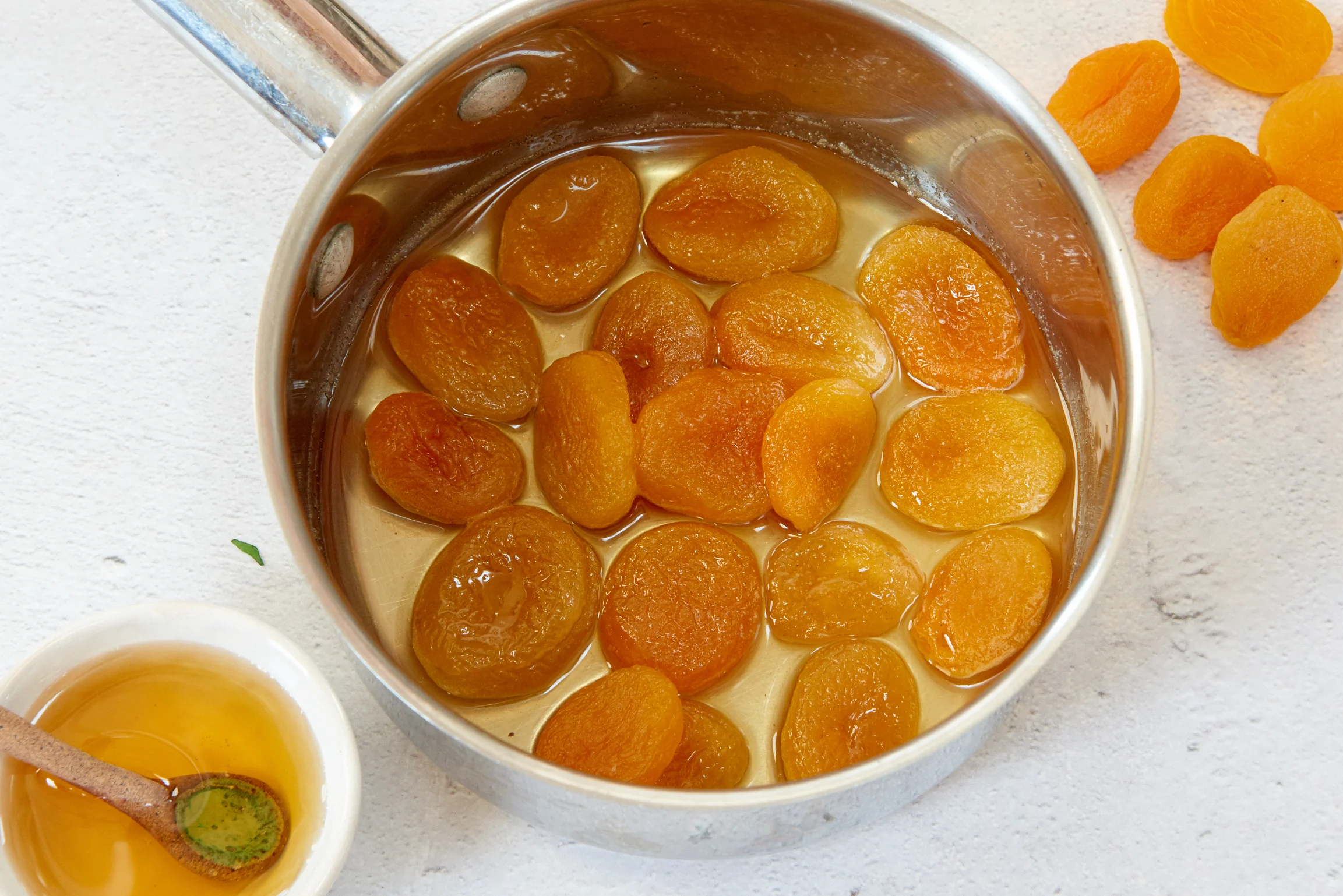 Add dried apricots to a small pot with honey and some water, simmer on medium heat, checking to make sure there is enough liquid and they are not burning. Continue simmering until very tender. The length of time for this step depends on the oven as well as the apricots.
Towards the end add some cinnamon (more if you like it). Cook until they are sitting in a thick syrup.
To fry almonds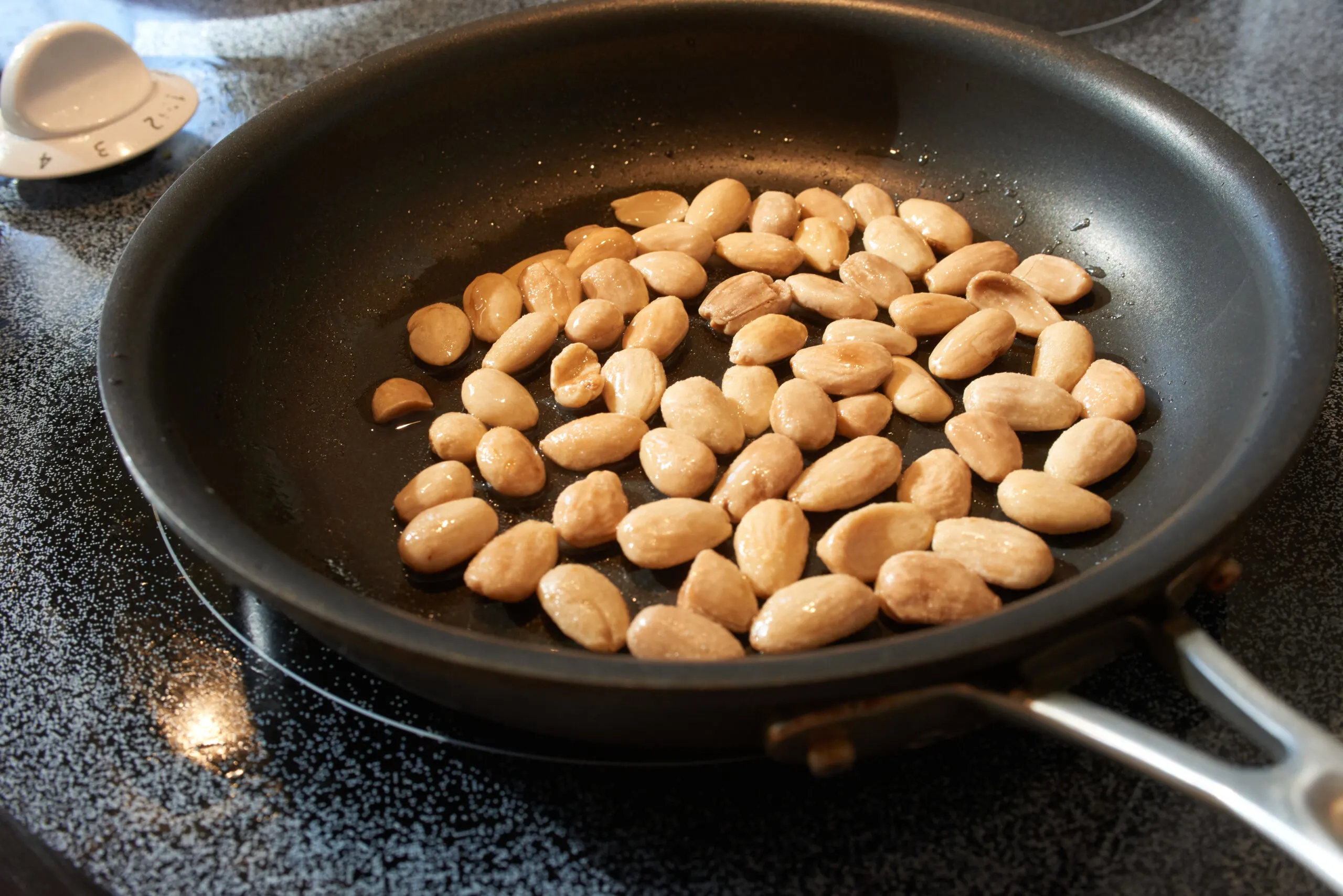 Using blanched almonds add some oil to a saute pan and put the whole almonds in. This will only take a few minutes once hot. Be sure to watch as they will burn quickly.
Once complete turn out meat and sauce into a large serving dish.
Top with the apricots and sauce, and then the almonds. This is eaten with pieces of crusty bread.