A few months ago we went to have dinner at Ksar Essaoussan in Marrakech. It's a riad that has been remade into a restaurant, and unlike many riads here, has no rooms for guests – it's purely somewhere to just enjoy a good meal. Just finding it was an exercise – and we're quite familiar with the winding streets of the old medina. Thankfully each night a man in a red cape is posted on Bab L'kssour to show guests just how to get to the restaurant.
The ambiance was incredibly nice and the food really well done. We had a variety of salads and tajines presented. But, the shining star was a lamb and fig tajine. The figs were sweet, falling apart and perfectly mixed with the more savory sauce of the tajine. I've made a similar tajine with prunes and beef with apricots – but never with figs.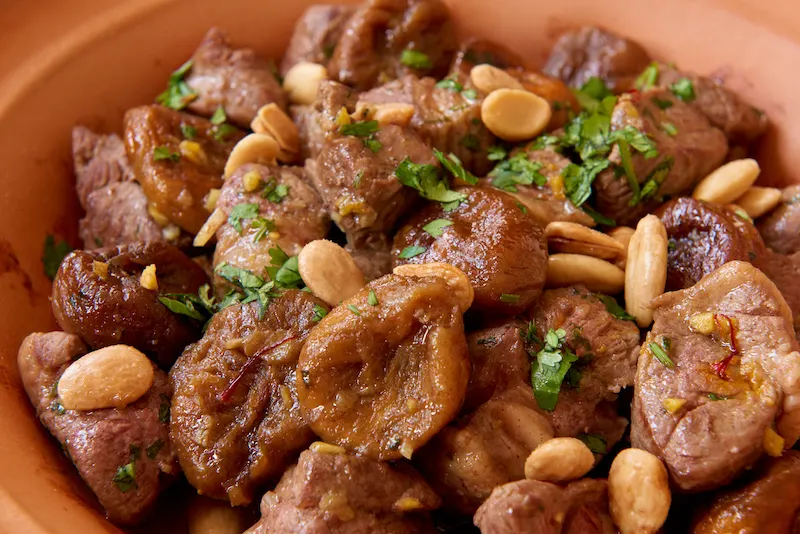 The first job was to find figs. They're readily sold here dried and are inexpensive. But there are two kinds, a more local variety, and Turkish figs. I wanted the Turkish kind because they're bigger and I like the flavor better. Once they were secured it was off to the kitchen. One hint on using dry figs, you'll want to slice each one open and check inside to make sure there are no worms. While this isn't likely, it's good to double-check.
This traditional Moroccan lamb tagine looks really complicated and even fancy but with just a pot and a pressure cooker, you can make this!
Lamb + figs = YUM!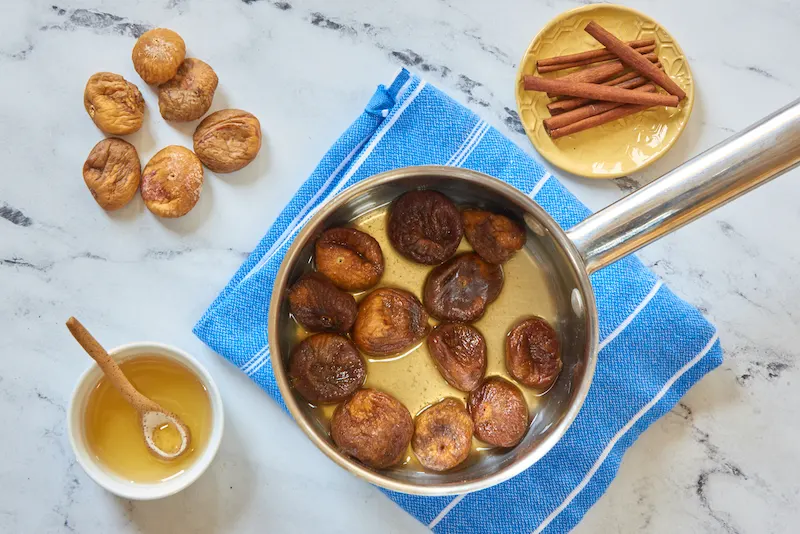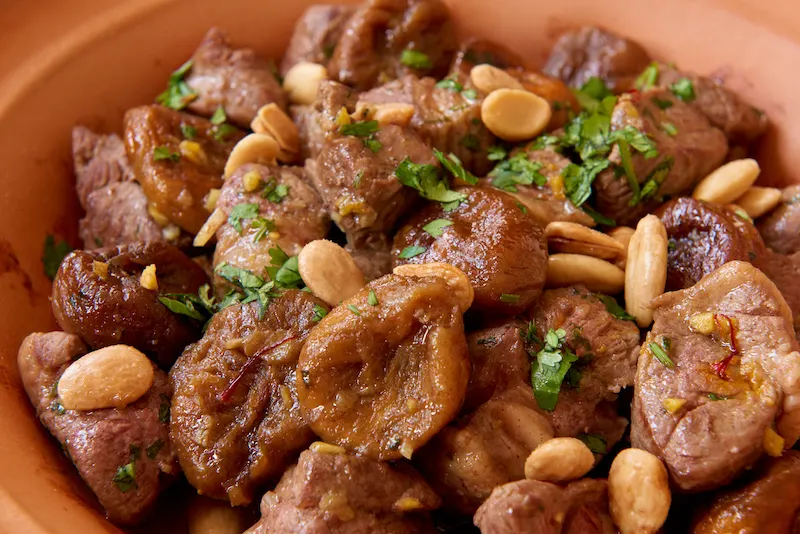 Yield:

4 servings
Lamb and Fig Tajine
Almonds and dried figs take this lamb from boring to a variety of textures and flavors that will pop in your mouth.
Ingredients
2 lbs lamb pieces
3 cloves crushed garlic (as fine as possible)
1 1/2 tsp grated, fresh ginger
1/2 tsp salt
1/4 tsp white pepper
pinch of saffron threads, crushed
1/2 tsp cinnamon
2 tsp olive oil
small handful of cilantro
10-12 Turkish dried figs
1 Tbsp honey
1 tsp cinnamon
1 cup almonds
vegetable oil for frying
Instructions
In the bottom of a pressure cooker, add olive oil. Rinse pieces of lamb and remove any excess fat. Add the lamb to pressure cooker and heat uncovered until it begins to brown.
Add garlic, ginger, salt, pepper, saffron, and cilantro. Mix well.
Cover the meat with enough water so that it's almost completely submerged.
Close the pressure cooker and heat on low to medium heat for 45 minutes.
While the meat is cooking boil the almonds in water for 5 minutes so that the skins become loose and can be removed.
Drain the almonds and set aside.
In a pot, add the figs and cinnamon and just enough water to cover the figs. Turn the heat to medium and allow to simmer.
While you're waiting for the figs and meat, prepare the almonds. Squeeze the almond between your thumb and forefinger to remove the skins.
Lay the almonds flat on a baking tray, and slide into a low over for 10-15 minutes. You do not want to cook the almonds, just to remove the excess liquid - this will help them fry better.
After the meat has cooked for 45 minutes, release the pressure and check it. The lamb should be tender and falling apart. You should also have a thicker liquid remaining in the pot.
If you have a lot of liquid keep the pan on the heat and cook it down. Scoop 3-4 Tbsp of liquid into the pot with the figs.
The figs are ready when they are soft and can easily be torn apart. Once they are at this point, stir in 1 Tbsp of honey and adjust the liquid, adding more cinnamon if it's overly sweet.
In a frying pan add a thin layer of vegetable oil and slowly fry the almonds until they just turn brown.
Remove using a slotted spoon and drain any excess oil. Toss lightly with a little bit of salt.
To arrange the tajine, place the meat in a large serving dish (like a tajine bottom) along with the liquid. Place the figs on top and drizzle the liquid from the figs all over the dish. Lastly, sprinkle the almonds on top.
Eat by scooping up with crusty bread.
Notes
You may need to cook you meat longer depending on how thick/tough the cuts are.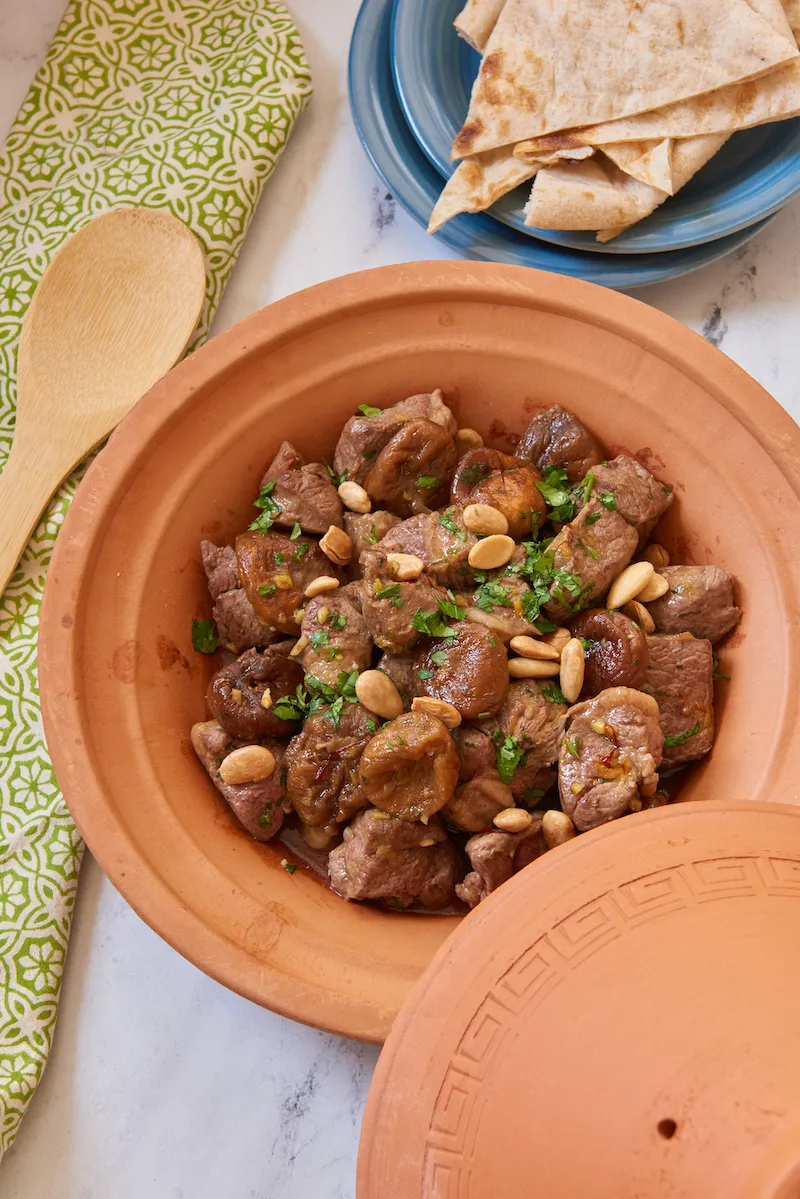 This really is one of the best lamb tagine recipes!