The first time I had this tajine recipe I had no idea such a thing even existed. Chicken and lemon tajine is on every single Moroccan menu the world over but chicken with oranges? I had never heard of it. When it was presented at Riad Zamzam in Marrakech and I took the first bite it was love!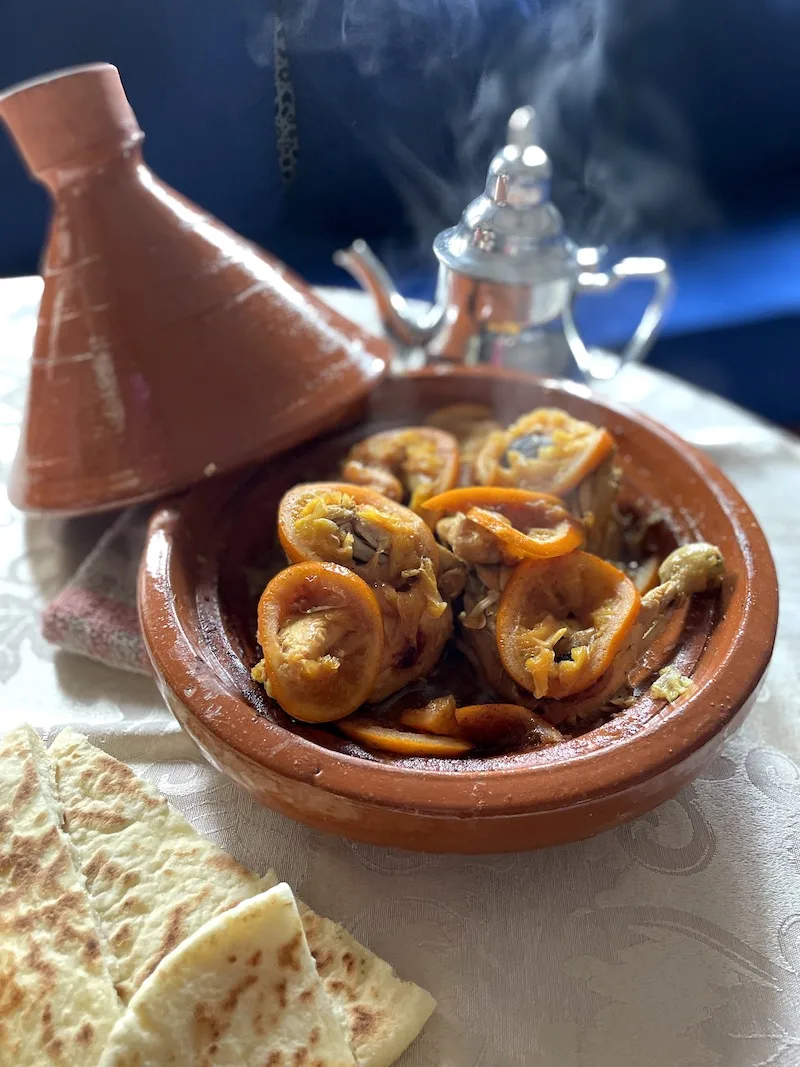 I have since learned that this dish is a Moroccan Jewish recipe. A bit of cookbook research and question asking provided the answer. This also explains why I hadn't encountered it. To be honest chicken and lemon tajine is one of my least favorite dishes so I didn't expect I would like this. I'm glad I gave it a shot.
The ingredients used for the tajine are pretty simple. In fact, compared to most tajines this has fewer ingredients than any other. It's super simple but the final result is outstanding. If you don't like the idea of meat and fruit you won't like this but if you're open to the idea, get ready!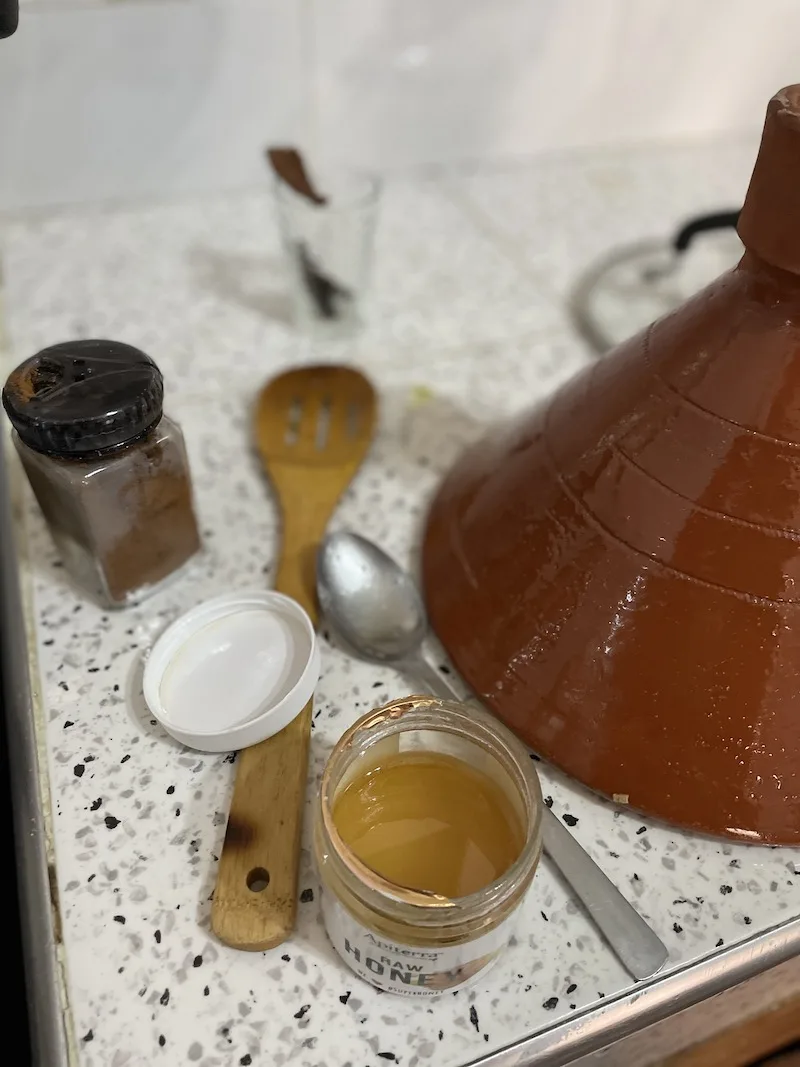 I cooked this on my gas stove in a traditional tajine. You could make it in a cast-iron tajine and it would work in a pan or a dutch oven, you probably just won't get the same caramelization effect clay offers. Moroccan oranges are also sweeter than other oranges I've had so you may need to adjust the sweetness depending on your oranges.
One other bonus of this recipe – when you cook the oranges, keep the temperature really low and the smell of the orange and cinnamon cooking together will make your whole house smell amazing!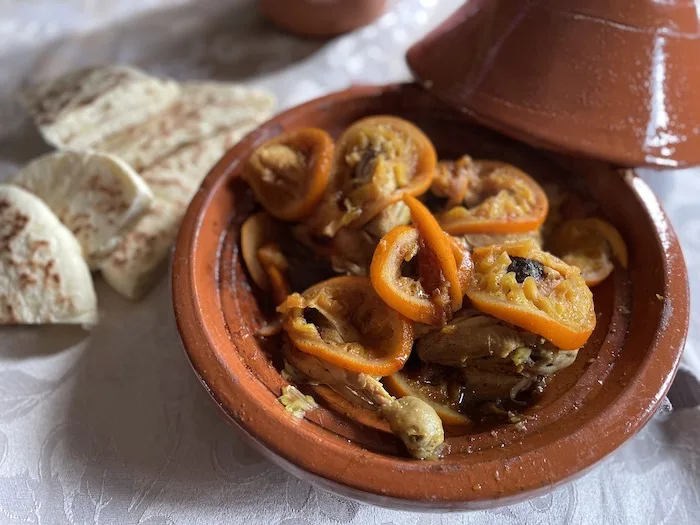 Yield:

4-6 servings
Moroccan Chicken and Orange Tajine
Cook Time:
1 hour
30 minutes
Total Time:
1 hour
45 minutes
For a sweet and savory tajine, look no further. It's the perfect recipe to add a bit of flavor to your table.
Ingredients
1 whole chicken (appx 2.5 lbs or 1 kg) cut into pieces
1/4 cup olive oil
1 large onion, diced
1 Tbsp fresh grated ginger
1/2 tsp ginger powder
1/2 tsp turmeric
1 tsp salt
1 tsp pepper
pinch of saffron threads (8-10)
1/2 cup water
1 large thin-skinned orange
1 cinnamon stick
1/2 tsp cinnamon powder
2-3 Tbsp sugar or honey
pinch of salt
toasted, chopped almonds (optional)
Instructions
Clean and cut your chicken. You can leave some skin on or completely remove it depending on personal preference.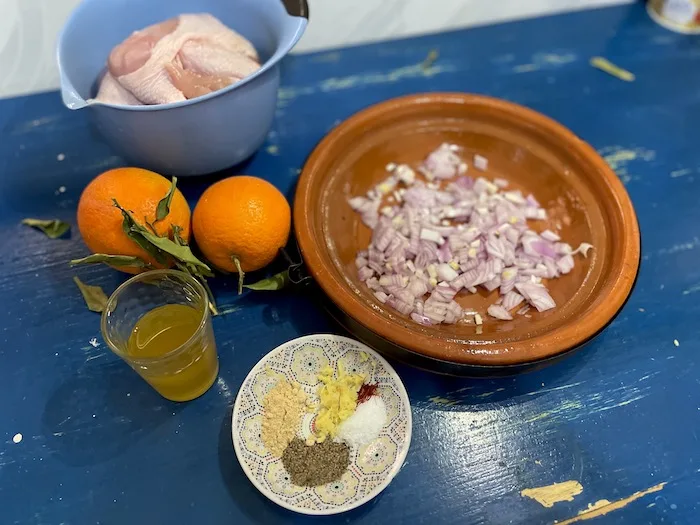 In a bowl combine fresh ginger, powdered ginger, turmeric, pepper, and salt. Pour 1/2 of the oil into the spices and mix them together.
Add the spice mixture to the chicken, rubbing all over the meat, and set aside to marinate while preparing the rest of the dish.
In a small cup add a small amount of warm water. Break apart the saffron threads in your hand and add to the warm water. Leave for 2-3 minutes until it blooms.
Dice a large onion into fine dice and add to the bottom of the tajine or cooking vessel. Add the remaining oil and turn to low heat. Leave for 5 minutes until the onions begin to soften.
When the onions have softened, arrange the chicken in the tajine. Pour the saffron water on top of the chicken pieces.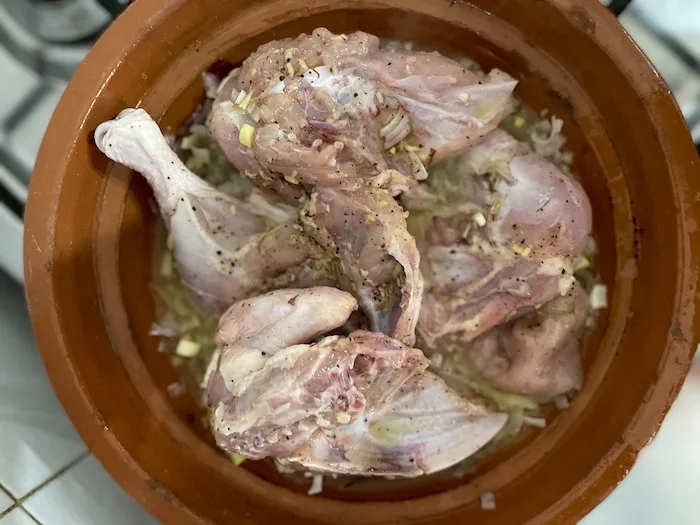 Add a 1/4 cup of water to the bottom of the tajine and cover.
Allow the chicken to cook on low heat for 45 minutes - 1 hour. Check the water level and the tenderness of the chicken. It should be falling apart. If not continue cooking adding a bit of water if necessary.

To Cook the Oranges
Wash and dry the orange well.
Slice into thin slices with a sharp knife. As thin as possible.
Add just enough water to cover the oranges as well as the cinnamon stick. Turn to very low heat and leave to cook.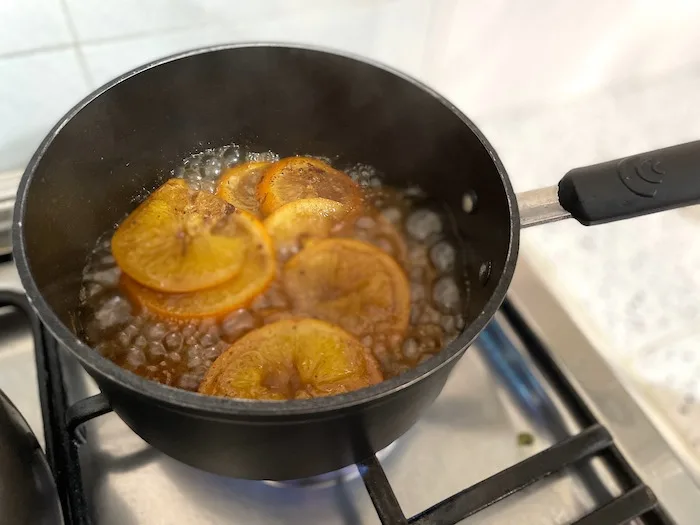 Add the cinnamon powder, sugar/honey, and a pinch of salt after the oranges have softened. Boil until a thick syrup is created.
Arrange the oranges on top of the tagine and pour the sauce around the base of the dish.
At the very end roughly chop some almonds and sprinkle them on the top of the oranges. They add a nice texture contrast.
Do I Need a Tagine to Cook This?
Technically no, you could cook it on low with a pot or a dutch oven. However a tagine pot is a good investment if you think you might be making more than one tagine. If you're unsure which one to get, visit my tagine comparison guide for more information.
What to Serve With This Chicken Tagine
This is truly one of the more unique and lesser-seen tagines however it makes for a fantastic table centerpiece. Here are some ideas of what you could serve with it.
Moroccan Khobz – because you have to have bread!
Fresh Fennel Salad – keep in or omit the oranges
Moroccan Beet Salad – the color will look great and offer an earthy contrast
Simple Sharmoula Salad – classic Arabic salad always works