The very first Moroccan "dish" that I learned how to make was Moroccan lentils or addis as they're called here. I can remember MarocBaba and I had gone to Essaouira for two days by ourselves. We were 19 and 20 years old and frankly neither of us had any clue how to cook much of anything except scrambled eggs. We also were broke so dining out wasn't a sustainable option.
So we called up his mom and had her walk us through how to make something simple – and this was the simple dish we needed. Growing up lentils were not something I'd ever eaten. Honestly I'm not sure I'd ever had a lentil before I came to Morocco. So figuring out how to cook them was not my strong suit.
Normally this is made using a pressure cooker; and you easily can use that instead of an instant pot. But when I tested it this way I found it cooked faster, the flavor was good, and I didn't run into the issue of running out of water and having my lentils burn.
The original recipe to make these does not include any vegetables but I decided to add some carrots to it for some extra flavor and nutrients. Plus my kids love these lentils and aren't always great about eating vegetables so it's a good way to hide them.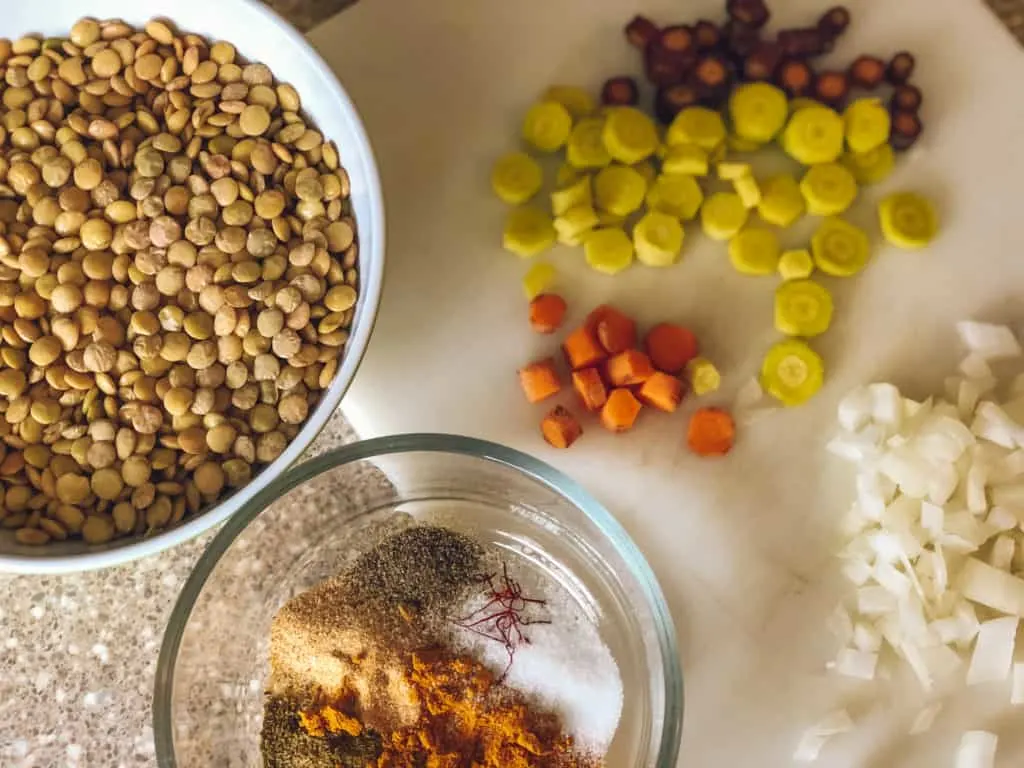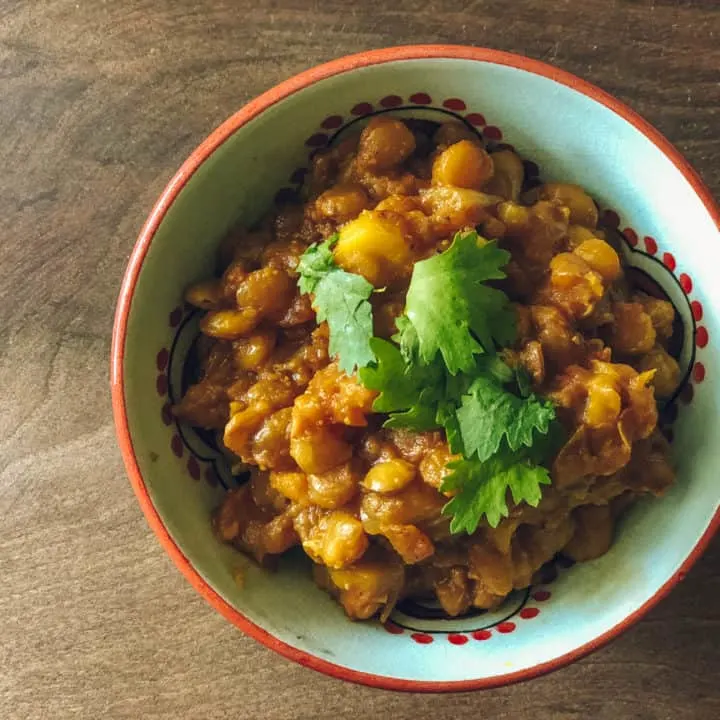 Instant Pot Moroccan Lentils
Additional Time:
5 minutes
Total Time:
2 hours
25 minutes
This is a very easy Moroccan bean recipe using lentils. It can also be made in a normal pressure cooker.
Ingredients
1/4 c chopped onion
¼ c olive oil
1 cup brown lentils
1 1/2 Tbsp cumin
1 tsp turmeric
½ tsp salt
1 tsp garlic powder of 3 garlic cloves
1 tsp pepper
3-4 grated medium tomatoes or 200 mL crushed canned tomatoes
¼ - ½ cup diced carrots (optional)
Whole hot pepper (optional)
Instructions
Pour lentils into a large bowl and rinse well with cold water. You can soak the lentils to reduce the cooking time. I suggest two hours up to overnight.

Turn the instant pot on to saute. Add the olive oil and onions and allow to cook while mixing about 5 minutes. This will soften the onions.

Add the spices; cumin, turmeric, salt, garlic powder/cloves, pepper, saffron and mix to warm up the spices.

Drain the excess water from the lentils and add to the instant pot.

Mix in the tomatoes, carrots and 1 cup of water. You can also add the hot pepper if you're planning to include it.

Place the cover onto the instant pot. Adjust the valve to close. Select the pressure option and set timer to 20 minutes.

When the timer goes off, allow to sit 5 minutes, release the steam valve and open. The lentils should be very soft and a thick sauce will remain. Taste and adjust salt and pepper as desired.
Notes
Lentils purchased in Europe or North America will likely be good to go right out of the bag. But if you're somewhere else you may want to pick through the lentils as sometimes pieces of the lentil plant and/or small rocks can be mixed into the lentils.
This recipe DOES NOT work with red lentils. They are too soft and it turns to mush.
To make this in a regular pressure cooker add 1 extra cup of liquid and cook 15-20 minutes longe on medium heat.