Beef tajine with prunes is my very favorite Moroccan food, and it also was the one (aside from organ meat) that I was most skeptical about (I still remain skeptical about any organ meat!) when it first was put on the table.
Beef tajine (or beef tagine) is easy to make in the US due to the abundance of beef at an affordable price, but it's a bit more expensive in Morocco where the meat of choice is most often lamb.
Then there's the prunes – to me they scream GRAAAANDMA!! But don't knock them because in this dish you'll be dying to grab the last piece! We had this dish at our Moroccan wedding and it's normally served for special occasions such as birth celebrations or weddings.
Don't let the steps in this dish intimidate you. It's really quick to put together. Something to keep in mind is that Moroccan food is really a mix of sweet and savory. You might find the ingredients listed to be odd; cinnamon with meat? Honey with meat? But it really does work. Don't be afraid to add more spices than you think it needs. Remember not all spices are created equal and you may need to add more if yours aren't entirely fresh.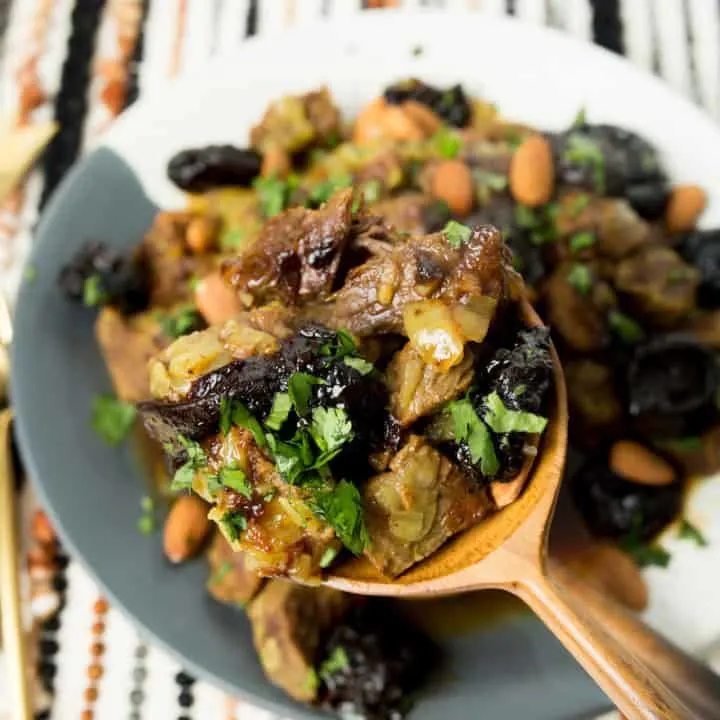 Yield:

4 servings
Beef Tajine with Prunes
Cook Time:
1 hour
31 minutes
Total Time:
1 hour
46 minutes
A delicious beef tagine that's often made for weddings and other special occasions. Don't let the prunes scare you away - they're the best part!
Ingredients
1-2 lb. beef or lamb bone in – cut into 3-4'" chunks
1/2 lb. onions finely chopped
3 cloves garlic, finely chopped
1 teaspoon salt
1 teaspoon pepper
2 teaspoon ginger
5-10 saffron threads (optional)
1 tsp cinnamon
1/4 cup vegetable or olive oil (if the meat you are using has more fat then decrease the amount of oil
palmful of chopped cilantro
1/2 lb. prunes
1-2 tablespoon honey
1 1/2 teaspoons ground cinnamon
1/2 cup blanched, fried almonds
Instructions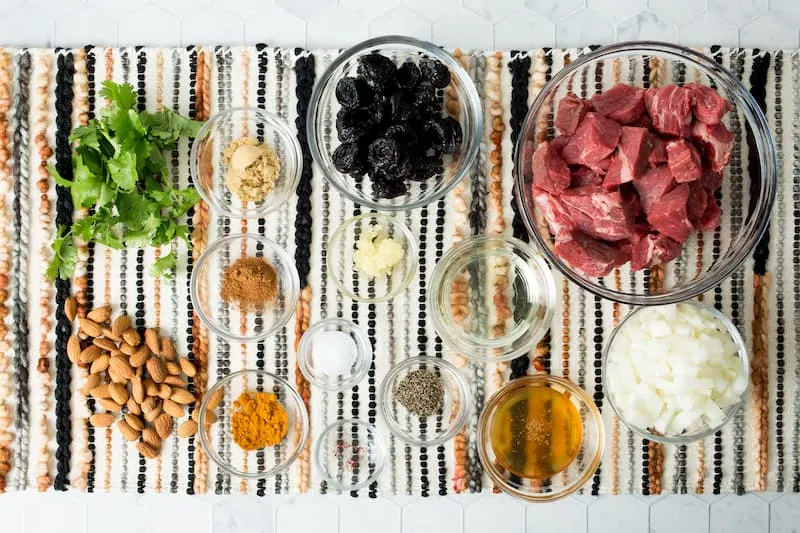 In a large pot or pressure cooker, add oil to bottom of pan and add onions and garlic, saute until translucent. Mix in the meat and brown, then add spices (salt, pepper, ginger, cinnamon, saffron)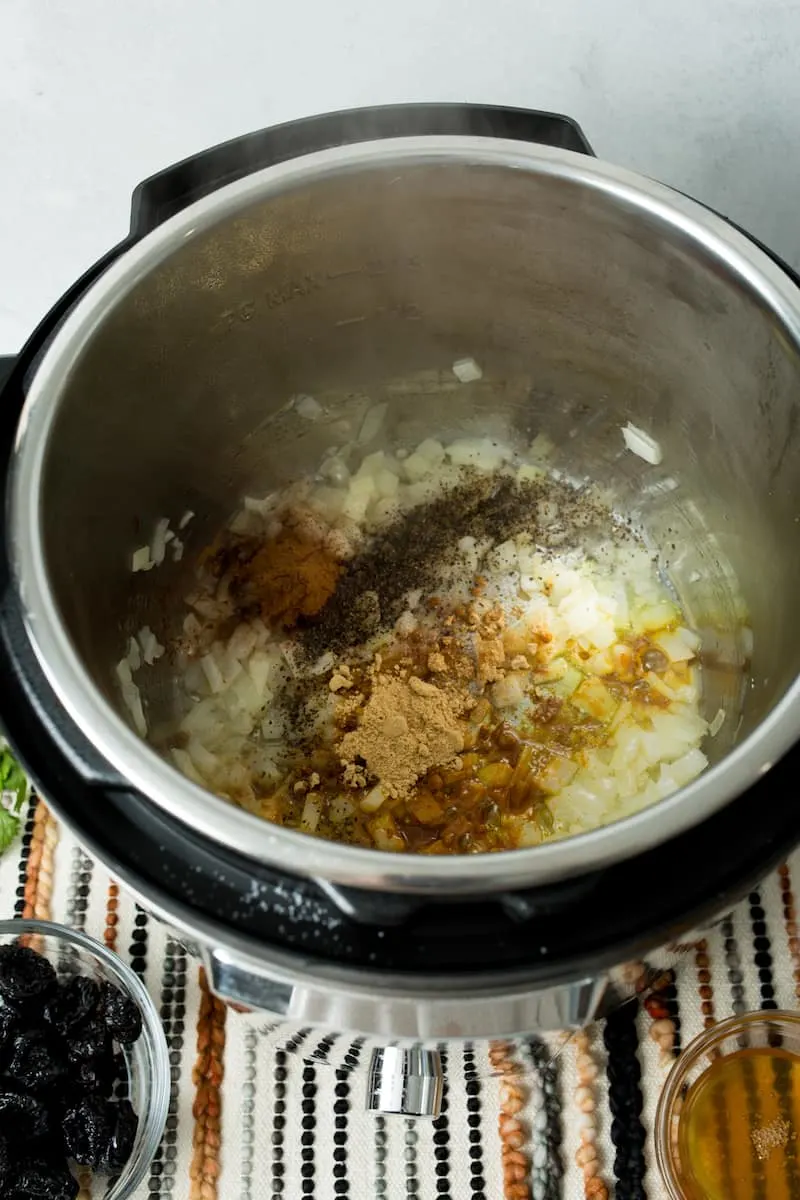 If using a pot on the stove, add enough water to cover the meat. Cover and simmer on medium heat for 2 1/2 – 3 hours, until meat is very tender and falls away from the bone. You may need to add more water if it cooks off too quickly.
Add the cilantro.
Bring the meat and liquids to boil. When the meat is cooked removed, and allow the remaining water to reduce to a thick sauce.
If using a pressure cooker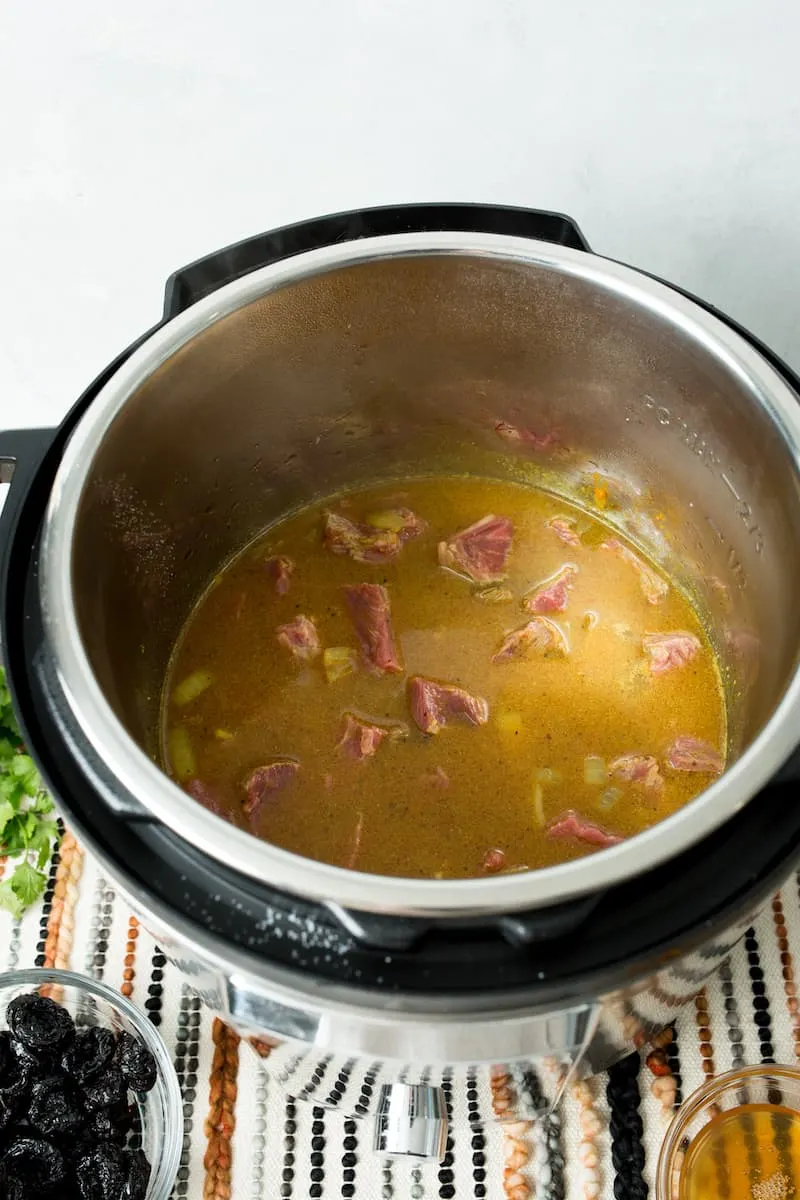 Cover the pressure cooker after adding water and cilantro.
Cook on medium heat for between 45-50 minutes.
Release pressure and open cover.
Remove the meat and reduce the sauce uncovered.
For the prunes: (this can be done while meat is cooking)
Add prunes to a small pot with honey and some water, simmer on medium heat, checking to make sure there is enough liquid and they are not burning.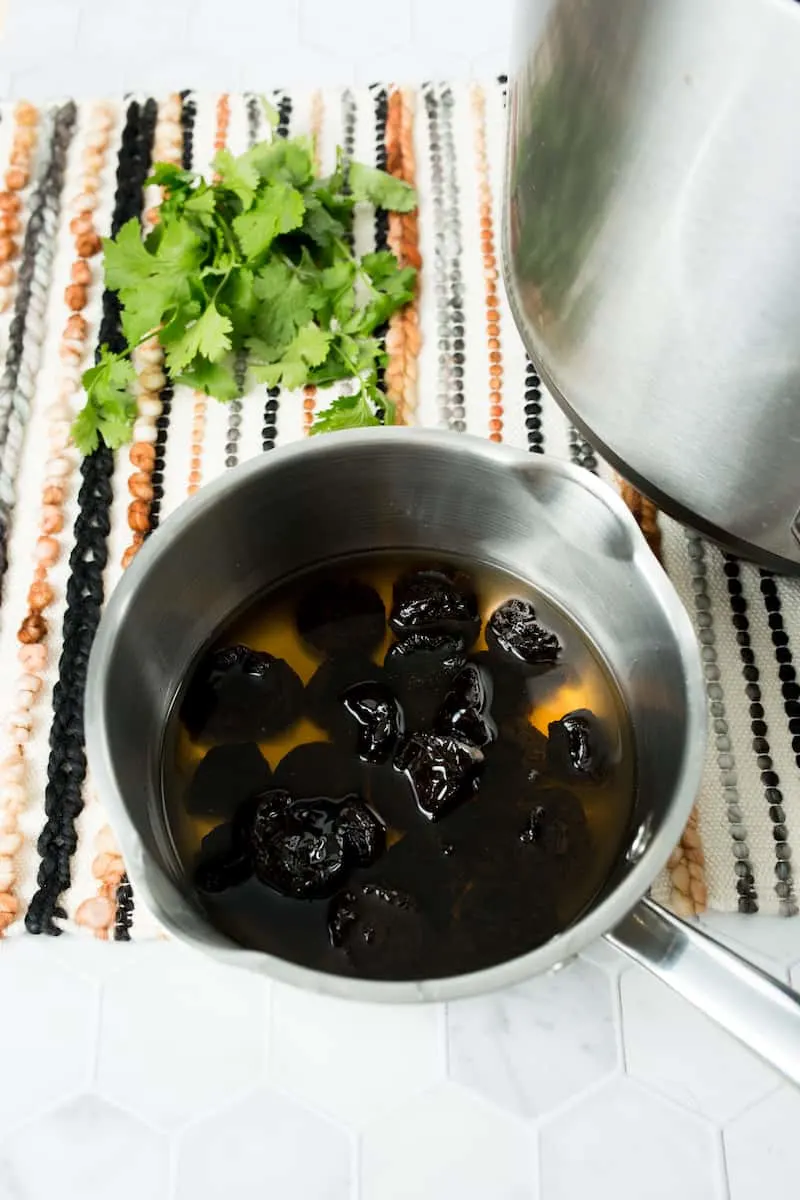 Continue simmering until prunes are very tender. The length of time for this step depends on the oven as well as the prunes.
Fresher dry prunes will soften much faster than a more dehydrated prune.
Towards the end add some cinnamon (more if you like it).
Cook until they are sitting in a thick syrup.
This is often topped with fried almonds.
To fry almonds
Using blanched almonds add some oil to a saute pan and put the whole almonds in.
This will only take a few minutes once hot.
Be sure to watch as they will burn quickly.
Once complete turn out meat and sauce into a large serving dish.
Top with the prunes and sauce, and then the almonds.
This is eaten with pieces of crusty bread.