Trying to decide where to stay in Marrakech isn't an easy task. It really depends on the experience you want. I'd even go so far as to say there is no single best area. It may help to understand the major areas of Marrakech when making your choice.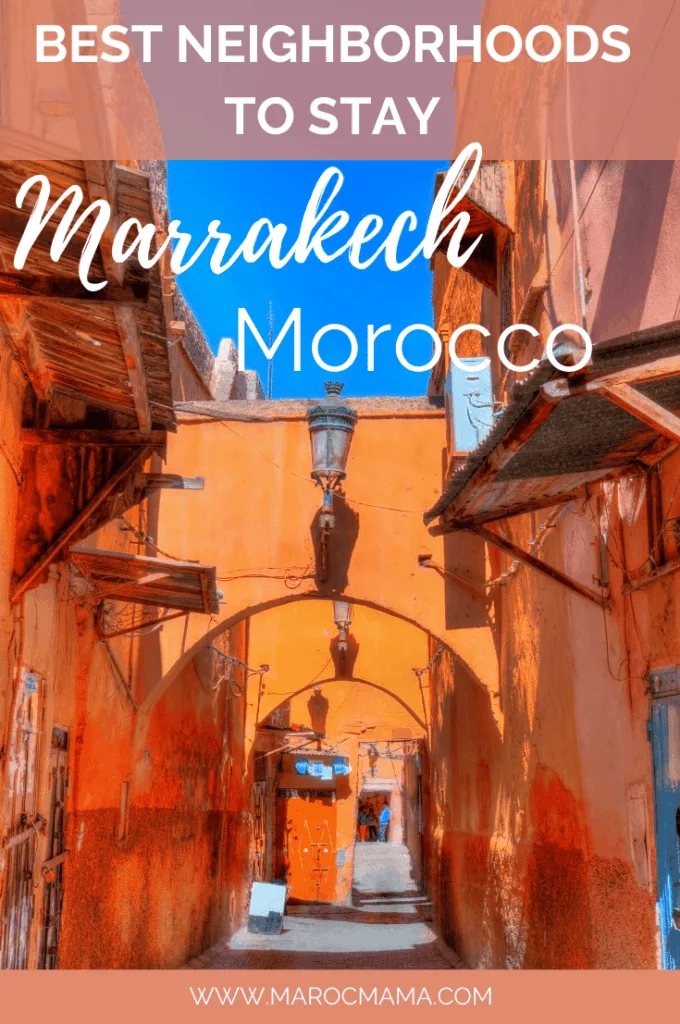 What You Should Know about Riads
There are three complaints that I often hear from people staying in the medina areas;
1) Water and Plumbing Issues
It's important to remember that Marrakech, Morocco is an old city and in the medina areas some buildings are several hundred years old. The plumbing, while reliable most of the time can face issues. Sometimes the water does go out without a reason and there isn't always a set answer as to when repairs will be made.
This is usually not the fault of the riad but is simply part of life in this part of the city. When you have water systems that were not built to accommodate multiple homes with multiple showers there are bound to be issues.
2) Bugs
Even with the cleanest environments, it is still possible you might encounter a cockroach or ants. This is an old city in a warm climate and it's really just a part of life. Those of us that live here do our best to combat this issue but don't be too surprised if you do encounter one even in the most expensive accommodations.
3) The "Singing" in the morning
It's not singing, it's the call to prayer and it happens five times a day. The first prayer of the morning happens between 5am and 6am depending on the time of the year. There are mosques throughout the medina and each will do a call to prayer at the five appointed times. For some people this is not an issue however for others this might be difficult to deal with.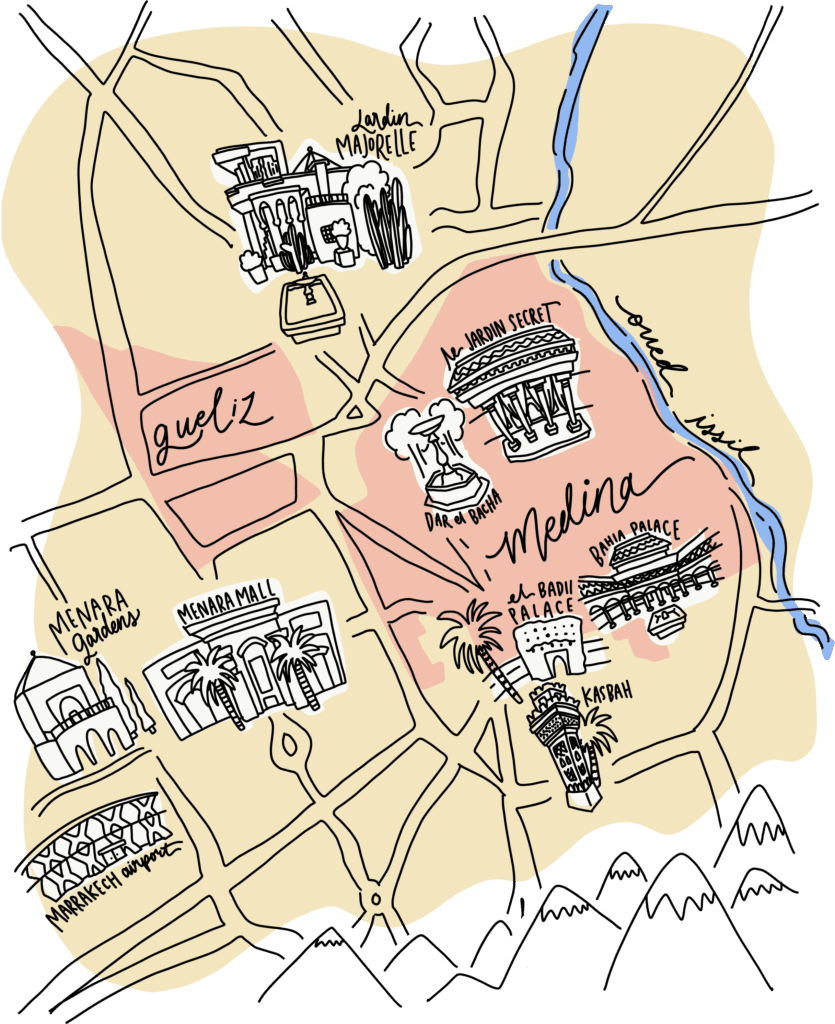 The Marrakech Medina
Medina means city in Arabic but in Morocco it's used to refer to the area of the city within the walls of the old parts of the city. This is a large area. It's also where most tourists tend to be. Within the medina it is divided into neighborhoods. Most riads are located within the medina and are separated by neighborhood.
There are thousands of Moroccans that also call the medina home and so it is an area that is a mix of residential homes, commerce, shops, workshops, tourist attractions, restaurants and more. I have often heard from people that they choose to stay outside of the medina because it is so busy.
I would encourage you to rethink this. While the outside streets may be busy, once you are inside a riad you will find it to be a completely different experience. Staying in the medina also means you won't need to use taxis or other transportation to reach the majority of things you may want to do.
One of the negatives of staying in the medina is that it is car free so you will need to walk, so if you have mobility issues it can be difficult. Also the streets are very much like a maze so it is likely you'll get lost a few times.
Hotels and Riads in Marrakech
10 Family-Friendly Hotels in Marrakech
25 of the Best Riads and Hotels in Marrakech for Couples
5 Cool Hostels in Marrakech for Your Trip
Best Area to Stay in Marrakech
Medina Neighborhoods to Consider
Note by clicking on the links below you'll be taken to a page that tells you a bit more about each area as well as suggested places to stay.
Areas to Stay in Marrakech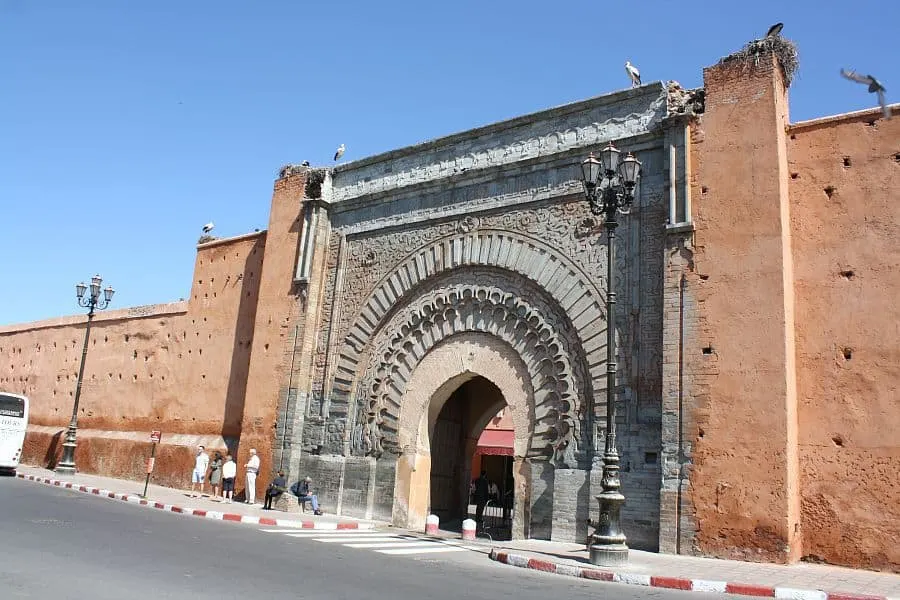 There are many other areas you can stay in Marrakech depending on the experience you want. Some of these neighborhoods are not far from the central medina area and could be considered an "overflow" area. While others are much further outside the city.
Riads and Hotels in the Kasbah for Your Marrakech Stay
Riads in the Marrakech Mellah Area
4 Hotels in Agdal, Marrakech to Consider
Hotels in Gueliz and Hivernage Neighborhoods of Marrakech
7 Hotels and Boutique Hotels in the Marrakech Palmeraie
Numerous resorts and hotels are located outside the city. However many will list that they are "in" Marrakech. This is something you should pay attention to. In the address it will be listed as something like Kilometer 23 route de Ourika, Marrakech – this means the hotel is 23 kilometers outside Marrakech on the road to Ourika.
This also includes areas like the Agafay Desert which is approximately a 45-minute drive from Marrakech.