One of the easiest recipes with the widest appeal, that I have so far found, is Chicken and Olive Tajine. This is often made with french fries on top but I add a twist sometimes by making zucchini fries. This is very simple and probably the most widely known Moroccan tajine recipe.
If I'm totally honest after our first trip to Morocco in 2004, I couldn't even look at this tajine for YEARS! We ate it almost every day for nearly two weeks. You will find it on EVERY menu in the country; though you'll also find varying levels of quality.
In Morocco, it's also known as chicken mkalli. The key component to this dish is preserved lemons. Yes, you arguably can make this with just lemon juice however the preserved lemons are what makes this dish special.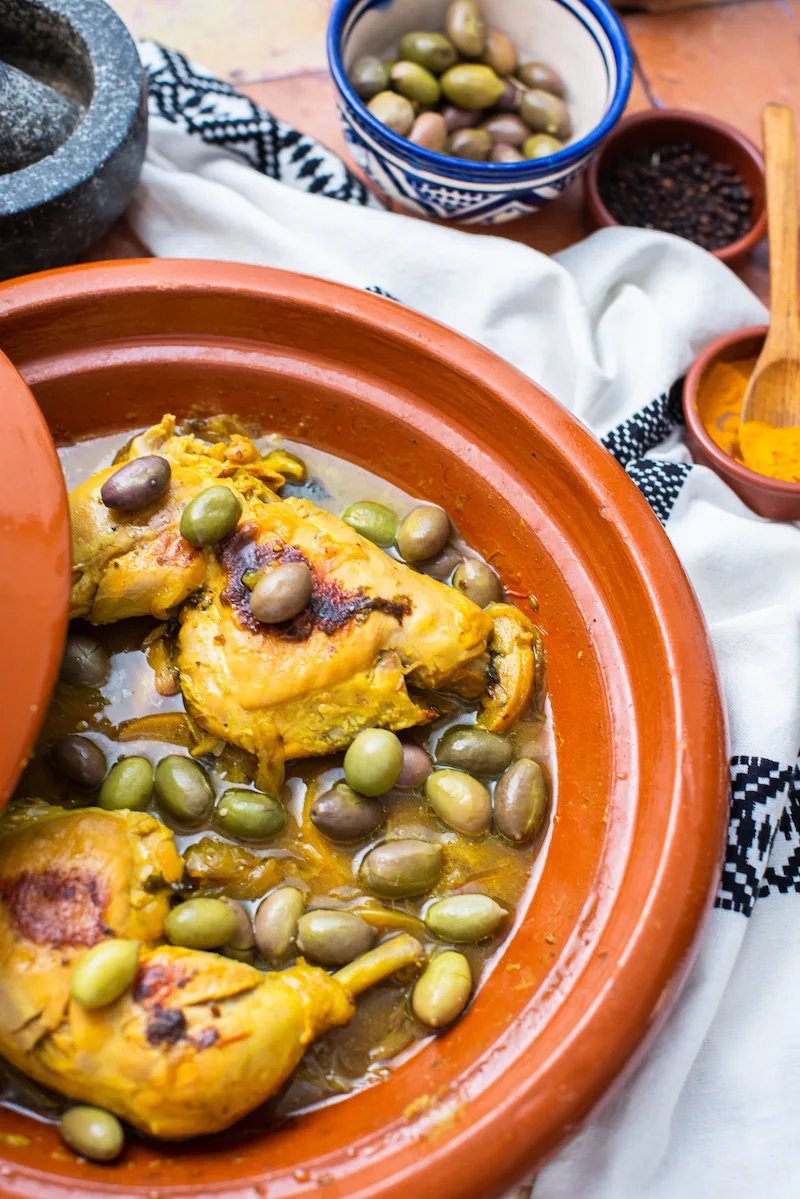 If you don't have any preserved lemons you have two options. You can make them yourself, but know that they take a few weeks to be ready to use. Or, you can buy them. I recommend Mina preserved lemons as they're authentic and work well.
What are the ingredients for Moroccan chicken and olive tajine?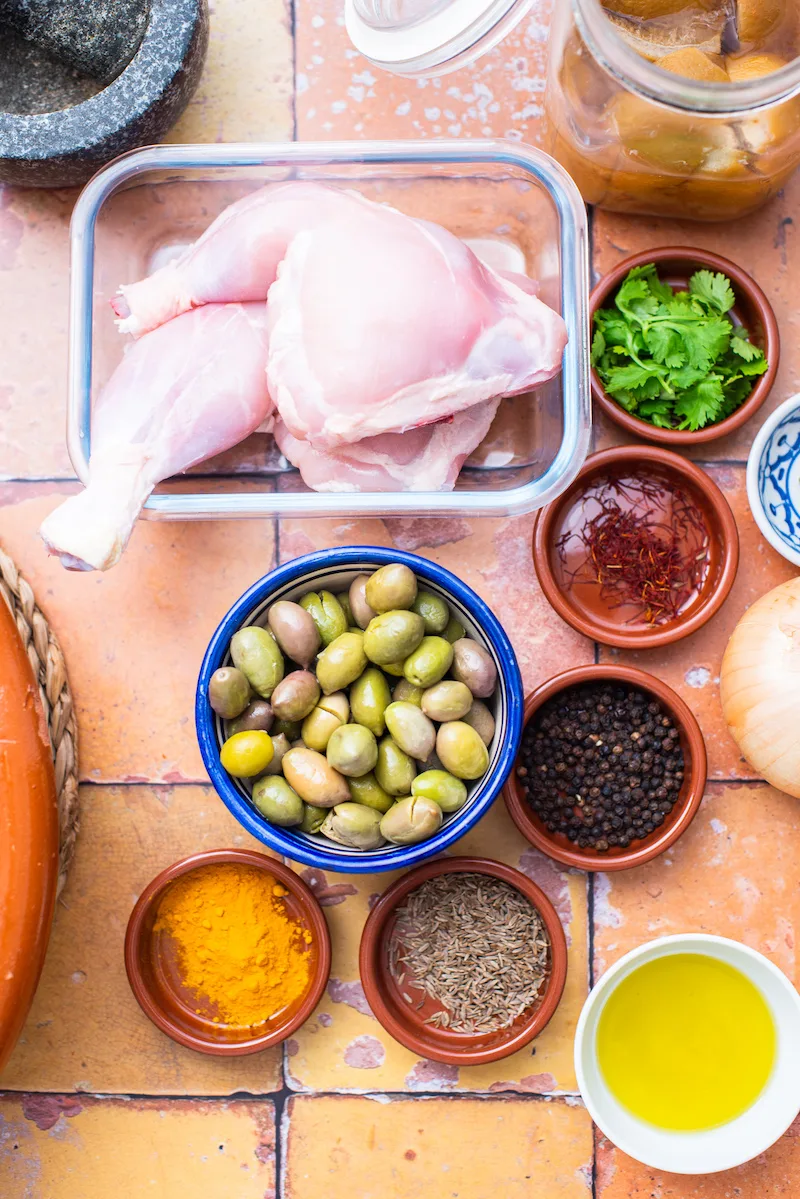 The ingredients for Moroccan chicken and olive tagine are;
The flavor in Moroccan tajines comes from the process of slow cooking the ingredients. In this tajine olives and preserved lemons add a really bright punch of color.
chicken
high-quality olives
onions
preserved lemons
a mixture of spices like ginger and cumin
Do you need a tajine pot to cook chicken and olive tajine?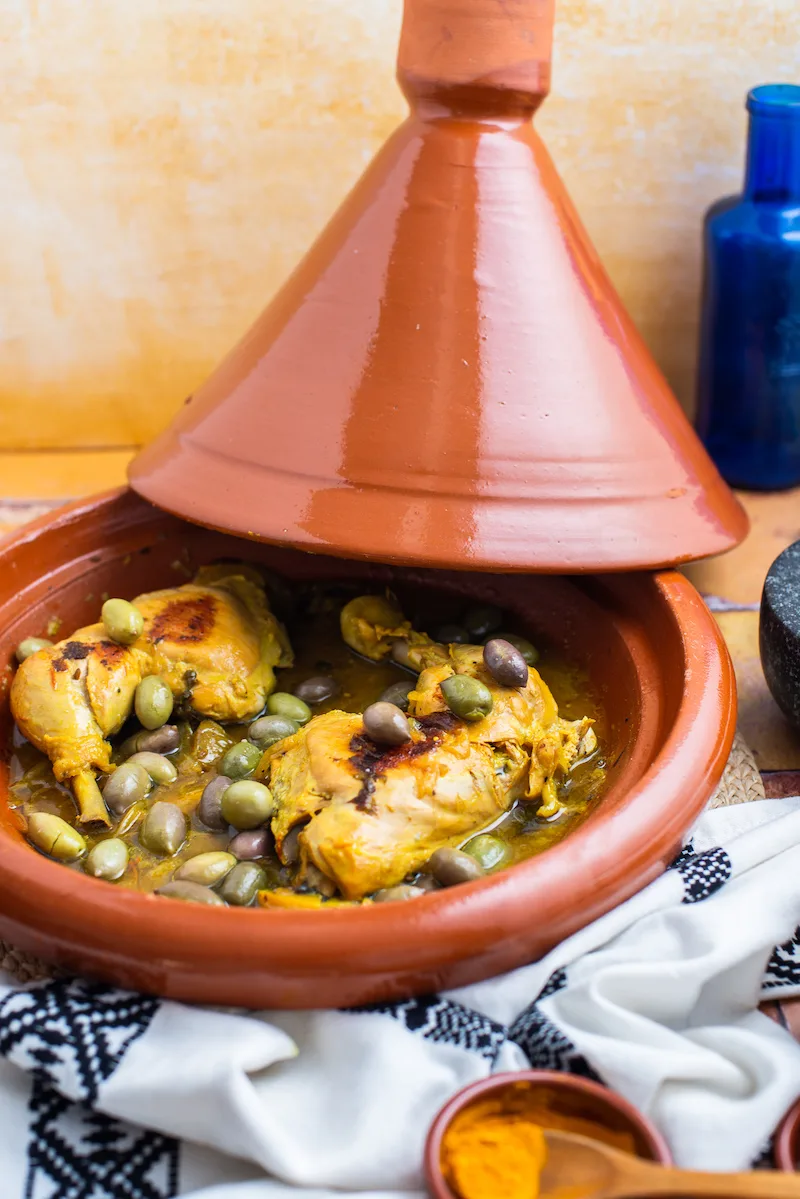 Cooking this dish in a traditional tajine pot will yield the best results however it's not a requirement. If you don't have a tajine pot, any heavy-bottomed pan with a tight-fitting lid will suffice.
I really like the Le Creuset brand pots because they cook very evenly but if you have just a regular cooking pot it will work as well. Having the lid however is important. It helps seal in the heat and captures the flavor.
If you're more a slow cooker kind of person, you can make tajine this way. It will not taste the same as if it were prepared on the stove however sometimes you just need a quick option. Here's my slow cooker chicken tajine recipe.
What can be served with chicken and olive tajine?
Couscous is not a traditional side dish for tajine. You can serve it this way but it's not typical. Tajines are always eaten with Moroccan bread, or khobz. It's accompanied by side salads.
Some of the Moroccan salads you can try that go well with this dish include;
You can make this recipe using a clay tajine, in a pressure cooker, or even a slow cooker but the results will be different for each of the cooking techniques.
Yield:

4 servings
Classic Chicken and Olive Tajine Recipe
This classic Moroccan tajine recipe is made using a pressure cooker vs. a traditional clay pot. It's fairly easy to make though does require preserved lemons - they're the crux of the dish.
Ingredients
1 pound chicken (whichever pieces your family likes)
2 tsp vegetable oil
2 tbsp cumin
1 tsp pepper
5-8 threads of saffron crushed
1 tsp turmeric
1 tsp cilantro – fresh or dried
1/2 onion chopped
1/2 preserved lemon
handful of green olives – add more or less depending on your preferences
1 cube chicken bouillon (i add this for extra flavor)
enough water to cover chicken
Instructions
Pour vegetable oil into bottom of the pressure cooker and add onion. Saute until onions are translucent and add cilantro.

Add chicken and sear on all sides. Add remaining spices and lemon. Top with approx. 4 cups of water, just enough to cover chicken.

Cover pressure cooker and allow to cook for 45 minutes. Remove from heat and open pressure cooker, checking the chicken to ensure it's cooked through. It should be tender and falling off the bone.

In remaining liquid add the olives and continue cooking with the cover removed until liquid reduces to a thicker sauce.

Notes
You can serve at this time either alone or topped with french fries. Eat with a crusty bread.
Recommended Products
As an Amazon Associate and member of other affiliate programs, I earn from qualifying purchases.
Moroccan Cooking Tagine
Le Creuset Moroccan Tagine
Kamsah Hand Made and Hand Painted Tagine Pot