One of the classic combinations found in Moroccan tagines is the mixing of savory and sweet. I would say it is really one of the most striking parts of Moroccan cuisine. By blending meats, fruits, spices, herbs and aromatics a dish is created that not only works but shines. There are several different quince fruit recipes found in Moroccan cuisine and all use this principle of sweet and savory.
If you've never had quince it is a unique fruit. Outside it looks like an ugly apple, inside the raw flesh is white and bitter to taste. However when it's heated and cooked down the flesh turns an orangish/red color thanks to a natural chemical reaction that occurs when heated.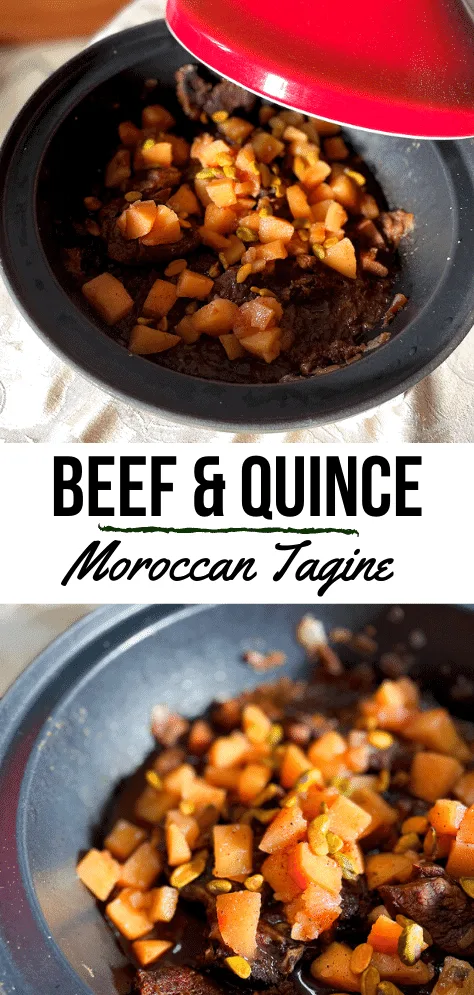 Preparing quince typically means creating a sweet topping to go with meat and this beef and quince tagine does just that. You can use fresh quince for this dish or if you have quince that have been frozen it works well too. To preserve quince, follow my post on freezing quince to help extend the brief season when they're on the shelves.
Lamb or mutton is more often the meat of choice in Morocco as it's a bit more widely available and most families slaughter a ram at least once a year for Eid. Beef is certainly available and used but again most people would choose the mutton. My family is the exact opposite.
I've also opted to use pistachios in this recipe because I like how they taste with quince. You won't find pistachios on a traditional tagine, almonds are far, far more likely but for something a little different, give it a try!
Ras al hanout is another spice that makes an appearance in this dish. While the spice blend is iconic to Morocco, it's really not used in a lot of dishes. You can make your own blend at home and try it on these roasted carrots as well!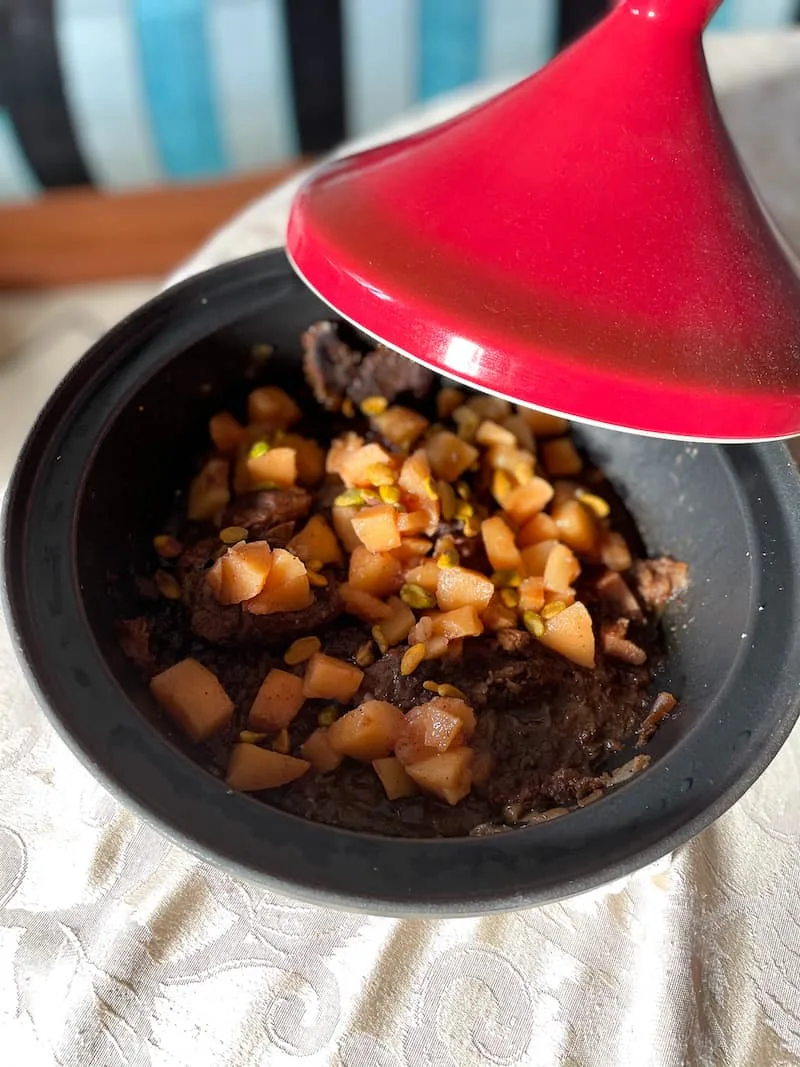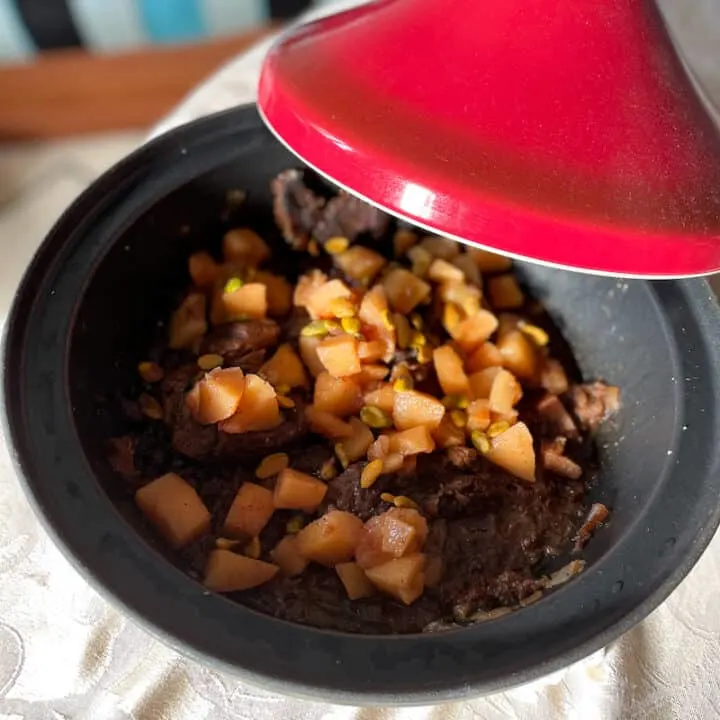 Yield:

2-4 servings
Moroccan Beef and Quince Tagine
Total Time:
2 hours
15 minutes
Use cooked quince in this beef tagine to give your dish a savory and sweet balance.
Ingredients
1 pound of beef cut into smaller pieces (bone in is better)
1 onions chopped
2 cloves of garlic
1/2 tsp cinnamon
1 teaspoon fresh grated ginger
1/2 teaspoon salt
1/2 teaspoon black pepper
1/2 teaspoon Ras El Hanout
2 Tbsp olive oil
1/2 cup water
3 cups cleaned and cut quince
1/4 cup sugar
1 teaspoon cinnamon
1 cup of water
Optional: pinch of salt
shelled pistachios
Instructions
These instructions are to prepare in a tagine or cast iron dutch oven.
Chop onion and garlic and add to the bottom of the tagine along with the olive oil. Saute for 2-3 minutes until they begin to soften.
Trim the fat from the beef and clean well. Blot dry and add to the tagine and begin searing on both sides. Sprinkle the ginger, ras al hanout, salt and pepper over the top of the meat and mix to combine everything.
Add 1/2 cup of water and place the lid on the tagine. Leave 30-45 minutes checking occasionally that there is still water remaining. Add small amounts of extra water if needed.
After 45 minutes check the meat. It should fall apart when a fork pulls at it. The length of time needed to cook the meat will depend on the thickness and cut of meat that you use.
Continue adding liquid and checking doneness until the meat is tender.
When you begin to cook the meat you can prepare the quince. Peel the quince (if fresh) and cut into chunks about the same size. It doesn't matter what shape they are as long as they are uniform.
In a saucepan add the quince along with the water, sugar and cinnamon. Cook on low to medium heat along with the tagine. They should cook for about 45 minutes or longer. Again it will depend on the size they have been cut into.
The quince are cooked when a fork can go through them easily.
I like to take a few of the quince and add them to the tagine while it's cooking and mash them into the sauce. This thickens the sauce and also adds the flavor of the quince a bit more.
To serve lightly toast the pistachios, add the quince to the top of the tagine with any of the liquid that remains in the pot and top with the pistachios. This is eaten by scooping it up with Moroccan bread but can also be eaten with a fork.
Notes
I use fresh, grated ginger in this recipe because it adds a lot stronger flavor than the powder but you can use what you have on hand. The same with fresh garlic - go for garlic powder if need be.
For the serving size, the quantity will depend on if your meat has bones and how much. On average this could serve 2 adults and an older child but if you have big eaters, you'll want to double it.
What to serve with this tagine?
Here are a few different suggestions of things that could be served with this tagine.
Throwing a dinner party and looking for more great Moroccan recipes? Pick up my dinner party guide!