Quince fruit recipes were not something that I had in my cooking repetoire until I met MarocBaba. I had never even eaten a quince and had no idea what it was. My introduction came via quince paste and later the fruit itself. Of course, a lot of experimentation also helped.
MarocBaba and I always come to a head when I start "playing" with a tajine. To him, there's no messing with an original. When I started to put this tajine together he thought it was another attempt on my part to make something new. There aren't a lot of recipes with quince paste out there – most of the time it's served as a side on a cheese plate but this is really great way to use it.
But, I first saw this tajine in Paula Wolfert's Food of Morocco cookbook. The original calls for cut-up quinces. I've never seen a quince in our markets and am sure they simply are not in demand here. I did however have some quince paste from another recipe I had made. The quince paste really worked beautifully.
I prepared this tajine in an unglazed clay tajine and think that it truly made the flavor that much deeper. I'm not saying you couldn't try this in a glazed tajine or even in a heavy pot but I just don't think it will taste the same. Be sure to cook this over low heat and watch a little more closely than other tajines. The quince paste can dry up quickly.
If you're looking for a sweet and savory chicken and quince recipe that says fall without a sprinkling of pumpkin spice, you'll love this.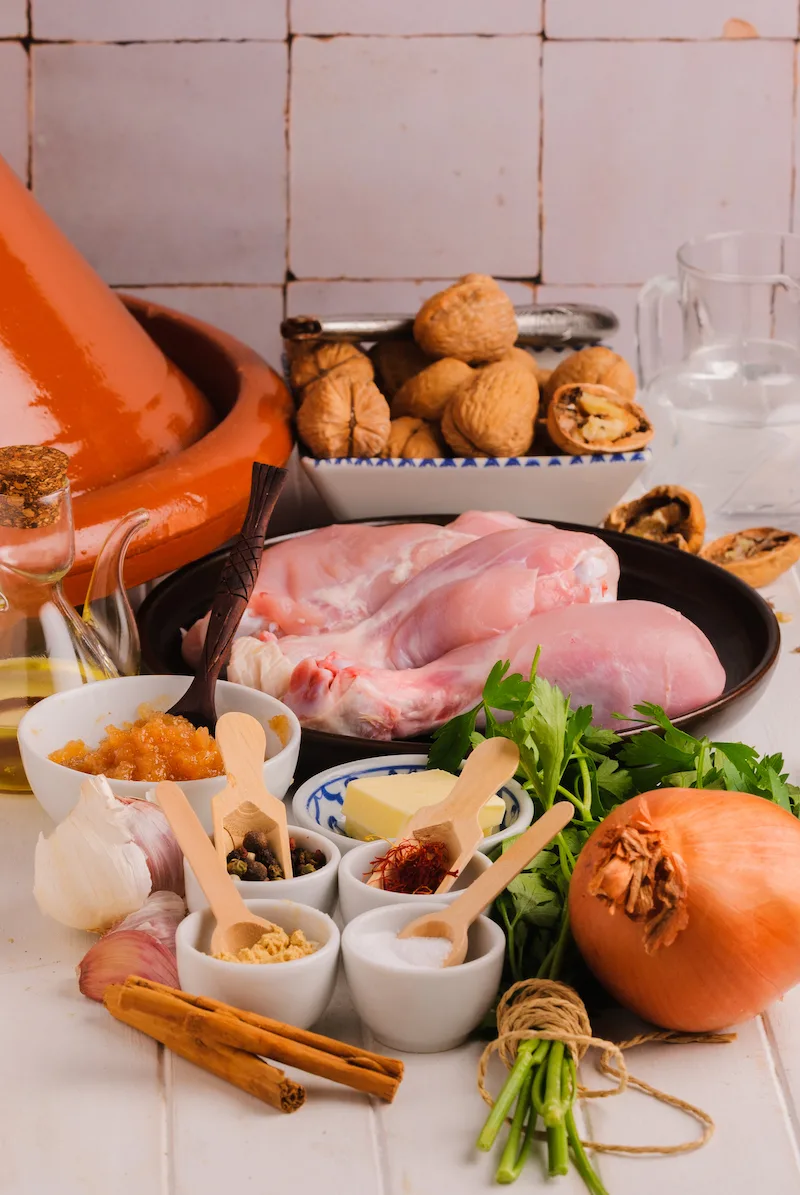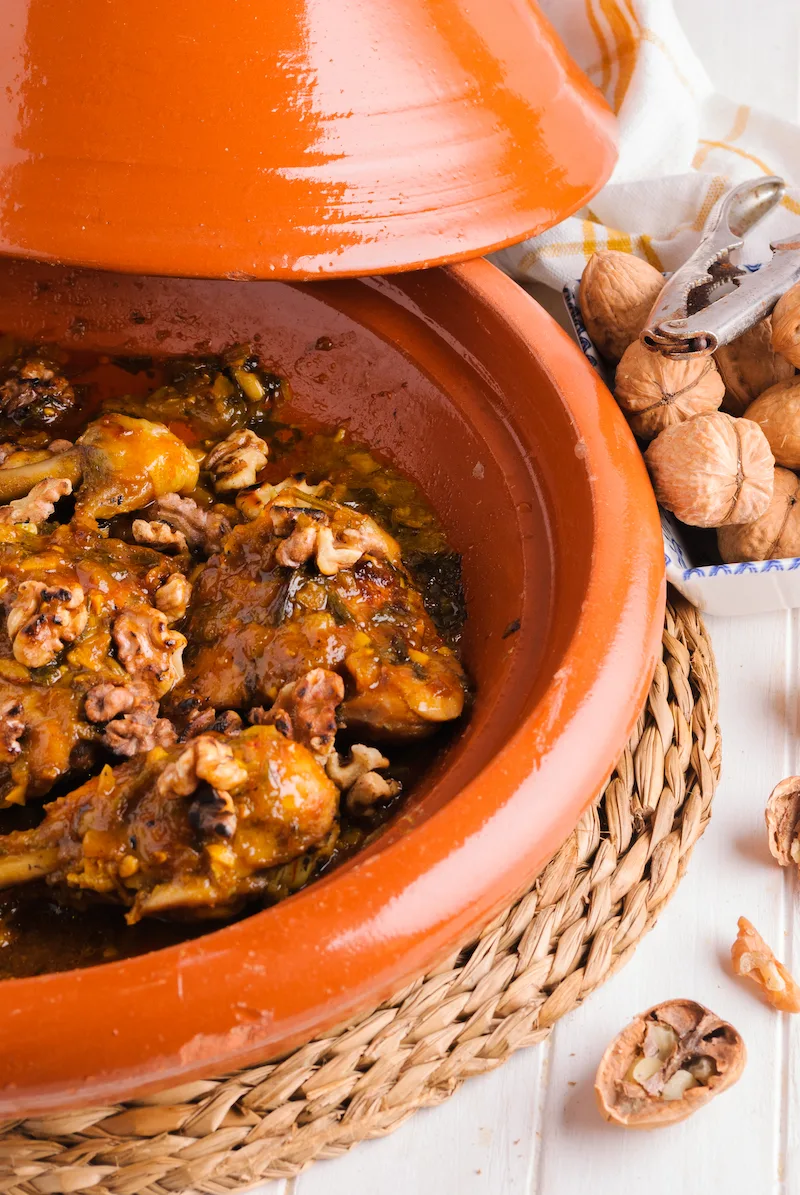 Yield:

4-6 servings
Chicken and Walnut Tajine
Cook Time:
1 hour
30 minutes
Total Time:
1 hour
45 minutes
A perfect fall recipe from the High Atlas Mountains of Morocco. Quince paste and walnuts are used to enhance the flavors of the chicken in a sweet and savory combination.
Ingredients
1 lb of chicken pieces
1 medium onion finely chopped
1 Tbsp crushed garlic
2 tsp ginger
1 tsp salt
1 tsp pepper
2 Tbsp vegetable oil
1 tsp cinnamon
pinch of crumbled saffron threads
small handful chopped parsley
2 Tbsp butter cubed
1/4 c water
3 tsp quince paste
1/2 cup walnuts
Instructions
In the bottom of an unglazed clay, tajine add the vegetable oil, and turn heat to medium.
Finely chop the onion and crush 2 teaspoons of garlic (2-3 cloves). Add these to the tajine.
In a bowl mix together the salt, pepper, ginger, cinnamon, saffron threads, parsley, and quince paste with enough water to create a paste.
Rinse and clean the chicken and place it in the spice paste, taking care that the chicken is coated.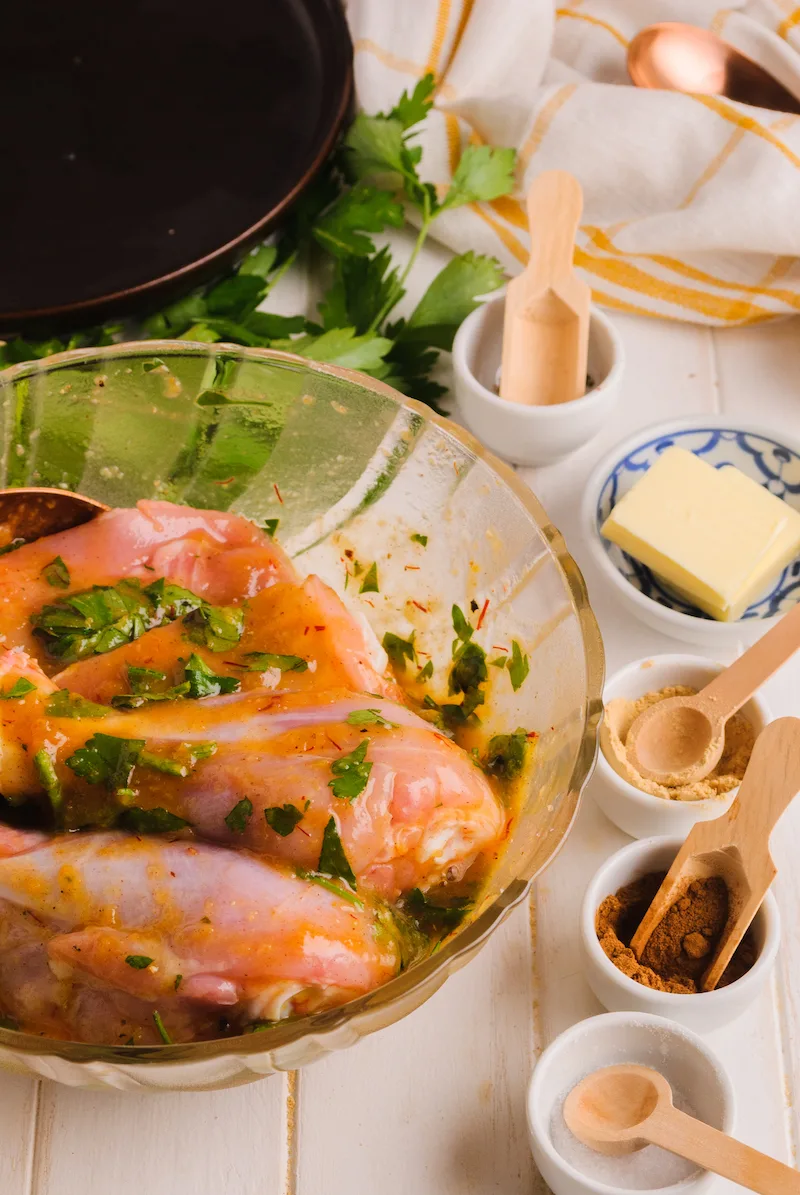 Add the chicken pieces to the tajine along with any remaining marinade.
Pour in 1/4 cup of water and 2 tablespoons of cubed butter.
Cover the tajine and reduce heat to low.
Allow to cook for 1 1/2 - 2 hours. Check at the 1 hour, 1.5 hour, and 2-hour mark and add a little more water if necessary.
The tajine is ready when the chicken is tender to the touch. There should still be liquid in the tajine.
Toasting Walnuts
In a skillet, add the walnuts and turn heat to medium-high.
When the walnuts begin to toast you will be able to smell the oils being released.
Stir the walnuts to make sure they don't burn.
Remove from the heat as soon as the walnuts begin to brown.
Top the tajine with toasted walnuts and serve immediately. This dish is traditionally eaten with crusty bread but could also be served on top of rice, barley or couscous.
Notes
Be aware that the cooking time for this tajine will depend on the specific cuts of meat you use as well as the temperature of your stove.