Maybe you've been to Morocco and tasted a tajine or to a restaurant where it was on the menu. The flavors and combinations can seem difficult to replicate but the truth is – it's a lot easier to make these Moroccan tajine recipes at home than you think.
I started cooking Moroccan food shortly after my (Moroccan) husband and I married and made a LOT of mistakes. My recipes are adapted for more western kitchens and I use measurements to help you where I can. Of course if you cook with your eyes – go ahead!
What is a Moroccan tajine?
A tajine is two things; first it's a two-part clay vessel. The bottom is a flat dish shape with a lip. The top is a cone that fits snugly on the lip of the bottom piece. There is no hole or ventilating feature.
Secondly, it's the food that is cooked inside of the pot. Both refer to the same thing and this can be confusing. There are many, many different varieties of tajines.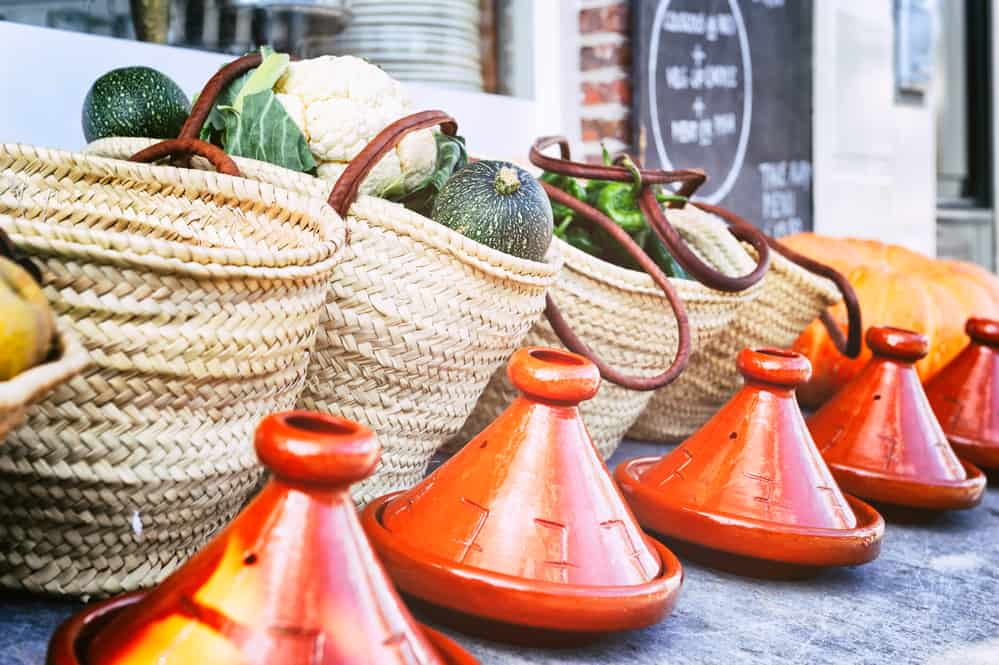 Do you need a tajine pot to cook tajine?
The traditional way of cooking this dish is in the tajine pot. However even in Morocco many people don't cook this way regularly. Pressure cookers are often the way that the dish is prepared as they are much quicker and require less tending.
You can also make tajine in a slow cooker or instantpot, however I find that you have to be careful as many times you'll end up with a watery, basic sauce.
Is there a difference between tagine and tajine?
Nope! There are two different ways that you will see the word spelled and both are correct. So whether it's a tagine or tajine it refers to the same thing.
What are the main components of a tajine?
There are no hard and fast rules to this as there are dozens of varieties of tajines that exist. The vast majority have some type of meat + some vegetable(s). The meat is typically the smaller amount.
You also may see meat paired with dried (sometimes fresh) fruits. These tajines tend to have a sweet and savory contrast flavor. Dried fruits are rehydrated when serving usually with the liquid.
Many tajines use generous amounts of olive oil and onions as well as a mixture of spices that varies depending on the meat being used.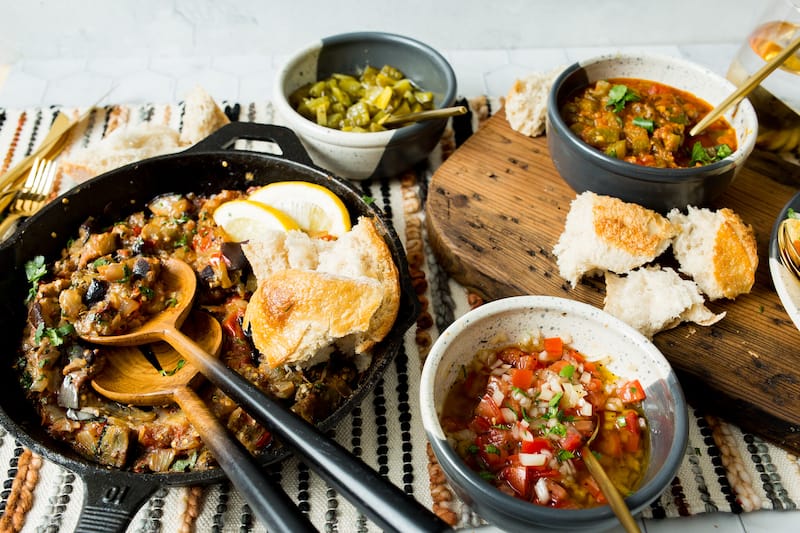 What do you serve with tajine?
Before sharing what goes with tajine, let's discuss what doesn't. Couscous and tajine DO NOT go together. They are not served together, nor is couscous served as a side dish to tajine. If you want to prepare a traditional Moroccan meal don't put couscous with it.
You will always find tajine served with some sort of Moroccan bread. It's not just a side accompaniment but the tool that is used to eat the dish. A tajine is meant to be eaten with bread to scoop it up – not with a knife and fork.
The other item you'll typically find with tajine are Moroccan salads. These are primarily cooked salads made with seasonal vegetables. The salads that are chosen are based on a few different things like the occasion or the main dish.
Get more ideas on what to serve with Moroccan tagines I have a post of suggestions to help!
What to Serve with Moroccan Tagines
Here are a few posts that will help you get started cooking with tajines.
Finding the best tajine pot for you
Which size tagine should you buy?
Tajines for Induction Stovetops
Tajines for Electric Stovetops
Moroccan Tajine Recipes
Choose some of your favorite flavors or ingredients and start preparing your own tajine at home.