Since moving to Morocco it's clear that it is fall, is when I start pulling my quince fruit recipes out of storage. Moroccan quince recipes are popular in the fall because that is when the fruit is ready to harvest. Quince, like figs, are not something that often appeared in the Midwest. I'll admit the first time I saw these for sale at the market I thought they were really deformed apples.
Spoiler alert: they're not.
There are some meat and fruit combinations that work really well and beef and quince are one of them.
When I talked to my mom yesterday I heard my niece say "grandma, I need my jacket." Pfff jackets? My kids aren't even in long sleeve t-shirts yet! I do keep reminding myself that when the snow starts falling back home, and I'm still in flip flops I'll be the one smiling.
Fall is the perfect season for warm soups, stews, and casseroles. Warm and comforting with minimal clean-up required. This is an easy beef tagine recipe that most any cook can master. What makes it even better is that everything is done in the tagine, no additional pots are needed.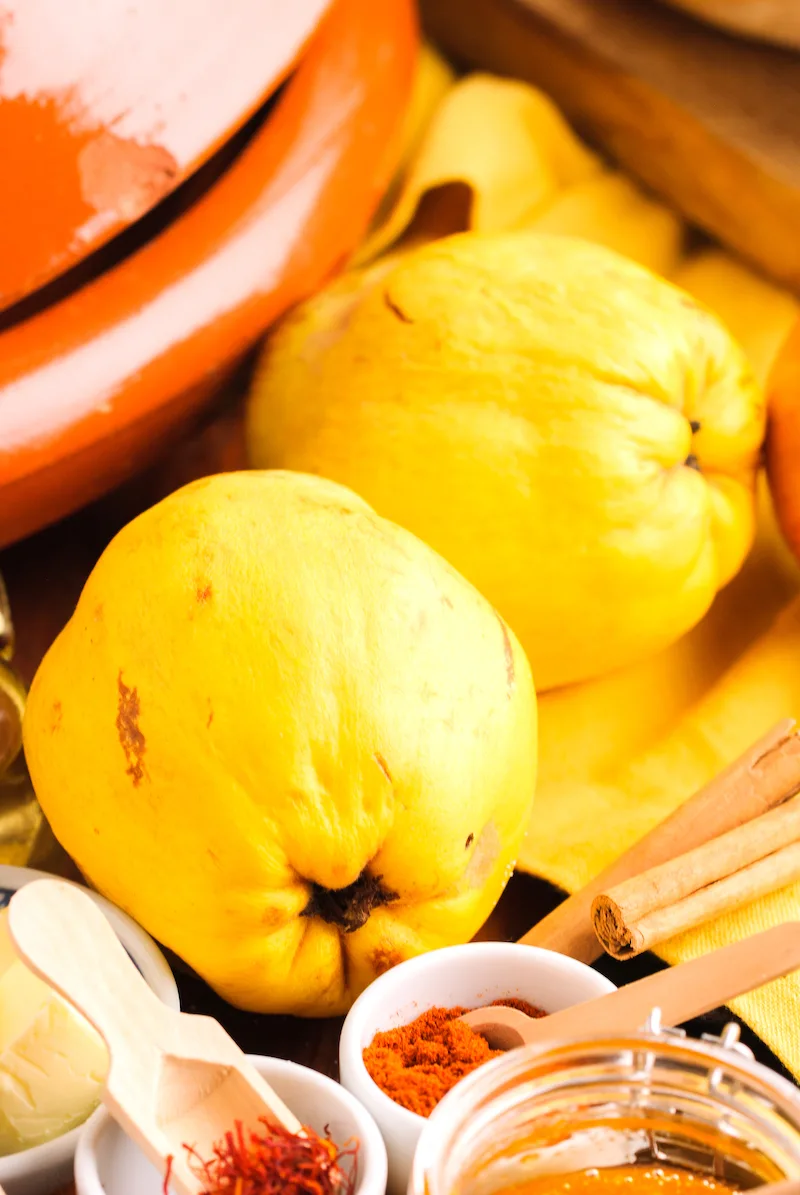 This is a quince.
Don't eat them raw – ask me how I know. Basically, these make me think of what would be created if a sweet potato and apple got married and had a fruit baby. But, they really have to be cooked to get the flavor to come out.
If you've never tackled cleaning a quince, here's how. I first cut around the edges, the same way I do with a mango. There is a core and seeds in the center.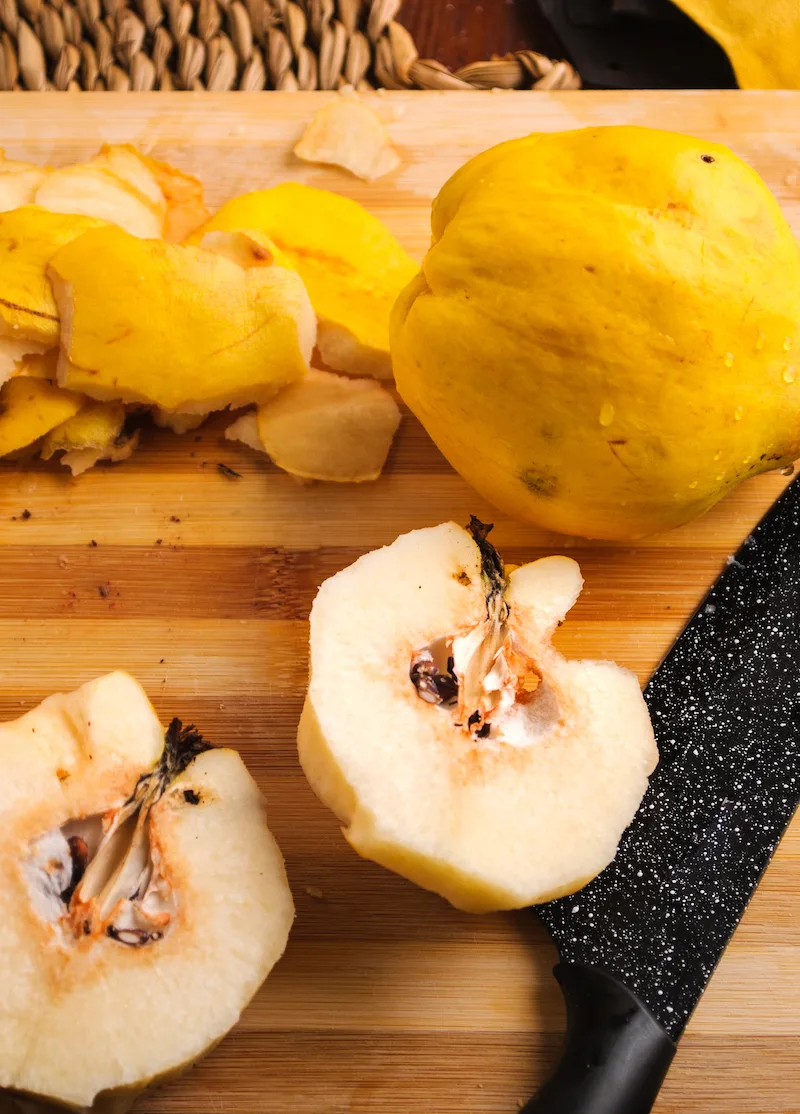 If you have a really sharp knife you can probably cut right down the middle. Quince can be very hard so do take care, watch your fingers and try to place the quince with the flattest side down.
Next, peel the skin using a paring knife or a vegetable peeler. The skin comes off just like the peel of an apple. I like to keep the quince pieces a little bit bigger but you can cut them into whatever size you want.
I make this in a tajine pot, but you could also make it in a large, dutch oven or pressure cooker (just cook the meat and quince separately).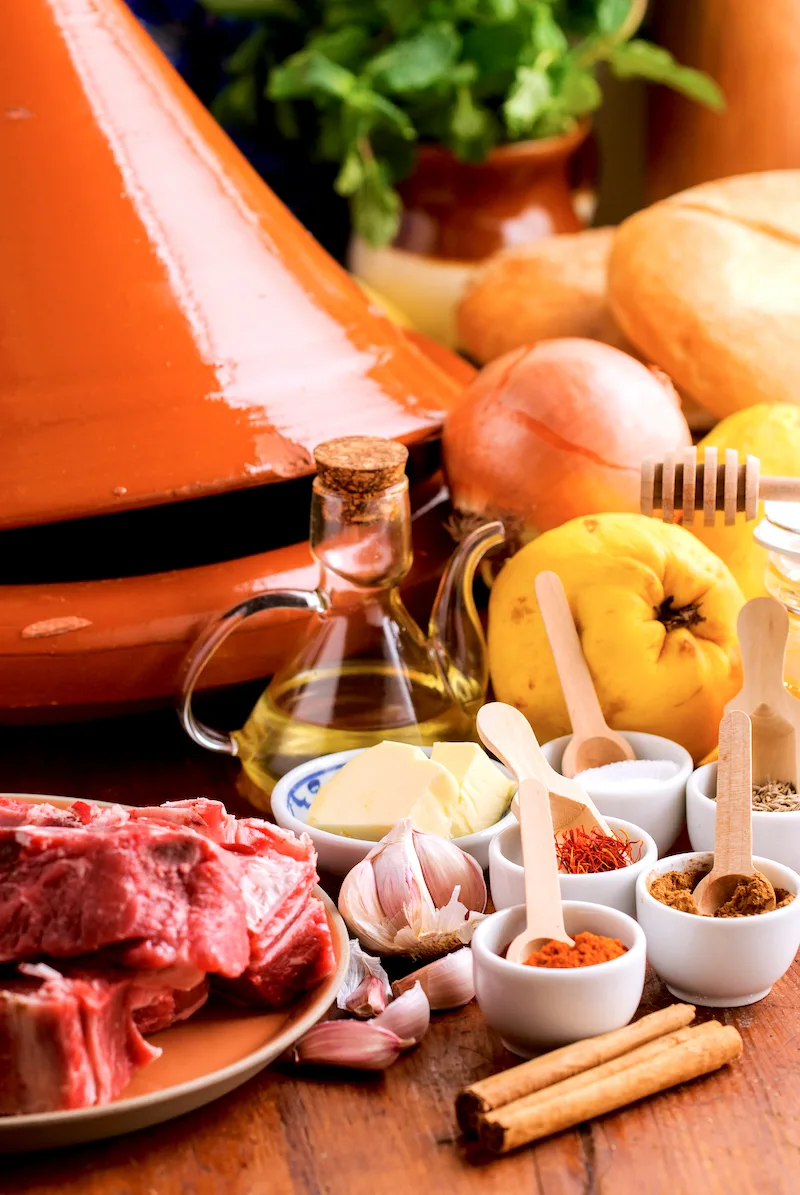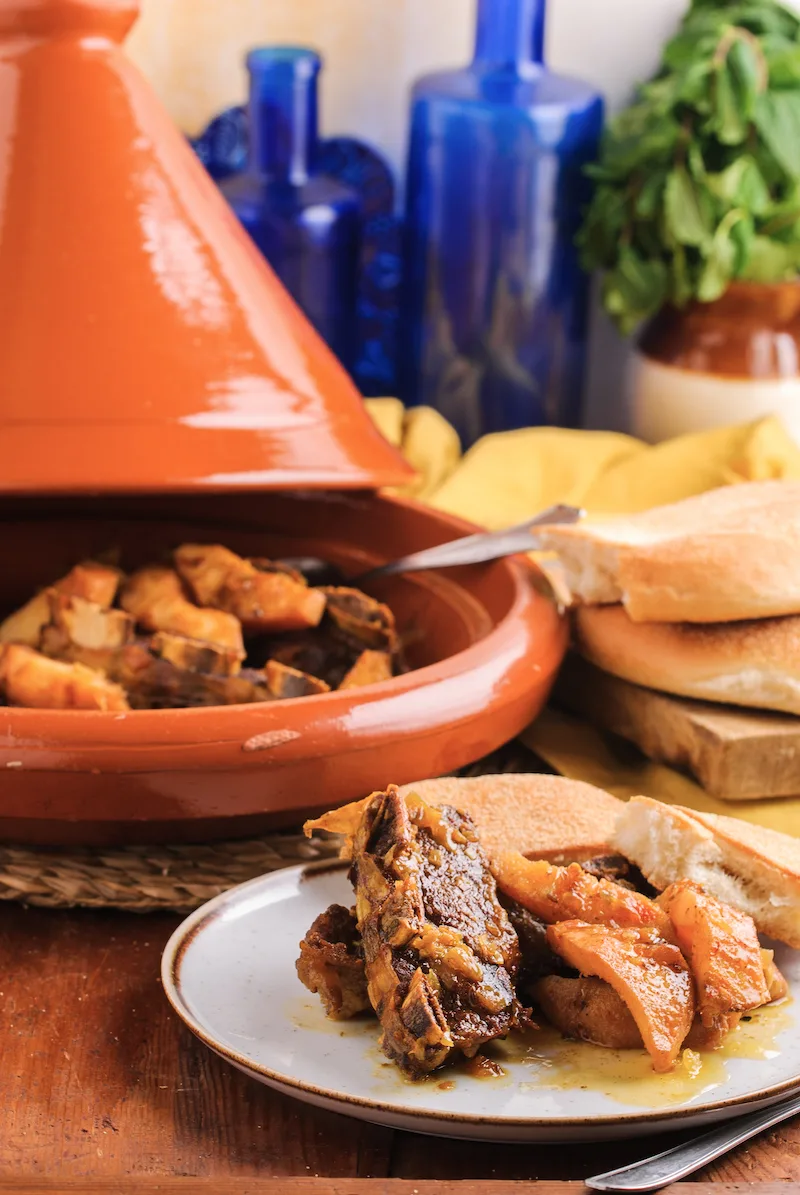 Yield:

4 servings
One Pot Beef and Quince Tajine
A great Moroccan recipe for fall when quince are in season, this beef tajine is a one-pot dinner hit.
Ingredients
2 lbs beef (bone-in pieces if possible)
1 large onion diced
3 cloves of garlic grated
2 Tbsp vegetable oil
1 Tbsp butter
1/2 tsp cinnamon
1/2 tsp salt
1/4 tsp red pepper (you can add more for a spicier dish)
1 1/2 tsp cumin
pinch of saffron threads crumbled
2 quinces, cut, peeled, and cored
2 Tbsp honey
1 cup of water
1/2 cinnamon stick (optional)
Instructions
This recipe is to be made in a tajine pot.

In the bottom of a tajine add 2 Tbsp vegetable oil and 1 Tbsp butter. Heat on low heat.
Add diced onion and grated garlic.
In a large bowl mix cinnamon, salt, red pepper, cumin, and crushed saffron threads. Mix with 1 cup of water.
Coat pieces of beef in the spice mixture.
Place beef in the bottom of the tajine. Reserve the marinade.
Cut, core and peel quince then add to the top of the beef.
Pour the remaining marinade mixture over the quince and beef. Add the optional cinnamon stick to the liquid
Cover the tajine and cook for 1 - 1 1/2 hours, occasionally checking the water to make sure there's enough liquid in the dish.
When the meat is cooked through and starting to fall apart. Drizzle the top of the quinces with honey. You may need to add more depending on how sweet your quinces are.
There should be liquid remaining in the tajine.
Eat using crusty bread to break apart the pieces and soak up the juices.
Notes
The cooking time of this tajine will vary depending on the thickness of the cuts of meat you use, your tajine, and how hot it cooks.