I love any gadget that helps me get food on the table faster. However, living in Morocco means that I don't always have access to many of these tools. This past year I finally got an Instant Pot that also has a slow cooking function. I also have been in the United States for most of the summer where all of the tools are available to me. With this in mind, I set out to make a slow cooker Moroccan tajine with chicken.
I have tried this in the past but my husband really isn't a fan of the slow cooker and I've never been able to really master the recipe. But, I finally did it!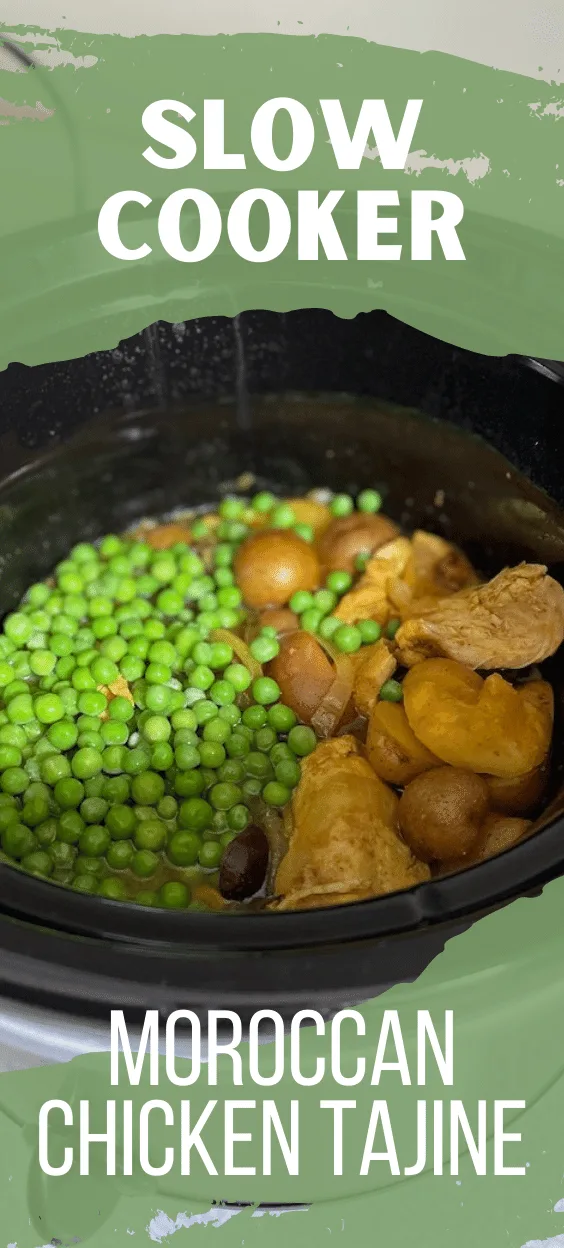 Why is a slow cooker tajine different from a regular tajine?
Essentially they're not different. The ingredients are the same and each has a different way of getting the final result. But, I have noticed that with a slow cooker you often end up with more liquid that doesn't thicken or reduce as it heats. This isn't very conducive to a typical tajine.
The texture of the meat and the overall flavor is also a bit different. I attribute this simply to the fact that you're cooking in an electrically heated ceramic vessel.
If you're looking to purchase a more traditional tajine check out this post on choosing the right tagine for you.
How to Use a Slow Cooker for Tajine
The biggest change that I make when using the slow cooker is to reduce the amount of liquid used. When cooking in a tajine pot or even a stovetop pot the liquid naturally reduces. This isn't the case in the slow cooker. So if you don't want soup and you don't want to reduce the liquid after cooking you have to cut down on how much water you add.
I always thought you had to add a good amount of liquid to a slow cooker if you wanted it to work and not break. But, this isn't the case. In fact, if you're cooking something like meat that has more fat (that will end up releasing in the cooking process) you don't need to add much if any liquid at all. This still makes me anxious so for this recipe I did add a bit of liquid.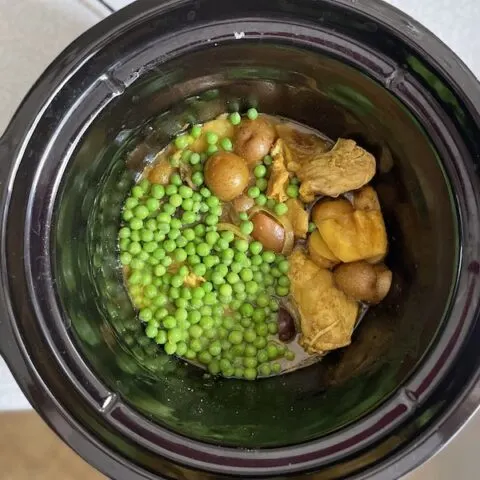 Yield:

6 servings
Slow Cooker Moroccan Chicken with Peas and Potatoes
Total Time:
5 hours
10 minutes
Making a tajine can be time-consuming but when you enlist the help of your slow cooker it becomes an easy dump and go recipe!
Ingredients
1 lb chicken meat
1 white onion
3 Tbsp olive oil
1.5 Tbsp cumin
½ Tbsp turmeric
¾ Tbsp salt
½ Tbsp pepper
1 Tbsp ginger
3 cloves garlic
3-4 sprigs each of parsley and cilantro
1/2 cup water
½ lemon or ¼ preserved lemon
½ lb potatoes (I used small new potatoes)
1 cup fresh or frozen peas
Instructions
Add olive oil to the bottom of the slow cooker. Cut onion into slices and add to the bottom of the slow cooker.
Remove skin from the garlic cloves and add to the pot.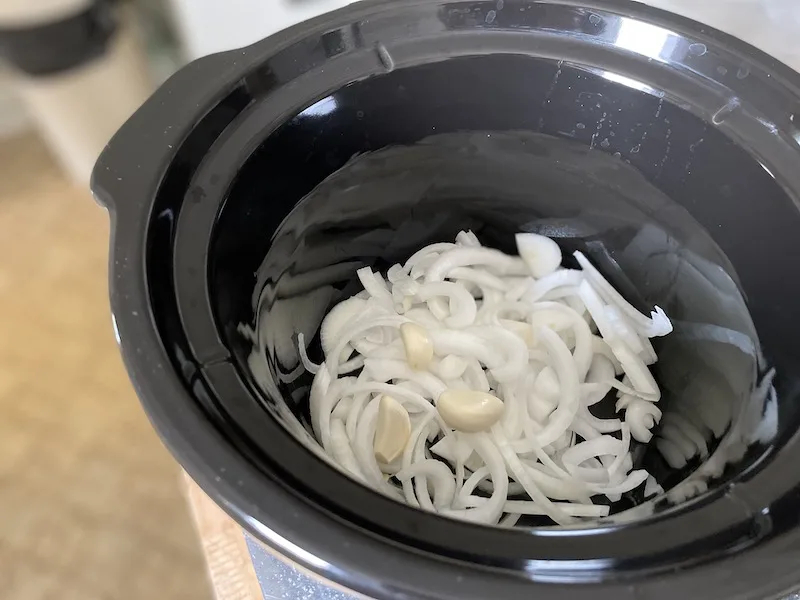 Clean chicken and cut (if desired) into smaller pieces. I used breasts and cut them into 3 pieces each. This just helps speed up cooking time. Place into a bowl.
Add all of the spices to the chicken and mix well to combine.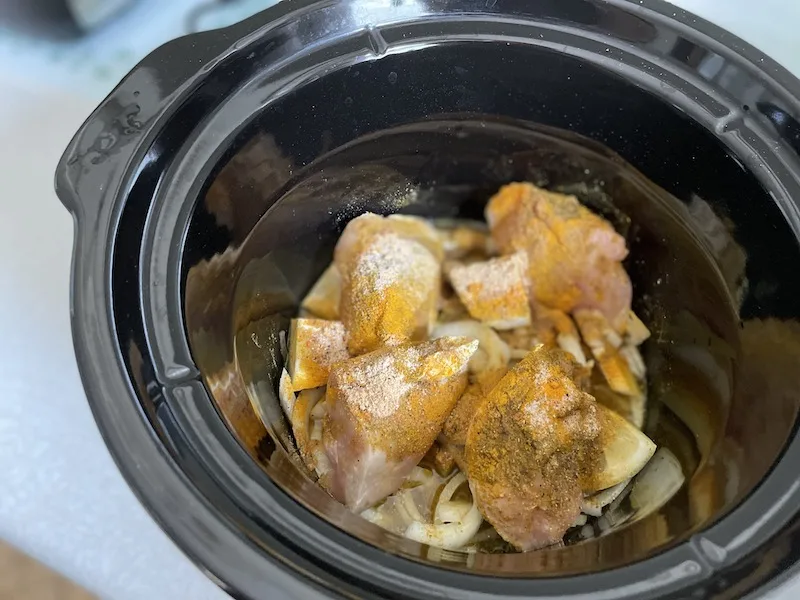 Once the chicken has been seasoned, add it to the top of the onions. I try to keep most of the onions on the bottom as much as possible so that they cook down.
Tie the cilantro/parsley together with a kitchen string or using the stem of one of the herbs and place it in the pot. Add the lemon broken (if preserved) or cut if fresh into a few pieces.
Finally, add 1/2 cup of water. Try not to pour directly on the chicken but around it so you don't rinse off all the spices.
Turn the heat to high or low depending on how long you want to cook. A high time will cook in about 4hours while a low in about 6 hours.
If you are using small, new potatoes, let the chicken cook on high heat for about 2 hours and then add the potatoes. If you plan to cook on low longer you can add them in the beginning.
If you are using larger potatoes you can also add them in the beginning. I place these on top of the onions but under the chicken to cook.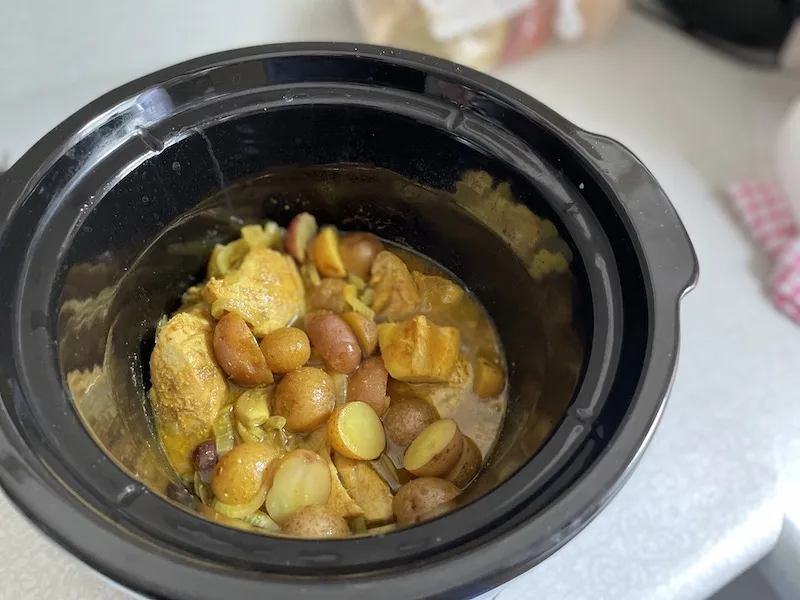 In the last 15 minutes add the peas.
The meat should be falling off the bone and the vegetables tender. If you have a lot of liquid left, you can reduce it on the stovetop if desired.