Marrakech can feel like a destination where costs add up quickly. Depending on what your travel style is, the items on your bucket list of things to do in Marrakech may also come with a heavy price tag.
Whether you are someone that is looking to mix in some low-cost activities with more pricy ideas or you're a budget traveler who wants to save as many pennies as possible while still having a great time, these free things to do in Marrakech suggestions will help you stretch that budget!
I have aimed to share as many things to do in Marrakech for free as possible. Some of these may have a small cost associated but they are costs you would incur anyway (like meals).
Walk through a garden
Many people are surprised to discover Marrakech is more green than they imagined. While it is an arid location there are many trees and green spaces scattered around the city. While more famous gardens like Jardin Majorelle and ANIMA Garden have paid entrance, there are others that have free access. One of my favorites is the Cyber Garden that can be easily accessed from Jemma el Fna and the medina.
One thing to note is that in most Moroccan gardens you can't actually walk on or sit in the grass. There are benches scattered but take a tip toe to the grass and the guardians will come after you!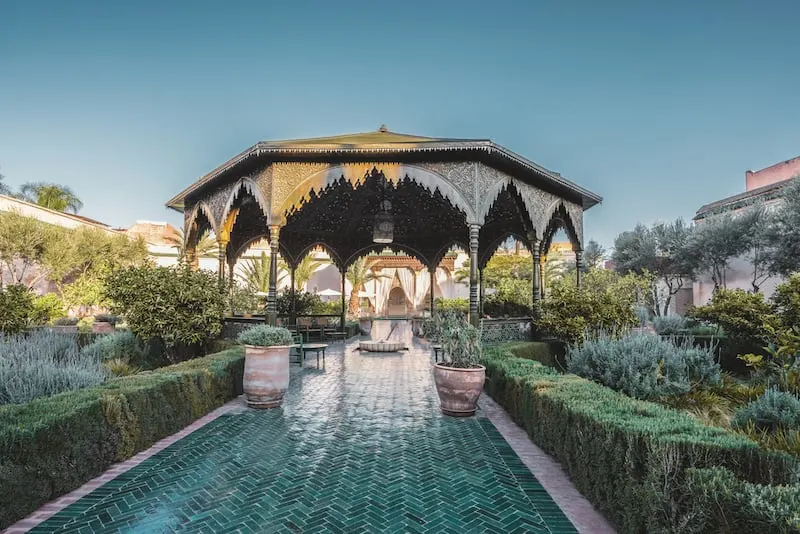 Watch Jemma el Fna at night
Every night Jemma el Fna square comes to life with food stalls, music, performers and more. It really is like a party/festival every evening. While the crowds can feel overwhelming to some, it's also something that really is worth seeing. From the ground, you can walk and mingle freely but to really see what's going on the key is to get up higher. There are several cafes around the square that you can access for the cost of a drink. So, either go the free way and stay below or spend a dollar or two to view from up high.
Sunset on your riad rooftop
Marrakech has some of the best rooftop spots in the world. If you're staying in a riad or a hostel in the medina, chances are they also have an open rooftop for sitting and socializing. The good news is – this is totally free! Whether you are up early for sunrise with the call to prayer, an afternoon sunbathe, or an evening sundowner this is a great thing to do that won't cost you a dime.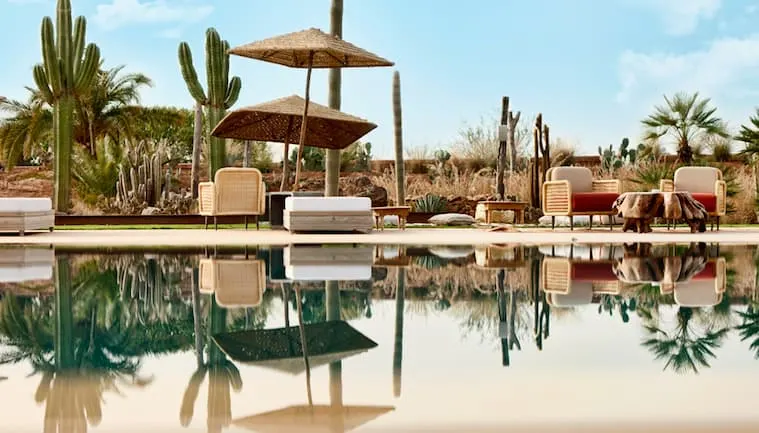 Go for a swim
This might take a little advance planning and strategic accommodation booking but is worth it once you're here. Many riads have plunge pools, hotels have full size pools and some hostels even have swimming options. If you'll be here in warm months than choosing a pool option is a great choice. Not only is it a free activity, you'll thank yourself after a hot day of walking around.
Have a picnic
You have to eat anyway so why not make it an experience! Grab some food either precooked or stop into a grocery store or patisserie to pick up the makings of a great picnic. Borrow a blanket or pack a giant wrap for the ground (or choose a bench seat) and you're good to go!
Go on a scavenger hunt
Sure this might sound like a kids game but trust me when I say it's a really fun way to explore a new place! Make a list of things everyone must find in advance and set the ground rules (for example, must they be retrieved or just photos taken? Crossed off the list?) You can decide if it's a matter of just seeking out and finding them or collecting items alone or in teams. Then get to it!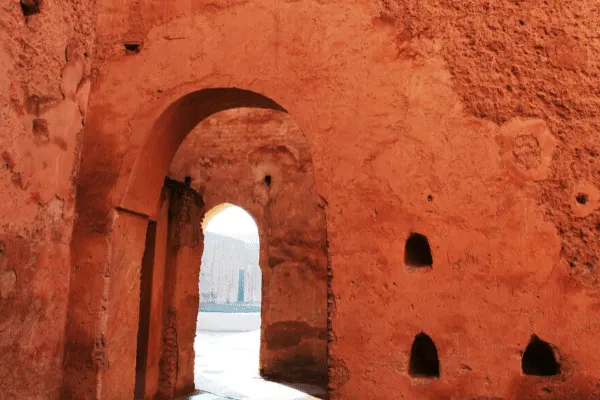 Walk the Ramparts
Surrounding the old part of the city of Marrakech are giant walls. These were built to keep the inhabitants safe but now make for a great walk! The total length of the walls is around 20km in length. They stand over 9 meters high and 2 meters thick. You can walk the entire length of the walls or just take on a section.
Visit Bab el Khemis
Every Thursday there is a large second-hand market at this gate to the city. But, did you know there's actually a market here every day? You won't find as much as you will on Thursday but you can visit any day of the week to check out what's for sale. You'll of course find things that aren't worth anything but you can also pick through treasures and antiques that are truly unique. Or, just visit to see what the commotion is all about!
Visit one of the many art galleries
There are a lot of art galleries and museums in Marrakech. Some do have a small entry fee, while others do not. Depending on how you feel about art, you may want to plan your visit to one of these great cultural institutions. There are also regularly artist installations and art events in the city. Combine a park visit and an art visit when you stop by the Arts Garden a small garden with sculpture installations just outside the old walls of Marrakech and not far from the back of the Cyber Garden.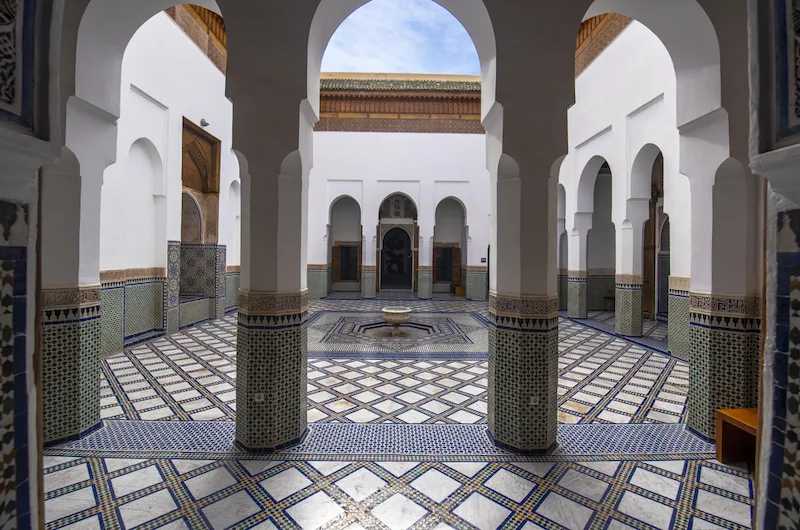 Do your own photoshoot around the city
Everywhere you look in Marrakech there's something amazing to photograph – so why not put yourself in the photo too! While you can hire a photographer – and honestly I think it's a fantastic investment (check out Flytographer which I love to use when I travel) – it's not for everyone. Grab your camera and a travel buddy and take turns staging your own photoshoot around the red city for free if that's more your style. What better souvenir from a memorable trip than great pictures – and you're likely to discover some great corners of Marrakech while you do it.
Sketch or draw from different locations
On the same lines as doing a photoshoot tap into your creative side and spend a bit of time sketching or drawing. This is a completely free activity and allows you the chance to observe what's going on around you and soak in everything. Go for a rooftop view, sit in a park or spend some time in a cafe slowly sipping a coffee while you draw. If you're not into art you can always bring along a great book to read while you relax.
Search for street art in Gueliz or the Medina
You might be surprised to know there's quite a bit of street art in Marrakech. You will find it throughout many neighborhoods both inside and outside the medina. Some of the creations are large, taking up an entire wall while others are quite small and hidden. How many can you find?
Window shop the boutiques and check out the art deco buildings in Gueliz
While most people center their time around exploring the medina, you can also head to Gueliz for a different feel. While you'll find all of the things most large cities have you also will come across art deco buildings and boutique shops selling a wide variety of goods. You of course can window shop or just spend time browsing to pass your time. There's also some seriously good bakeries if you decide to sit down and sip a tea with a bite to eat.
There you have it 13 free things to do when you're in Marrakech!