There's a lot to do in Marrakech. However, no one who lives there or has visited can deny that its art galleries and museums are some of the most impressive aspects of the area. There are so many things to do in Marrakech and taking in some of these locations should be on your list. We'll cover some of the best of it right here.
MACAAL – Museum of African Contemporary Art Al Maaden
This museum, often referred to as MACAAL instead of its mouthful of a name, is well known for its sculpture park, a series of sculptures up to eight meters high and twleve meters long that was created in a golf course by a variety of artists around the globe.
Visiting this park and this impressive display is free upon reservation. It can be toured via golf cart or self-service bicycle, and you can visit the park separately from MACAAL itself.
While the sculptures may be the most prominent aspect of the museum, it also displays dozens of exhibitions of contemporary African art from Morocco and its neighboring countries across a vast array of media. There's also shops and cafes within.
The price of general admission is 70 MAD, though it is 40 MAD for Moroccon residents and African nationalities. Students under age 30 and kids under age 12 are admitted for free.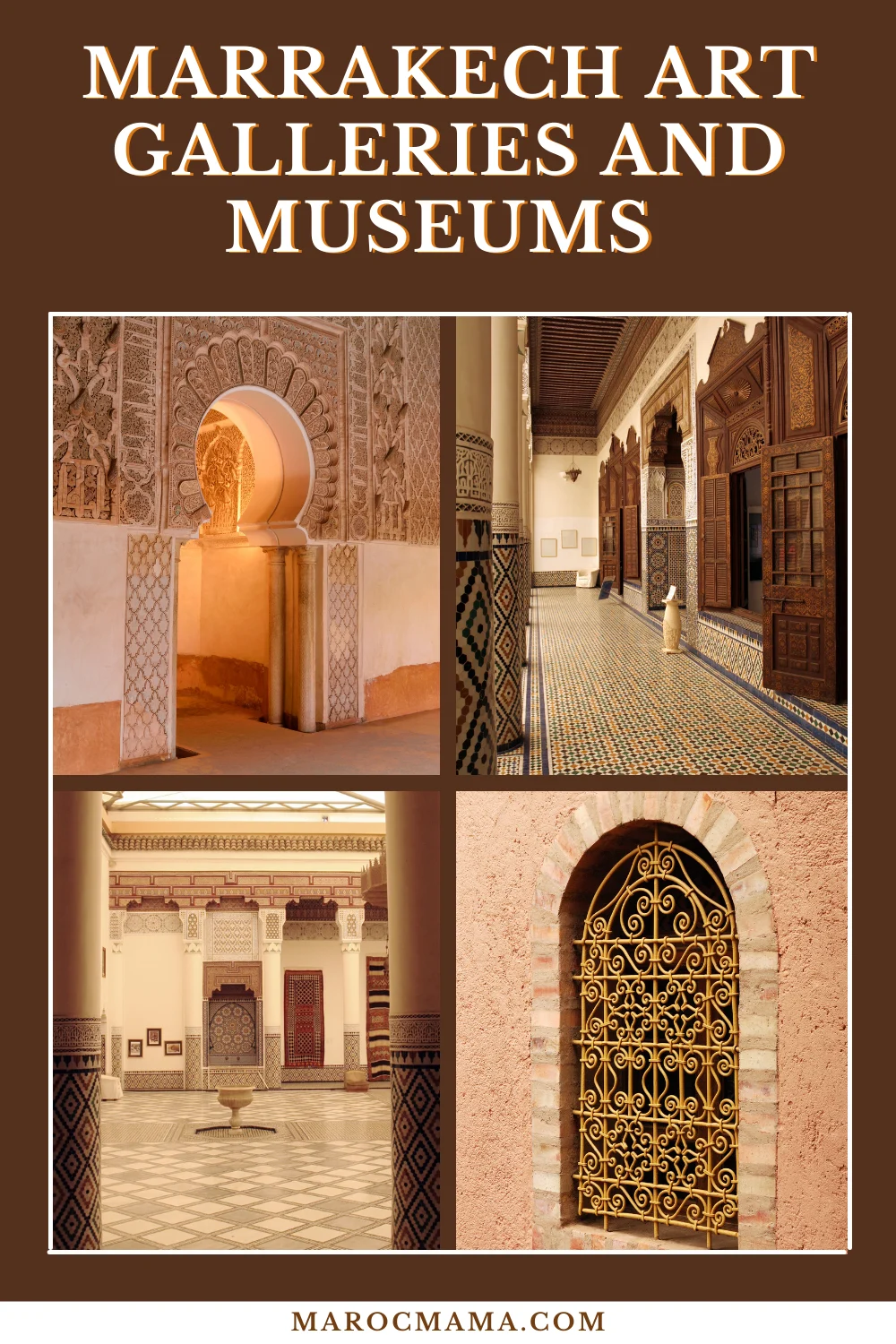 Riad Yima
Riad Yima is a combination of boutique, gallery and tearooms of the most famous living artist of Morocco, Hassan Hajjaj. You can find all sorts of enticing pop-art here, from Hajjaj's famous Kech Angels collection to a number of interesting pieces made out of recyling. This includes odd pieces like a sardine can lantern, stools made from oil drums, and all other sorts of unique art pieces.
There is also a courtyard in which you can get your hands on some delicious mint tea, and more importantly, a the possibility of meeting Hassan Hajjaj in person. Of course it would cost you something to bu merchandise there, but visiting it would be free.
Comptoir Des Mines Gallery
The Comptoir Des Mines gallery is quite similar to MACAAL, in that it is mostly a contemporary art gallery focusing on art created by artists in and around Morocco. You find just one type of art there, but rather all types from many types of media.
In that sense, it's your 'typical' art museum in the sense that it offers a variety of contemporary art from around the country. That said, it's particularly noteworthy for having free admission, and the curator will often closely discuss the art with guests.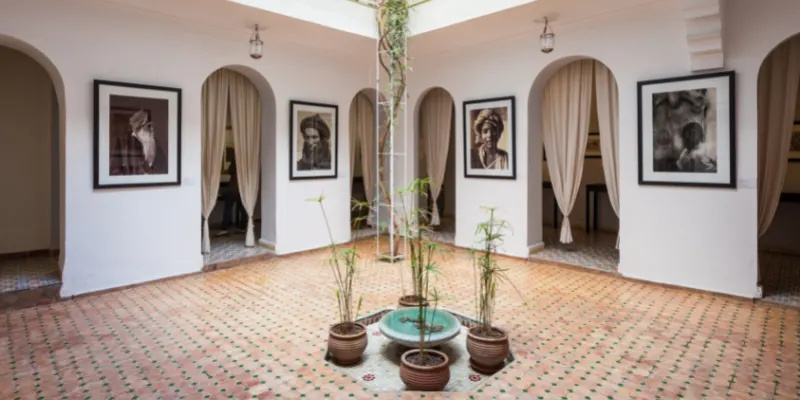 Galerie Siniya 28
This gallery aims to support young and upcoming Moroccan and international artists. to democratize art and make it available to both amateurs and young collectors. You can find all sorts of art pieces from international and Moroccan artists here: textiles, drawings, ceramics, photography, painting, mixed media and more.
Admission to the gallery is free, which offsets its smaller size compared to some of the other museums on the list here.
6.4 Gallery
This gallery, situationed comfortably in the middle of the city of Marrakesh, is a great place to visit for art lovers. It too is a contemporary art gallery with a variety of different artworks and crafts from both Moroccan and international artists.
There's no one particularly special exhibit like the sculpture park at MACAAL, but on the other hand, admission is free. The gallery has high praise and offers several hours of entertainment for visitors to Marrakesh;
Galerie Tindouf
This gallery, established in 2007, supports three generations of both fine and contemporary art. It has a reputation for unique, exotic pieces of art that break away from the ordinary mold. It's not as large as some museums but offers a variety of art pieces from nine different artists.
The location doubles as an antique shop, and while many of the old coins, rugs and cushions you could buy are quite expensive, they are all excellent novelty items. Entry into Galerie Tindouf is free.
Maison de Photographie
This is a small museum tucked into the medina but it's one of my very favorites. Set in a riad house this gallery is a glimpse into life in Morocco over 100 years ago. The museum holds a permanent exhibit and also has rotating displays. It won't take you long to visit, but it is well worth it, especially if you love history or photography.
Before you leave head to the rooftop cafe for a gorgeous view and something to drink.
Musee MACMA
Musee MACMA is a private museum designed intentionall to enhance the unique artworks it houses, which includes permanent collections of Moroccan photograph exhibitions, art objects, exclusive thematic paintings, and many presentation cultural events, such as conferences, book presentations, and more.
The Museum also has a bookshop space where guests can get their hands on reference books and catalogs on the subject of art.
MACMA is a great place to experience pottery, jewelry, painting, photography and furniture set in a unique atmosphere designed to accentuate their beauty.
Being a private museum, admission to the MACMA is not free. The price of admission is 80 Dh, or roughly 193.4 MAD. Teachers, students and seniors (60 years and older) have an admission price of 40 Dh (96.77 MAD). Children under age 12 can enter for free.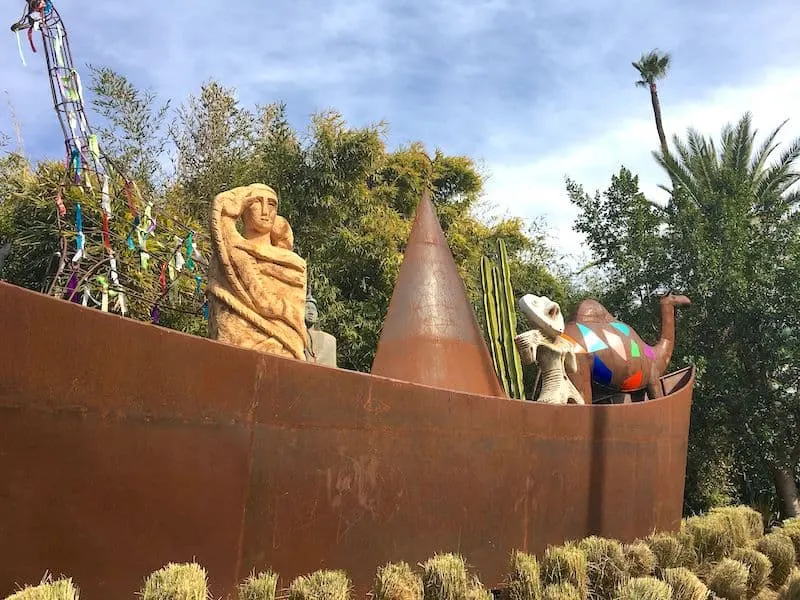 AMINA Gardens
While technically a garden, ANIMA is also home to some gorgeous sculptural artwork situated throughout the grounds of the property. The sculptures are whimsical and mixed into the garden so that they appear to simply fit where they've been placed.
This is truly a magical place and a perfect introduction to art for even the littlest traveler.