It's already scorching hot in Marrakech (and it's still May) and it will be several more months of high temperatures. For anyone planning to visit Marrakech in summer, understanding and preparing for very high temperatures is a must.
Just last week a friend asked me, "How do you live here? How do you do this?" The truth is in the summer, I want to get as far away as possible. But, if your list of things to do in Marrakech includes time outside from mid-May to mid-September you need to be aware and take care.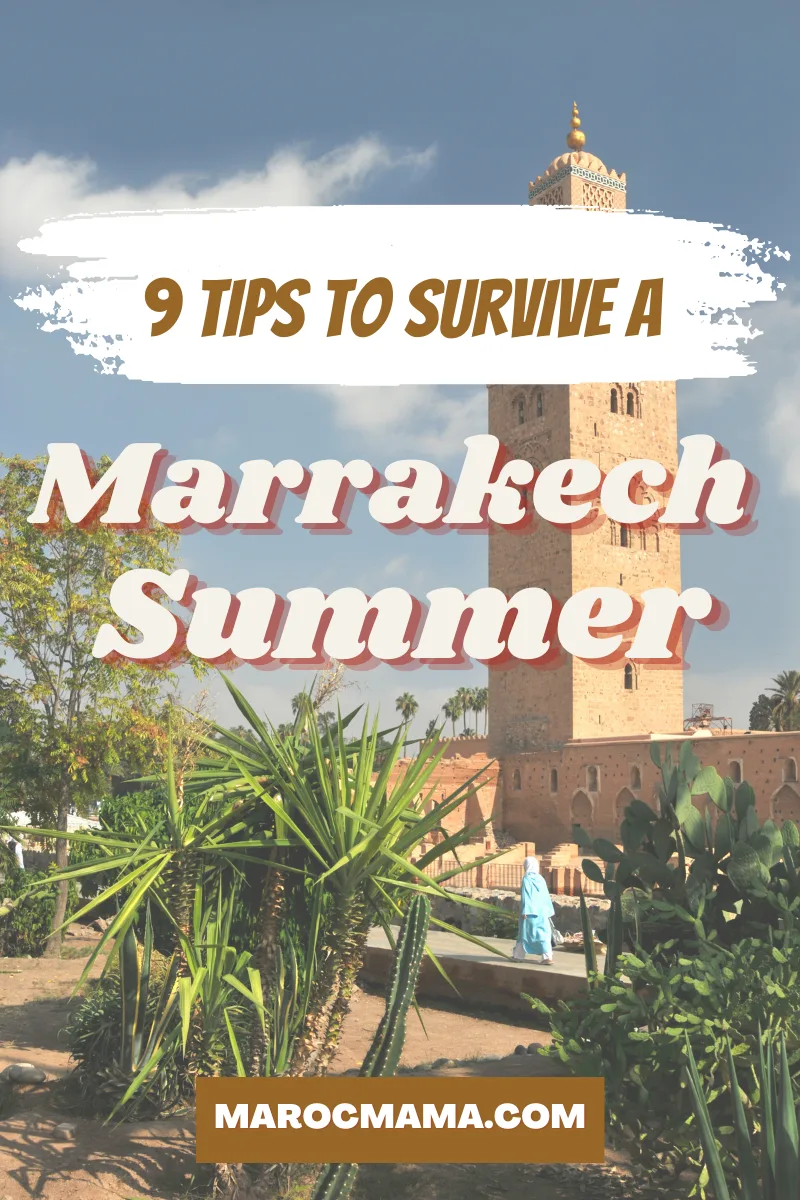 This is especially true for anyone who is visiting with young children or is a senior citizen – those that are most susceptible to heat related illness.
To get you ready, I put together a few ideas to help you enjoy your time here, without getting overheated or sick.
Stay Out of the Sun
This seems obvious but I see visitors all the time walking in and sitting in the direct sunlight for long periods of time. If you pay attention you'll see that locals will always walk or sit in the shade. If you're going to be outside, take adequate cover.
Dress Smart
Most people assume that when it's very hot, the fewer clothing garments you wear the cooler you'll be but this isn't the case. I find that wearing loose fitting longer sleeve shirts (that can be rolled up) and maxi skirts or baggy pants is much cooler in the Marrakech heat than having exposed skin.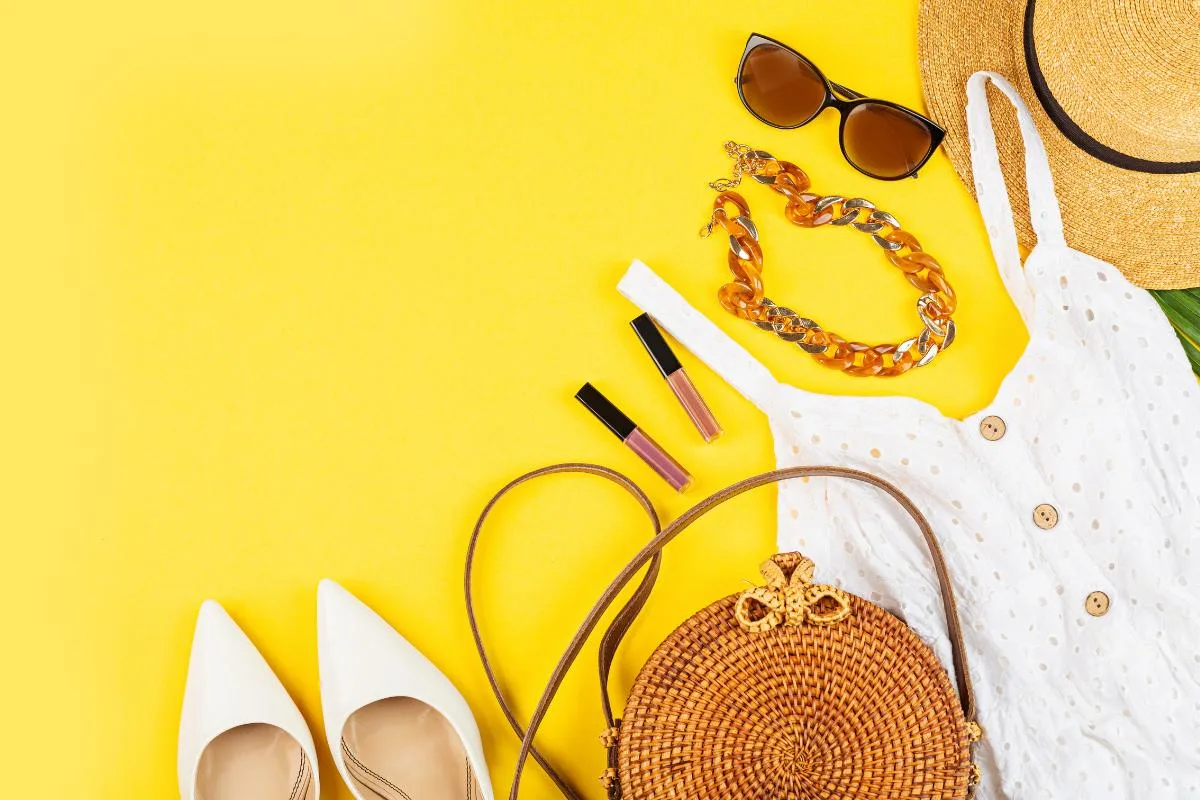 Clothing made of natural fabrics, like cotton are also the best choice. Wearing this type of clothing also protects your skin from the very severe sun. Make sure to wear a hat to protect your face, sunglasses and cover all exposed surfaces with sunscreen.
My suggestions for what to pack for a summer visit to Morocco and what to wear to the pool or beach.
Afternoons = Nap Time
The hottest time of the day is in the late afternoon. It's why you'll find many things are closed from around 2-5pm. Instead of trying to do something all day long, know that this is a hard time of day and instead plan to have some down time. You'll want to anyway if you've spent time outside in the morning and early afternoon.
Water, Water, Water
Drink water regularly throughout the day. It sounds simple, and you'll probably be thirsty in the heat anyway but always have water available. Luckily you can buy it from just about anywhere but the last thing you want is to be caught somewhere without water. You can very quickly go from feeling alright to having heat stroke.
If you do begin to feel overheated or light headed drink as much water as you can. Dehydration happens very fast and can make for a miserable vacation. On this same note, be careful if you are drinking alcohol; when combined with the sun and heat you can also get sick quickly.
Use Air Conditioning When You Can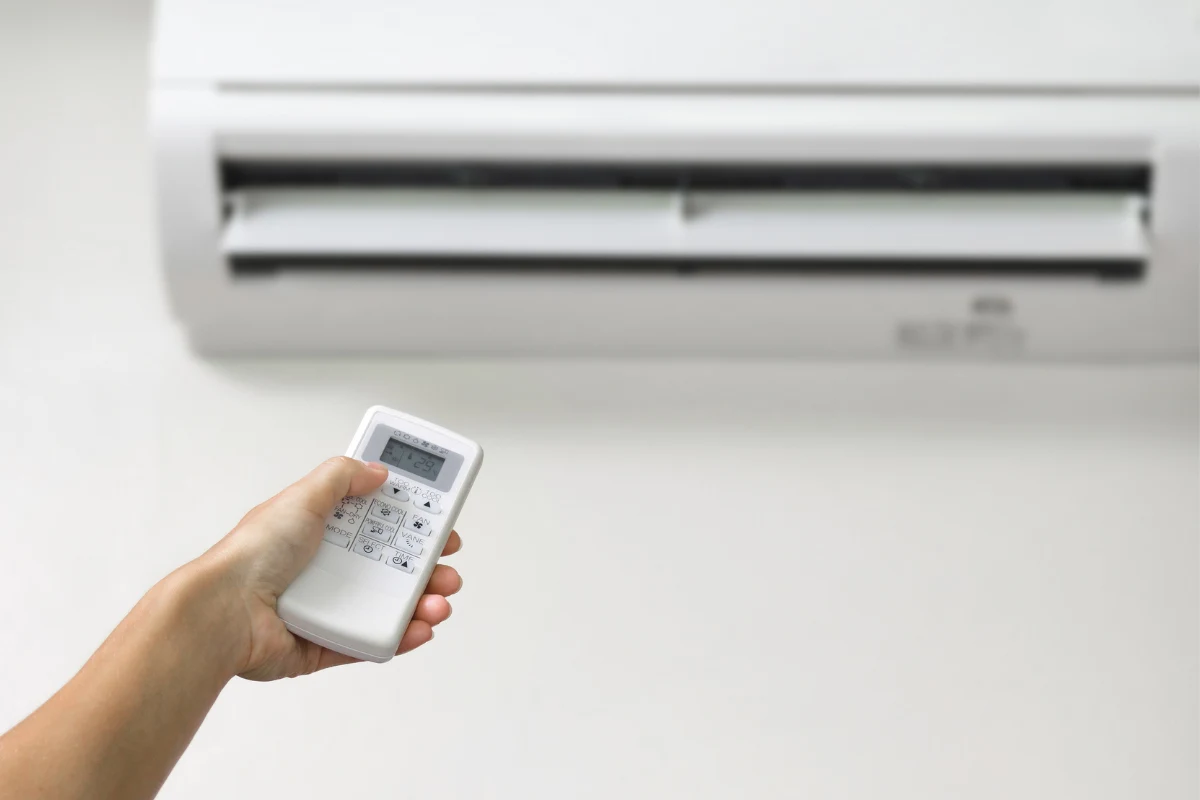 After a few summers I discovered a secret to staying cool in Marrakech summers. Air conditioners aren't found everywhere, but it seems when there is one people want to turn it as high as possible. Instead, adjust the temperature to the 24-25C range and let it run. The AC won't have to work as hard and I have found that it actually makes the room cooler, faster.
Limit Your Outdoor Hours
Don't try to spend 12 hours a day outside, or you will suffer. Instead go outdoors for spurts of time and mix your day with inside and outside activities. Have an extended lunch in a beautiful, indoor setting and then set out again. Trying to spend too much time outside will only serve to exhaust you.
Keep Things Dark
When there are no lights on the temperature is naturally lower but this also should be considered for windows. If you're staying in a riad, keep the windows to your room closed, with the curtains drawn during the day. This will help keep the cool temperatures inside the room.
Go Swimming!
This is a fun suggestion – of course there's no better way to spend a hot day than at the pool. Even if the riad or hotel where you're staying doesn't have a pool there are plenty of places in Marrakech that have day passes for swimming pools, many with an optional lunch as well. Find out where to go swimming in Marrakech.
Cool Down
When you get too hot there are a few ways to cool down quickly. First, get out of the sun immediately. Next, wet a washcloth or some other fabric with cold water and put it on the back of your neck. If you can get in a cold shower to lower your body temperature. If you can't seem to cool down you could have heat exhaustion or heat stroke, the later being the most serious.
Symptoms of heat exhaustion;
excessive thirst
weakness
headache/dizziness
nausea and/or vomiting
confusion
fainting
profuse sweating and/or rapid heartbeat
Symptoms of heat stroke;
throbbing headache
lack of sweating despite heat
red, hot and dry skin
rapid, shallow breathing
muscle weakness or cramps
behavioral changes (confusion, disorientation, or staggering)
seizures
In both cases you should try to immediately cool down (or cool down the person you assume is ill). For more serious heat stroke, immediate medical attention should be sought. It is highly advisable to read up on both of these conditions before traveling to a destination like Marrakech that has extreme summer temperatures.
Stay safe and cool when you visit this summer and if the heat gets to be too much, head to one of Morocco's coastal towns or plan a day in the Atlas Mountains where temperatures will be much different.