Translated as the "Incomparable Palace, El Badi Palace is a ruined palace located in Marrakesh, Morocco. Today it is a major tourist attraction in Marrakech and an exhibition space. If it's on your list of things to do in Marrakech, or if you're on the fence, learn more in this post.
This is one of the older Marrakech palaces however the interior has largely been gutted. Here's all you need to know about visiting this famous site.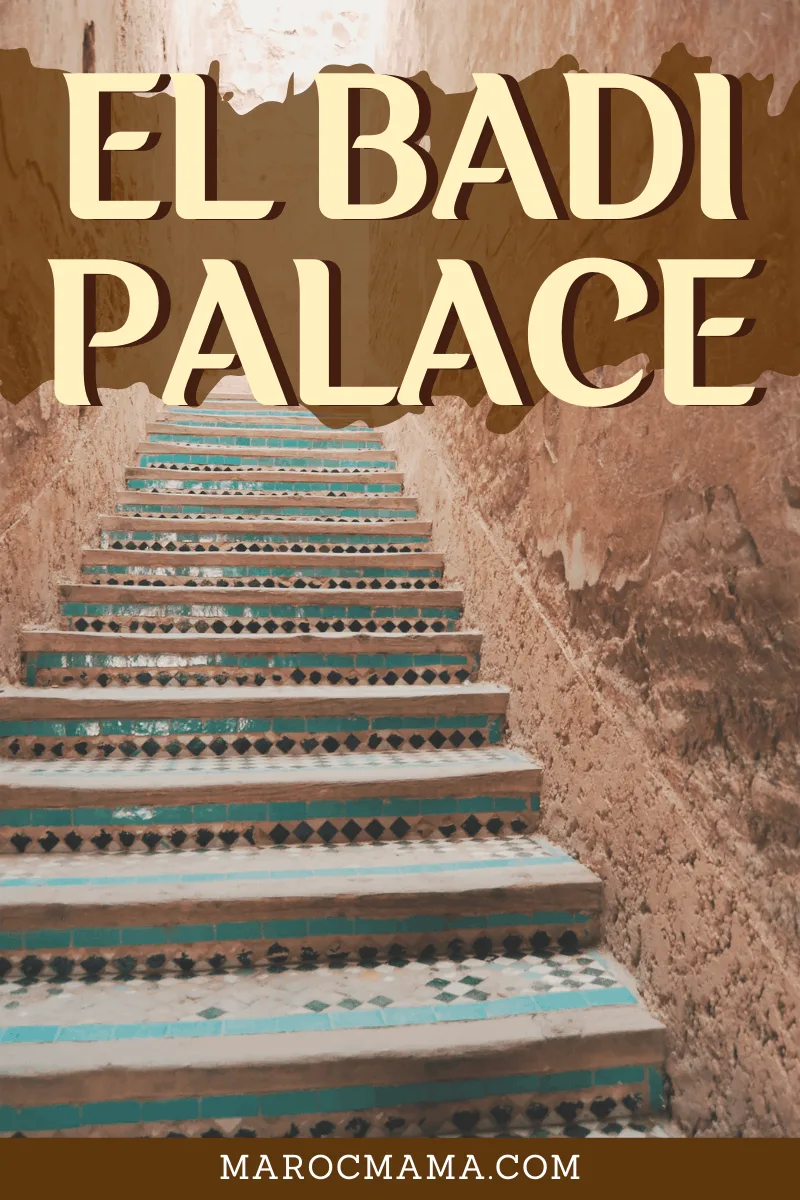 History of Badi Palace
It was commissioned by the sultan Ahmad al-Mansur of the Saadian dynasty a few months after his accession in 1578. Construction and embellishment continued throughout most of his reign with decorative materials imported from numerous countries.
It was used for receptions and designed to showcase the Sultan's wealth and power. It was also one part of a larger Saadian palace complex that occupied the Kasbah district of Marrakesh.
After al-Mansur's death in 1603, the palace became neglected and eventually fell into ruin after the decline of the Saadian dynasty. Its valuable materials were stripped away and reused in other buildings across Morocco most notably by Moulay Ismail who moved much of it to his palace in Meknes.
The Palace Today
Because of it being looted, much of what was used to create this once beautiful masterpiece is now left as a sandstone shell. You'll need to use your imagination to picture what it once looked like with what remains but there is still great architecture to see. The pool is empty and where guards once stood now stands a grouping of storks. Even with the best parts gone, it's still worth visiting.
Amongst the ruins there is an area that goes below ground into what was the prison/dungeon area however it is not marked as such. If you visit with a guide they will certainly point this out. For those alone, look for the stairs and you'll find small hole openings at ground level that are exposed to the outside.
There is also an upstairs portion where you have one of the best views of the southern medina and kasbah looking outward to the High Atlas Mountains. On clear days it's really a stunning view.
Orange orchards can be seen around the pool, the ramparts are accessible for climbing (which from the top shows a stunning view of Marrakech), and the dungeons are open for exploration. Also on the grounds is the original pulpit of the Koutoubia Mosque. It is a masterpiece of woodworking and inlay craft.
If you're visiting around June or July then you'll be able to enjoy the National Festival of Popular Arts typically hosted yearly. The festival showcases traditional folk dancers, acrobats, singers, and musicians all for entertainment. Another benefit of this festival is the courtyard's pools are filled with water in honor of the occasion.
What to Expect During Your Visit
El Badi Palace is open every day from 9:00am – 5:00pm. Entry costs 70 dirham, It's just a 15-minute walk from the mosque and a 7-minute trek from the Saadian Tombs (another place worth visiting). Keep in mind that times and prices can change at any time.
Most visitors say you'll need about an hour to an hour and a half to get the full experience. Although there isn't a dress code, it's a great idea to stay modest and dress according to the weather of the season. Much of the area is exposed so you'll want to be sure to bring something that protects you from the sun.
To help with connecting the historical dots, there is a small room that plays a video showing what it looked like before. The video will alternate between languages so stick around to see it in a language you can understand, or just watch the visual.
This is one place to add to your must-see list when visiting Marrakech!