It's not a secret that Marrakech is hot – really hot. Summer can be been brutal with few days reaching over 50C. For some people (like my family back home) this doesn't even seem possible. In such a hot climate people are constantly looking for places to cool off. While you'll find local kids taking to the fountains around town or the irrigation channels in the "olive forest," I don't recommend this as your swimming go to. Instead, try some of these places to go swimming in Marrakech when visiting.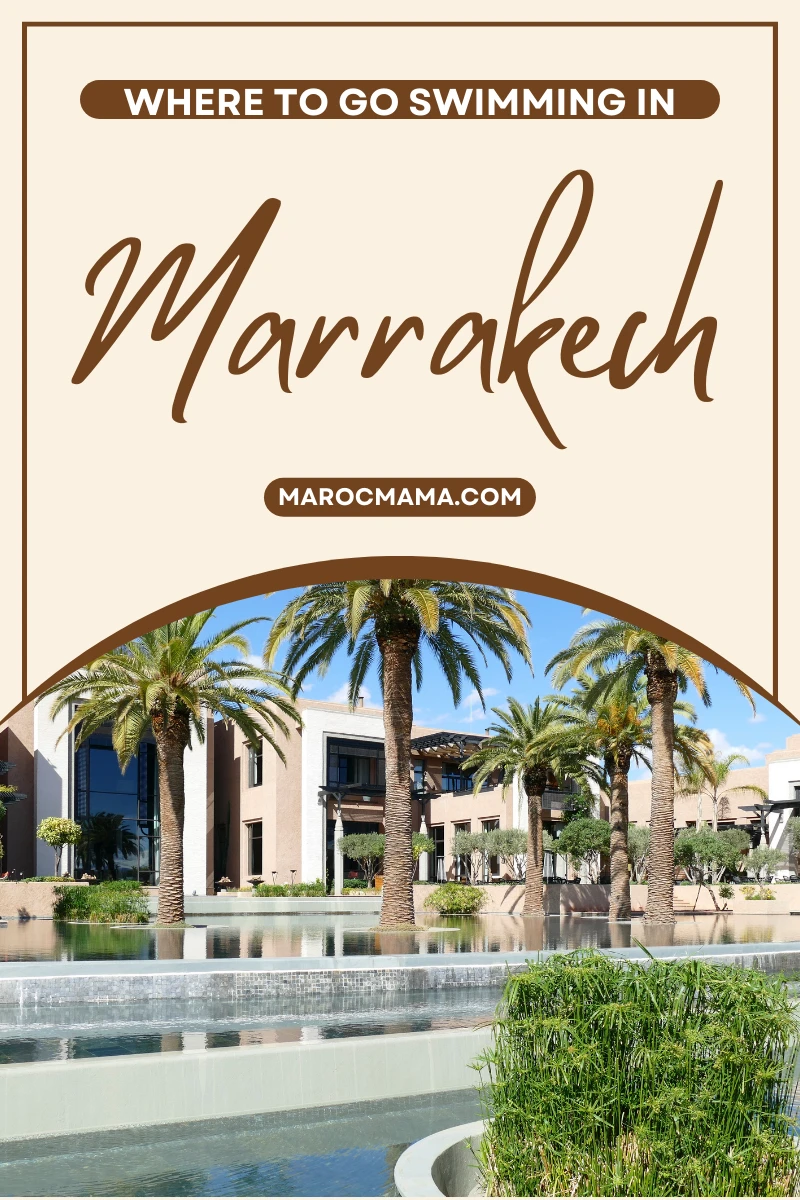 Swimming is generally open from mid-April to November, give or take and it's one of the best things to do in Marrakech when temperatures are soaring. Though my kids have been known to request swimming on warm days in December or March. If you're visiting or living in Marrakech here are some suggestions for where to go for a swimming day.
Swimming in Marrakech
If you're coming to Marrakech and enjoy swimming or laying out by the pool and/or have children I HIGHLY recommend booking a riad or hotel that has a pool or plunge pool. Our boys loved this giant bathtub like swimming pool at Riad Dar Darma. For a private riad and pool reserve a riad with a plunge pool like Riad Romm'an. Prefer an indoor pool? Riad Sapphire has a lovely courtyard pool.
Radisson Blu Carre Eden
In the center of Gueliz (the new city) the brand new Radisson Blu features a rooftop pool that is ideal to cool down. They however don't offer day passes so you'll need to be an overnight guest to use the facilities.
Hotels with Swimming Pools
If you want to book a stay somewhere that has a pool you can use there are several options, but be advised these are all located outside of the central medina. If you have plans to visit the city center you'll want to take care ahead of time to think through transportation. Consider some of these hotels with pools for your visit.
Waterparks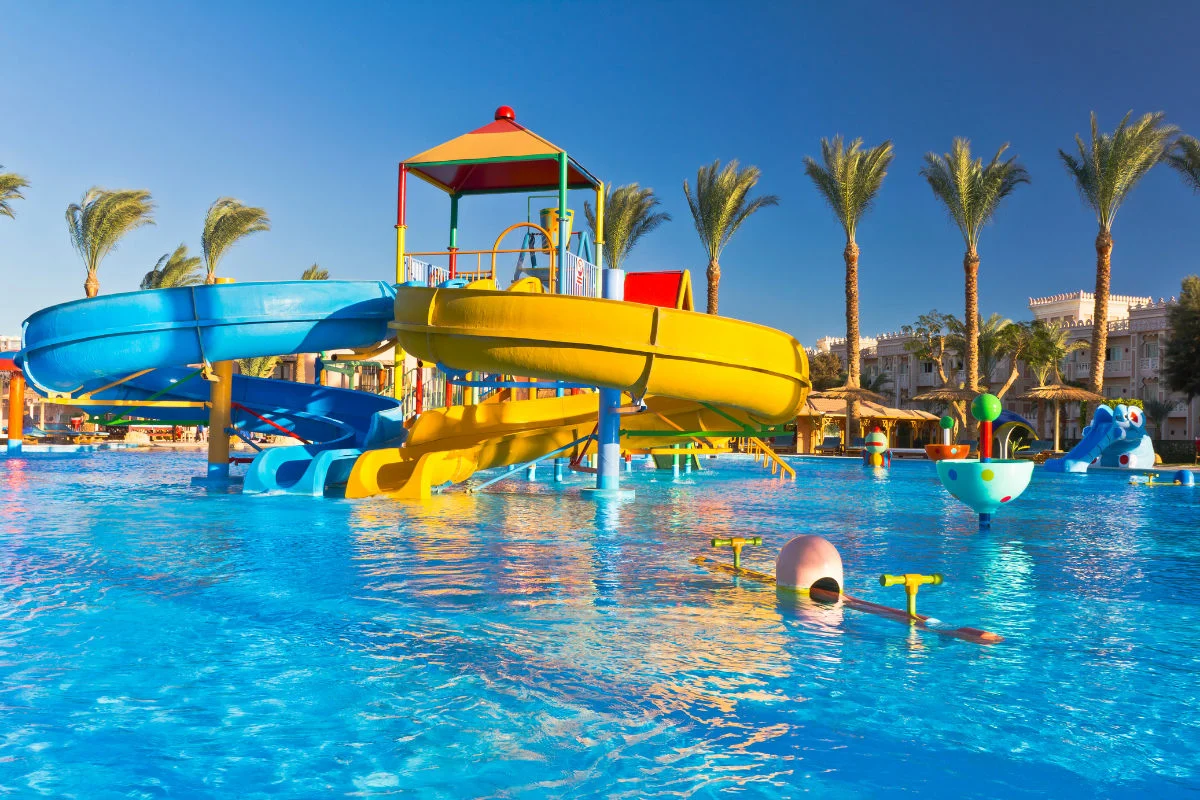 Yes, Marrakech does have waterparks. Though neither are inside the city center. For a day out with kids when you just don't want to deal with the souks, this is the ticket!
Oasiria
Oasiria is on the edge of Marrakech and they offer a complimentary shuttle departing from Jemma al Fna (across from Kotoubia) and across the street from McDonald's in Gueliz. Kids prices are 120dh or less, depending on the childs' height. Adults are 190 dirham.
Aqua Fun Club
18km outside Marrakech is the Aqua Mirage Club. As well as having a waterpark it has a connected hotel if you want to stay more than just the day. There is a wide variety of slides and swim areas for all ages as well as several food and dining options. Contact for current rates.
Palooza Land
This is a small amusement park as well as having a swimming area. You can do either of the options and entrance itself is complimentary – you pay for what you want to do. Swimming has adult and child rates (depending on height). It's a fun day or half day for families with kids. The park is located on the edge of Marrakech near the Marjane on the route to Casablanca.
Eden Aquapark
Eden Aquapark is just that – a waterpark. There are half day and full day rates. You'll need a car or taxi to reach the park but there is an on-site restaurant and swimming areas for kids of all ages.
Labranda Targa Aquapark
Located in a more residential area of Marrakech this is a good choice if you're looking for a place to stay away from the medina with water activities for the family. They offer competitive rates and staying at Targa Aquapark is a good if being away from the city center is what you seek.
Terres d'Amanar
So Terres d'Amanar isn't in Marrakech at all – about a 30 minute drive away in Tahannout but we love this place. It's great for adults and kids. There is not only a big swimming pool but ziplining, horseback riding, a huge playground and more. Plus, the food is really good. If you want to get out of Marrakech for a pool day – go here! (Read our full review on this post)
Clubs, Hotels, and Swimming Centers
Le Fitness Club
Located in the Targa neighborhood Le Fitness Club is a gym but also has a pool and kids classes. Ladies may be interested to know that the club offers a private fitness area and swimming pool for women. Day passes as well as monthly membership is available.
Nikki Beach
Nikki Beach is in the Palmarie and a beach club. They have food available and are a well known pool and party venue. This is not a location that is recommended for children, and they may have a minimum age requirement. You'll need to make a reservation ahead of time online or call to reserve.
La Plage Rouge
Located 10 minutes from Marrakech city center is La Plage Rouge, a beach club. They regularly host events in addition to offering swimming, food and drinks.
The following locations offer a day rate to use the swimming pool (often including lunch) as well as offering rooms you can stay if you want a Marrakech hotel with a pool!
La Mamounia
One of Marrakech's oldest, most glamour hotels offers a daily pass for the La Mamounia hotel and gardens. Watch for specials that include lunch and/or drinks.
Beldi Country Club
If you want a complete day out, head to the Beldi Country Club. They have four pools (one heated for use in winter months), and one that is dedicated for use by children. Tennis, pottery courses, bread baking, and horseback riding are a few of the other activities offered. Rates will vary depending on what amenities you choose to take part in.
Jnane Tamsna
If you want a day by the pool surrounded by luxurious gardens Jnane Tamsna is the place. The owners combine their skills of interior design and landscaping to create this 9 acre, family-friendly hideaway. At publish rates were approximately 300 dirham per person includes towels and lunch but please call ahead to check on availability and rates. They also have rooms to stay the night.
Bled de Gre
Just 5km from the Menara airport is Le Bled de Gre with a swimming pool facing the Atlas Mountains. Their beautiful property may have you wishing you booked a room instead of just staying for the day. Call ahead to make a reservation and check rates.
Manzil la Tortue
This is one of the only locations advertising a pool day (so smart!) Pay one price to hang out at the huge 400meter by 10meter pool at Manzil la Tortue with a complimentary towel, lunch, afternoon snack, and ice cream for kids. 290dh for adults 220 dh for kids and it's possible to arrange for a transfer. Want a massage or spa treatment while you're there? That can be arranged too.
Fairmont Royal Palm
Just outside of Marrakech the Domaine Royal Palm has a huge swimming pool with a day rate. This summer they have a special that includes lunch in their fabulous restaurant.
Mandarin Oriental
The gorgeous Mandarin Oriental has day passes for the pool that includes a three-course lunch. You also can access their spa (extra charge) and any of the restaurants.
Les Jardins de Koutoubia
Just off of Djem al Fna, Les Jardins de Koutoubia offers a day rate for their pool. You'll want to call in advance for reservations as there is a limited number of spots.
I'm always on the lookout for new options. If you have a favorite please feel free to add a comment so that I can add it to this list!
Swimming in Winter? Heated Pools in Marrakech
While it's true Marrakech is warmer than it's northern neighbors in winter, it's not quite warm enough to go swim in an unheated pool – unless you're really brave! So where can you swim? Check out these spots for warm pools! Make sure to call ahead and check that they do offer a day pool pass and are open during winter months. Of course you could always book and spend the night too where you can enjoy the pool even more!
Fairmont Royal Palm – is located outside of the city and on a golf course with a large in-ground pool and facilities for families.
Royal Mansour – located inside the medina walls with spacious riads for each party.
Hotel Deux Tours – is located outside the city on five acres of gardens.
Dar Anyiwen – a luxury spa and hotel (with just 10 suites) in the Palmerie of Marrakech.
Villa Kacy – situated 15 minutes outside of Marrakech with over 250 fruit trees on the property you'll feel like you've entered a garden of Eden!
Jardins de la Medina – this medina hotel is just off Jemma el Fna and in the heart of the action.
Eden Andalou Aquapark – The heated pools are available year round however the Aquapark rides do not operate in winter months.
Palais Aziza – A mix of rooms and villas in the Palmerie make up Palais Aziza. Enjoy their heated pool in the winter and cool down in the summer!
Es Saadi Resort – Found in the hip Hivernage district of Marrakech and just a stones throw from the medina, here you can swim year round.
Riad Hikaya – This riad is in the kasbah of Marrakech near the royal palace. A heated pool is available and they also have a jacuzzi!
Wondering what to wear?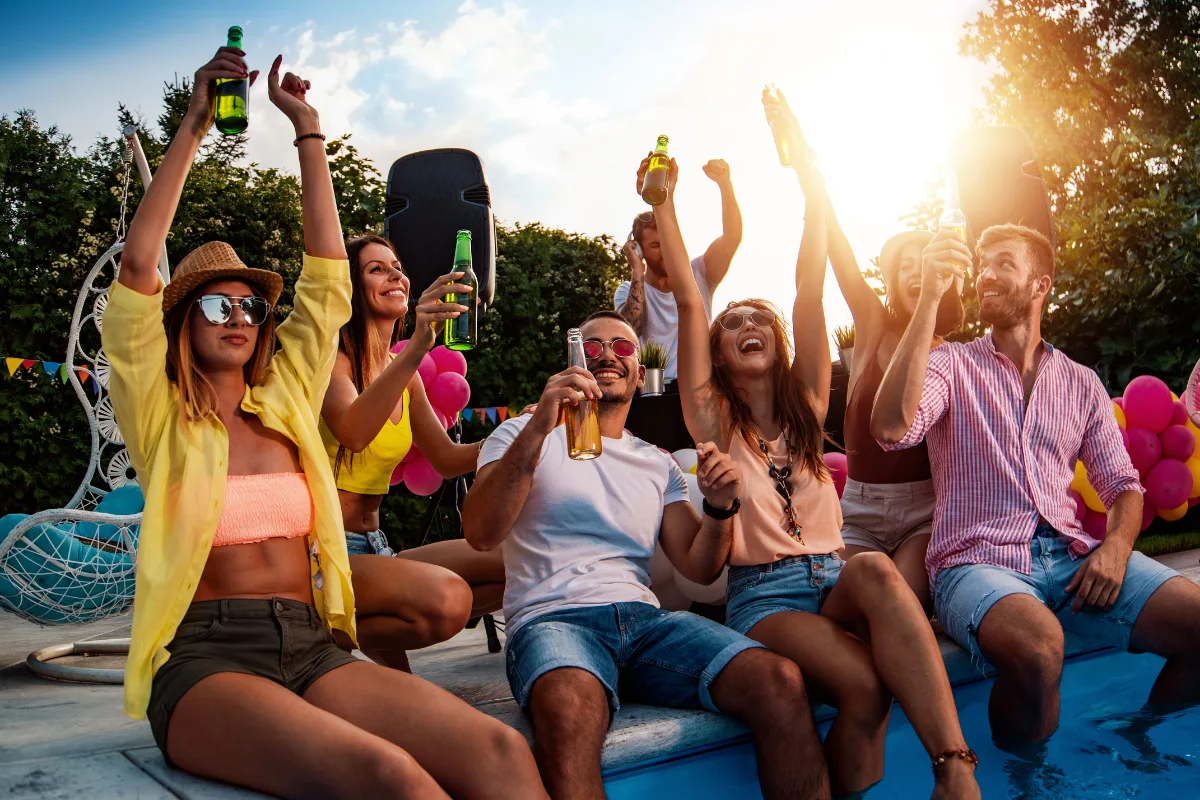 Many people wonder what is acceptable swimwear in Morocco. The truth is anything, though nude sunbathing or swimming is not accepted. Feel free to wear a bikini if you're comfortable. You will see people in all types of swimming costumes so don't be too concerned.
If you want to know more then definitely check out my post on what to wear to the beach (or pool) in Morocco!