The Royal Mansour is one of the most beautiful hotels in Marrakech. Its where A-list celebrities and royalty stay. Whether it's a bit out of your price range to stay or because they're booked to capacity, you still can spend an entire day here and leave having had an amazing experience. Many people don't realize what the hotel offers to residents and non-residents alike. A walk through the Royal Mansour is also probably as close to walking in a Moroccan royal palace as most people will ever get. That's what makes it one of the best things to do in Marrakech!
How Should I Dress?
When I've shared pictures on social media, one of the top questions people have asked me is how they should dress if they plan to go. While there's no hard and fast dress code, you'll probably be more comfortable if you dress up a bit. Business casual is a good compromise. No one will be wearing a ball gown and tails to dinner but most men will wear jackets and women in dresses or trousers. Jeans and sneakers are not the way to go.
Dining
There are a wide variety of luxury dining experiences at the Royal Mansour and they are nearly all available for non-residents. Whether you want to go for a complete meal or just spend an afternoon sipping tea and snacking you can. Our three favorite choices;
La Table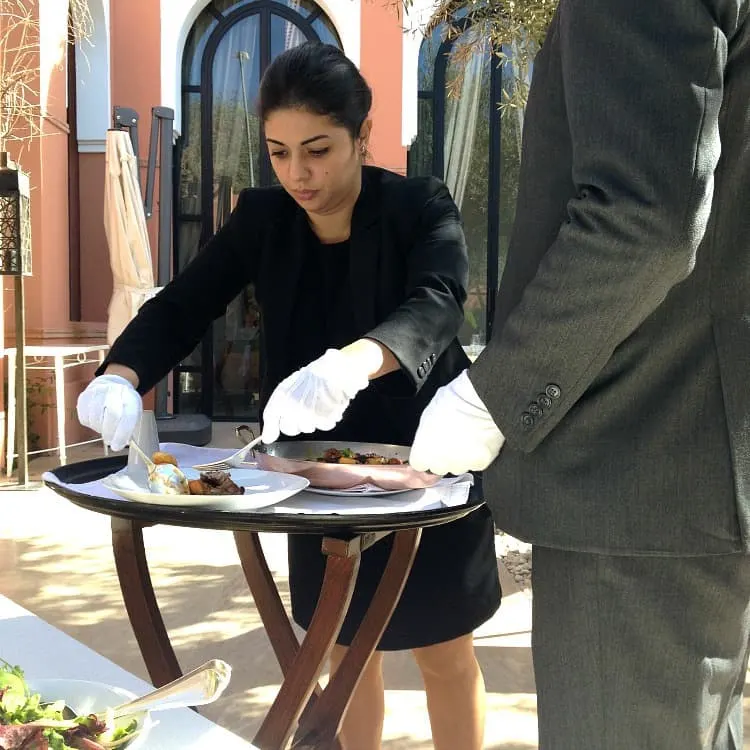 The restaurants of the Royal Mansour are headed by Michelin 3-star chef Yannick Alleno. It then shouldn't come as a surprise that the French menu and restaurant is excellent. When we went for lunch it was one of our favorite meals ever in Marrakech – and better than what we ate in Paris! It was also very nice to see a wide variety of options from vegetarian to gluten-free (so many options!) there was something for everyone. We had a hard time choosing what to eat for lunch but the t-bone veal and steak were both excellent. We just have to go back now to keep trying more. Keep in mind the menu does rotate seasonally.
Pastry Library
The only thing better than a book library might be a pastry library. This delicious library is perfect for an after-meal dessert or to pop in on a date night for a sweet bite. Choose what you like and the pastry chef customizes and prepares the plates while you admire his handiwork. The hardest part is simply choosing what to try. It's worth noting you also can order tea or coffee along with sweets like bite-size Moroccan pastries and chocolates.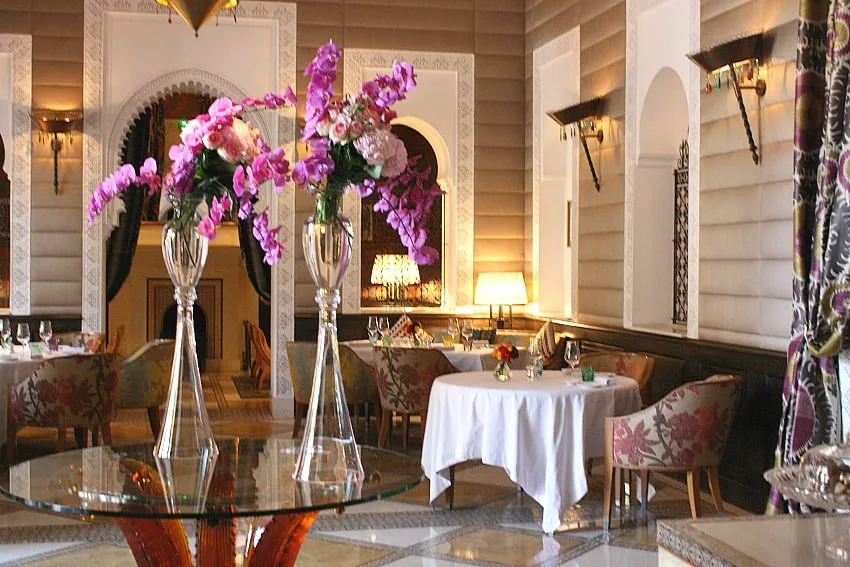 Afternoon Tea Time
In mid-afternoon a tea service is offered in the garden at La Table restaurant. Choose from a British, French, or Moroccan inspired table setting. All of them are equally as good and if you go with a friend or partner then be sure to each order something different so you can taste each others. There's no bad option.
Spa
If you use Pinterest to plan your vacations like I do you've likely typed Marrakech in the search bar and discovered a spectacular image something like this.
There are few buildings I've ever walked in that are as equally impressive in person as they are in images. The spa at the Royal Mansour will take your breath away. There are a wide range of treatments but just having a sit in the white Moroccan inspired birdcage motif and enjoy. The spa offers a wide range of services but if you're unsure what to try my top suggestions are;
Bastien Gonzalez Signature Manicure and Pedicure

Traditional Moroccan hammam

marocMaroc Ceremonial Massage

or book your own private spa suite!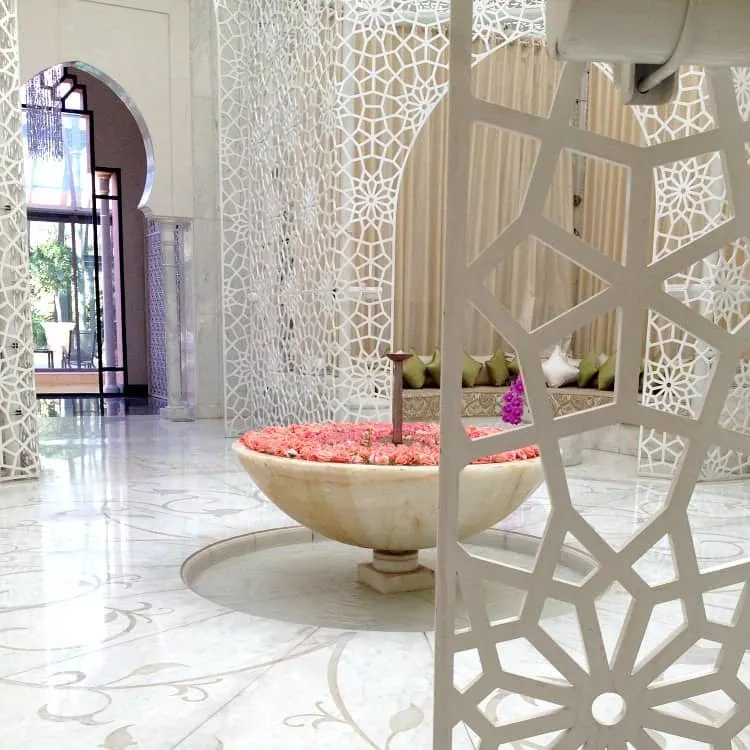 Events
When you plan your visit be sure to check out their event schedule as the hotel regularly plans special events and evenings. Recently they hosted a gastronomy week highlighting the different regions of Morocco, including a displays of different food products, tableware, and clothing as well as live musical performances. Be sure to check their press releases before you visit to see if there are any special events happening while you are in town.
Stop in for a drink or dinner, kick back and relax while enjoying one of the most beautiful hotels in the world.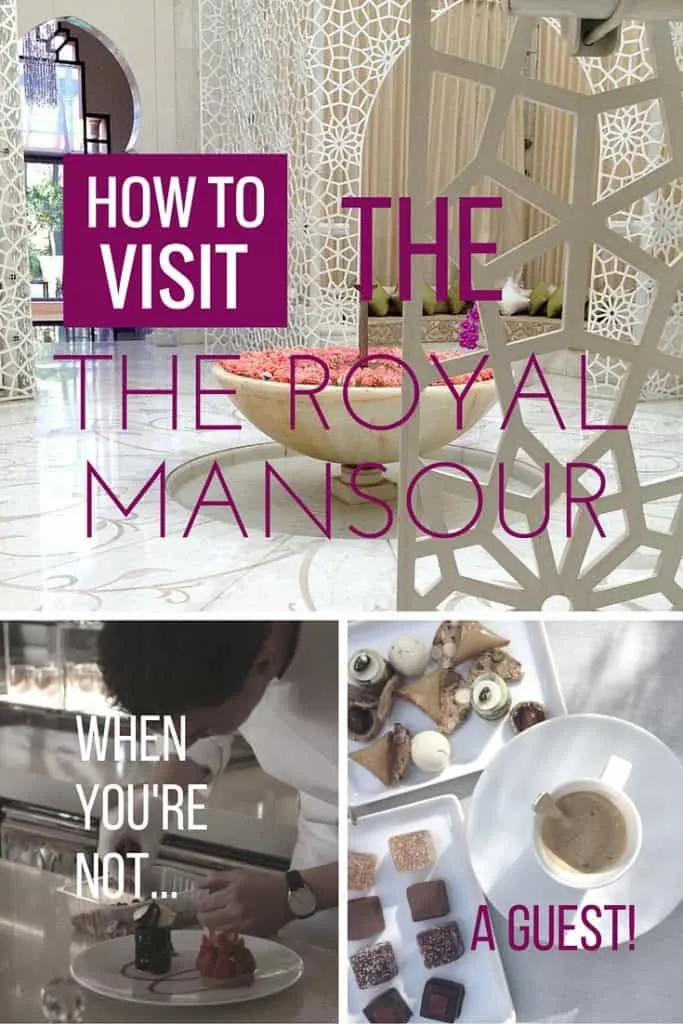 P.S. Come back later this week. I've put together a most amazing giveaway for one very lucky winner (and it includes something from The Royal Mansour!)