Hold on to your swimming caps because there's a blast of exciting water parks in Marrakech. They're the perfect way to escape the heat – especially in the summer and one of the great things to do in Marrakech! While it might seem like waterparks would be open year-round given Morocco's climate, they're not. So you'll want to double-check open and closing dates for all of these.
Oasiria Water Park
Grab the family and their sun hats, smear on some sunscreen and spend a day filled with fun at the Oasiria Marrakech Water Park.
Explore 10 hectares of beautifully manicured gardens, eight pools, 17 sliding tracks, and over 20 attractions – it's the perfect water park for families of all ages. What's more, there are plenty of things for children to do, including a kids club for ages 6 – 12.
Escape the scorching sun, frolic in the pools, and whiz down water slides with your kids, friends, or romantic other. And, once you've worked up an appetite, choose from a selection of superb on-site restaurants that offer exquisite dishes.
Make sure to book your Oasiria Water Park tickets for a day of fun under the African sun in this incredible amusement park a mere 9 km from Marrakech.
Hotels with Water Parks in Marrakech
Why not pack your bags and spend your vacation in Morocco at the Aqua Fun Club Hotel, aquapark, and spa? Surrounded by shady olive trees and sweeping views of the Atlas Mountains, the 4-star Marrakech water park hotel is the perfect getaway, 21 km from the bustling city.
Home to Morocco's biggest water park, Aqua Fun Club Hotel in Marrakech is an all-inclusive destination that boasts 40 waterslides, five outdoor pools, a sundeck, an indoor swimming pool, and other world-class facilities.
There's also a kids club available, keeping the little ones occupied while mom and dad relax. After a day of fun, head to the restaurant – serving Moroccan and International cuisine – for a delicious meal.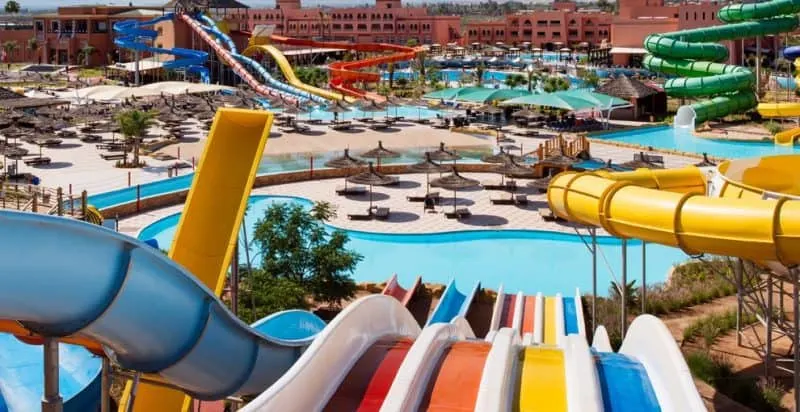 The 5-star Eden Andalou Suites, Aquapark & Spa boasts an abundance of incredible facilities, including its main attraction, the spectacular aquapark. Set amidst towering palm trees and Andalusian-style gardens, facing the Atlas Mountains, this magnificent accommodation is 18 km from Marrakech.
As one of the largest water parks in Morocco, the all-inclusive accommodation is one of the best places to spend your Marrakech vacation swimming and splashing in pools. It features six swimming pools, a river, a sports field, and a beach. There are 19 water slides, a solarium, and plenty more attractions.
Feeling hungry? Well, there are snack bars, restaurants, and poolside bars here too.
Situated in Targa, 16 km north of Marrakech's historic Medina area, the stunning 4-star Labranda Aqua Park is the ideal spot for families and couples looking to unwind under the African sun.
Labranda Targa Club Aqua Parc boasts an incredible water park, spa & wellness center, and a kids club. Featuring four water slides, family swimming pools and an adults-only pool, the aqua park caters to couples and families alike. Spend the day lounging on the sun terrace and swooshing down the slides at this fun park.
Located 14 km from Marrakech's famous ancient medina is Aqua Mirage, Morocco. The main attraction at the Aqua Mirage Club & Aqua Parc hotel is the aqua park. Here, you'll find 20 hectares of just fun, fun, fun.
The family-friendly, all-inclusive accommodation includes an aqua fun park, two on-site restaurants, three glorious outdoor pools, and a range of exciting activities for all ages.
Spend the day swooshing down towering waterslides, ride the wave machine, or pick one of the three pools to lie beside. There's an on-site Aqua Mirage Spa featuring several treatment rooms for couples. Once you've worked up an appetite, head to the restaurant for a scrumptious snack or two.
Hot Weather Ideas for Marrakech