If a Marrakech camel ride is on your travel bucket list of things to do in Marrakech, you won't need to travel far out of the city to do so. Usually an animal synonymous with the sensory sand-dune adventures of the Sahara, or along the beaches of Essaouira, you can experience a 1-hour camel ride within 30 minutes of the city.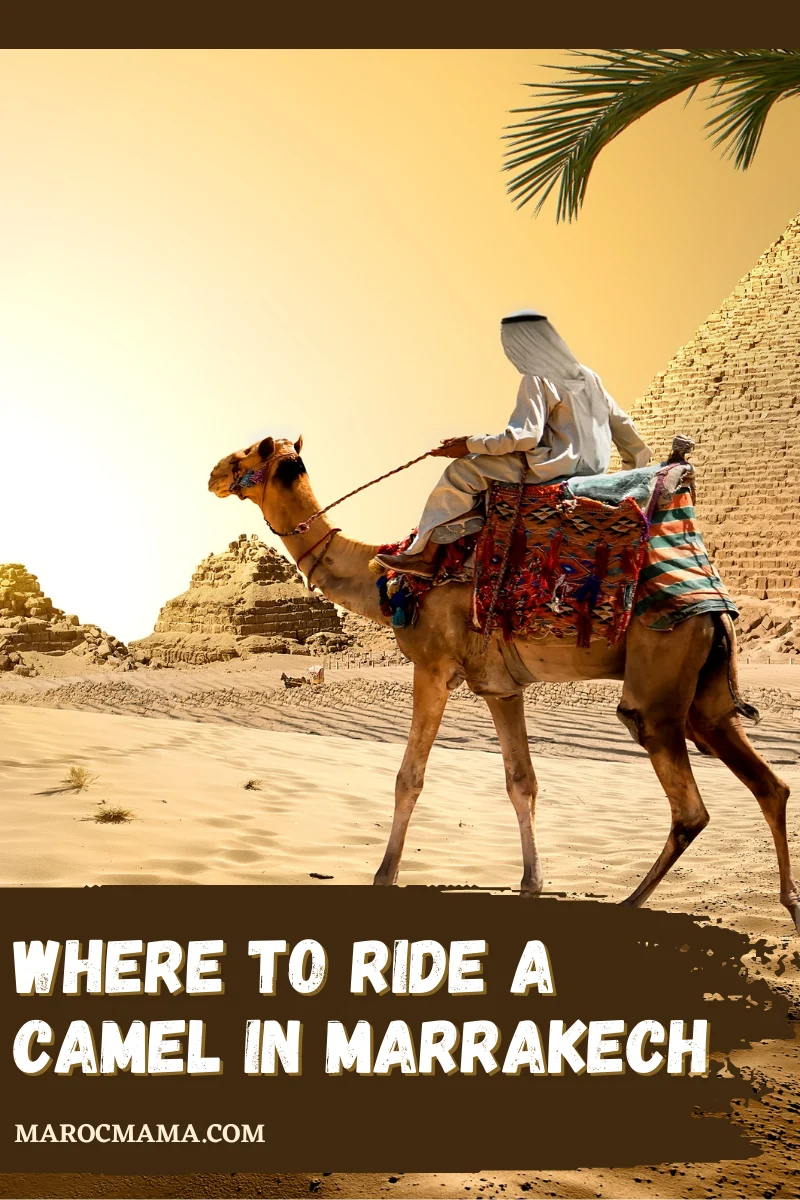 You're unlikely to see the one-humped Arabian camel or dromedary wandering wild in the medina, or modern centre of Gueliz, although stranger things have happened! Their preferred habit is arid, desert vegetation. They've not been herded together in the wild here, for nearly 2,000 years and were first domesticated about 4,000 years ago.
What experiences are available?
There are a range of experiences you can try depending on your travel schedule, budget and your fitness levels. You can book a camel ride in advance with travel agents and tour providers who specialise in camel tours, or, you can travel to the two main areas where camel trips are organised, and choose which guide to try.
The duration of the ride you want, and whether you'd like to combine the experience with a desire other areas can determine the experience. Although you can have a 5-minute or up to 2 hour experience, most tourists say a 1-hour trip is long enough without getting saddle-sore!
Where are all the camels in Marrakech?
Surprisingly, there is a small herd of camels basking in the sun outside Menara Gardens and Menara Mall. Although not possible to book in advance, you'll find a local guide offering 5-minute walk arounds for anything starting from 100DH unless you are skilled to barter the price down. Keep in mind that the less you pay, the less money may be allocated to feed and care for the animals.
This experience is really very basic and not the one I would recommend.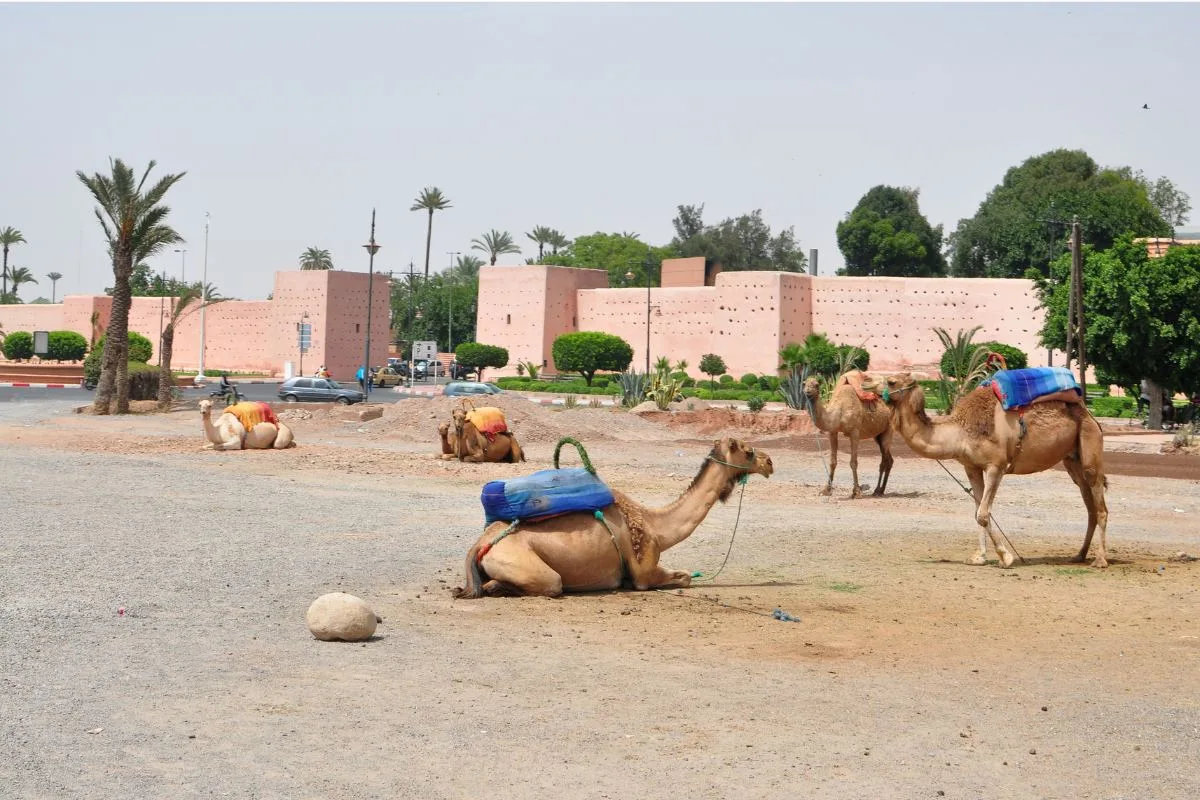 The majority of camel rides take place in the Palmeraie or Palm Grove. You can reach there easily via taxi or horse-drawn cart from either Jamaa el-Fna Square or the area of Majorelle (taxis and caleche are located nearest to the Koutoubia, or at the end of Rue Yves Saint-Laurent). Most tour providers that you book in advance will ensure hotel transfers at the start and end of your tour.
There are also camel riding experiences in the Agafay Desert about 45 minutes from Marrakech.
What are the benefits of booking a camel tour in advance?
Although you see a small herd of camels outside the gates of Menara Gardens and Menara mall, you may find it reassuring that certain tour providers can arrange hotel transfers, limited liability insurance to protect from possible accidents, and even mint tea or breakfast. Being able to view the included services and tourist reviews on their site is likely to enhance a feeling of trust and safety.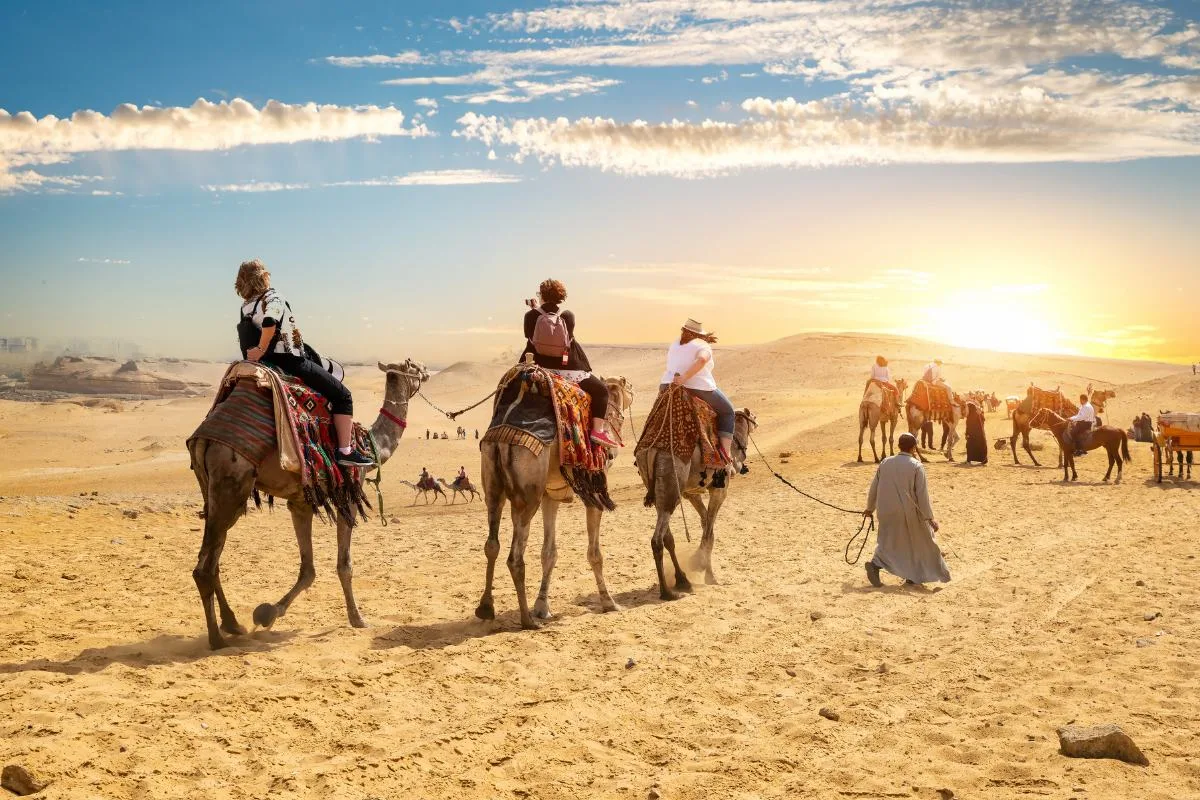 Seeing and paying a fixed price means you've no haggling with the local guide, and you'll ensure you are paying a reasonably fair price. Compare a 5-minute experience haggled down from 100DH not booked in advance, to a 1 hour ride for $20 booked and paid online before you go. Not only is that helpful for you to budget and plan your day around the experience, but it means it contributes to the healthy upkeep of the camels too.
What to expect when booking a camel ride in Marrakech
Camels have been used as a means of transport for thousands of years and although this may be the first camel you've seen, your ride will certainly have seen hundreds of humans! They are very social animals and don't be surprised if they go to blow in your face as that's their form of greeting one another too.
Safety-wise, camels are languid souls and are fairly safe to ride if you're following the sitting and holding position correctly provided by your guide. Like all animals, they can act unpredictably under unusual circumstances, so always follow the rules of the ride.
Depending on if you've chosen the short and sweet trip next to Menara or the longer tour that includes added food or travel experiences, even up to the Agafay Desert, or adding in quad-bike fun, the most you can expect is something unique.
Not renowned for being the most comfortable of rides, the best thing onboard your camel, is the heightened view and getting to imagine yourself transported into a story among palm groves or relatively dry lands and sands.
Try booking one of these tours that get great reviews!