Are you planning a trip to Marrakech with your mom and looking for great ideas of things to do in Marrakech? Or maybe you live in Marrakech like me and are having her come visit. I have gotten a lot of questions on mother daughter trips to Marrakech so I was inspired to put together these suggestions for you!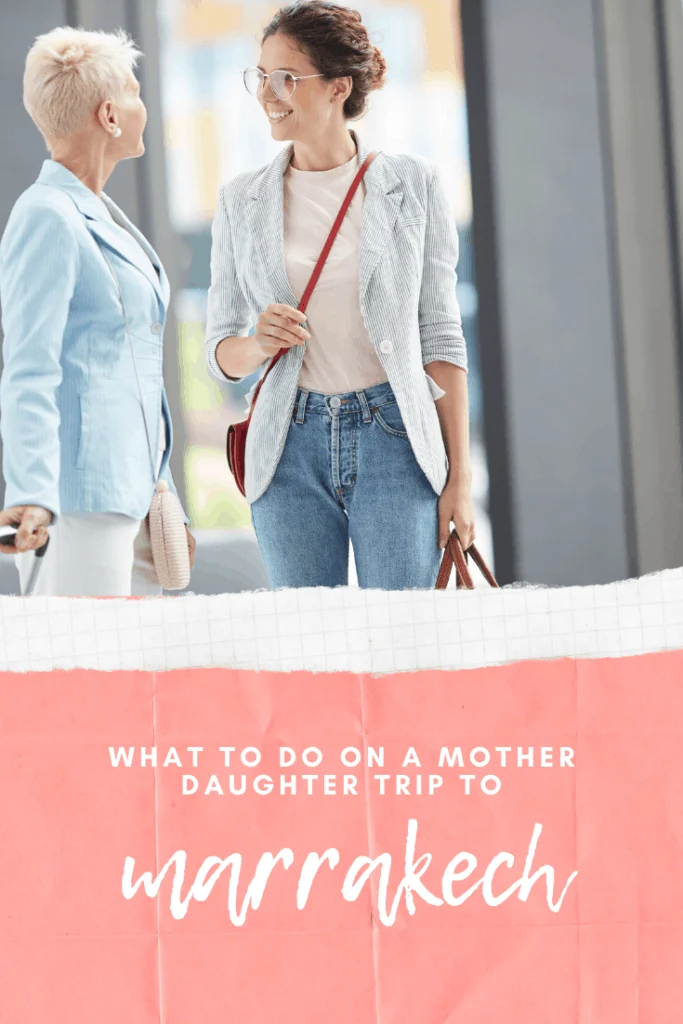 My mom comes to visit us at least one time a year and so I made sure to ask for her input on the things she loved. My grandma also came to visit last spring and so I am using my time with her here for additional ideas that SHE loved.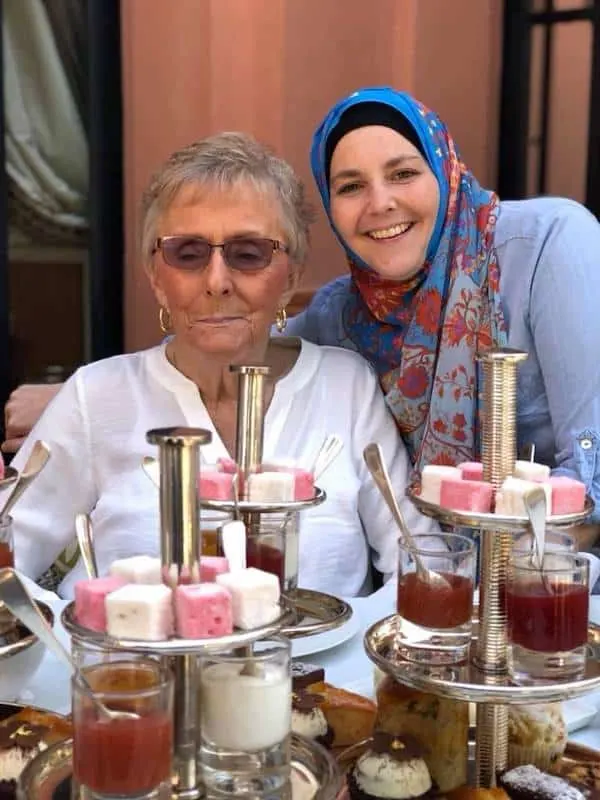 Have Tea at the Royal Mansour
My grandma (and my mom) absolutely loved this experience. Not only is the Royal Mansour arguably one of Marrakech's most beautiful hotels they really know how to make you feel special. The afternoon tea has three options; English, French or British style. It's not exactly cheap at 450 dirham per person but it's a lovely way to spend the afternoon and get a peek at this lovely hotel.
Visit Dar el Bacha and Bacha Coffee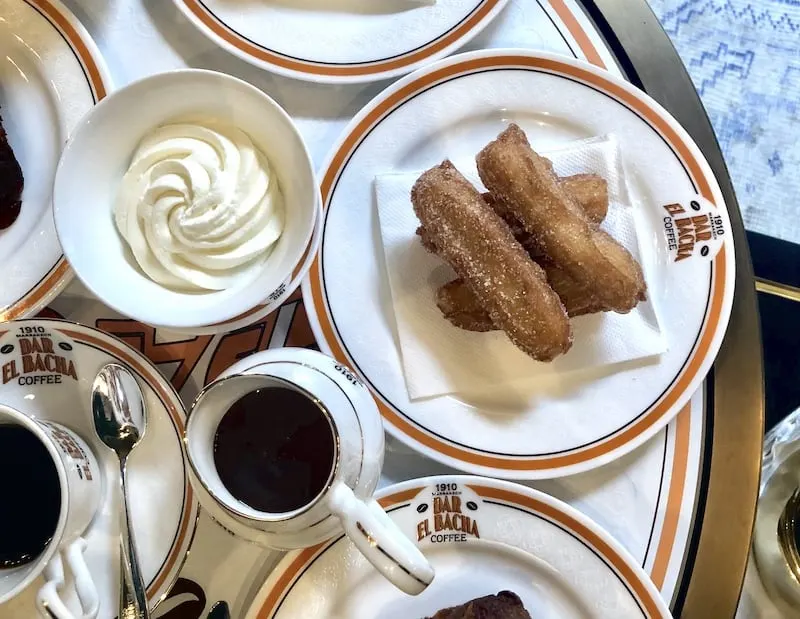 Not only is the Dar el Bacha Museum a beautiful museum but they now have a coffee shop inside as well. Everything about it makes you feel you've stepped back in time. They do serve a full menu and have dozens of varieties of coffee from around the world. If you don't want to eat a full meal than go for a coffee and I suggest the churros with chocolate.
Take a Walk through ANIMA Gardens
Majorelle Jardins are of course the more famous gardens in Marrakech but ANIMA Gardens are more enjoyable. There are far fewer crowds and the sculpture art around the park is fun to see. It's also a really cool place to take pictures. I do recommend purchasing your ticket in advance and taking advantage of the transfer service that is included.
Go Ziplining at Terres d'Amanar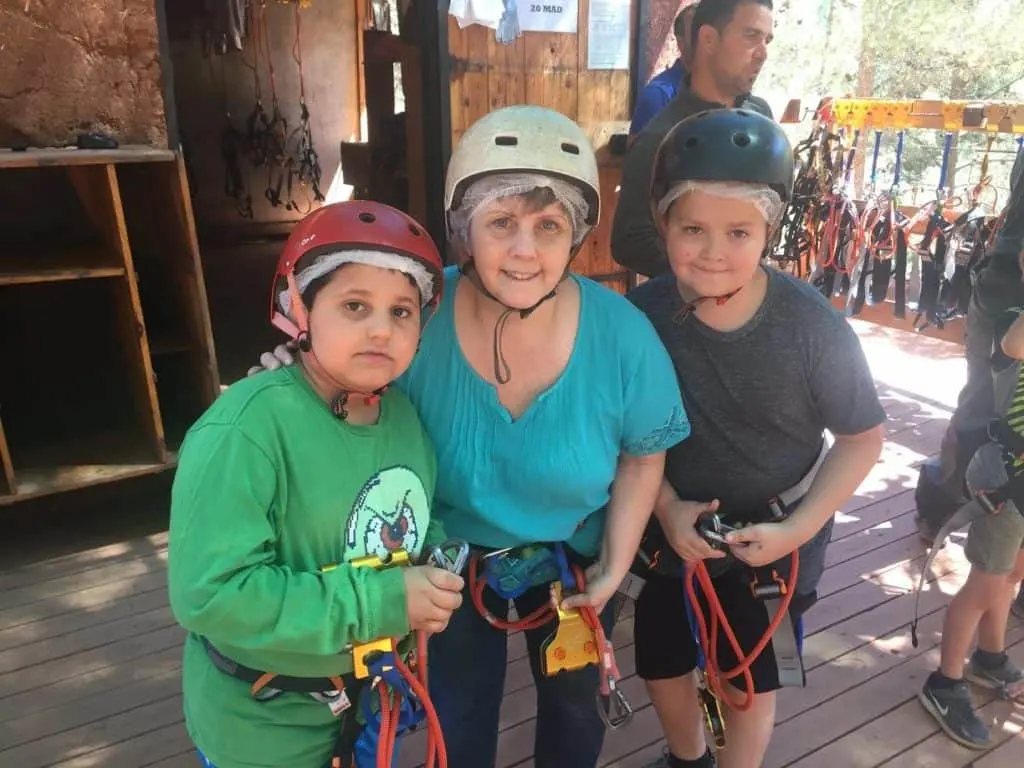 This is for the real thrill seekers! My mom loved this experience (my kids do too!) At Terres d'Amanar they have zipline courses for younger kids as well as having a course that's for adults. I'll admit it is a little scary – and certainly if you have a fear of heights this isn't for you. But it also makes for fun bonding! We also like their on-site restaurant and pool, it's easy to make a day of the experience.
Take a Sidecar Tour with Insider's Marrakech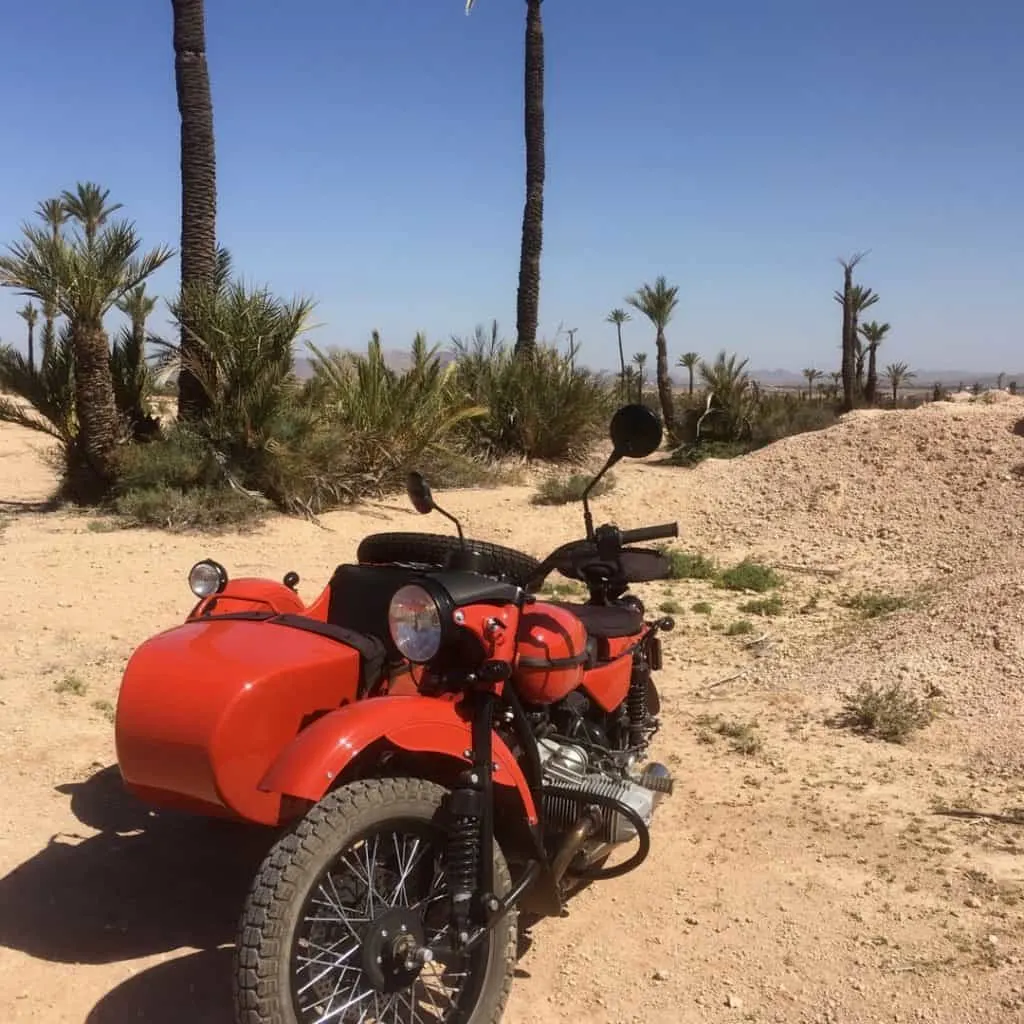 If you're a little adventurous and looking for a great way to see some hidden secrets of Marrakech then consider a sidecar tour. Each car can carry two passengers and they have multiple different routes. It isn't always the smoothest ride but that's the streets of Marrakech for you. I recommend booking a morning tour – it's fun to see the city come to life.
Learn how and make your own Slippers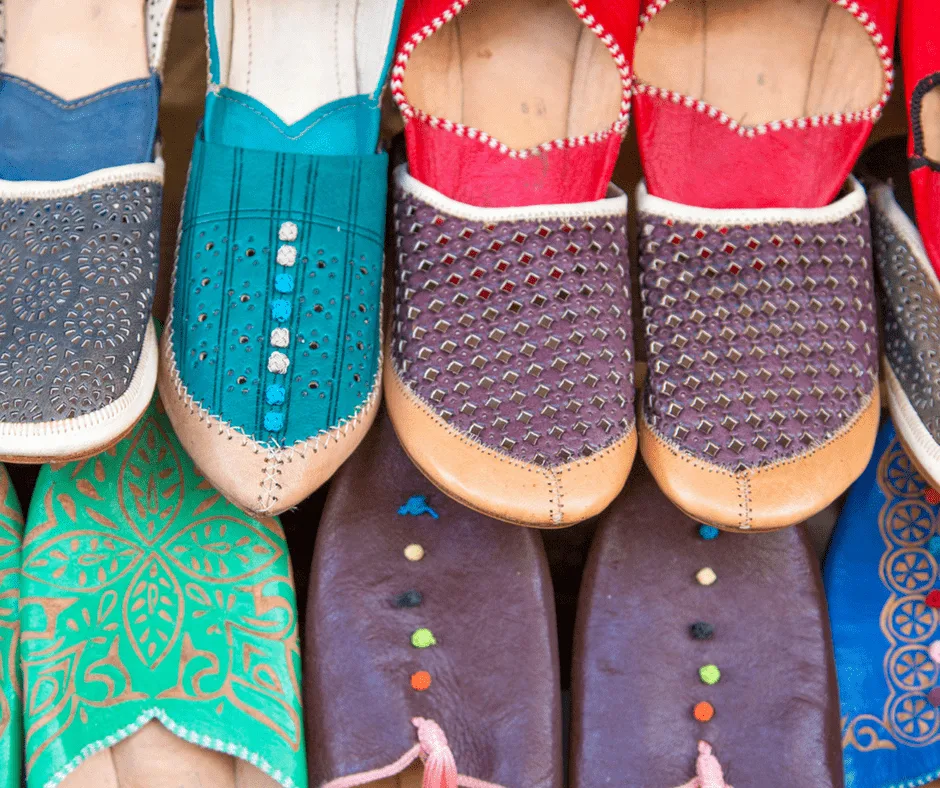 Moroccan slippers are a work of art. You can find a wide range of styles, colors and designs throughout the medina. But, wouldn't you and mom like to make your own to bring home? If you or your mom are even a little crafty you'll want to sign up for this workshop. Not only do you get to spend quality time together your souvenir is something you made yourself!
Take a Food Tour!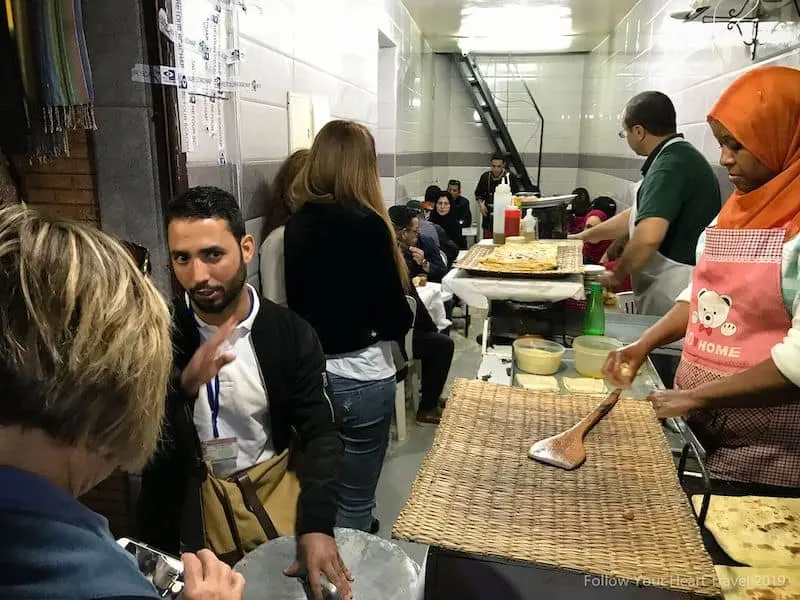 Yes, i am biased but we've had so many moms and daughters take our tour, how could I not mention it? Food tours are a good way to get a feeling for the city as well as having a good meal and maybe even meeting a new friend. My company Marrakech Food Tours offers a variety of tours in Marrakech and experiences outside. Find the one that matches you the best.
Have a Long Lunch
With hundreds of rooftops in Marrakech, there are no shortage of al fresco dining options. Having a leisurely lunch – and/or dinner – is something you need to take the time to do. Sometimes it's about the things we don't do as much as the things we do. My mom's favorite restaurants in Marrakech are La Famille, Amal Women's Center and I'm sure she will add L'mida to the list after her next visit. Want more dining suggestions? Grab my dining guide below.
Take a Cooking Class
If either of you are into cooking than sign up for one of the many fantastic classes that are run in Marrakech. There are beginner courses or private specialized classes for those with advanced kitchen experience. At the end you get to eat a great meal too so it seems like a win-win to me!
Go Shopping
It's no secret Marrakech is a shopping mecca. You have three options 1) the medina where you'll find traditional crafts mixed with boutique style shops 2) the new city where there are countless boutiques for any and everything or 3) the flea market (Souk el Khemis) on Thursdays' it's especially worth a visit but any day you go you'll see vendors selling second hand goods. If you decide to shop bring your bargaining skills!
Get Pampered!
We are big fans of relaxing and not doing a lot and the good news is it's pretty easy to do that in Marrakech. Sign up and do a hammam and get a massage or facial while you're at it. Some of my favorite places to go for a day of relaxation are Farnatchi Spa, Heritage Spa and Baan Thai (if you want a good Thai massage go here). You can make the day as long or short as you like.
Get a Henna Tattoo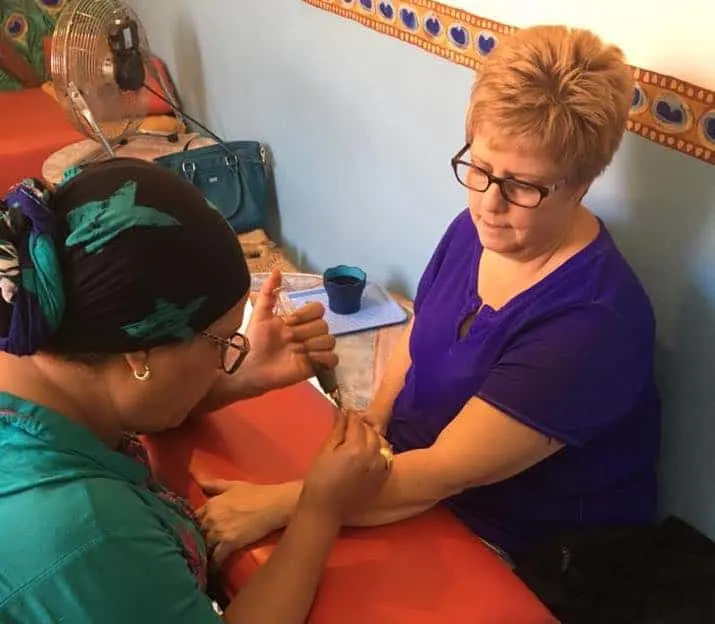 Henna is a traditional art in Morocco so you should have one done while you're here. I recommend Henna Art Cafe for a few reasons. First, all of their products are organic. Bad henna can cause burns and permanent damage to your skin – don't take the risk. Second, the prices are set. You pick the design you want in advance and the price is clearly marked – no surprises. Third, the owners are good people who do right by their staff and provide a living wage. This is so important to me!
Looking for places to stay?
I have a whole page dedicated to hotels and riads in Marrakech. You can browse by the neighborhood you'd like to be in. If you're not sure don't worry – each area also lists the pros and cons of staying in that neighborhood.