When visiting Marrakech, chances are you've added some of the most well-known spots to visit. Although it's considered a lesser-known garden, the Le Jardin Secret Garden is one to put on your list of things to do in Marrakech. I highly recommend that you visit this beautiful hidden treasure.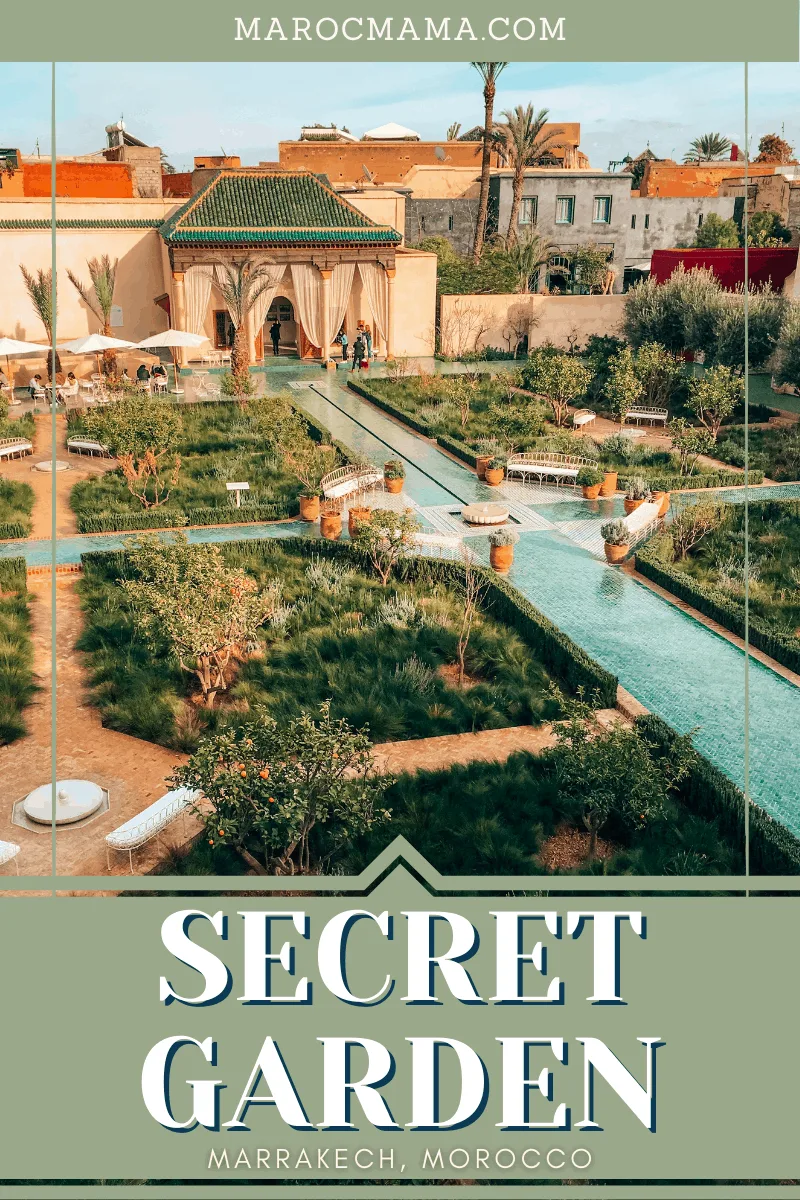 What is the Le Jardin Secret in Marrakech?
Dating back more than 400 years ago, Le Jardin Secret has been the home of some of the most important political figures of Morocco and Marrakech. It hasn't always been open to the public so you're in for a real treat. Because of its recent renovation, Le Jardin Secret is now part of the great tradition of stately Moroccan and Arab-Andalusian palaces.
Being an outstanding example of Islamic art and culture, you will be able to discover its magnificent gardens and buildings.
The Secret Garden is a fully reconstructed traditional Islamic Garden. There are plaques in some places around the garden however if available a guided tour will provide you with really good insight into the history and reconstruction.
Where is the Secret garden located?
Nestled (more like hidden) in the Marrakech Medina, Le Jardin Secret can be found by following the many signs pointing you to its location. However, if you've never been to Marrakech before, the Market can seem like a maze with all streets looking similar. With this in mind, give yourself plenty of time to navigate the Market and find Le Jardin. Below is the address to help with pinpointing its exact location:
121 Rue Mouassine, Marrakesh 40030, Morocco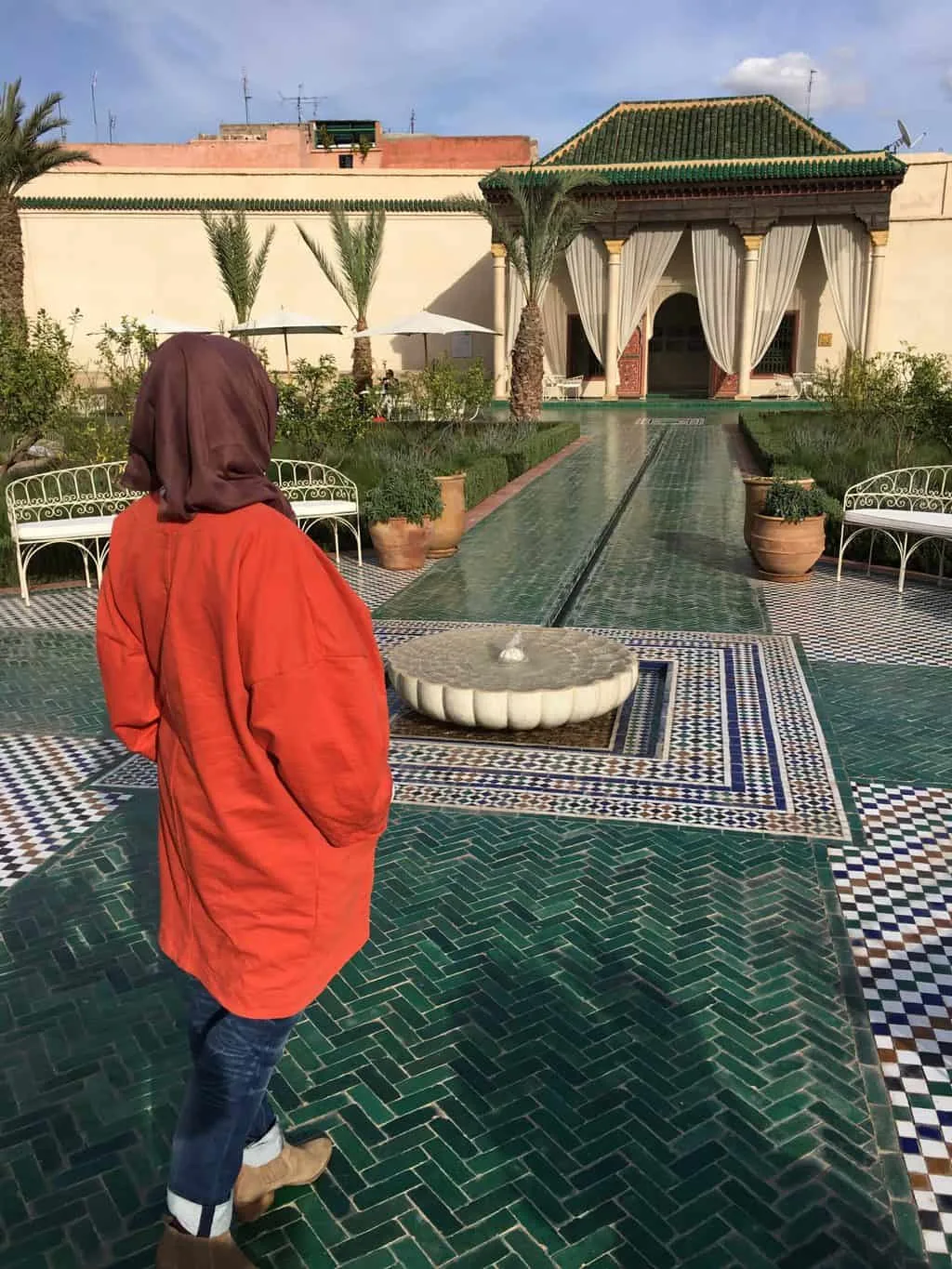 What to Expect When Visiting
One thing you are sure to expect is a culturally rich experience. From the Moroccan architecture and tiling to the plants and poppy colors, it is the perfect getaway from the normal city rush. It is very spacious and is never crowded.
There are a variety of facilities that provide seating, shaded places to relax, and a rooftop cafe. You can also take advantage of the small exhibition and gift shop which showcases beautiful handmade items from local sellers.
While some of Marrakech's gardens are an all-day adventure, Le Jardin Secret is small and doesn't take long to venture. Plan for about a 2 hour visit, including taking a pit stop at the rooftop cafe and looking at the exhibition.
If you're on the fence about the additional admission to the tower, it is the second-highest viewpoint in Marrakech after the Koutoubia Mosque (which you can not enter). So if you're looking for some amazing rooftop images it's worth it.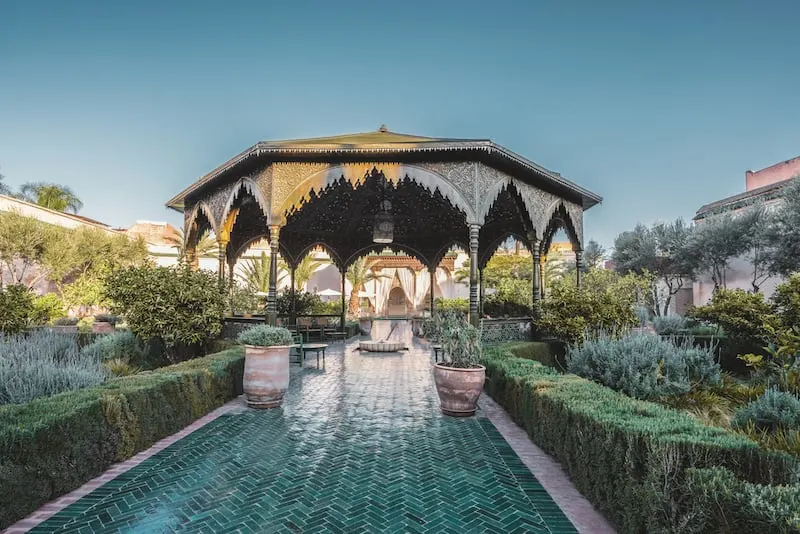 Admission Cost to Le Jardin Secret
Tickets can conveniently be purchased at the front desk; however, if you plan to visit as a group you'll need at least 10 people and the reservation made by email. The costs are:
The full price adult ticket: 60 dirhams
Reduced cost 7-24 years: 40 dirhams
Moroccan Locals: 30 dirhams
Children under 7 years old: Free
Handicapped visitors and their carers are also free, in addition to Le Jardin Secret members, tourism professionals, and approved press members. For Tower entrance, the prices are 35 dirhams (full price) and 20 dirhams (7-24 years and Moroccan citizens residing in Morocco).
Le Jardin Secret Garden Hours of Operation
The hours of operation are dependent upon the season. They are opened longer between March and September and shorter during November to January. The hours of operation per season are:
February and October: 9.30 am – 6.30 pm
From March to September: 9.30 am – 7.30 pm
From November to January: 9.30 am – 6.00 pm
Other Things to Consider When Visiting
Facilities
If you bring bags and backpacks on the premises you will be asked to deposit them in the cloakroom free of charge. Restrooms are available in two different areas. Baby changing facilities are available in the restrooms at the entrance. Free Wifi is available everywhere inside Le Jardin Secret.
Visitor Regulations
To help keep Le Jardin Secret Garden running efficiently and effectively, there are several visitor regulations to be mindful of. The entrance ticket gives you the right to one entry only. Bulky and large items must be deposited in the cloakroom. The consumption of your own food and drink is not allowed inside of Le Jardin Secret. You are also advised to leave any food and drink with your possessions in the cloakroom.
If you love taking pictures, you'll enjoy the ability to photograph and video record; however, it is permitted for private purposes only, using hand-held equipment. If you've brought your furry friend along, they are allowed inside of Le Jardin Secret.
Dress Code
There is no dress code that is in effect when visiting the garden.