Today I have a guest post from my friend Julie who is the owner (but longtime editor) of the family travel website Road Trips for Families. Julie came to visit Marrakech with her daughter last year and experienced our crazy city! You can listen to her Moroccan adventures on this podcast episode. In this post she shares some of her tips for keeping kids safe when you're in Marrakech.
Whether you're in the heart of the Magic Kingdom or touring the Louvre in Paris, nothing is more instantly terrifying than realizing your kids are no longer with you. A scenario that connects parents of all nationalities, hopefully these tips will help you establish some basic safety measures and adventure in confidence.
I always like to take a camera phone photo of my kids before we head out for the day. This way, I've captured what they are wearing and have a photo handy to show or text/email anyone helping locate a missing child.
When we first arrived in Marrakech, the pulse of people, traffic, and commerce was overwhelming to this Midwestern gal from a one traffic light town. Cars and motorbikes zoom in close proximity to pedestrians and many of the shops and stalls. If you have kids that like to randomly bolt in the direction animals and toys, discuss the importance of staying on the sidewalk or close to an adult. I'm not above handholding, even if it is "totally embarrassing" for pre-teens.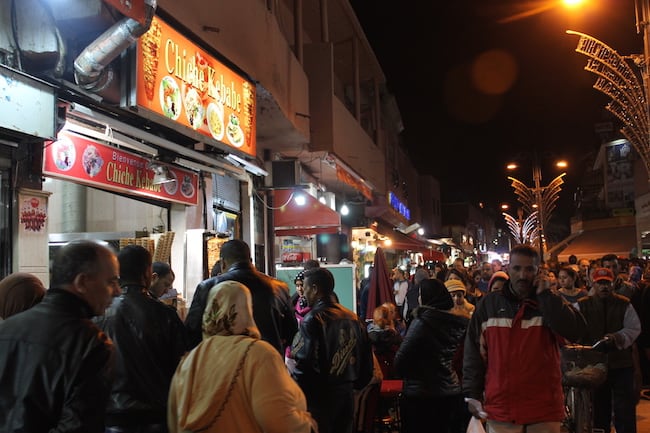 If you do not speak Arabic or French, communicating in Morocco will be somewhat difficult without a guide or friend like MarocBaba. I always like to write my name, phone number, and email address on a slip of paper and tuck it into my kids' pockets (or shoe, if necessary). If your hotel/hostel has a business card with telephone and address in Arabic, grab a few to keep with you during the trip.
On that note, establish an easy meeting point whenever you go somewhere new. Say, "If we get lost, meet me at this McDonalds, fountain, street corner (whatever)." You can also write the meeting point on the piece of paper with your contact information. In general, I tell my kids they can always ask another parent for help. Alternately, I suggest finding a police officer or anyone working inside a place of business.
The Medina is a complex maze that gets particularly crowded at night. If your kids pose for souvenir photos with snake charmers, musicians, or monkeys, you will be expected to pay a small tip. Explain this concept to your kids and perhaps set a limit on how many photos you will take with other people.
To my daughter's delight, we counted upwards of thirty-three stray cats in one afternoon. While some of the animals are friendlier than others, try and discourage feeding, catching, and begging to adopt animals living in on the street.
In general, I felt extremely safe during my time in Morocco. Most everyone we met was friendly and accommodating and exhibited a strong pride in their culture and nationality. If you are thinking about traveling with your children to Marrakech, this is a cultural experience they will never forget.
Happy trails!
Looking for more? You might also like these posts on Marrakech with kids;
Be a part of the MarocMama family!
Do you want access to all things MarocMama? Join our community of readers to get updates on new posts, inside information that won't go on the blog and so much more!
Sound good? Pop your email below and you're in!