Morocco is a vast country of unparalleled diversity, with treasures tucked away at every turn. Travelers find magic between its archaic cities, soaring mountain ranges, golden coastlines, and endless deserts. But many of its wonders come at a price; so what is a budget traveler to do?
Enter my guide to the best free things to do in Morocco. Below, you'll find everything you need to know about the country's cost-free offerings. In addition to these suggestions, there are some ways to save money on a daily basis – this post will help you learn how to save money in Morocco.
So, tuck your wallet away (for now), and let's get started!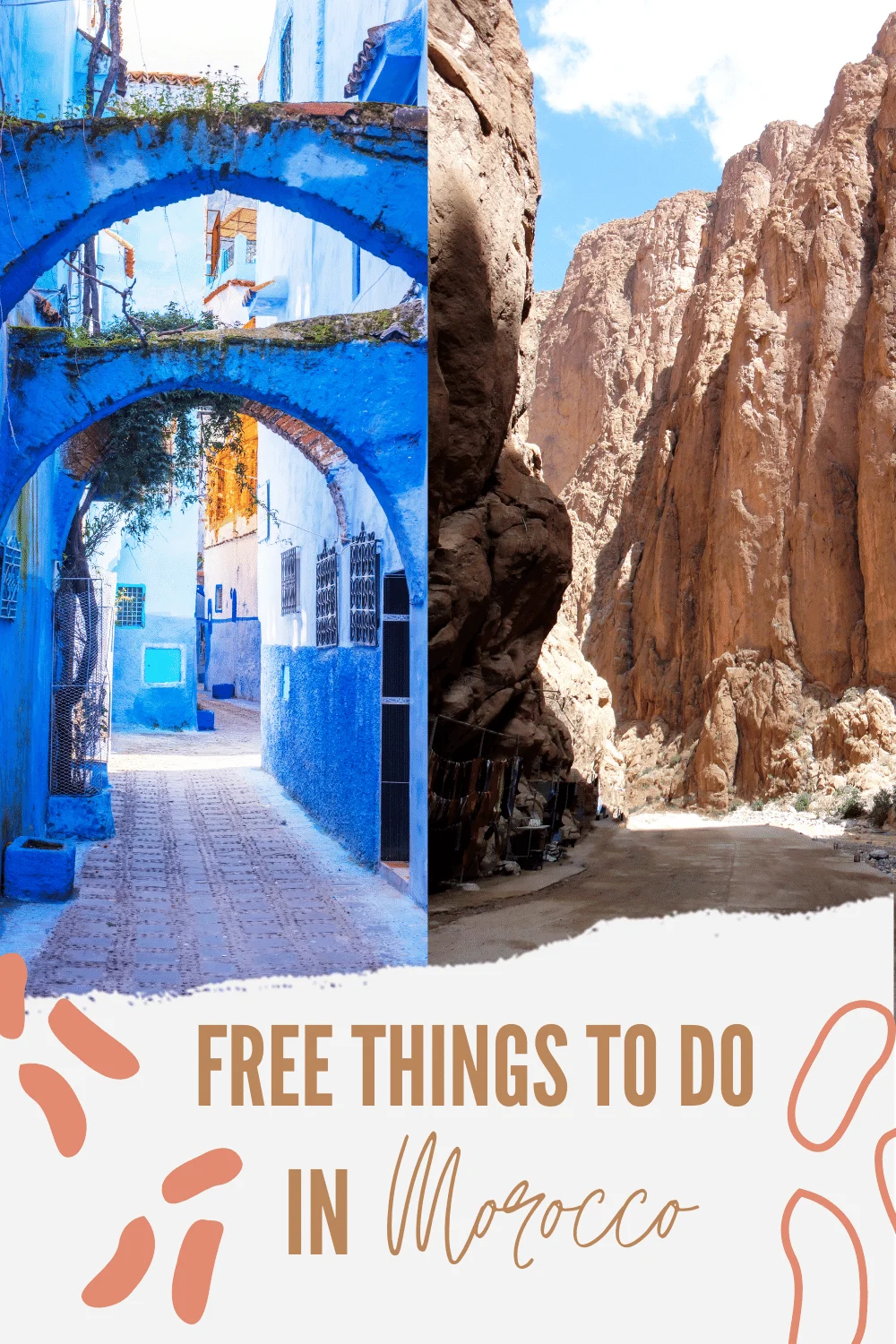 Roam the Medinas – A Must Do in Morocco
In Morocco, the word medina refers to the historic part of a given town or city. These old towns are often walled and complete with a sought-after tangle of narrow, cobble-stoned streets.
Morocco is famed for its captivating medinas. They offer a window into historic worlds, bursting with life, color, sounds, and smells. And better yet, wandering through them is entirely free. For those looking for the best things to do in Morocco on a budget, the medinas are the first place to look.
Here's a quick look at some of the best medinas in the country.
With a history stretching back to 1471, Chefchaouen is a quaint city in northwest Morocco. Here, nestled in the mountains, you'll find what is arguably the most striking medina in the country.
The entire old town is awash with powder-blue. Spread across walls, laid down on winding stairs, and accenting striking monuments, the color is everywhere. It wraps the narrow streets and creates an otherworldly atmosphere that you just can't miss.

Marrakech needs little introduction. It's Morocco's cultural center and easily the country's most popular tourist city. Marrakech's medina is quintessential Morocco and a perfect place to get a taste of both the old and the new.
It's a maze of alleys and squares, with a restless energy and a vibrancy that's hard to find elsewhere. So naturally, it's a must see in Morocco. The medina is centered around Djemaa el-Fna square, where you can enjoy a healthy dose of Morocco's famed market culture and take in the vibe. If you are in need of more low-cost ideas, I've got a full post on budget ideas in Marrakech.

Other Stunning Medinas To Enjoy
Most towns and cities in Morocco have some kind of medina, and many of them are equally as striking as those listed above. The ancient streets and fascinating tanneries of Fez are worth experiencing. As are the cobbled alleys of Meknes, Rabat, Casablanca, Tétouan, and Tangier.
So whichever towns you choose to visit in Morocco, be sure to seek out their medinas for a trip back in time.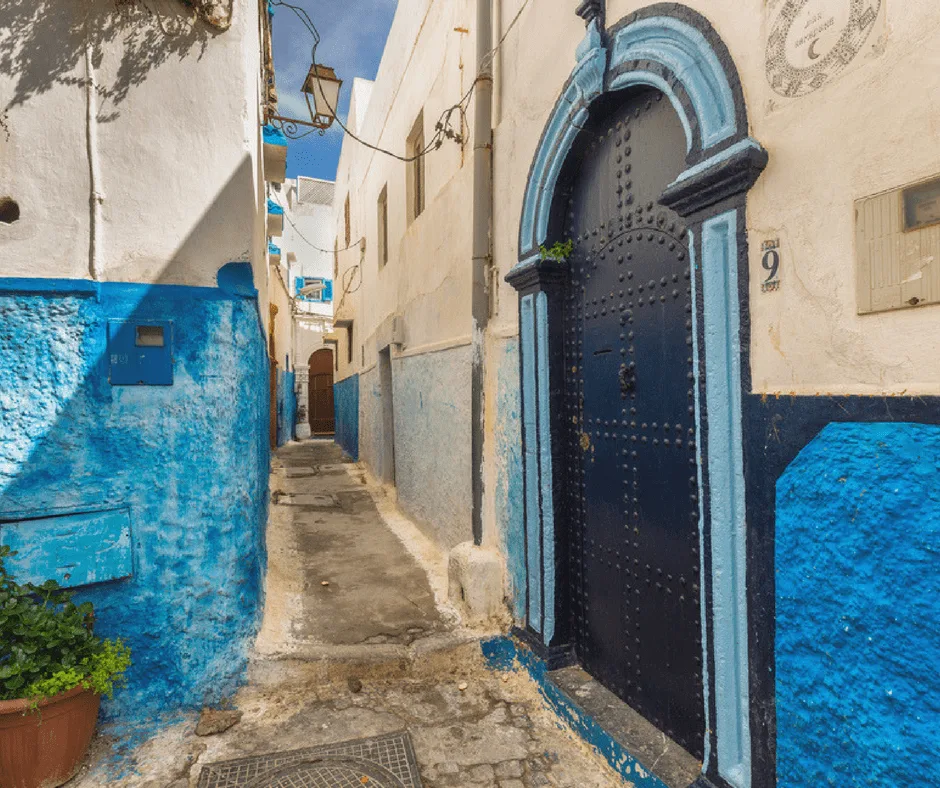 Experience the Souks
Wandering through the medinas of Morocco, you'll undoubtedly come across the country's bustling markets. These traditional open-air marketplaces are known as souks, and they're so often the life and soul of the cities.
With street food and spices on offer in abundance, the smells will catch you first. Next, you'll be struck by the sites and sounds, from colorful crafts to mopeds hurtling down narrow streets. Souks aren't for those easily overwhelmed, but they're one of the perfect activities in Morocco for absorbing the country's essence.
Although they're places of trade, and you'll be tempted to splash on souvenirs, you can wander through souks free of charge, simply absorbing the energy.
The famed souks of Marrakech are a top attraction in the city, and one of the best places to get a taste of the country's markets. They run north from Djemaa el Fna Square, offering everything from Morrocan rugs to a host of local cuisines.
Most visitors to the country pass through Marrakech, but if you don't plan on doing so, you can find a souk in pretty much every city or town.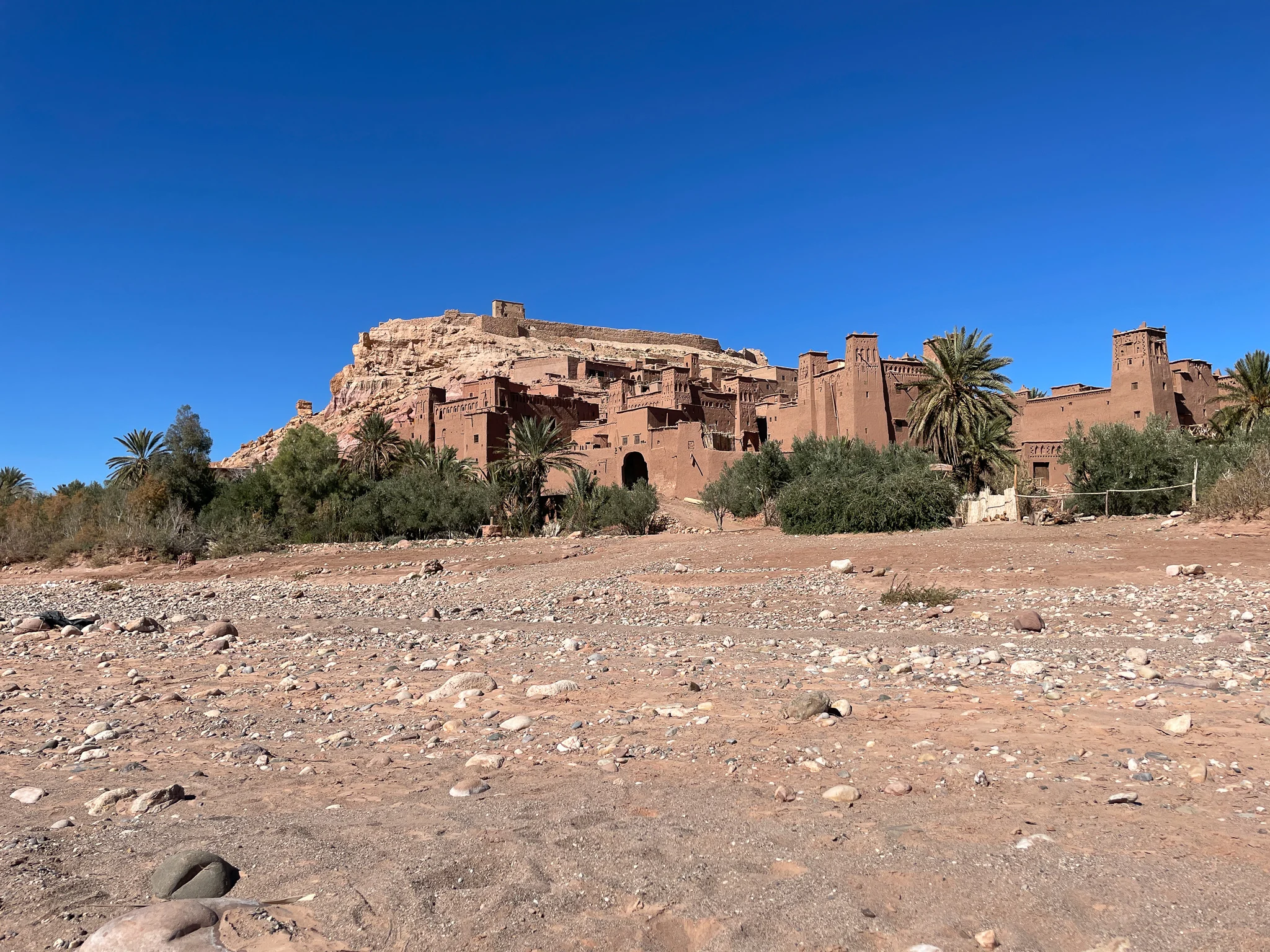 Visit Aït Benhaddou
Seven of the country's medinas are listed as World Heritage Sites, but they're not the only things to see in Morocco recognized by UNESCO. Morocco is home to two other breathtaking UNESCO sites, threaded with palpable history.
One of these sites is the free-to-visit ksar of Aït Benhaddou. Rising seamlessly from its rocky perch, Aït Benhaddou is a sand-colored, fortified village to the southeast of Marrakech.
The ksar is built in a traditional style from rammed earth, clay bricks, wood, and adobe. And thanks to its unique appearance, it has found fame through a series of Hollywood movies, including Jesus of Nazareth (1977) and Gladiator (2000).
It's easy to see why the film industry has taken such a strong liking to the village. The Morrocan earthen clay architecture is ripe with an ancient, exotic atmosphere, perfect for conjuring ancient worlds.
On arrival at the village, you might get haggled by locals trying to make some quick cash by charging you an entrance fee. But Aït Benhaddou is free to visit, so wave them on and head through to enjoy its wonders. If you do decide to take someone up on the offer to show you around you should either discuss the price in advance or be prepared to pay at the end.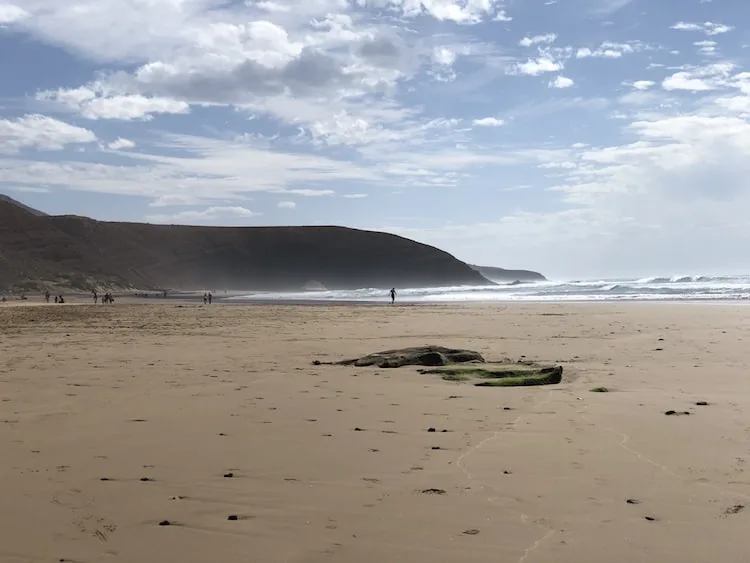 Visit the Beach
The stereotypical image of Morocco doesn't leave much room for cool ocean waters, surfable waves, and white sand beaches. But the country has some gorgeous stretches of coastline, where you can wander, catch waves, or relax, free of charge.
Agadir, Casablanca, Tangier, Rabat, and Essaouira all have beautiful beaches that are open to the public. So if you plan on stopping by in any of these cities, make your way to the shore and find a spot to set up for the day.
Some more off-the-beaten-track options include Legzira Beach and Oualidia lagoon. With dramatic rock formations and tranquil fishing village happenings respectively, these beach towns are both rich with charm.
Hike Todra Gorge
Todra Gorge is a breathtaking river canyon, reminiscent of Tatooine. Sheer rock walls rise sharply on either side of the gorge, which weaves its way through central Morocco.
The Loop Hike in Todra Gorge is one of the few hikes in Morocco that you can easily walk without a local guide. It's roughly a three-hour round trip on a well-defined path, but be sure to read up on the directions to avoid getting lost.
While the hike is free, the gorge is quite a drive from Morocco's main cities. So you'll likely want to spend a night in the nearby Berber village of Ait Baha.
What To Do in Morocco for Free – Are You Ready?
Among its historic medinas, vibrant souks, ancient attractions, and natural beauty, Morocco boasts some breathtaking activities for those on a budget.
Of course, few things in life are truly free. So while the top things to do in Morocco on this list are available free of charge, you'll have to budget for transport and places to rest your head. But despite the inevitable cost of traveling, these freebies will offer you some unforgettable North African experiences. Enjoy!