The weather in Marrakech is often considered "dream weather" with average winter lows being around 12°C (53°F) and the summer highs reaching 38°C (100°F). Its position between the Atlas Mountains and the Atlantic Ocean gives it a Mediterranean-desert feel, much like Spain or Portugal.
This also makes for humid summers and mild, wet winters. Summer falls between June and September while winter is between December and February. When looking for things to do in Marrakech, taking the weather into consideration is an important factor.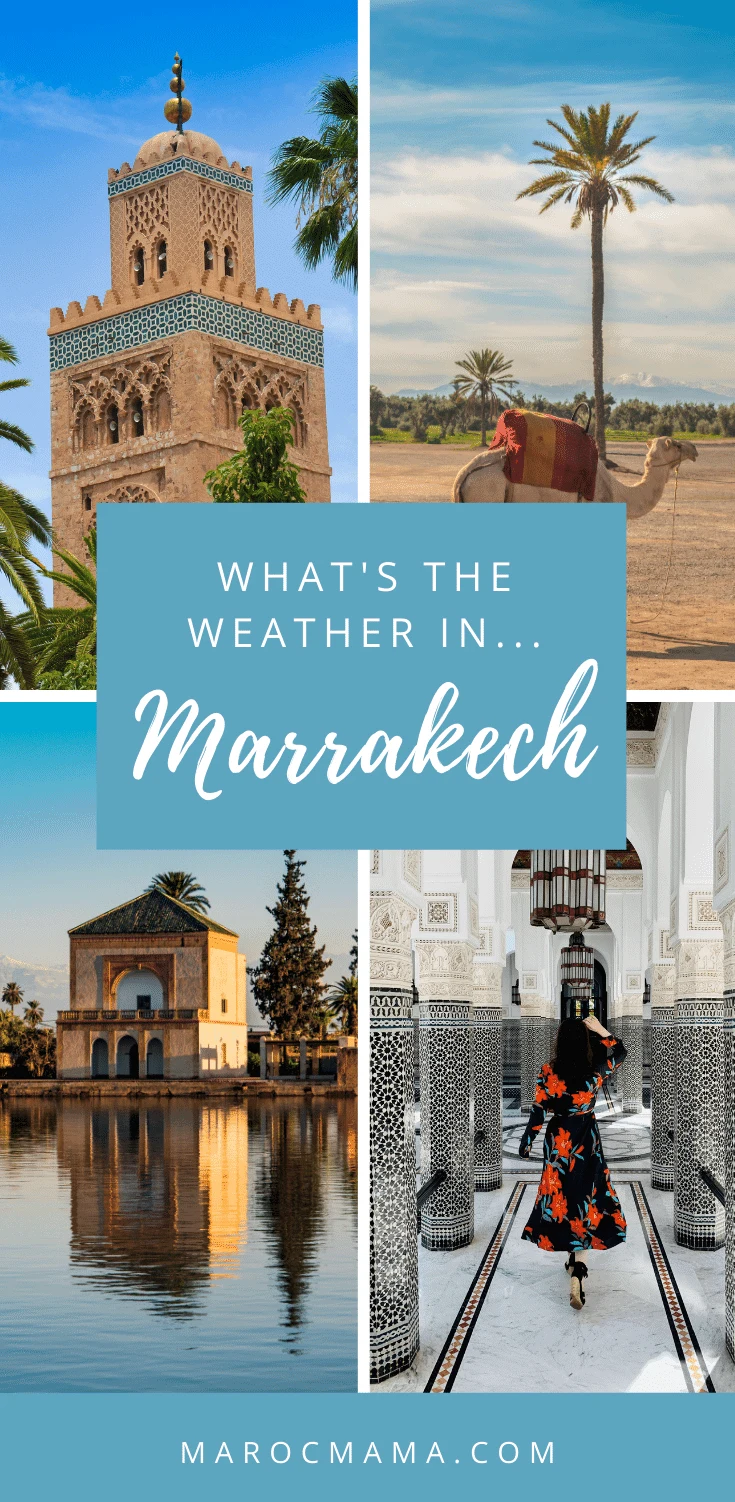 If you're looking to visit Marrakech, the ideal months are March, April, May, October, and November. During these times conditions are most ideal for outdoor (and indoor) activities like site seeing, camel trekking, and taking tours. Regardless of what you plan to visit, this post will give you a monthly weather guide so you'll know what weather to expect at any time of year.
Marrakech Weather in January
January is considered one of the coldest months. Depending on how low temperatures get, there may be some frost experienced overnight. It's very rare to have frost and rarely ever snow in the city itself however the nearby mountains are a different story.
During this month, daytime temperatures can drop to as low as 5°C (41°F) or go as high as 20°C+ (68°F). Heavy downpours can occur with up to 33mm (1.3″) of rainfall being received in this month. The sun is also high up, making way for the possibility of getting a little warm.
Marrakech Weather in February
Winter starts to slowly subside in February although it may get chilly and cold once the sun goes down. Other than that, sunny days are pleasant with 7-8 hours of sunlight. Temperatures are typically between 10°C (50°F) to 22°C (71.6°F) and fluctuate constantly. Substantial rain is also present in February with an average of 38.1mm (1.5″) of precipitation.
Marrakech Weather in March
March is the beginning of spring in Marrakech with long sunny days to prove it. Even though there is a lot of sunlight, the nights are a bit cold. You can also expect a little rain and wetness during this month. March is a great time to visit Marrakech.
Marrakech Weather in April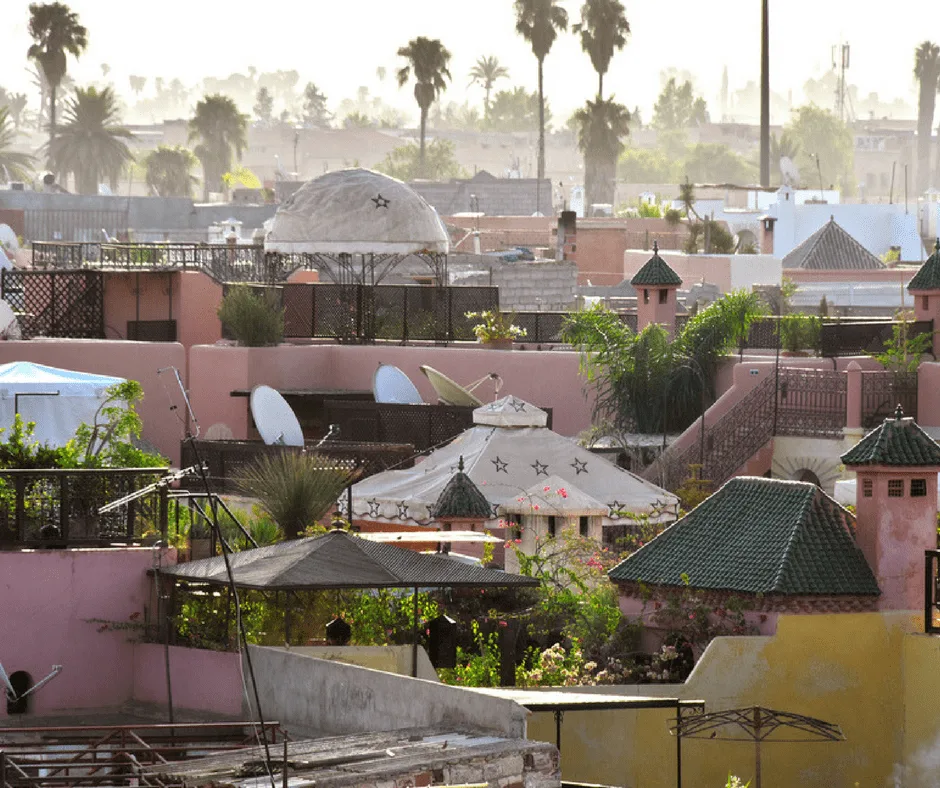 April is a really lovely month to visit Marrakech. It's in fact one of the most popular months for visitors as well. Daytime temperatures reach upwards of 25°C (77°F) with a lot of sunlight. This weather makes for a perfect escape if you're craving sun and warmth.
Marrakech Weather in May
Being one of the best months to visit Marrakech, May is met with little rainfall, clear skies, and temperatures that rise as the day progresses. During this month, temperatures are at lows of 15°C (59°F) to highs 29°C (84°F) making it perfect for any activities. One small downfall is the strong winds blowing in increasing the chances of a sandstorm. Beside that, conditions are generally favorable for outdoor activities.
Marrakech Weather in June
Kicking off the summer season for Marrakech, June is one of the sunniest months. It's also the beginning of drought-like conditions in Marrakech. Most areas will receive little to no rainfall this month and the dry season will continue into September. Daily temperatures can range from 17°C (62°F) to 35°C (95°F). During nighttime, the weather may cool off a bit.
Marrakech Weather in July
July in Marrakech is one of the driest and warmest months. The city will receive up to 11 hours of daylight met with blazing sunshine. Temperatures this month peak near a high of 37ºC creating intense heat and dryness. You won't see much rainfall this month and it can be difficult to spend a lot of time outdoors.
Marrakech Weather in August
August is a parched month with little rainfall. You can expect more sunshine with clear skies and little cloud coverage (between 13% and 33%). The temperatures during this time of year rise to an average of 33°C (91.4°F) to 38°C (100.4°F) during the day.
If the weather is really hot, you can see temperatures well over 40°C (104°F). Nights are moderate and range between 21°C (69.8°F) and 19°C (66.2°F). Even though this is a very hot time of year, many Moroccans that live overseas return home during this time.
If you're choosing to visit in August take care to not get sun stroke or sunburn by limiting your time outdoors, covering your skin and staying hydrated.
Marrakech Weather in September
With autumn slowly setting in, temperatures in September begin to drop just a bit, but it is still sweating hot in Marrakech. The sun is also high during the day with clear skies. The average temperature is around 27°C (80.6°F) low to 33°C (91.4°F) high during the day. Night temperatures commonly drop to 17°C (62.6°F) with clear skies. This helps create a cooling effect and makes the perfect condition for gazing at the stars.
Marrakech Weather in October
October is the second-best time to visit Marrakech after spring thanks to the temperature range between 15°C (59°F) to 28°C (82°F). The sun remains high this month, making it the perfect escape from the hotness of September. Rainfall typically increases over the course of one to two weeks during this month.
Marrakech Weather in November
Flash floods mark the November season thanks to the increasing chance of rainfall. As cloud cover moves in the temperature will drop between 23°C (73.4°F) and 29°C (84.2°F) during the day. Evenings can be chilly with temperatures between 11°C (51.8°F) and 16°C (60.8°F). November is another great time to visit Marrakech.
Marrakech Weather in December
December brings on winter, wet conditions, and is the least rainy month of the winter months. Cloud cover sets in, however, there is still a reasonable amount of sunshine. Visitors and tourists can still enjoy outdoor activities as the temperature only drops to between 19°C (66.2°F) to 21°C (69.8°F). However, keep in mind that nights can be on the chilly side with temperatures between 6°C (42.8°F) and 8°C (46.4°F).
Other Weather-Related Things to Keep in Mind
The city of Marrakech never has climatic hazards like hurricanes, tornadoes, or fires. However, the one climate hazard most likely to happen are dust storms. These typically appear in April to June, and are a common phenomenon. There is also the threat of the hot desert sun, which can bring dehydration and cause harm to the skin. Remedy this with long-sleeved shirts and always drinking plenty of water.
Be a part of the MarocMama family!
Do you want access to all things MarocMama? Join our community of readers to get updates on new posts, inside information that won't go on the blog and so much more!
Sound good? Pop your email below and you're in!