Known as one of the most beautiful places in Red City, you'll find the Dar el Bacha Museum near the entrance to the medina of Marrakech.
This is definitely a place worth adding to your list of things to do in Marrakech and this post will help prepare you for your visit. It's by far my favorite Marrakech palace and when paired with a stop to the interior coffee shop makes for a great few hours.
This was once the home of Thami El Glaoui, the pacha of Marrakech. The restoration project was headed by the National Museum Foundation, and the new museum opened in December 2017.
The History of Dar el Bacha
Dar el Bacha, meaning "house of the pasha," was the residence of Thami El Glaoui. He was given this prestigious title by Sultan Youseff himself in 1912. Known as a flashy man, it is said that he built his estate to impress guests. Rooted deep in Moroccan architecture, this palace features fountains, orange trees, traditional seating areas, and a hammam.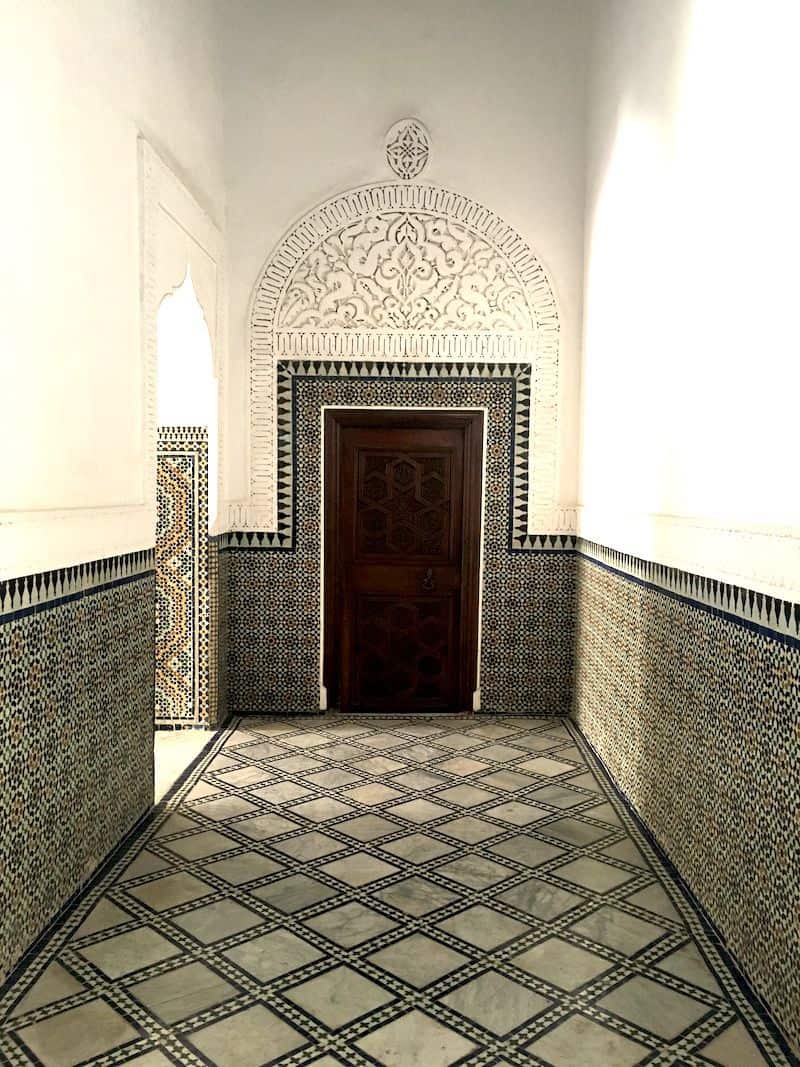 Due to Glaoui's interest in Western culture, the palace demonstrates the influences of European architecture. Several of the interior features can be seen with black and white checkered floors, colorful mosaic tile work on the ceilings, and painted cedar wood doors.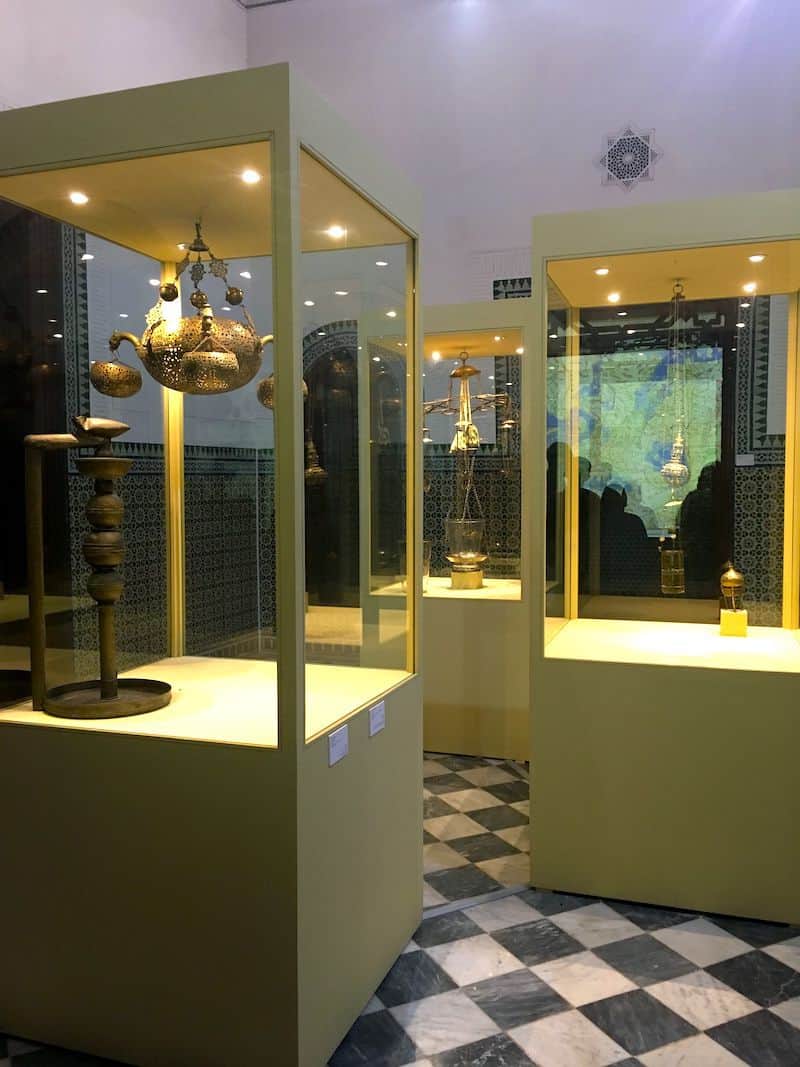 What to Expect at the Dar el Bacha Museum
The building's themes and overall aesthetic are certainly worth the visit. Overall, there is a lot to see and experience at this place. Being a museum in and of itself, you can expect to see luxurious decorations, beautifully painted walls, elaborate pediments, cedarwood paneling, and more. The central courtyard garden is beautiful and fragrant thanks to the trees and flowers that fill the area.
Some of the interior exhibits rotate but one overarching theme is the confluence of cultures that call Marrakech and Morocco itself home. You can easily spend at least an hour if not more wandering the rooms. You also can visit with a guide to get more of the background story.
Because it is quieter than most attractions found throughout Marrakech, you can enjoy a relatively solo visit and not feel rushed to spend time marveling at the beautiful architecture.
Visiting the Museum
The museum is open all week, except Monday, from 10 a.m. to 6 p.m. The entrance fee for nationals is 30 dhs and 60 dhs for foreigners. It is free for children and students. Fridays are also free for nationals and foreign residents in Morocco. Enjoy a guided tour by appointment only. There are also written guides in the rooms.
The Bacha Coffee House
Closed for 60 years, Bacha Coffee has reopened to continue the tradition of offering fine 100% Arabica coffees from around the world. Many visitors rave about the extravagant coffee selections, the professionalism of the coffee connoisseurs, and the fact that you can visit the cafe without the museum (there is a small entry fee). You can go for an afternoon tea or grab a delicious lunch.
This is truly one of my favorite museums and coffeehouses in all of Marrakech and I think it's a must-visit. I also highly suggest making a reservation.
When you plan to visit Marrakech, be sure to add this gem to the top of your list.
Be a part of the MarocMama family!
Do you want access to all things MarocMama? Join our community of readers to get updates on new posts, inside information that won't go on the blog and so much more!
Sound good? Pop your email below and you're in!