One of the great things to do in Marrakech is to hit up some fun Marrakech nightlife. While I can get down with hanging out in Djemma El Fna at night from time to time with friends to eat in one of the food stalls or listen to the Gnawa musicians or watch some of the traditional games being played, sometimes I just want to get dressed up and check out a restaurant, bar, or a good ol' nightclub.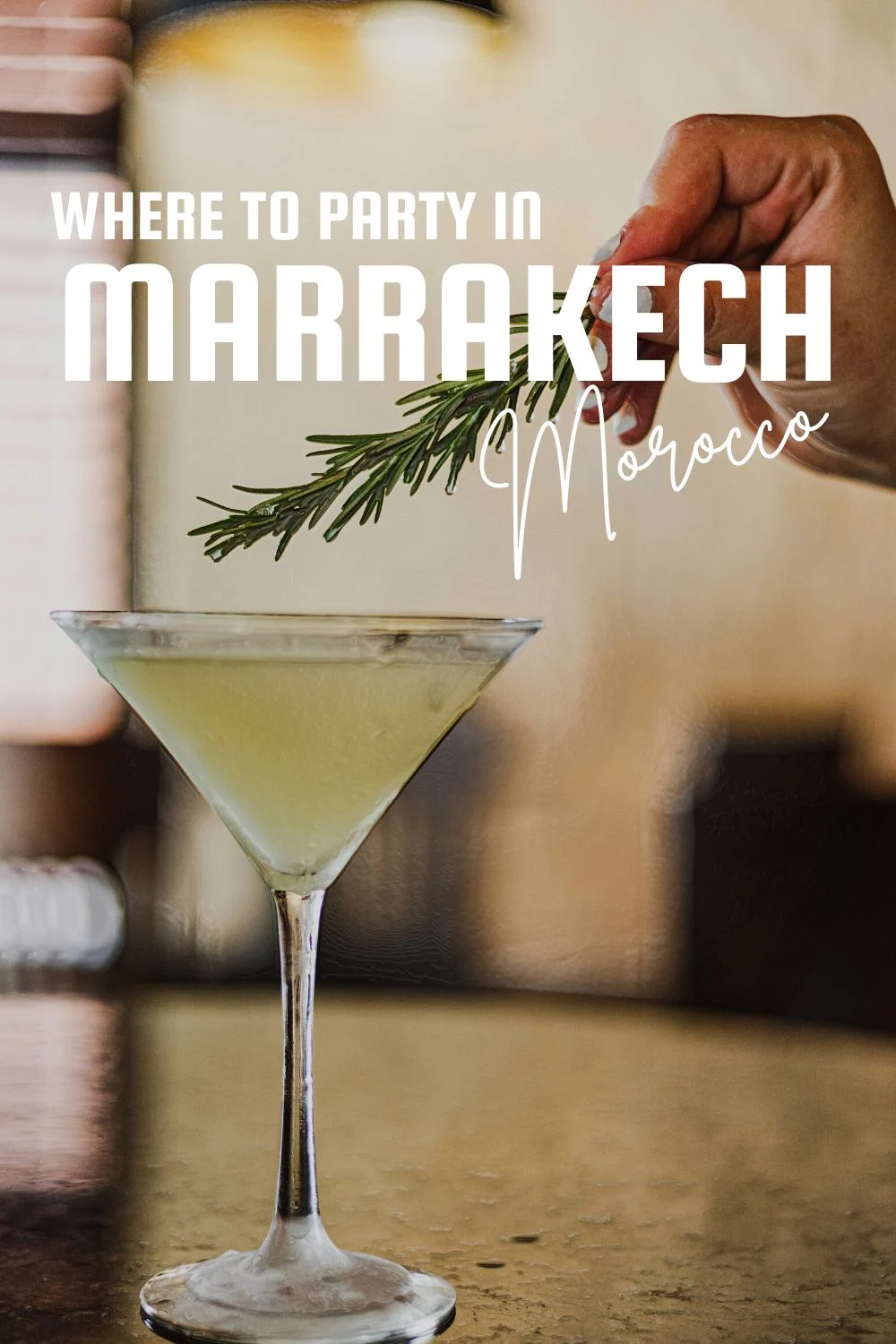 Marrakech has shown me there are some absolutely amazing places here. So I'm going to list some of the must-see clubs, restaurants, and lounges (by neighborhood) you can't miss while you're in Marrakech. There's a range so whether you just want to have a drink or you want to go out clubbing – or something in between there are options.
Can you go Clubbing in Marrakech?
Yes, there are many nightclubs in Marrakech that are popular among both locals and tourists. These clubs usually have live music or DJs playing a mix of international and Moroccan music. If you want to experience the true nightlife of Marrakech, then you should definitely check out one of these clubs!
Can you drink alcohol in Morocco?
Yes, alcohol is widely available in nightclubs in Morocco and there are no restrictions on its consumption. However, it should be noted that public drunkenness is not tolerated and you may be fined or arrested if you are caught drinking in public. Driving drunk is not tolerated.
Is there a dress code for clubs in Marrakech?
Yes, there is usually an unspoken dress code for clubs in Marrakech. For men, this typically means wearing pants and a collared shirt. For women, you really can wear most anything. While the general rule of thumb for Morocco is to dress more conservatively this goes out the door when it comes to nightclubs. Women dress up and anything goes.
What are the opening hours for clubs in Marrakech?
Most clubs in Marrakech are open from around 10pm until early morning. However, some may close earlier on certain days of the week. Many people do not go to clubs until midnight or later. It is advisable to check the opening hours of your chosen club in advance.
What is the cover charge for clubs in Marrakech?
The cover charge for clubs in Marrakech can vary, but it is usually around 100-200 Moroccan dirhams (approx. $10-20 USD). This fee will generally include one or two drinks. On holidays like New Years expect this rate to be much higher. In some clubs there are also minimum drink purchase requirements.
Can you smoke in clubs in Marrakech?
Yes, smoking is allowed in most clubs in Marrakech. However, there are some places that have designated non-smoking areas. It is advisable to check the smoking policy of your chosen club in advance.
What is the music like in clubs in Marrakech?
The music in clubs in Marrakech can vary, but it is usually a mix of international and Moroccan music. Many clubs bring in live DJs and many world renowned musicians and DJs play in Marrakech. You can expect to hear anything from pop and hip-hop to electronic and dance music.
But before you go, here's the top of activities and accommodation options in Marrakech:
The most popular tours In Marrakech
Nightlife in the Marrakech Medina
It should be noted that in the medina there aren't so many places to be able to enjoy a mixed drink or a bottle of wine. But here are some gems I've found so if you're staying in this part of town and want to go out locally you can check out these places:
This hot spot opened in the last few years and is a really great place to visit day or night. They have a full menu, regular live music, a great rooftop view and a full bar. While nighttime fills up you can also visit during the day for lunch or weekend brunch. It is extremely popular however so you'll want to make sure you make a reservation, especially on the weekends.
This is actually my favorite restaurant and rooftop lounge in the Djemma El Fna area. The food menu is all Moroccan and though my favorite Moroccan food is made in homes, this place ranks pretty high in my book. Meals range from 150-350 dirhams. The ambiance has a romantic blend of traditional Moroccan riad décor and the look and feel of a jazz bar.
On the rooftop you can enjoy hookah and cocktails with their daily "Happy Hour" (which is more like regular prices since the special lasts all night) two for the price of one cocktails. So if you like mixed drinks then you can enjoy 2 strawberry mojitos for 150 dirhams while listening to their local DJ's music mix and their belly dancer performances.
This hotel and restaurant is one of the more well-known places in the medina for a place to get a drink. They feature a full bar with mixed drinks and cocktails. They also have a snack and lunch or dinner menu. You don't need reservations for the cocktail bar but there is limited space so if you're coming with a group especially call ahead. They do close the pool and bar area if they are booked up so don't expect to be able to just walk up.
This beautiful riad is located in Arset La Maach near the Mellah plaza. It's a great location for a romantic nightcap or day drinking on their rooftop level. The staff is very friendly and if the owner is around he will pass by checking on his guests to make sure they feel attended to and are enjoying the space.
Kosy Bar is on the other side of the Mellah Plaza. It has a great rooftop patio that gives you a fantastic view of the Medina at sunset. It's a bit pricier than other locations in the area but it's still a great location for dinner and a bottle of wine. One plus of this location is that it's generally less popular than some of the other spots so you shouldn't have an issue getting in.
A few doors down from Kosy Bar you can check out Le Tanjia. Beautiful décor and a great rooftop patio this is another location you can enjoy dinner and fantastic views.
Café Clock
This is the Kasbah's gem of restaurants. It plays a modern twist on traditional Moroccan cuisine like their famous camel burger. While they don't serve alcohol here that doesn't stop the place from having a great night scene – and a good option if you don't drink.
They regularly have Gnawa musicians performing and most people are even up on their feet dancing and clapping by the end of it. Also, they offer traditional Moroccan storytelling in English for visitors to learn more about local culture. It's young, fun, and a total Moroccan hipster's place to chill.
Nightlife in Gueliz

Now let's move to the new city, Gueliz, where you can forget you're in Morocco and feel like you're in Europe instead. This part of town definitely has a larger variety of bars, clubs, and lounges so if you're a traveler that prefers city lights and club hopping this part of town is for you.
This is an ideal place to start or end your night. It's a restaurant, bar, and library/bookstore all in one. You can enjoy American comfort foods like buffalo wings and burgers like their Rock n' Roll burger with draft beers starting at 25 dirham.
On Mondays, you can participate in their trivia quiz night which brings in a large international crowd. During the week, they offer happy hour drink specials and on Friday & Saturdays, they have live music performances. If you're a sports fan, they also stream major sporting events.
If you want to have some sub-Saharan African flavors you need to come here. The décor is funky and the food is great if you want try something besides local cuisine. The scene is young with local musicians making it one of their favorite hang outs.
This place is pretty new in Marrakech but between its well-priced drinks and tapas to the modern art you can purchase off the walls, it's becoming a fast staple in the nightlife scene. The food might not be enough to really fill you up so you might want to make it an early evening or late evening stop with dinner in between.
This lounge has a very French-Moroccan style and is a great location to share some drinks and tapas with friends.
Another new location that just opened but also becoming quite popular is Barometre. The location has a dark, smoky feel but the design is modern. The cocktails are on the pricey side but they are generous in their drink sizes. Also, you have to try their burgers!
If the club is less your thing and you're simply looking for a nice place to have a drink with friends over some good wine this is the place. Wine is by the glass and there is also food available. Smoking is allowed so this might be something you want to be aware of if you're sensitive to smoke.
I saved the most expensive hotel clubs and a casino for last. The very posh neighborhood of Hivernage features some of the most glamorous and elegant hotels in the city.
Where to Go Out in Hivernage

Theatro is a fantastic nightclub that has amazing performances with dancers, acrobats, and more every weekend. I've been there to see international and local DJs spin while Gnawa musicians come out on stage to create a crazy remix with their drums. But there is a price tag. Standard entrance is about 225 dirhams and a table with a bottle of your choice starts at 1000 dirham.
These two I'm going to put together as they are both in the same building next to Theatro which are all part of the Es Saadi Hotel grounds. If you like slots machines and gambling then you can check out the Casino and test your luck. If you prefer to skip the gambling, you can walk straight to the back and find this restaurant-by-day-nightclub-by-night. They have two in-house DJs and a live band that covers old and new hits in their own style.
La Perle is a lovely rooftop bar with views of La Mamounia hotel. They have a live band that plays salsa music accompanied by dancers so if you want to get some Latin flavor in the city, this is the spot to check out.
The SO Lounge is a part of the Sofitel hotel. They have food service as well as regularly scheduled live music – singers and bands. It is on the expensive end so if you're on a budget perhaps opt for dinner elsewhere and come to the party later.
A final bit of advice. Many riads don't offer alcohol but you are welcome to bring your own. You can always pop into a grocery store (like Carrefour) and purchase a bottle of whatever you'd like and enjoy on your riad rooftop. Chances are if they do serve alcohol they won't be too open to you bringing in drinks. Not sure? Just ask!
I am rarely found in clubs or bars so I asked my friend Brenda to share her tips for where to go out in Marrakech. If you're looking for budget Marrakech nightlife options, you likely won't find them, especially where alcohol is involved. Morocco isn't a dry country and there is a heavy-duty on alcohol, something to keep in mind as you compare costs.
TRAVEL TIPS
✈️Book your flight in advance
To find the cheapest flight options, you can use WayAway and find the most suitable option for you
🏘️Book your accommodation
Booking.com will help you to book accommodation in advance and check availability on the days of your trip
🧾Get your tickets and guided tours
with Viator or Getyourguide and get the most out of your journey
More Marrakech Posts to Read
What to Wear in Morocco: A Night Out
What to Eat in Marrakech (and What to Avoid)