I love history. I always have and I probably always will. I was the kid who at 10 years old would rather have been curled up at the library with a pile of books than outside with friends. Even as a teenager, when I had the choice of going to a concert or going to a museum, I would pick the museum. The time period that I have spent the most time learning about is the decades surrounding the second world war.
When I brought together my love of history + Morocco I became a machine. MarocBaba laughs when people ask him questions about Moroccan history and says, "you really should ask Amanda, she knows way more than me!" So, when I was connected with Insider's Experience in Marrakech I was giddy with excitement. This is certainly something you should add to your list of things to do in Marrakech when you're planning your time.
Of all the things to do in Morocco, this is one of my favorites!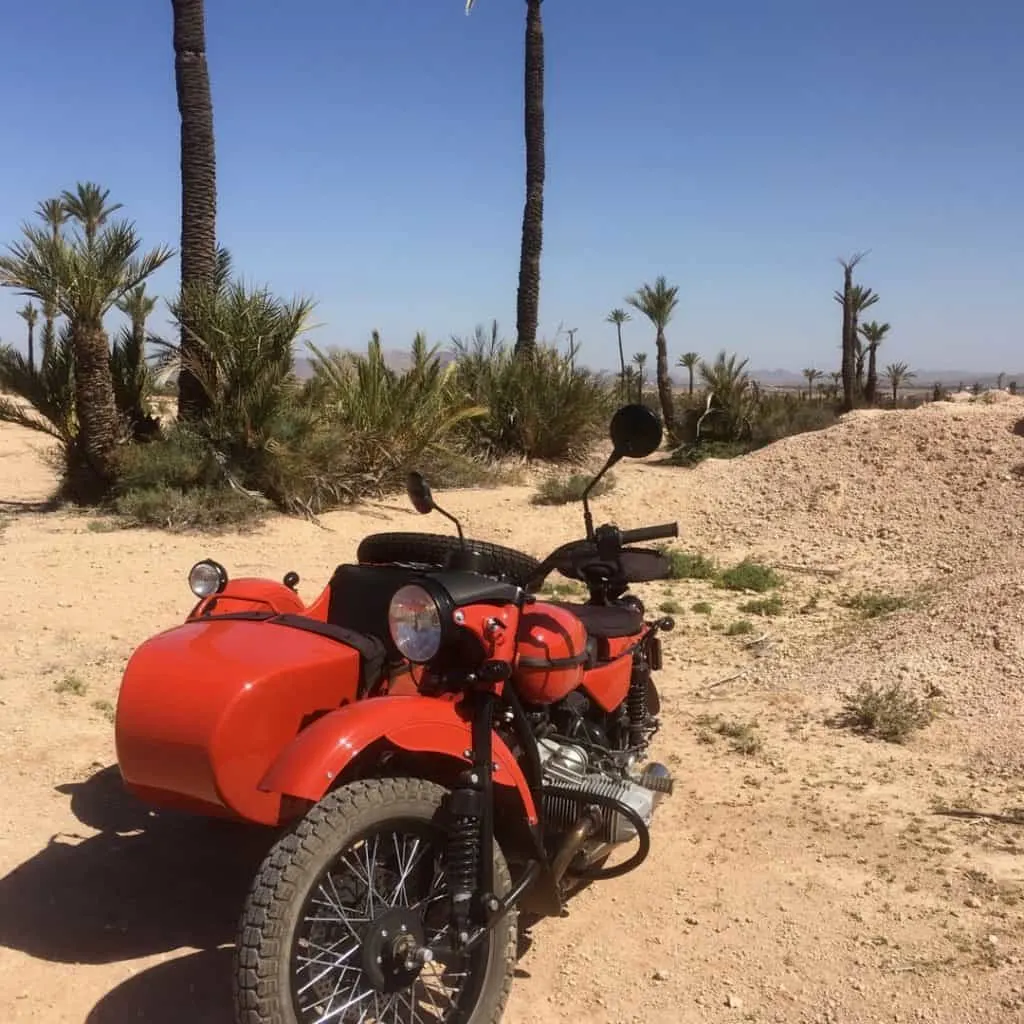 No, they don't operate time machines but they do have a small fleet of WWII era German sidecar motorcycles. When I took a tour with them I wasn't sure what to expect. I was in for a treat.
Early one morning I walked down my street to the wait for my ride. It was there I found Felix waiting with a beautiful orange motorcycle. I could tell immediately this would be fun! After saying hello and exchanging pleasantries Felix pulled out a WWII era map of Marrakech to plot our route. This was such a cool touch. Admittedly he had a big task at hand as I'm no stranger to the city and he wanted to show me new things (and he did!) We tooled around Gueliz and jumped out in a few places to explore some older art deco buildings – my favorite! From there we looped around in the kasbah and medina.
With all the narrow streets I wasn't sure where the motorcycle would be able to fit. The sidecar tends to take up a lot more space than just a bike. It was so fun to see the look on the faces of people that went by. Kids pointing and smiling and especially older men who thought this was really cool.
Although Felix hasn't been in Marrakech as long as we have it was very clear to me that he has done his homework and learned so much about the city. In two hours we covered a big chunk of the city. He had a big challenge to show me and/or tell me things I didn't know about Marrakech and Morocco. Plus, we had a great time!
Towards the end of our tour we went to the Palmerie where I felt like a film extra in Indiana Jones, zipping through the "desert" in a sidecar! Plus, I got to take some fun pictures too. It was a really fun morning!
Want to Book It?
Insider's Experience runs daily tours in Marrakech. Two people can fit on the motorcycle making it a fun couples activity. They will pick you up wherever you are staying (yay!) While they always have a plan in mind, if you share with them some of your interests they can better tailor the tour to your interests.
Things To Pack for Your Experience
a light jacket or sweater for tours in spring and fall

a jacket for winter

your camera

sunscreen and glasses for your face

a fun spirit!
I highly recommend this activity when you're visiting. It was so much fun and really will take you to parts of the city you probably wouldn't go.