Whether you're visiting Marrakech with kids or you call the city home, there's a good chance you'll be looking for things to do in Marrakech! We're lucky to have endless days of sunshine every year so rainy days don't put a damper on things in Marrakech.
You can easily find information about the major tourist sites in Marrakech; Jemma el Fna, Bahia Palace, Majorelle Garden but what else is there to do? Don't worry, I've got you covered.
This list is not meant to be exhaustive and I will continue to update it as I find new things worth including.
General Tips on Visiting Marrakech with Kids
Is Morocco Safe?
The short answer to this is yes, Morocco is safe. Unlike many countries in the region, Morocco has experienced very little turmoil in recent years. As with many large cities there is some pickpocketing and petty theft. It's always best to keep your wits about you and be alert. That being said, when traveling with kids people typically face fewer issues.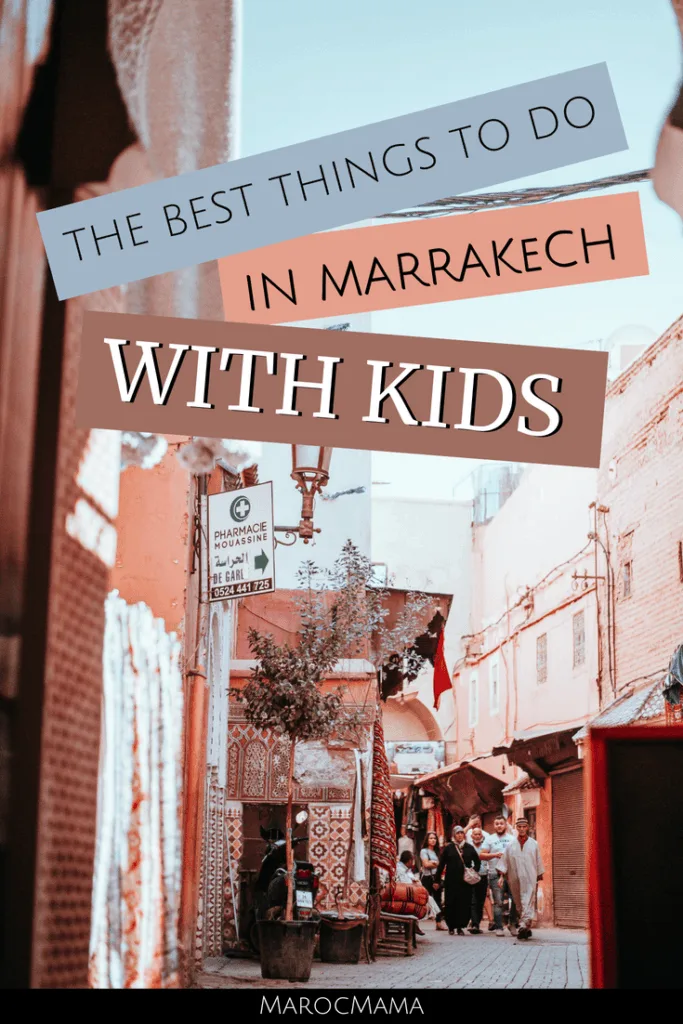 Is Marrakech good for families?
Yes! I say it a lot but visiting Morocco, in general, is a great idea for families and honestly, I truly believe you'll have a better time if you visit with your kids. Moroccans have a family-oriented culture. They love children and will open up to you a lot more if you're visiting Morocco with kids. Traveling in Marrakech is also pretty easy given that lots of the areas you'll be are flat and easy to navigate by foot and with little ones in tow.
Taking a baby to Marrakech
Traveling with a baby is a challenge but you will face most of the same challenges whether you visit Marrakech or any other city in the world. All of the items that babies need is readily available. Moroccans LOVE babies (they love all children) and will go out of their way to help you. To get around bring the smallest stroller possible and/or a wrap to carry the baby.
Best time to go to Morocco
The best time of year to visit Morocco with kids is in the fall and spring. March, April, October and November are some of the nicest times to visit however, any time aside from summer (June-August) is pleasant. You may want to avoid visiting during the month of Ramadan (check as it changes yearly) as everything operates on an alternative schedule. Where to stay with kids in Marrakech? Check out this list of child friendly hotels in Marrakech.
Things to do in Marrakech with Children
Go Swimming
With warm temperatures and sunshine, there's no bad time to go swimming. You will however find in the winter months that not all pools are open, and it can be too cold to swim. But, there are more and more heated pools popping up so don't write off swimming in December! Read my post on places that offer swimming for guests and with a day pass.
Read More: Where To Go Swimming in Marrakech
Take a Cooking Class
A great way to introduce kids to new kinds of food is to get them hands-on experience. There are several cooking courses in Marrakech but not all are suitable for children. You'll want to double check age requirements with anywhere you decide to book. The Amal Women's Center is one of my favorite places to do classes with kids. You can also ask at your riad if they offer private classes for your family.
Learn some Arabic
Do you want to do something that provides a little educational enrichment? Creative Interactions offers language and culture courses for visitors (both short and long-term) to Marrakech. They have courses that will teach you basic Moroccan Arabic and longer courses that are several weeks long.
Visit a Garden
One thing that is sorely missing in Marrakech are playgrounds but, there's no shortage of gardens. Keep in mind gardens are meant for walking on the paths and not walking or playing in the grass. There are often guardians who will come and remind you not to go on the grass. Harti Jardin in Gueliz is a nice park to go for a walk or scooter ride with children thanks to lots of different paths and usually few people. The Cyber Park is another garden that can make for a good walk. It's located very close to the Kotoubia mosque.
Kids Parks
If you're looking for things to do in Marrakech with toddlers these might fit the bill. There are two small amusement parks in Marrakech that are targeted towards younger children (under 12); Ludipark and Paloozaland. Both are on the edges of the city and do require a vehicle to access. At Ludipark you'll find bouncy castles, pony rides, a mini zoo, and an aquapark. Paloozaland is based on a dinosaur theme and has several rides for kids, a 6D cinema, swimming pool, and live shows.
Check out a Gas Station
This sounds a little strange but most gas stations in Marrakech (and Morocco) have play areas for kids. Some are larger than others. They also have attached restaurants that really do have good Moroccan food. Bring the kids to play and enjoy a tajine while they run off some energy!
Take a Food Tour
Do you have little foodies? Bring them on a food tour! We love having kids of all ages join us. Our youngest guest was just 10 months old and proved you're never too young to try new things! Find out more: Marrakech Food Tours.
Hot Air Balloon Ride
Do your kids love a thrill? An amazing, albeit pricy experience to have in Marrakech is a hot air balloon ride. Children do need to be at least five years old.
Camel Rides
People always ask where to go to ride camels in the desert. It's worth noting Marrakech isn't in the Sahara Desert and there's nowhere near the city where you can see rolling sand dunes. But, you can still ride a camel.
There are always camels near the Menara Gardens that adults or kids can ride, as well as ponies that children can ride. Another location to ride camels is in the Palmeraie. This is a little more "desert" like. You can take a taxi to this area or arrange a ride with your riad or hotel. Typically it should cost no more than 200 dirham per person for a ride, and can be less if you're good at bargaining!
More info on where to ride a camel in Marrakech here!
Go Kart Racing
Recently we tried out the kart racing at the Moulay Hassan racetrack on the edge of Marrakech. It's a really fun activity for older kids (and adults!) You pay by the race and there are two different types of karts available to race. Marrakech Kart Racing – on the route to Ourika just past al-Mazar shopping center.
Laser Tag
My kids LOVE laser tag and it's fun for them to go on days when they can't be outside. It's also really fun for birthday parties! Lasergames is on the route de Amizmiz.
Bowling
There are several different bowling alleys in Marrakech that you can visit. It's always a good activity for days that are too hot or if there is rain.
Have a Tea Party
Moroccans do tea well! Why not have a tea party? There are a few different ways you can do this. The Royal Mansour offers an afternoon teatime that you can enjoy for 350dirham a person. But if you want a less expensive experience visit one of the many cafes in the city. Order a plate of cookies – choose the ones you like, and a pot of tea to enjoy. I really like Amandine and Les Maitres du Pain for good quality pastries that's still affordable.
Take a Bike Ride
If you have older kids that are confident on bicycles why not rent a bike and go for a spin. There are stations around the city that have bikes available for rent. Medina Bike is the first bike sharing program in Africa. Register online, choose a plan, and check out your bike! There are numerous spots around the city to pick up and drop off bikes.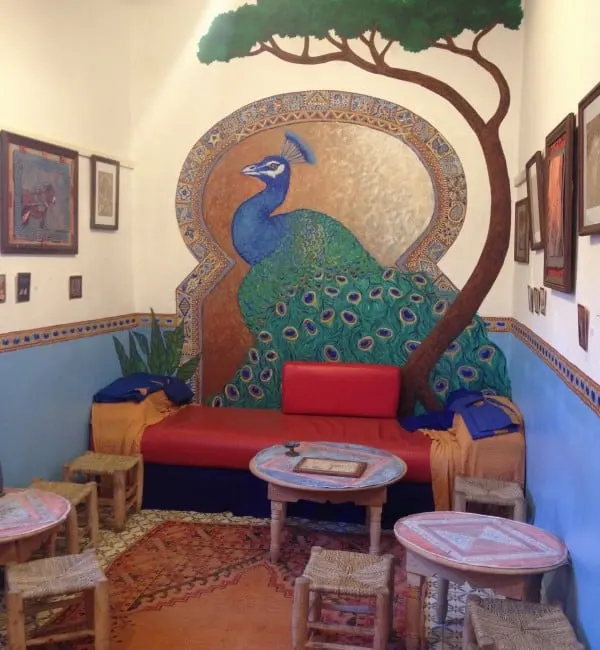 Henna Tattoos
Everyone needs a henna tattoo in Marrakech! Avoid the ladies in the square (need to know how – here's my advice) and head to Marrakech Henna Art Cafe. All of the henna is natural and safe. You choose the design and know the price upfront. While normally henna is done by women, my boys love getting a little scorpion done!
Wakeboarding
Waky Marrakech is a wakeboarding experience outside the city on an artificial lake. Perfect for older kids and teens!
See a Fantasia Show
Chez Ali is a fantasia show that includes dinner. It's been in operation for many years and gets mixed reviews. See a traditional performance with horse riders, music, and full Moroccan buffet. It can be a late evening with the program concluding near midnight.
Geocaching
Have you ever tried geocaching? There are several spots throughout Marrakech that have caches. This is a fun way to spend time and explore the city! High Tech Treasure Hunting in Marrakech.
See a Movie
There are several movie theaters in Marrakech. The largest is Megarama that shows 8 different movies. The Colisee Theatre in Gueliz occasionally plays English movies on Friday nights. Most films are shown in either French or Arabic.
Visit a Play Area
There are a few indoor play areas in Marrakech for younger kids. Kawkab Jeaux in the Harti neighborhood (near Harti Jardin) is one. At the al-Mazar mall there is another one – it's across from a bowling alley as well. Both have activities for kids but can be crowded especially on the weekends.
Storytelling at Cafe Clock
Cafe Clock hosts storytelling in Arabic and English on Thursday nights at 7pm. Wednesday nights there are jam sessions with local musicians and on Sundays there is a Gnaoua performance. Any night you show up, chances are there's something going on! Order a milkshake too – your kids will thank you.
Search for Street Art
Marrakech never had large scale professional, commissioned street art until 2016. Now it can be found throughout the medina. It's still a bit controversial given the medina itself is a UNESCO world heritage site. But, if you're an art lover, why not make it a game for the kids? Wander the medina and seek out the installations. Just recently some new paintings went up adding to the collection.
Take a Carriage Ride
You won't be able to escape the horse carriages – they're everywhere! If you'd like to see Marrakech by 4 wheels you can. You'll want to negotiate the rate ahead of time. I suggest going through the old city vs. new city route.
Rates typically are 200-250dh for an hour but like most things in Marrakech – it's negotiable. I also recommend taking a look at the horses before choosing this option to see if they're well cared for. I always try to pick a driver who has horses who look well cared for.
Have a Cookie Taste Off
Go to a patisserie and order a few of each kind of cookie and then rate them! Find out which ones your family likes best – even better with a pot of tea on the side!
Scavenger Hunt in the Souks
Mom and dad want to shop but the kids aren't having it? I've created something to keep them happy. Print off this scavenger hunt ahead of time and have them searching for these items while you browse the souks! The scavenger hunt is pictorial for little kids but with more specific items to seek out for older kids.
Just Outside Marrakech
These day trips from Marrakech are fun for kids and parents. Most can be easily done in a day, while others require a little more travel time and might be better for families with older kids.
Ziplining
Just forty-five minutes from Marrakech is Terres d'Amanar a great hotel and zipline park. There are activities for little kids through adults. You can stay overnight or just come for a day visit. The onsite restaurant is good and in warm months they have a pool/lunch option!
Anima Gardens
This new garden was created to combine the natural fauna of the area with sculpture art. It's different from Majorelle Garden but any art and garden lovers can appreciate this spot. Anima Gardens offer timed entrances so that it's never too overcrowded. They operate a shuttle to and from the city as well – reservations are required.
Agafay Desert
Contrary to what you might find online, Marrakech is not in the Sahara Desert – it's not even close. If you're seeking a desert experience you can visit the Agafay Desert which is just outside Marrakech.
Jarjeer Mules
Love animals? Pay a visit to Jarjeer mule and donkey refuge. The owners of the refuge wanted to create a space to save the working animals of Marrakech when they were no longer useful to their owners. Sadly, many animals are simply abandoned when they can no longer work but here, they've found a home. Visitors can come, be with the animals, or take a walk with them in the foothills. There's no fee to visit but any donations are welcome to help care for the animals.
Berber Cultural Center
Located in the village of Imintanoute, this center/family home aims to bring the Berber way of life to the culture-savvy visitor. They offer on-site accommodation which is advisable as it's a long commute to Marrakech. If you want an experience of actually living as a Berber family you'll want to check this out! Berber Cultural Center.
Visit Asni/Imlil
Head high up in the Atlas Mountains to the village of Imlil where you can ride a mule and take in some waterfalls This little village is the starting point for people planning to hike Mount Toubkal, North Africa's highest mountain. Kasbah Toubkal is a very nice hotel that offers day visits including lunch and a hammam visit.
You can also take a day trip to ride mules and have lunch with a local family. Find out more.
Ourika Valley
A favorite escape for Marrakechi's is a visit to the Ourika Valley. Restaurants line the Ourika River and tajines are made to order. In warm months kids play in the shallow water. If your kids are older you can hike to the waterfalls. There are a series of seven. The first is accessible but the other 6 are much higher and for more experienced hikers.
Go Skiing in Oukaimden
Yes, skiing! In the winter the High Atlas Mountains get considerable snow and one of Morocco's two ski hills operates here. It's not world class by any means but if you want to go sledding or skiing in Africa it's a great opportunity! So why not go skiing in Oukaimden?!?
Activities in Marrakech with Kids