If you think that you need to spend a fortune to enjoy Marrakech, think again! Sure there are plenty of places where you can drop hundreds of euros a night for a room and eat extravagant "Moroccan" meals, but you certainly don't have to! A cheap holiday in Marrakech isn't completely out of the question.
With dozens of flights from Europe arriving every day Marrakech is a cheap holiday and inexpensive weekend break. Once you've got your flight and hotel squared away don't worry about breaking the bank, instead save your money while still enjoying these budget things to do in Marrakech.
Visit the Alternative Gardens
Sure, the Majorelle Gardens are beautiful but they also charge an admission of 70+ dirham per person depending on the options you choose. It may not be a lot of money, but if you're on a budget every dirham counts. Instead take a walk through the other two gardens centrally located near the medina. This is one of the free things to do in Marrakech.
Arset Moulay Abdeslam Cyber Garden or Kotoubia Gardens are close to the medina and lovely. In the Cyber Garden, you can pick up free wi-fi (note the internet can be spotty) to check emails or post a Facebook update and find a clean public toilet. The Koutoubia Gardens are also a great spot to walk and capture some pictures of the towering minaret with fauna and flora around.
Combined admission to Musee de Marrakech, Almoravid Koubba, and Ben Youssef Medrassa
Visit the Musee de Marrakech first and buy a combined ticket for 60 dirham that will give you access to the three sites. If you don't speak French the Marrakech Museum may be a bit of a challenge but you can still observe the many traditional items on display.
The Almoravid Kubba is the only piece of Almoravid architecture remaining in Marrakech (dating from the 1100s) and is truly a piece of history. Lastly Ben Youssef Madrassa -my favorite of the three. This once served as a school (madrassa means school) and attendees lived upstairs. There isn't much remaining aside from the walls but the architecture and artisan work is beautiful.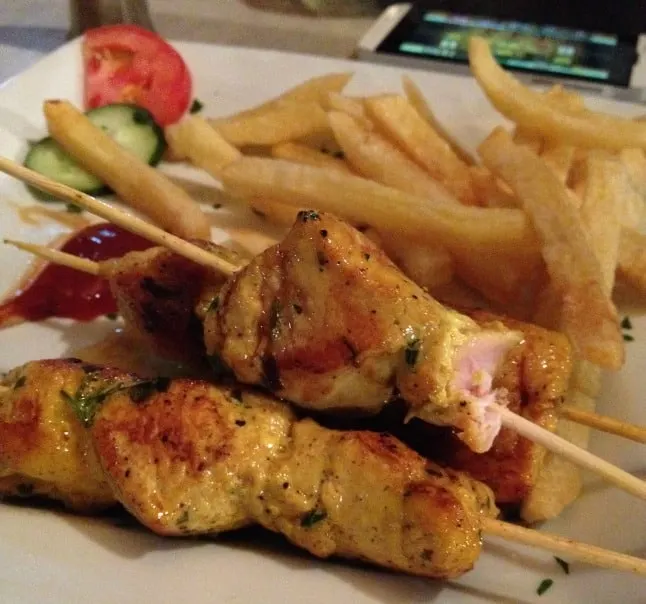 Eat on the Street
While reluctant travelers may not feel like eating street food for the intrepid it can be not only a delicious meal but a great way to save money. Moroccans' don't eat Moroccan food in restaurants – they eat it at home. So if you're sitting down and paying for a 100 dirham tajine know that you're getting straight-up tourist fare.
If however, you wander into a small shop serving roast chickens, harira soup, or skillet fried msemmen you're eating like a Moroccan – and that means eating on a Moroccan budget too. For breakfast a cup of tea and sfinge (doughnuts) will set you back 5-10 dirham (about 1 euro), while a dinner of grilled chicken skewers with Moroccan salads and bread might cost 20-30 dirham (2-3 euros). You'll find a variety of offerings at all times of the day.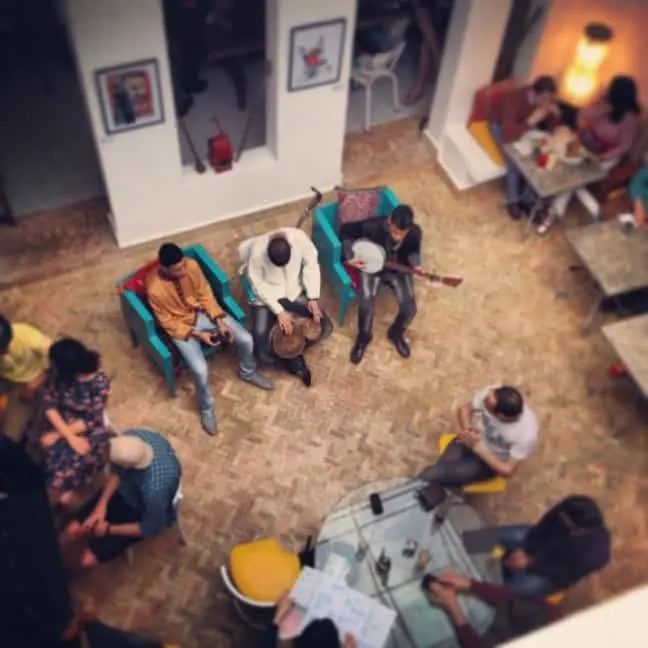 Free Cultural Performances
Cafe Clock is relatively new in town but they have some amazing offerings, along with great food. Like the Cafe Clock Facebook page to keep up to date with all of the things that are happening but be sure to drop in on Thursdays for traditional Moroccan storytelling (in English and Arabic) and Sunday nights for their concerts. Treat yourself to a cup of tea or one of their milkshakes with homemade ice cream!
Watch Craftsmen at Work
The souks aren't just for shopping. The further you walk back the more frequently you'll see workshops and not just shopfronts. Men can be seen piecing together leather shoes, or carving wooden implements. Any number of other artisans will be busy too. If you do want to take a picture, be sure to ask first and offer some change as a polite thank you (5-10 dirham is acceptable).
Take a Local Hammam
There is a wide variety of hammams in Marrakech; from traditional neighborhood hammams to ultra-fancy spa like hammams and everything in between. If you want to experience a hammam but are looking for a cheap hammam in Marrakech, then opt for the local bath. Entrance is 10-20 dirham but if you'd like a full scrub by an attendant as well the soap if you haven't purchased elsewhere it will cost about 50 dirham. Compare this to 200-500 dirham that you can spend in a mid-range hammam. Chances are you'll get a better scrub with the cheaper option any way!
Here's a step by step on how to use the hammam!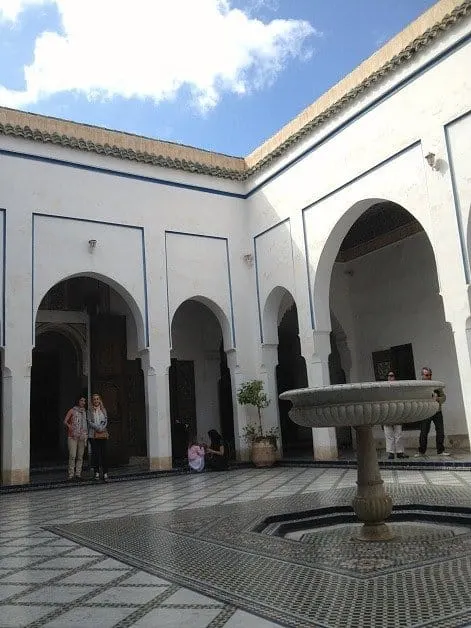 Low Entry Fee Attractions
To visit the Badi Palace, Bahia Palace, or Saadian Tombs will cost just 10 dirham each. Be on the lookout there will be people milling about offering to give you a guided tour but you can always decline. This will save money and you can find plenty of information ahead of time in guidebooks and online.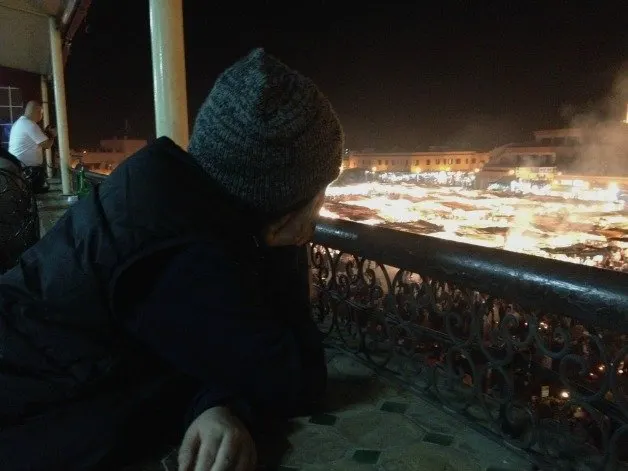 Sit in a rooftop cafe overlooking Djem al Fna
For the price of a drink you can sit above the square and watch the action. Many rooftop terraces require you to buy something, but even a soda or bottle of water will suffice. Enjoy the music below, people watch, read a book, whatever you'd like to do these are a great spot to relax and soak up the Marrakech vibe. If you go about 45 minutes before sunset you'll be more likely to get a seat overlooking the square as most people come just before this time and seats are at a premium.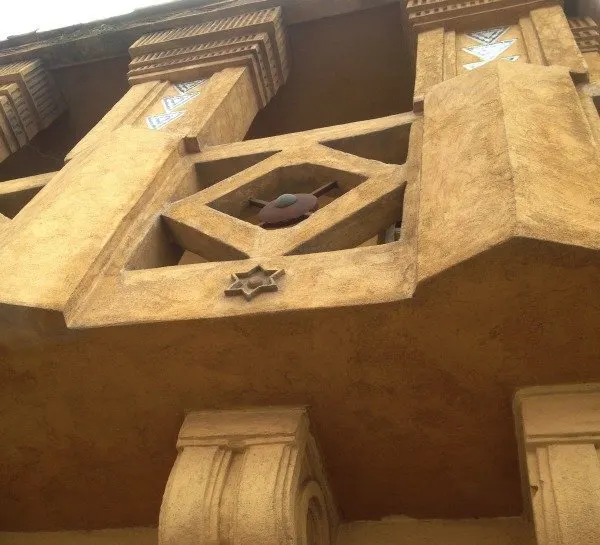 Walk in the Mellah
The mellah is the old Jewish quarter of Marrakech. Here you'll see a distinctively different style of architecture. See if you can find the synagogue (no longer operational) and be sure to visit the spice quarter across from the Gold Souk. A walk down the streets here makes you feel almost like you're in a completely different setting.
Free Exhibitions
A great resource for free exhibitions is to follow the local foreign language schools. There are two English centers, the French Institute, a Spanish Institute, and a German language center in Marrakech – and possibly other languages as well. These centers often host talks, movies, and performances in the language that is taught there and often on topics relating to Morocco. Most of the time they are free and open to the public.
A few more cost-saving tips;
take the bus from the airport to Djem al Fna. It's one of the nicer city buses and is rarely full. Cost is 30dh
If you want to take a taxi walk outside of the airport grounds to the main street. It will cut the cost of the taxi fare at least in half.
Visit in the low season – remember even wintertime in Marrakech is nicer than much of the world!
Stick with local drinks. Alcohol is available and legal but it's very expensive.
Check with your hotel or raid for discounts or free admission/cover charges for clubs if you are interested in this.
Negotiate on any large purchases you plan to make. But prices are set on smaller things like water, fruit, food etc.